This Christmas may disrupt your big party plans or traditional family gatherings, but if there's one tradition that must carry on is gift-giving. We found amazing food Christmas hampers across India that are packing delicious goodness in merry packaging. Check it out!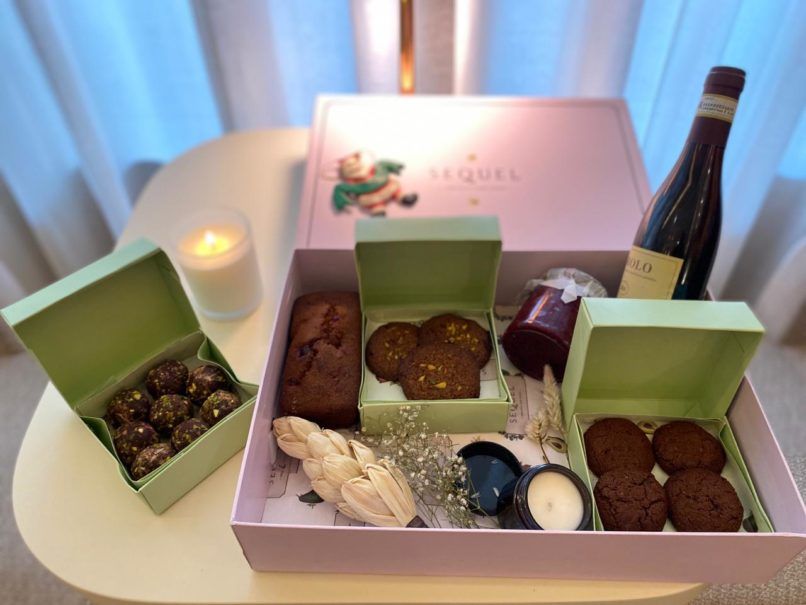 Sequel is now delivering Christmas hampers all across Mumbai, with pick-up options at their outlets in Kala Ghoda, Bandra, and BKC. But place your orders 24 hours in advance, with delivery charges up to Rs 150, depending on the location. Their hamper features a loaf of traditional Plum Cake with berries and nuts, soaked in organic wine; Chocolate, Cinnamon, Orange Cookies (box of 4); Gingerbread Cookies (box of 3); Coconut, Pistacho, Ginger Truffles (box of 9); Raspberry & Cranberry Preserve (100 grams); and a soy wax candle made with organic lavender oil. This hamper is priced at Rs 3500 plus taxes. Another add-on is Sequel's Organic Mulled Wine.
Contact: +91 75066 77710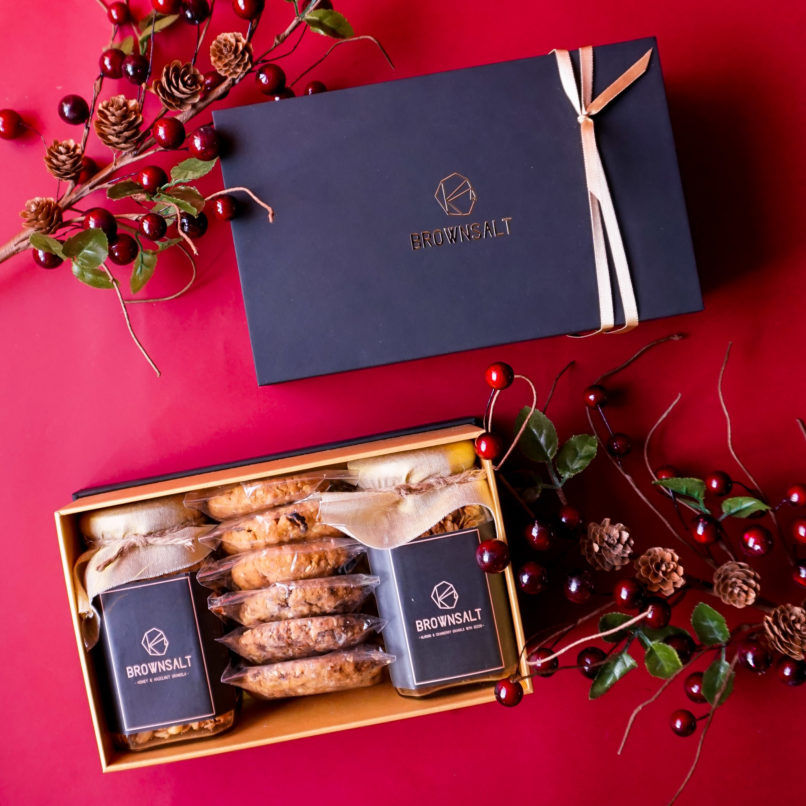 Santa Claus is coming to town with a big hamper from Mumbai's Brownsalt Bakery. Their hampers include the Secret Santa Biscotti Treat and the special Christmas Granola — a decadent Belgium white chocolate with a dash of zesty cranberries, sprinkled with fresh cinnamon, nutmeg, oats, almonds, hazelnuts, and a touch of honey and sea salt. You can also indulge in cookie cravings with Secret Santa Mini Cookies, available in delicious Chocolate Oatmeal and Cranberry Oatmeal flavours. And Secret Santa Small Delights Gift has big flavours, containing Almond Cranberry and Honey Hazelnut granola varieties.
Contact: DM them on Instagram / call on +91 75065 40736 to place your order. They are delivering pan India.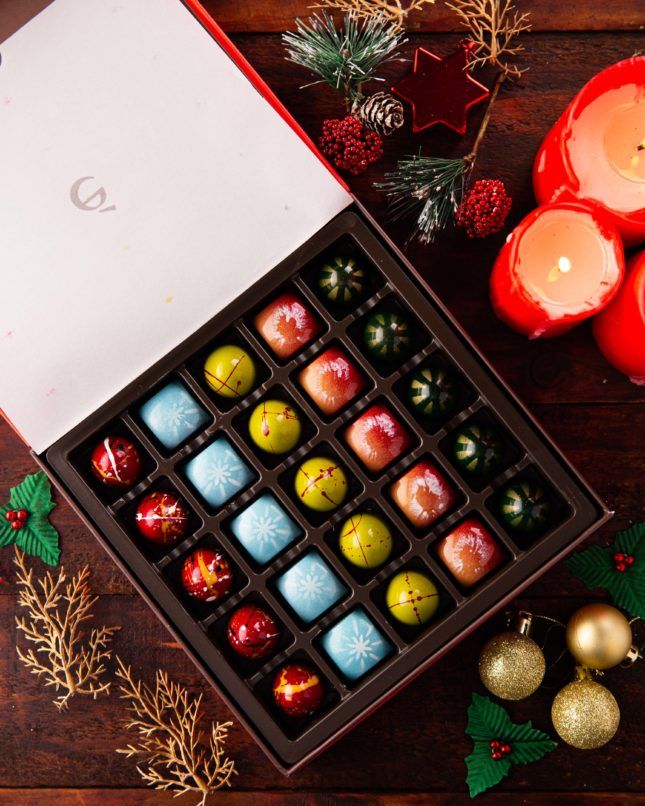 Gift a taste of the finest chocolates imported from Italy, Belgium, and America this Christmas. Mumbai's boutique chocolatier Éntisi promises to spoil your senses with their Bonbon flavoured Plum Cake, Peppermint candy, Orange Cinnamon, Apple Tartine. And if you love all things chocolate, then try their Hot Chocolate Tin consisting of classic 70% Dark Hot Chocolate & Mocha Hot Chocolate. You can also select from their Christmas Hamper Basket and a Christmas Hamper Box. They are delivering pan India.
Timing: The offer in on till January 3
Price: Rs 300 onwards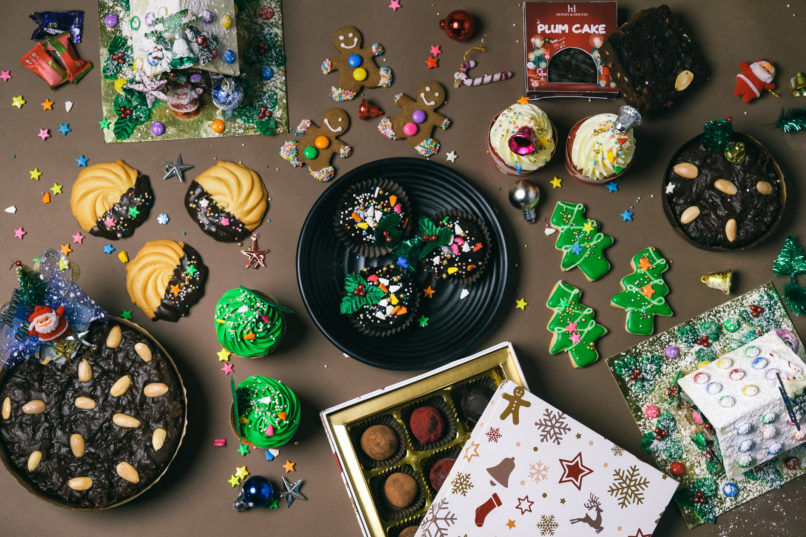 What's a Christmas celebration without a plum cake? Order in a rich plum cake made from spiced rum-soaked fruits. You can also opt for their Christmas Tree cupcakes with a melt-in-your-mouth frosting, and of course, the Red Velvet Cupcakes that Christmas dreams are made of, among other edibles. Also, add to your basket the Nutty Almond Hot Chocolate, Red Velvet Hot Chocolate, Nutella Hot Chocolate, and the much loved classic Hot Chocolate. They are delivering all across Delhi NCR.
Contact: DM on Instagram or call on +91 85279 66844 / +91 99119 93123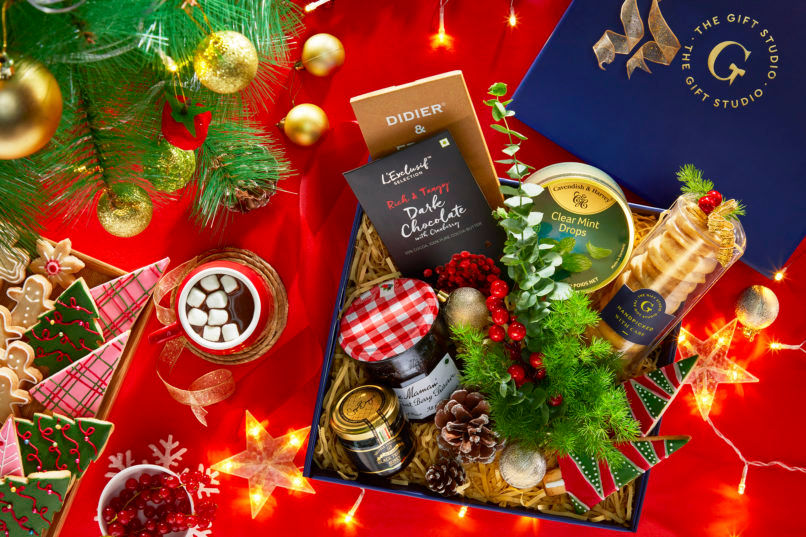 The Gift Studio's new online menu is brimming with carefully curated gourmet goodies. They have five food Christmas hampers to select from — The Entertainer (Rs 2,999), a cheese hamper paired with a bottle of Domaine de Serame Cabernet Sauvignon; The Binge Hamper (Rs 3,999) with treats galore; Breakfast in Bed Box (Rs 4,499) with ready to bake goodies; Time to Wine (Rs 6,199) loaded with a selection of cheeses like Mozzarella, Chilli, Garlic, Cheddar, and Pepper and paired with a bottle of Chianti Classico; and La Dolce Vita (Rs 10,599) that packs global indulgences. They are delivering all across Kolkata and Mumbai.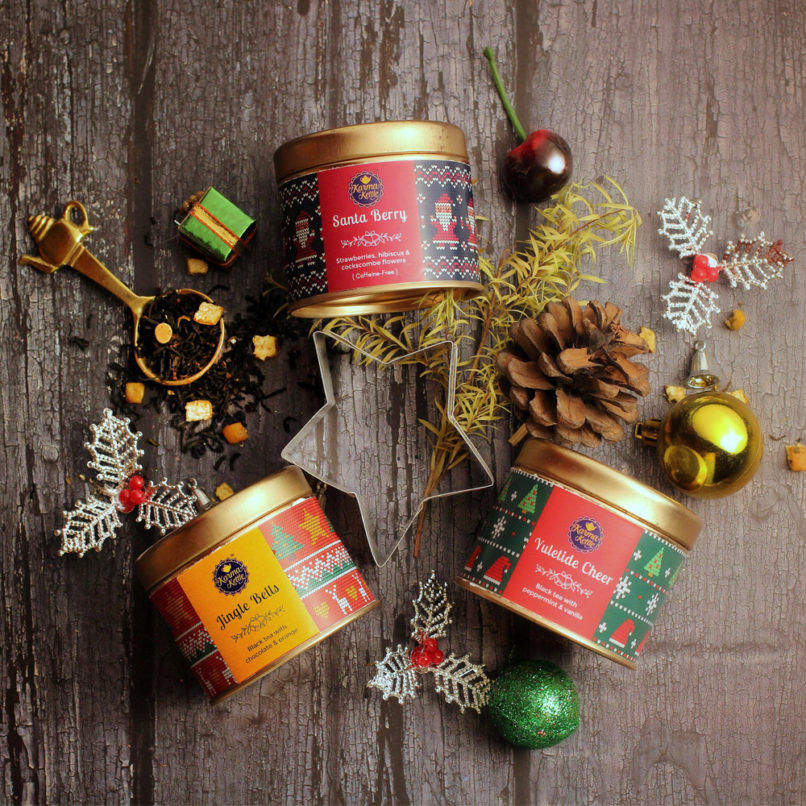 When you want to take a break from hot chocolate and wine during the holiday season, turn to special tea blends by Karma Kettle. Choose from Jingle bells (a chocolate orange tea that blends select Assam black tea with premium cocoa nibs and dark chocolate sprinkles); Yuletide Cheer (an alluring Christmas blend, of black tea, peppermint, vanilla and lotus petals); and Santa Berry (a melodic tisane with strawberries, hibiscus, and cockscomb flower notes). The Christmas teas are available all through December till January 7. They are delivering pan India.
Price: Rs 225 (all-inclusive)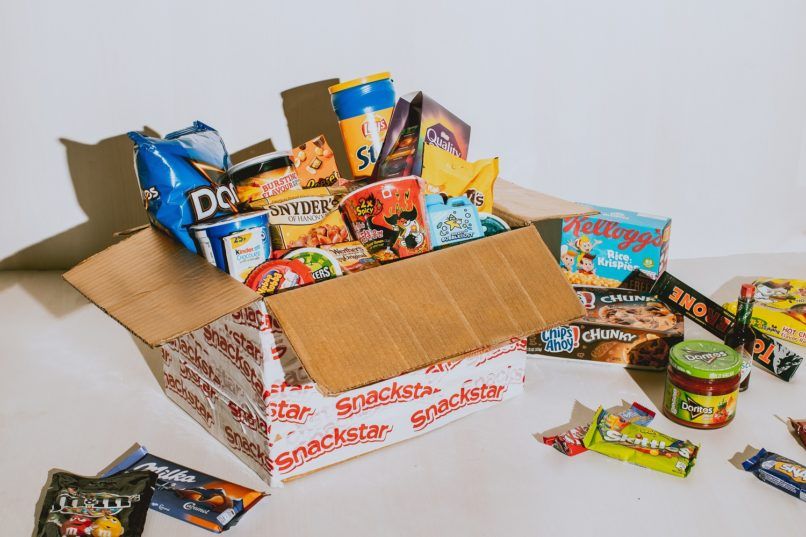 Snackstar has introduced a Secret Santa Snackstar hamper this Christmas where you can select the items on the website and write a special note for your loved ones to gift. The Christmas packaging will be on till the end of this month. From hot chocolate hampers to marshmallows and cakes, they are celebrating a very sweet Christmas. They are delivering pan India.
Perch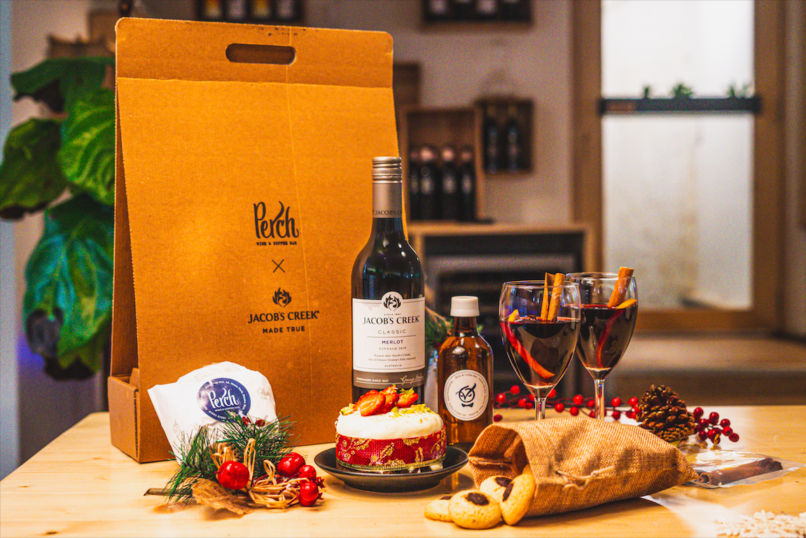 It is delicious and boozy like the real deal at their brick and mortar cafe in Delhi and Mumbai. The hamper consists of a bottle of Jacob's Creek Merlot, and their in-house DIY mulled wine. They also threw in a Steamed Christmas Pudding made of rum-soaked dry fruits such as golden sultanas, Omani dates, pistachios, figs, cashew, marinated cherries, cranberries, and red currants mixed into a homemade whiskey marmalade. And they also added baked and glazed with cream cheese topped with strawberries, blueberries, and mulberries, along with mini butter cookies drizzled with chocolate and dry fruits.
Price: Rs 2,750 (all-inclusive)
Contact: +91 93213 75915
Santé Spa Cuisine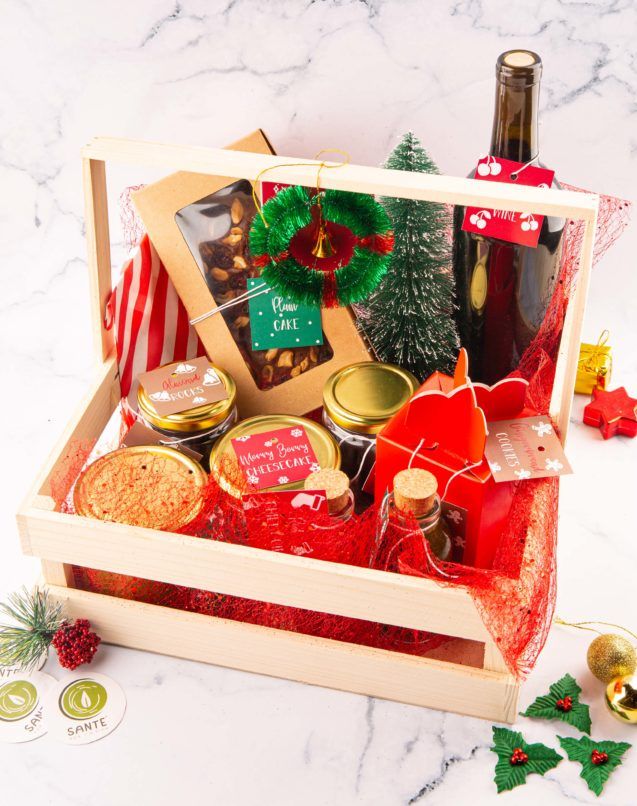 Santé Spa Cuisine in BKC, Mumbai has wrapped a hamper of merriment this Christmas that consists of handcrafted treats such as Plum cake, Christmas Pudding, Merry Berry Cheesecake, a warm cup of Spiced Hot Chocolate, Gingerbread Men, Spiced Hot Chocolate Melts, Almond Rocks, Beetroot Spinach Hommus, Cookies, and much more.
Contact: +91 91369 62944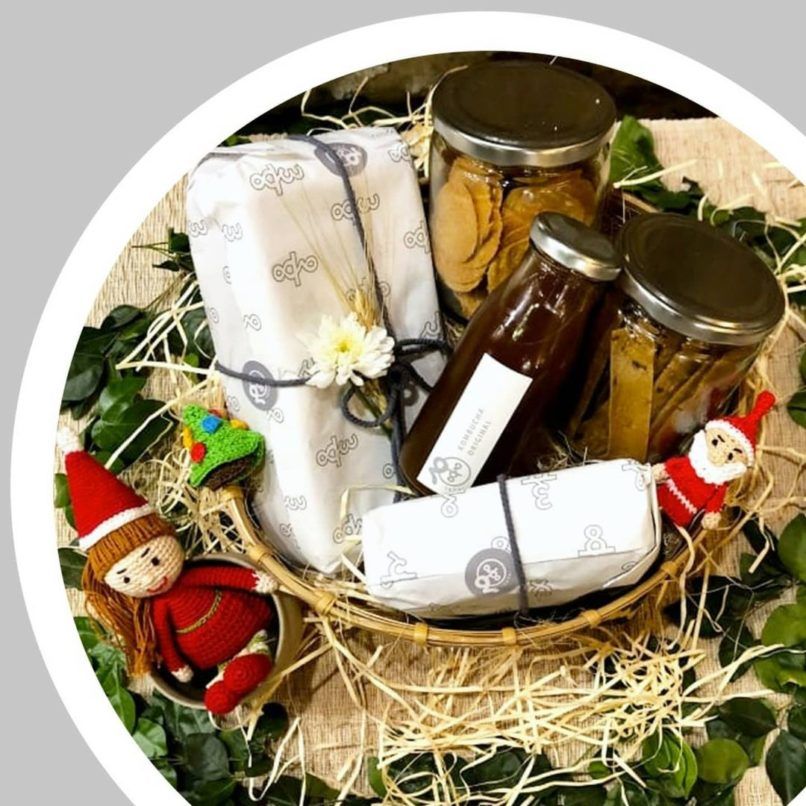 Sava is an eco-friendly initiative started by Sangita Kathiwada, who was also the founder and director of Mélange in Mumbai. Along with chef Kavitha Mantha, they have introduced customisable organic and healthy Christmas hampers this season. For Rs 1,750, you can get Jowar and Orange Crackers 150gms, Almond & Cinnamon Butter 125gms, Walnuts 75 gms, Kombucha 200ml, and Red Rice 500gm. For Rs 2,750, you can get Jowar and Orange Crackers 150gms, Almond & Cinnamon Butter 125gm, Flaxseed & Ginger Podi – 150gm, Chilgoza (Indian Pine Nuts) 75 gms, and Red Rice 500gm. And so on. Place your orders a day in advance, or four days in case of heavy orders. They are delivering all across Mumbai.
Contact: +91 22 2353 4492 / +91 22 2353 0288 / +91 98583 92222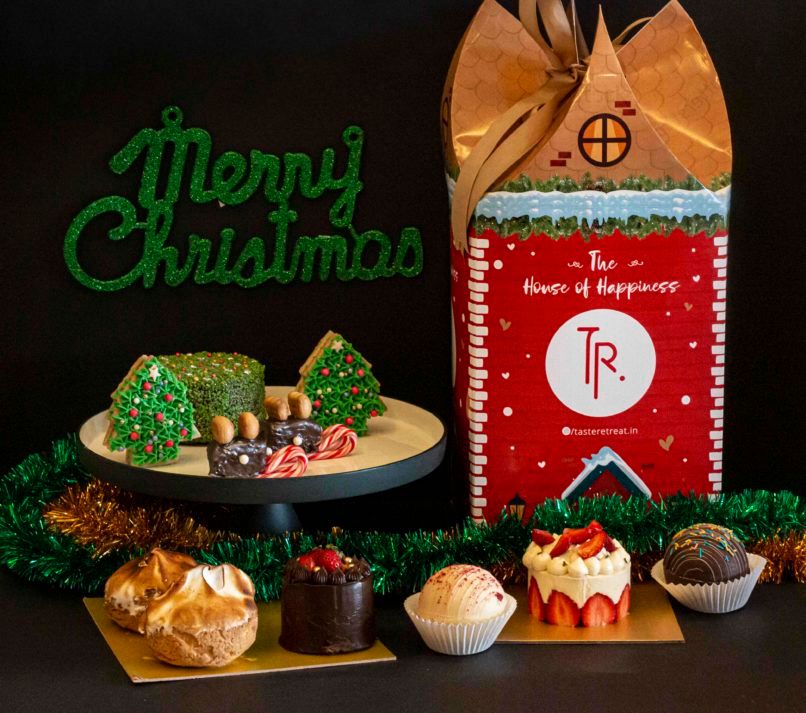 Christmas or not, Mumbai's Taste Retreat always delivers exquisite delectables. And for the holiday season this year, they have outdone themselves with a special food Christmas hamper, which includes Dark Chocolate Ganache, Chocolate strawberry cake, White Chocolate or Strawberry Biscoff, Pecan dark chocolate brownie with candy canes and teddy bears, and more. They are delivering all across Mumbai.
Contact: DM on Instagram or call on +91 98200 23971
DesignOne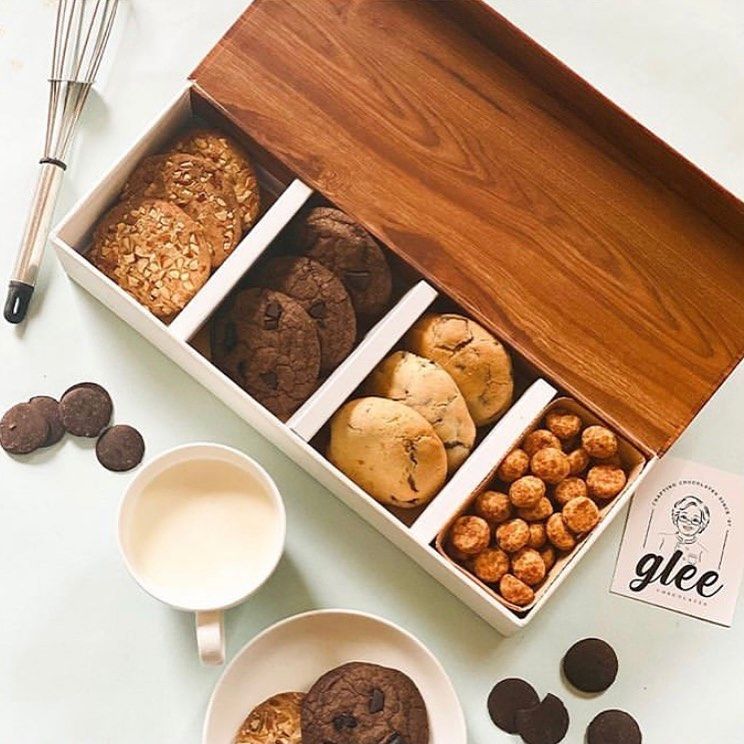 DesignOne by The Sahachari Foundation, whose online store goes live today) is here with hampers that will introduce you to gourmet foods selection by different women. Chakna is a line of artisanal handcrafted snacks by Shivani Mafatlal. Glee Chocolates by Zarina Choksi is crafted using the best ingredients and Belgian cooking techniques. Cravin by Andy is an array of vegan, gluten-free goodies by Anandita Parekh, a WAG certified nutritionist.
Contact: DM on Instagram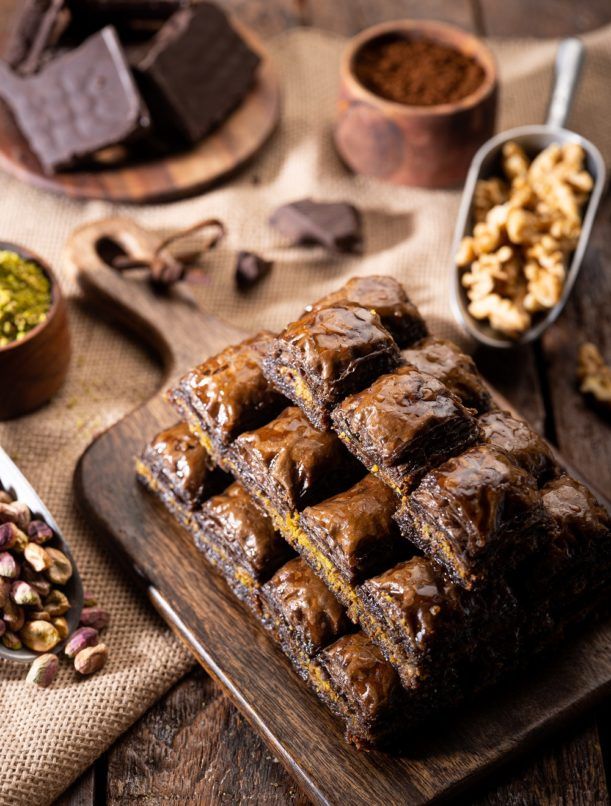 India's first-ever authentic Turkish baklava brand in Mumbai, known for their vegetarian Turkish confectionery and desserts, Hurrem's have launched a three-tiered holiday hamper, which includes Turkish delights such as lokums, baklava, and dates and nuts. They are also offering pre-curated assorted gift boxes with premium wooden packaging, filled with Turkish desserts. They are delivering all across Mumbai.
Price: Rs 1,100 onwards
Contact: +91 99205 59204 / +91 22 4741 5007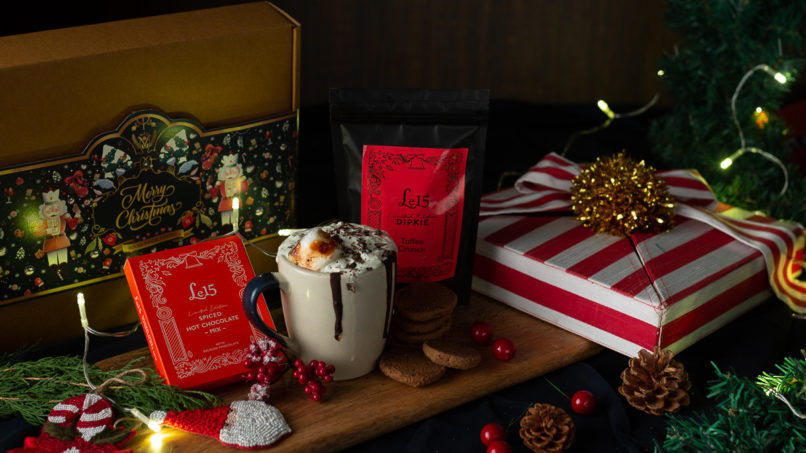 Chef Pooja Dhingra of Le 15 turned to the creative elves at Rani Pink Gifts to offer festive goodies this Christmas. Rummage through their stash of nutmeg and cinnamon, and bring out the jar of rum-soaked raisins. The Rani Pink Gifts hamper includes Cosy Christmas Box, Le 15 Spice Hot Chocolate Mix (Hot Chocolate with cinnamon nutmeg and a hint of clove), and Le 15 Toffe Crunch Dipkie (butterscotch, cornflakes, and milk chocolate chip cookies). They are delivering pan India.
Price: Rs 1,650 (all-inclusive)
Contact: +91 93102 98167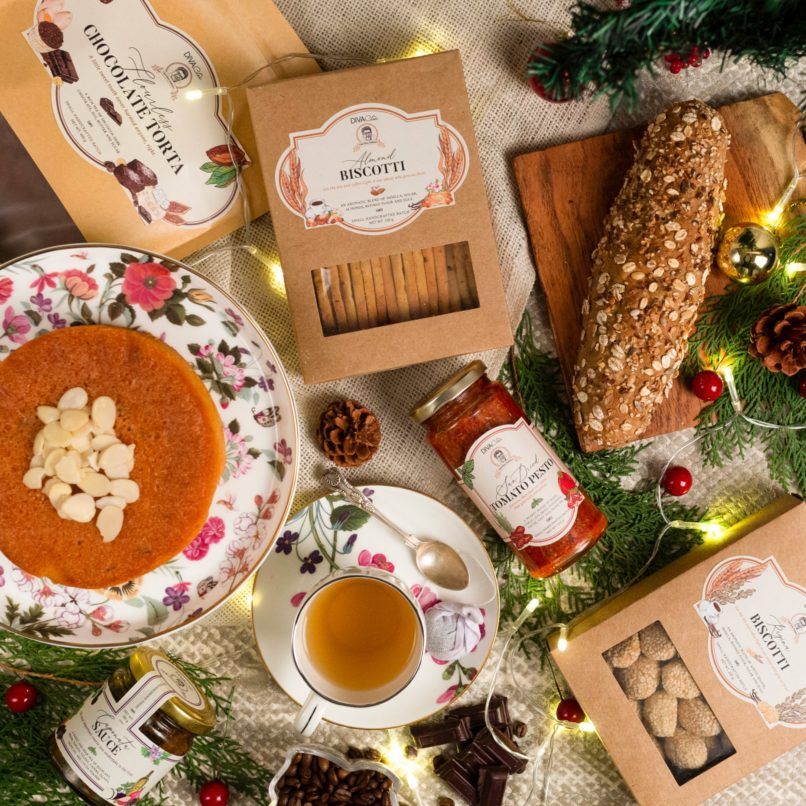 Chef Ritu Dalmia's DIVA restaurant has expanded DIVA Casa to introduce a curated retail line, DIVA Casa Pantry, to help you whip up their classics this Christmas. The hampers comprise freshly rolled pastas, signature sauces, salad dressings and signature Italian biscotti, and cheese and artisan breads. You can also choose from Meal Hamper (Rs 3,500), Aperitivo Hamper (Rs 3,500), and Tea Hamper (Rs 4,500).
Contact: You can call or Whatsapp on +91 72900 43704 / +91 72919 96198