Spring is here, and most of us are making itineraries based on our culinary preferences for the year. So, head to these new restaurants in Delhi which offer the best of delectable meals, beverages and a whole lot of fun!
Meeting up with old friends or spending an afternoon with your family is always something that brings one warmth and comfort. And given the current weather in Delhi, any excuse to meet up with others and spend some time out in the winter sun is a welcome treat.
Another thing that absolutely tops our charts is visiting new places. Whether it be travelling or discovering new places in your own city, stepping out of the house is always exciting. For us, this includes visiting newly opened restaurants in the city, as these add another layer of fun to our culinary adventures.
So, if you're looking for ways to combine your culinary escapades and catching up with your loved ones, these new restaurants in Delhi will be the perfect vehicle for you. Serving some of the finest dishes and best cuisines, these new restaurants will ensure that you enjoy your time outdoors and have a wholesome experience.
Best new restaurants in Delhi in 2023
March 2023
INJA, The Manor New Delhi Delhi's newest offering is INJA, which serves a delicately balanced blend of Indian and Japanese cuisine (and hence, its name). Located in The Manor, a boutique property in the upscale Friends Colony West area of the city, the restaurant's interiors as well as its menu speak of a confluence of Japanese and Indian cultures and food. Enjoy signature cocktails such as lychee gondhoraj martini, pomelo chaat and sashimis that will make you keep coming back for more!
Where: The Manor New Delhi
Time: 7:00 pm to 11:00 pm (Tuesday closed)
Check them out here
Kampai, Vasant Kunj Among the latest launches in the city is Kampai. Translating to 'cheers' in Japanese, the restaurant is truly a celebration of Japanese cuisine. It offers a fine selection of food and beverages, based on the various seasons Japan experiences. What's more, the place offers a sophisticated twist on the traditional Izakaya style of informal eating and drinking.
Indulge in dishes such as fresh sashimi and sushi, ramen, tempura and and gyozas. The place also serves char-grilled lobsters, Tuna Pizza and Nori-Crusted Salmon Steak, along with a delectable array of salads Robatayaki skewers, which is among the restaurant's main additions. Pair these eats with Japanese sakes, champagne, cocktails, beers, whiskys and a carefully-curated wine collection.
Where: DLF Promenade, Vasant Kunj
Time: 12:00 pm to 11:oo pm
Contact: +91 99710 70072
Must-try: Sashimi, Robatayaki skewers, cocktails
Check them out here
PAUL, Saket PAUL, the globally acclaimed French restaurant, is back with its latest outlet in Select CITYWALK, Saket. The restaurant is known for its delicate flavours, overall ambience and meticulous service. The restaurant serves European-inspired cuisine, and will definitely be a treat for your taste buds.
Enjoy a variety of offerings such as hot chocolate, coffee, viennoiseries, salads, pasta, ravioli, risotto, pizzas, and a lot more offerings. The raw material that the restaurant uses is all-natural, and free from artificial colours and flavours. This ensures a wholesome, healthier eating experience — one that you'll remember for long!
Where: 1st Floor, Select CITYWALK, Saket
Time: 9:30 am to 11:00 pm
Contact: +91 95601 55332
Price: INR 1,700 for two (approx)
Must-try: Pasta, risotto, pizza, hot chocolate
Check them out here
Kofuku, Gurugram The newly-opened restaurant is characterised by its wooden tables, traditional artwork, bamboo-themed decor, separate Japanese-style low seating with tatami mats. With an extensive menu, the place will ensure that you keep coming back to sample more off the menu.
Enjoy eats such as tempura prepared with wasabi, scallions, and soy, nigiri, kimchi jjigae, dumplings, sushi and ramen, among other treats, in their Izakaya-style seating.
Where: Block 1, M3M International Financial Centre, Badshahpur, Sector 66, Near Sector 50, Gurgaon
Time: 12:00 pm to 11:00 pm
Contact: +91 88263 88680
Price: INR 3,000 for two (approx)
Must-try: sushi, dumplings, ramen
Check them out here
January 2023
Erawaan, The Claridges New Delhi The Claridges, New Delhi launched its new restaurant, Erawaan. The restaurant offers an authentic Thai experience in a sophisticated, serene ambience. The place brings Thailand's vibrant opulence to the city, with walls containing Thai Art inspired by Ramayana, mandalas on the ceilings and inspirations from a modern Thai living room. Enjoy dishes such as Scampi Prawn Tom Yam, Glass Noodle Tom Jurd, Guey Teow Noodle Soup and more. Appetisers include a selection of dishes such as Prawn Kra Praw, Thai Style Sea Food Cake Thod Man, Grilled Scallop Hoy Phao, Char Muang Dumplings, and Mixed Vegetable Thung Thong, among others. The menu has ample delectable offerings that allow you get the proper Thai experience in the heart of the city.
Where: Erawaan at The Claridges, New Delhi
Time: 12:00 pm to 2:45 pm; 7:00 pm to 11:30 pm
Contact: +91 99587 91864
Must-try: Soups, dumplings, desserts
Check them out here
Cafe Dali, Lodi Colony Cafe Dali is an homage to the legendary Salvadore Dali, an author, artist and provocateur. The place features flavours of Europe with its delicious offerings. The menu has delicious hand-rolled pastas, fresh pizzas, lobsters and more. The aesthetic place is great for a fine-dining experience, and will transport you into another world altogether. Their Sunday specials are three, five or seven course menus with specially curated seasonal specials as well as Burgundy and Barolo wines.
Where: 136 – 137 Meharchand Market, Lodi Colony, New Delhi
Time: 12:00 pm to 4:00 pm; 7:00 pm to 12:00 am
Contact: +91 88829 41078
Must-try: Woodfired pizzas, artisanal pastas, set menus
Check them out here
Uncafe, Saket Uncafe has opened up an all-new outlet in Saket's Select CITYWALK. The place is done up tastefully, with earthy tones and a contemporary setting. The place aims at serving flavourful healthy food. Among their star offerings is an expansive salad bar, wherein you can choose from pre-set options or make your own bowl. The farm-to-table meals are made with carefully picked fresh, quality ingredients; from locally owned farms in Delhi-NCR.
Where: Select CITYWALK Saket, New Delhi
Time: 11:30 am – 9:00 pm
Contact: +91 95609 77200
Price: INR 1,100 for two (approx)
Must-try: Salad bowls, Italian pea and barley risotto, open sandwiches
Check them out here
Oishii Wok, Gurugram The restaurant offers delicious Asian delicacies across cuisine such as Chinese, Thai, and Japanese. Enjoy yummy offerings such as Soya Fish, Paper Chicken, Konjee Crispy Lamb, Drunken Prawns, Pad Thai Veg, and Poke Bowl, in a comfortable environment, paired with refreshing beverages.
Where: DLF Phase 4, Gurugram
Time: 11:00 am – 11:00 pm
Contact: +91 98180 28910
Price: INR 1,100 for two (approx)
Must-try: Poke Bowls, Drunken Prawns
Check them out here
Swirl Cookhouse & Patio A multi-cuisine restaurant, Swirl Cookhouse & Patio offers a majestic dining experience. The menu has a variety to offer when it comes to cuisine, and includes North Indian, Mediterranean, Asian, Italian, and others. What's more, evenings here feature live events with soulful music over the weekends.
Where: Starling Mall, Sector 110, Noida
Time: 12:00 pm to 12:30 pm
Contact: +91 95992 86049
Price: INR 2,600 for two (approx) without alcohol
Must-try: Falafels and pita, Kebabs
Check them out here
Smoke House Deli, Gurugram One of the most loved European styled cafe and restaurant, Smoke House Deli opened its 11th outlet in Gurugram's Badshahpur recently. Staying true to its signature feature, the cafe and restaurant offers an ambience like no other. Of course, its menu will be a delight to gourmands like before. Apart from other offerings, there's vegan, gluten-free, and keto-friendly fare as well.
Where: M3M International Financial Center, Shop No. R3 025, Ground & Mezzanine Floor, Sector 66, Badshahpur, Gurugram, Haryana 122002
Time: 11:00 am – 12:00 am
Contact: +91 78388 94896
Price: INR 2,000 for two (approx)
Must-try: Crispy Panko Chicken Tenders, Grilled Prawn Sambal Skewers, French Toasts, Hoagies
Check them out here.
Dhaba Esta 1986, Noida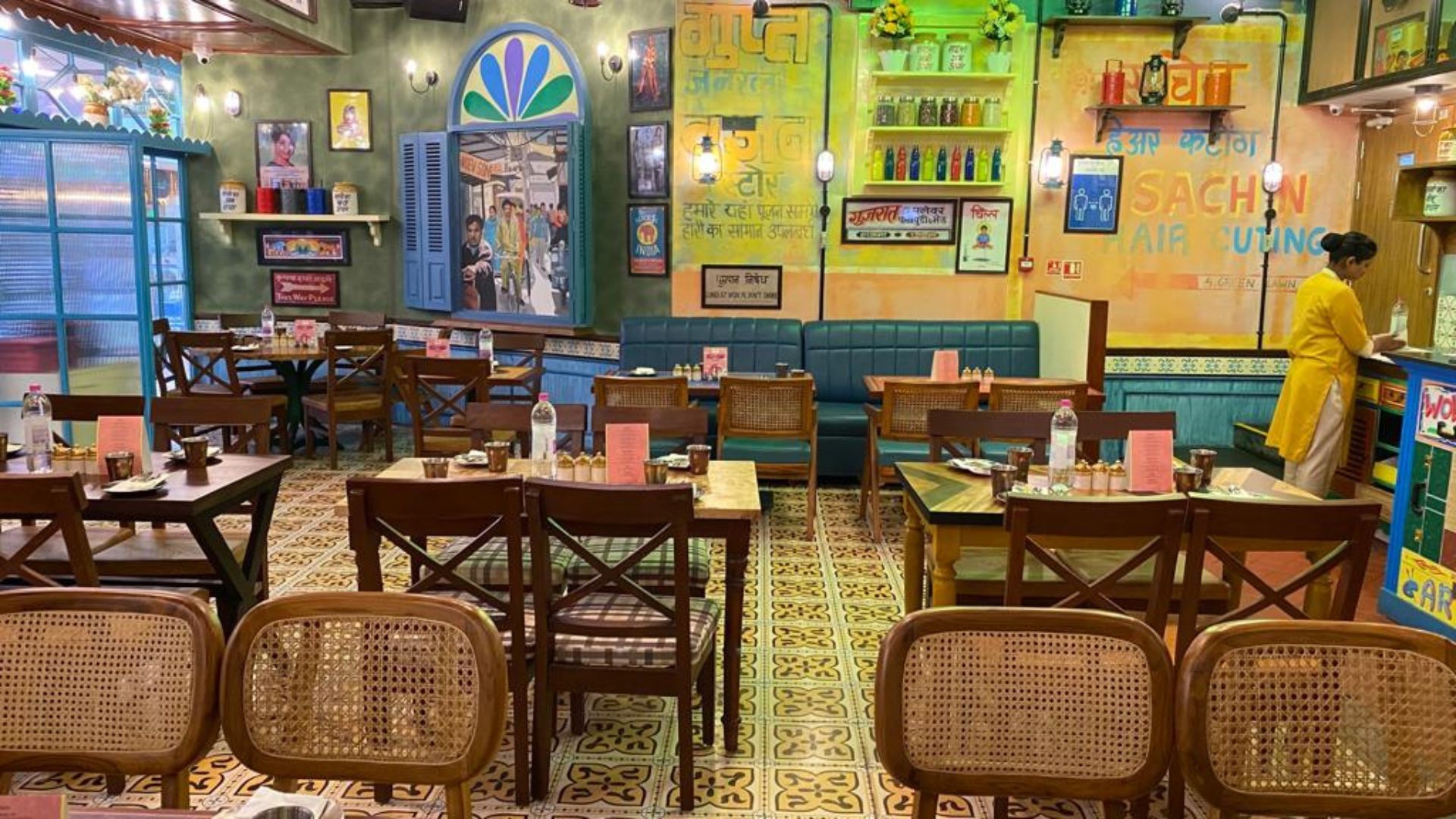 The Dhaba Highway Truck has finally reached Noida! Th restaurant Chain, Dhaba Estd. 1986 Delhi, has launched two brand new outlets in Noida. The restaurant is known for elevating dhaba-style food to fine-dining levels, keeping each dish's authenticity intact. This is what you'll get at the Noida outlets too, as you dig into plates of Chicken Tikka, Balti Meat and crisp paranthas, paired with dal, gravies and more.
Where: DLF Mall of India, Noida and Gulshan One29, Sector 129, Noida
Time: 12:00 pm – 12:00 am
Contact: +91 88267 75916/+91 88267 06903 (DLF Mall of India)
Price: INR 1,400 for two (approx)
Must-try: North Indian, Mughlai, Dal Makhani, Naan, Desserts
Check them out here.
December 2022
December may be gone, but the winter cosiness that came along with the new restaurants that opened in the month hasn't. So, check out some of our favourite restaurants in Delhi that continue to be much-loved in 2023 as well.
Gulati Restaurant, Gurugram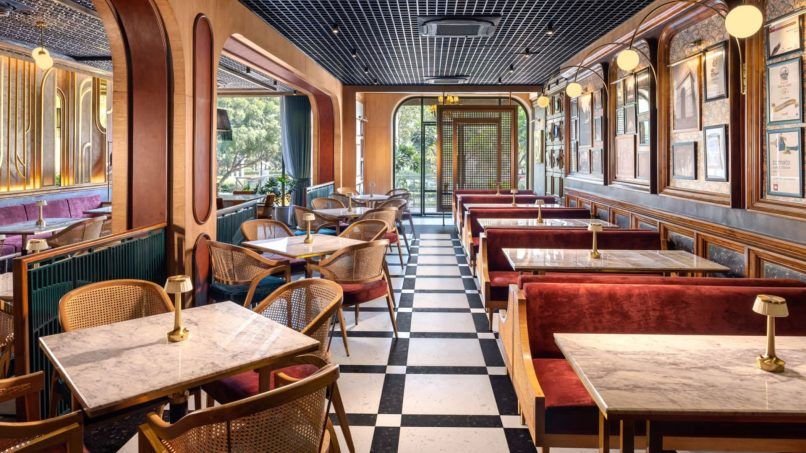 Following its legacy in Delhi, Gulati Restaurant opened up a new branch in Gurugram in December. The restaurant serves delicious North Indian and Mughlai cuisine, along with decently-priced and delicious buffet-style brunches. So, head there for a lip-smacking meal with your loved ones soon!
Where: A Block, Mega Mall Gurgaon, Dt Mega Mall, Golf Course Road Upper Ground Floor, DLF Phase 1, Sector 28, Gurugram
Time: 11:00 am – 11:00 pm
Contact: +91 80689 72921
Price: INR 1,800 for two (approx)
Must-try: Butter Chicken, Naan, Biryani, Desserts
Check them out here.
Hero and Featured Image: Courtesy of Kofuku
Frequently Asked Questions (FAQs)
Question: What are the best family restaurants in Delhi?
Answer: Several restaurants in Delhi are great for family dining. Bukhara, Mardan are some great options in Delhi-NCR, as well as La Piazza.
Question: What are the best brunch restaurants in Delhi?
Answer: Some of the best brunches in Delhi are at AnnaMaya, Farmer's Basket at Pluck, La Piazza and Kiko-Ba, to name a few.
Question: Which restaurants have the best fine dining experience?
Answer: 1911, AnnaMaya, La Piazza are some of the restaurants that offer the most luxurious fine dining experiences.
Question: What are the most expensive restaurants in Delhi?
Answer: Delhi has several restaurants that are on the pricier side, thanks to the complex flavours and the intricacies the food there has. Some of them are Indian Accent, La Piazza, Megu and The Spice Route, though the list is not limited to just these places.