Nothing makes Christmas better than wholesome, warm foods that feed the soul as well it does the stomach. You can make the most of your festive season by trying out these Christmas brunches in Delhi. 
RYU Bar 
This Asian-themed resto-bar in Gurgaon's 32nd Milestone promises food that not only satiates the culinary desires of its patrons but also creates a wholesome experience zone for them to unwind. Bring in the Christmas festivities via a special Christmas Treat 25% discount offer on à la carte bill, only on December 24 and 25. You can order from delicacies like Prawn Tempura Sushi, Humbo Salmon Avocado Sushi, and more. 
Timings: 12:00 pm – 12:00 am
Contact: Call on +91 124 4000008
The Imperial
The Imperial in Delhi brings the holiday spirit to you with their seasonal decor and food. Their Christmas exhibits an installation of a 5-tier Christmas Charlie filled with music boxes, miniature fairies, poinsettias, snowdrops, and more. And the exquisite feast, by executive chef Prem Kumar Pogakula, at the 1911 restaurant is one you can't miss. Christmas eve packs a 3 course pre-plated Christmas eve dinner with a dessert buffet, which includes options like Roast turkey, Brussel sprouts, pork belly in a bread stuffing, giblet gravy, and more. And Christmas is being celebrated at the 1911 Terrace, where you can gorge on sumptuous desserts like Spiced apple mousse, Traditional plum cake, and Plum pudding with brandy anglaise.
December 24 at the 1911 restaurant
Timings: 6:30 pm – 11:45 pm
Price: Rs 4,000 (plus taxes per person) and Rs 2,000 (plus taxes per child). Additional liquor (IMFL) at Rs 2,500 (plus taxes) and imported liquor at Rs 3,500 (plus taxes)
December 25 at the 1911 terrace
Timings: 12:00 pm – 3:30 pm
Price: Rs 4,200 (plus taxes) and Rs 2,100 (plus taxes per child). Additional liquor (IMFL) at Rs 2,500 (plus taxes) and imported liquor at Rs 3,500 (plus taxes)
Andaz
Andaz Delhi is hosting a very special Christmas eve dinner and a Christmas brunch at AnnaMaya this year. Their Christmas eve dinner spread includes an a la carte menu with a lavish 5-course feast, including alcohol. The menu offers options such as slow roast butterball turkey breast, herb gnocchi with roasted red pepper sauce, and more. And their Christmas brunch packs Christmas Carols and Live music, along with AnnaMaya's celebrated signature dishes and a buffet.
Timings: Christmas eve dinner – 7:00 pm – 11:00 pm / Christmas brunch – 12:30 pm – 4: 00 pm
Price: Christmas eve dinner – Rs 2,000 per person and Rs 4,00 for couples (plus taxes) / Christmas brunch – Rs 2,300 onwards
Smoke House Deli
Smoke House Deli at Saket and Vasant Kunj in Delhi has launched a new festive spread rightly called the 'Season's Goodness'. Available from December 15, 2020 to January 15, 2021, this new menu caters festive delights such as Roasted Pumpkin & Coconut Veloute, One Pan Baked Tiger Prawns with Squid and Calamarata, Devilled Crabmeat Spaghetti,
Plum Pudding with Saffron Brandy Sauce, and more.
Timings: 11:00 am – 11:00 pm
Andrea's Eatery and Andrea's Bar and Brasserie vows to bring the best of worldwide cuisine straight to your doorstep via their new direct delivery service. Indulge in their favourite Italian & South East Asian flavours such as Honey Glazed Sriracha Belgian Pork Ribs, Mapo Tofu, Red and Green Thai Curry, Sushi Platters with Ebi Tempura Maki and California Rolls, and the classic Carbonara Romana, among many more.
Contact: Order online or call on Select CityWalk – +91 85888 23873 / Khan Market – +91 85888 23871
The Oberoi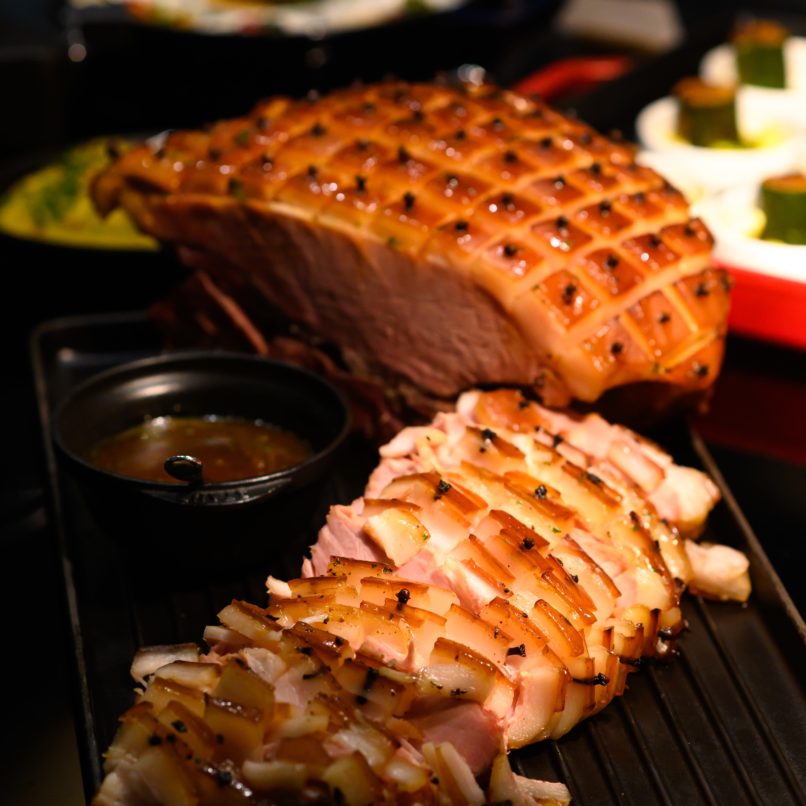 Another place to be merry this Christmas is at The Oberoi. They are hosting a Christmas eve dinner and Christmas brunch at the 360° restaurant. On December 24, you can gorge on a Christmas feast paired with wine, traditional desserts, gourmet cheeses, and more. And on December 25, you can try options such as Chicken cordon bleu with truffle wilted spinach, Lamb Shepard's Pie, Honey glazed ham with Riesling-Mustard Glaze, Orange and Coriander Marinated Salmon with warm quinoa tabbouleh, and more.
Timings: December 24 for dinner (7:00 pm – 11:00 pm) and December 25 for brunch (12.30 pm – 3.30 pm)
Price: Rs 5,500 champagne, wines & spirits, and Rs 6,950 for premium champagne (plus taxes)
Sly Granny
Sly Granny at Khan Market has decided to add to your holiday cheer this year, starting a Christmas menu from December 10, 2020 till January 5, 2021. This special menu offers fare such as Pulled pork and Mushroom Croquettes, Roast Turkey Porchettas, Lamb Shank Braised with Red Wine, Plum Cake with vanilla ice cream, Sticky Banana Boudin, among others. They even have a special drinks menu that includes a Granny's special eggnog, mulled wine, and more.
The Lodhi
The Lodhi brings you a culinary extravaganza this Christmas. Their celebrations will begin on Christmas eve and will continue till the start of the New Year. You can select from an array of the finest international cuisines at Elan, Perbacco, and Safari Lounge, accompanied by incredible artisanal concoctions and foot-tapping music by a live Jazz band and DJ. And The Lodhi Bakery will offer classic treats like Plum Pudding, Yule Log, Fruit Cake, Gingerbread, and more all through the festive season.
The Ruchira Kitchen
Chef and food consultant Ruchira Hoon (who is also a brand chef at Ek Bar in Delhi) has introduced a special 7-course Christmas menu this year. The 'Gift A Meal' comes in collaboration with The Packaging Company and will be delivered only on December 23 and 24. It will include classics such as Whole Roast Chicken, Potato Dauphinoise, Roasted Root Winter Vegetables, Boozy Christmas Trifle, among other items.
Price: Rs 3,000 (meal for two)
Contact: WhatsApp on +91 98993 88238
Yang and Yum, a delivery service of the authentic Asian cuisine, specialises in curating seasonal menus. Founder by Sagar Suri, this Delhi-based online kitchen offers signature Asian dishes such as Kung Pao Chicken, Chicken in black bean sauce, Prawns in Sichuan, Sesame tossed Pok Choi and Shitake in Garlic, and more. This Christmas, if traditional doesn't suit your tastebuds, then try the evergreen Asian.
Timings: 12:00 pm – 2:00 am