From under-the-radar Korean joints to traditional Ethiopian fare, there's no lack of diversity when it comes to eating out in Mumbai. The latest to charm the city is Middle Eastern cuisine, which has come a long way from what it used to be (read: staples like falafels, hummus, and shawarmas). Instead, say hello to fragrant pilafs, lightly spiced kebabs, Turkish flatbreads, several varieties of hummus, and a whole array of inspired desserts. And yes, there are plenty of vegetarian options to choose from as well.
"People are increasingly looking for authentic experiences when dining out. And they've realised there is more to Middle Eastern fare than just dishes like shawarmas, kebabs and hummus," says Arjun Raj Kher, Brand Head of Bayroute, a fine-dining Middle Eastern restaurant chain in Mumbai. "Besides, there are many similarities with Indian cuisine as well, which only add to its appeal."
We give you the low-down on where to sample the best Middle Eastern fare in Mumbai.
Since its launch in early 2018, Bayroute has scripted a success story for itself by serving authentic Middle Eastern fare that spans Turkey, Egypt, Morocco, Saudi Arabia, and Lebanon, among several other countries, including some lesser-known, obscure dishes. Since then, the chain has opened four outposts in quick succession, with a recent fifth outpost at the Palladium Mall in Lower Parel. The menu is vast, and we recommend a couple of visits so you can sample just what they have to offer. Dishes are theatrical and the desserts are just as decadent with a favourite being the baklava – served with crushed rose petals, the Greek yoghurt popsicles, and the extravagant 'Gold Souk', which has edible gold, ruby chocolate and the works.
Address: Outlets at Cuffe Parade, Juhu, Powai, BKC, and Palladium (Lower Parel)
Contact: 090290 08335 (Cuffe Parade) One of Mumbai's hidden gems for authentic Levantine cuisine, Rue Du Liban combines stylish fine dining and great food with panache. The restaurant exudes old-world glamour with its art deco interiors, plush velvet chairs, brass accents, and a bar that's a highlight of this space. The menu is eclectic with a variety of cold and hot mezzes, grills, fresh salads and more. There's simply melt-in-your-mouth kibbeh with freshly baked pitas and you can end your meal with the mastic ice cream.
Address: Sassoon Building, 43, VB Gandhi Marg, Kala Ghoda
Contact: 022 2286 4444 Located on the rooftop level of the Taj Mahal Palace Mumbai, Souk has been a go-to for its authentic take on Middle Eastern fare for years now. Its USP isn't just the food and its luxury setting, but also the stunning views from its floor-to-ceiling windows overlooking the Arabian Sea. Grab a table by the window and settle in with some cocktails or order platters that are a veritable feast. It's also a great spot for Sunday brunch (with champagne, of course!)
Address: Taj Mahal Palace Mumbai, Apollo Bunder
Contact: 022 6665 3366 Positioned as a French-style café serving Lebanese fare from the streets of Beirut, Arbab is one of the new kids on the block. The alfresco seating lends itself well to the compact menu with dishes like the Ahla Sobaya, a home-style breakfast comprising fresh labneh, crispy falafel, and scrambled eggs served with Arabic bread, or an assortment of hot pastries like the cigar cheese roll, meat sambousik, and fatayer. End your meal with sweet staples like the knafeh, a traditional pastry stuffed with cheese and cloaked in sweet syrup or the Umm Ali, an Egyptian-style bread pudding paired with some Suleimani chai.
Address: 149, 28th Rd, Bandra West
Contact: 022 2641 0000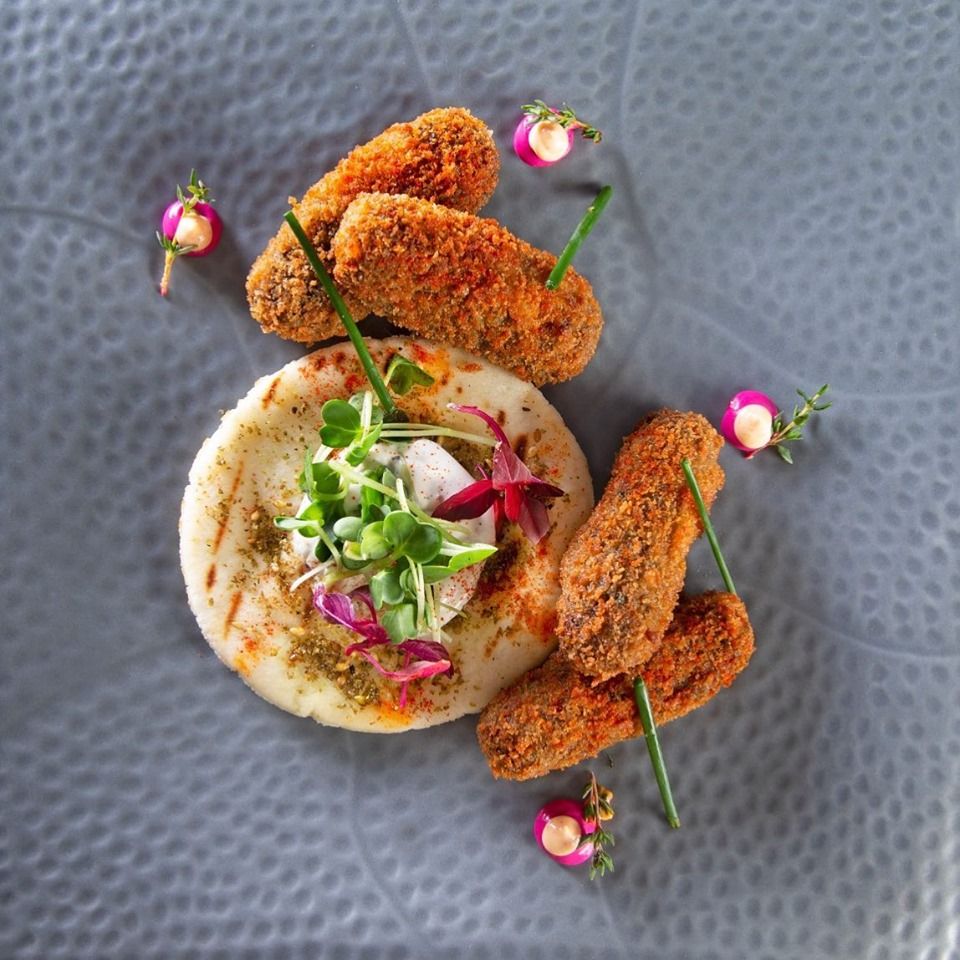 This bistro located in Colaba boasts colourful Moroccan-inspired interiors that are reminiscent of local souks, complete with lamps that resemble Turkish fez hats. The menu has a whole section dedicated to hummus. Look out for the green pearl hummus with citrus avocado, smoky cauliflower hummus and more. Sharing platters are aplenty; hand stretched Turkish pizzas, pita toasties, and charcoal-grilled kebabs from all over the region paired with fluffy breads. We suggest ending with the baklava lollipops or take your pick from their ice cream menu – rose petals and almonds or the lemon and jasmine sorbet.
Address: Sea Palace Hotel, Ground Floor, P J Ramchandani Marg, Apollo Bunder
Contact: +91 98339 38374