Grazing tables are tweaked, modern versions of a buffet, but definitely a more decadent alternative. Think Romans and their bountiful tables heaving under the weight of sumptuous goodies. Yes, the same vibe, only much more 2021. A grazing table, often also called feasting table, is an artfully laid-out spread of different fresh food like fruits, cheese, nuts, crudités (sliced or whole raw veggies typically dipped in a vinaigrette or any other dipping sauce), nuts, and dips, even charcuterie — essentially food that requires minimal cooking (that's the best part). There are no plates or cutlery necessarily, they are finger food and it's the perfect way to get your guest to mingle with others over drinks. Plus, it's a huge conversation starter and easy to put together. It's elegant dining that's as much a visual feast as it is a gastronomical one.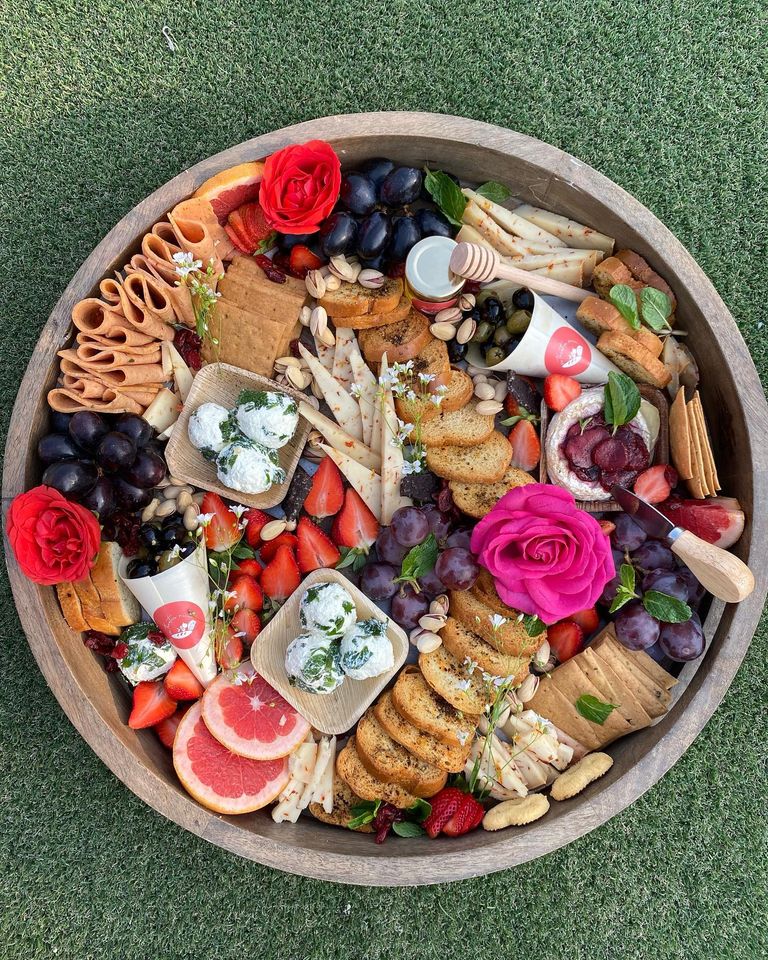 Grazing Tables as a trend is definitely picking up in India these days with so many labels offering their own take on it from healthy ones to keto fare to just basic fresh cheese platters. It started in Australia, where it became all the rage in 2019, hitting the Pinterest boards of millennials and young couples who wanted to entertain in style with less hassles. Today, it's the perfect option for cocktail hours at intimate backyard weddings, sublime baby showers, family picnics, and other home parties. Plus, there's no denying that the whole concept is 'gram-worthy. Preeti Rathod, Designer of The Theatric Platter who started her eco-conscious grazing label gives you her expert take on creating a perfectly laid-out spread. If you get the rules right, it's a cake walk. Make sure the platter is clean or one can go with parchment paper so it's easier to clean. If it is a centre-long grazing table, one can just do with a parchment paper if you don't have too many platters.
Add bowls of different sizes and heights to add texture.
In terms of food, make sure you look at brightly-coloured seasonal fruits so the platter looks fresh and inviting and not dull and lifeless. Choose 2-3 varieties of cheese, preferably ones that are soft, spreadable, some even hard, neatly cut into bite-sized portions. Everything should be dip-able and easy to layer up on food. Pro tip: Make sure you keep your cheese out an hour before serving so it's soft. Keep one flavour mild and the other flavour bold so the platter stands out and caters to all tastes. Serve with flavoured crackers. Add crudites and fruits to nibble. One can add fresh veggies – from carrots, broccoli and snow-peas to beetroot and cucumbers – the options are endless. Make sure they are cut and washed well. The hack is also to keep them in water so the taste is still juicy before you serve your guest. No one likes to bite on a dried-up carrot.
They should be arranged colour-wise to make it eye-catching. Make sure the cheese is served room temperature and cut it in small bite sizes so it's easier to layer. Make sure we have enough crackers ready on the plate and cheese already cut and stacked for refills.
Add fancy jam jars, paper cones and eco-friendly wooden bowls to add drama and separate the food.
Edible flowers always add that extra touch so get the bright-coloured ones to sprinkle around the platter to create an illusion of a fresh garden. Things to avoid
Do not serve hard cheese right out of the refrigerator.
Keep seasonal fruits to add more colours