The COVID-19 pandemic may have brought down the spirits in the last month. However, this weekend is reversing that, with Easter 2020 around the corner. Here are the places doing food delivery with Easter goodies to ring in the day.
Delivering through Scootsy, La Folie has a range of traditional Easter treats, their new bean to bar chocolates, as well as fresh bread, are on offer this Sunday. Do try the Single Malt Cask Aged Bar along with the likes of Hot Cross Buns (candied peel and chocolate chip flavours); a range of eggless Coated Confections in a variety of flavours such as Vanilla Caramelised Hazelnuts; Butterscotch Nuggets; Peanut Butter and Brittle; Orange Peel Marzipan; Sugar-Free Almond; Cocoa Caramelised Almonds; Salted Caramelised Pistachio; and Blueberry Cream Cheese.
The hotel is doing home deliveries within a radius of 5 km and you can pre-order mains and desserts like Creamy Tagliatelle Mushroom and Spinach, Spinach and Vegetable Lasagna, Grilled New Zealand Lamb Chops, Smoked Chicken Pasta, Roast Chicken, Carrot Cake, family size Bunny Swiss roll, Easter brownie bar, and Apple Strudel. To order, visit their social media handles or call them on +91 90046 16506, +91 98313 02215, +91 22 6693 3000.
Mag Street Bread Co. is delivering traditional hot cross buns in the city this Easter. Pre-order these delights, you won't be disappointed.
The Oberoi, Bengaluru is doing home deliveries for an entire week for easter, so you can indulge till April 15. They'll be delivering within a radius of 6-8 km, and are also delivering through Dunzo as well as accepting self pick-ups. You need to order between 9 am and 6 pm, 24 hours in advance, a minimum order of Rs 3,000 without taxes. The menu is extensive with cheese and charcuterie platters, babka cakes, rye & walnut country loaf, Easter ham, roast meats, pies, sandwiches, wraps, even traditional treats like pastas, biryanis. Desserts include Easter eggs, carrot cake tiramisu, cheesecake, and more.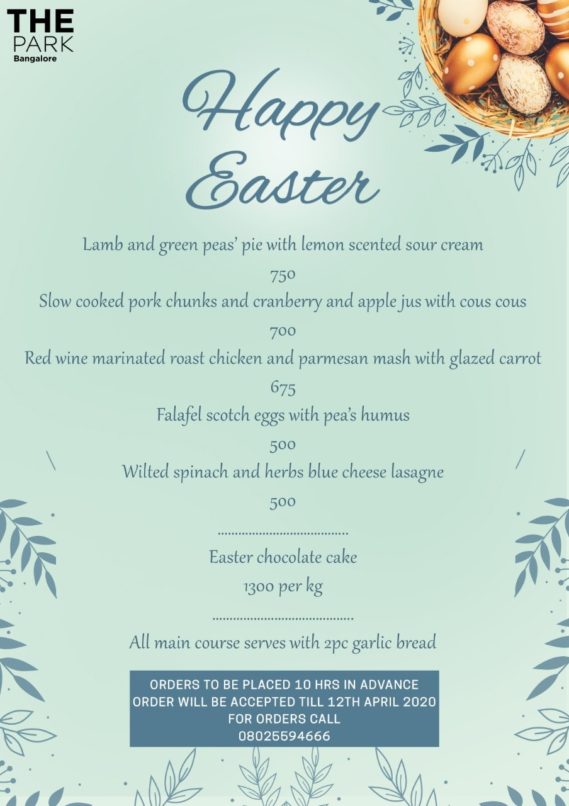 Place an order 10 hours in advance and have a scrumptious treat at your house for Easter weekend. Lamb, chicken, pork, scotch eggs, lasagna, and an indulgent Easter chocolate cake makes up their feast. They're also running an Easter game on their social media, so check that out to add some fun to this lockdown.
Place your order 48 hours in advance for their family-sized Easter feasts. Pies, whole meat roasts, Easter eggs, roast pumpkin, and more can be ordered by the kilo and customised to your preferences. Contact them at +91 99625 98595.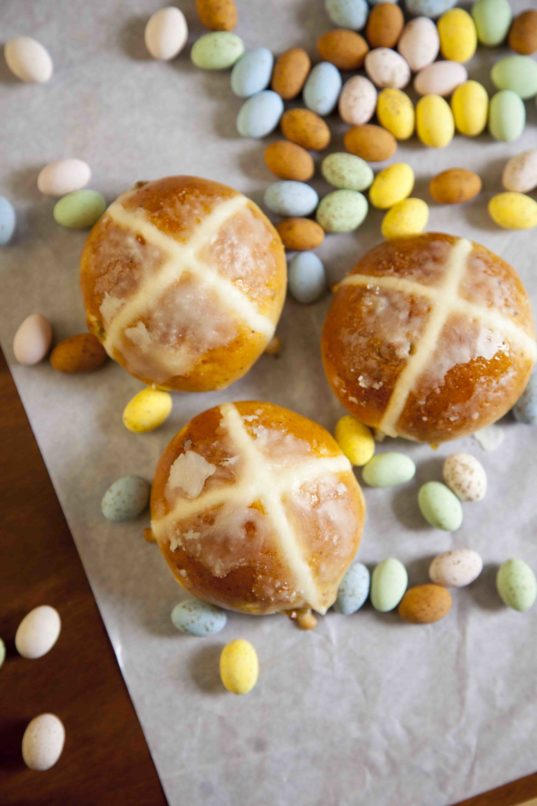 The restaurant known for its focus on local produce and farm-to-fork approach is delivering the traditional hot cross buns, along with a new home delivery menu. Pack of six buns is priced at Rs 375 plus taxes. Delivery across Delhi-NCR. Contact them at +91 11 4903 1352 or +91 72910 60670
Now offering a home delivery menu from across its popular restaurants, including TKs, Sidewalk, La Piazza, and The China Kitchen, Hyatt Regency Delhi is also offering Easter hampers that can be made on order. You can create your own hamper with eggs, cakes, and traditional hot cross buns, alongside ordering from their home delivery menu. — Easter hampers start at Rs 1,500 + taxes for a basic one. Call +91 6677 1374 / 1376 or +91 9958096568 , or Whatsapp +91 96548 90066.
Bringing traditional Easter delicacies to your doorstep, Park Hyatt Hyderabad is taking orders for a classic roast chicken or a mustard marinated one, along with sauces, and desserts. Dessert includes hot cross buns and traditional coconut carrot cake. Place orders at +91 7702202518/+91 40 4949 1202
All images: Courtesy brands