The Sri Lankan house of crustacean delicacies, the Ministry of Crab, recently completed a glorious year in Mumbai, India and to celebrate their first birthday they've clubbed their sea-food menu with cocktails curated by the finest of mixologists India has to offer.
The Ministry of Crab in Mumbai is an elegant art deco-inspired restaurant designed by Ayaz Basrai that during the day has sunlight beaming in, and at night is mysterious and cosy. Circling the majestic chandelier is an old-fashioned spiral staircase that leads you to the upper deck of the house that's dedicated to spirits. To mark their anniversary, the restaurant has debuted an exclusive bar menu, dubbed 'The First Pour', featuring drinks curated by some of India's finest mixologists like Yangdup Lama, Shatbhi Basu and Khushnaz Raghina.
Ministry of Crab has set itself apart not just in Mumbai's dining scene but across the world, and to now see MOC offering a dedicated spirits menu only ups the ante. The limited edition menu has a 10 new cocktails created by renowned mixologists in India – each signature drink is unique and is a perfect reflection of the flair each mixologist came with. The best spot to take in the seafood-spirit pairings is the gorgeous bar on the upper-deck that overlooks the dining area.
We started off our evening with a Grape Gibson and a Coriander Gimlet, both clear drinks that were curated by Dimi Lezinska and Pankaj Balachandran, award-winning bartenders and mixologists who created a special drinks menu for the restaurant. The Coriander Gimlet was tequila-based,  perfectly doused down with coriander saccharum and some clear lime juice. We paired the drinks with Ministry of Crab's Oyster Sixers (fresh oysters in a shot glass), a great note to start the evening with.
We then moved on to our next set of cocktails, The Plantation is a perfect blend of Indian spices, bitters, and burst of citrus and is balanced by a few sweet slices of apple. The Kokum Stings simply reminded us of Mangalorian lunches with a strong dash of ginger, curry leaves, and rum.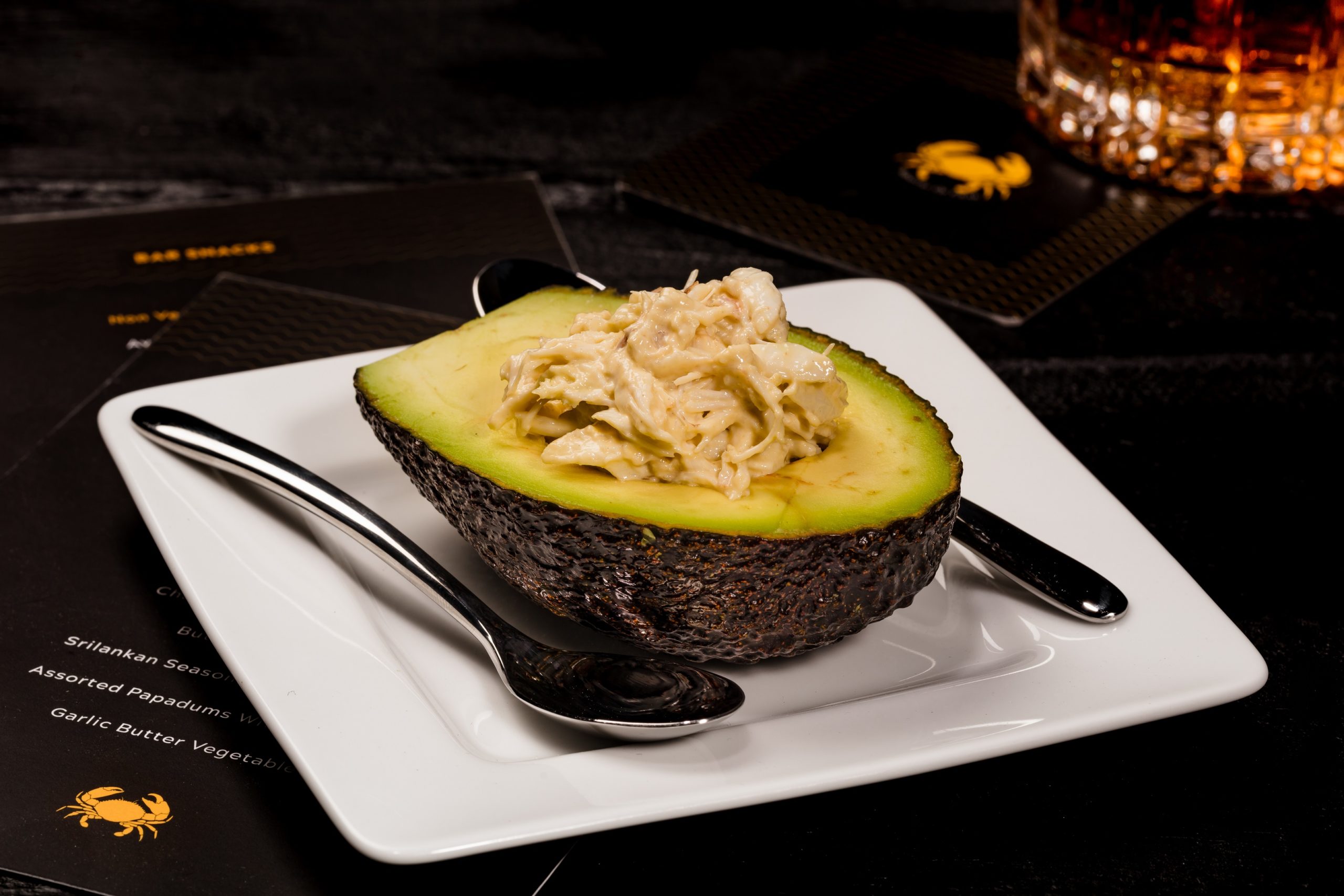 We paired these with Avocado Crab Salad, a warm dish of steamed crab meat, wasabi mayonnaise, and perfectly sliced avocado pieces. The soy-poached Avacado Tomato Salad on the other hand is a great alternative for vegetarians and certainly stays on par with its crab-meat version. The star of the evening was the String Hopper Crab Kotthu – mild and flavourful – just perfectly complementing the drinks.
For our third course, we opted for a Ministry of Crab's signature Garlic Chilli Crab, a beautifully flavoured, sublime dish. You do have the option of choosing what size of crab you'd like but we'd suggest a jumbo for a table of two. This was paired with a Yang's Old Fashioned and the Spotlight. Yang's drink was an absolute burst of bettle-nut bourbon based with some bitters, whereas the Spotlight was a a really fruity Bacardi rum drink, which could be great for someone who isn't a fan of dark liquors.
To finish off our evening on a sweet note, we tried The Story of Cacao, the coming together of bigger chocolate and roasted cacao was deliciously balanced by just a hint of chilli.
Where: 442, Chitrakar Dhurandar Marg, 14th Rd, Khar West, Mumbai
Contact: +91 77108 98811
Opening hours: 7:30 pm to 11:30 pm
Recommended dishes: Garlic Chilli Crab
Price: Rs 7,000 for two (excluding taxes)
Noise levels: Low
Service: Helpful
All images: Courtesy Yi Jing. Featured image: Getty Images