The smell of coffee takes on a whole new meaning during those seemingly endless zoom meetings that are a part of our new world order. Whether you are tired of whipping Dalgona till your arm feels like it's going to fall off or you miss your regular brew from your favourite neighbourhood café, we have your back. Order in from the best coffee deliveries in Kolkata.
If you have been to this popular American café, you would have noticed that they take their coffee very seriously, right from the big roaster that has pride of place in their Hindustan Park location to the coffee tastings they offer. One of the big hits on their menu is their Keto-friendly Butter Coffee, which is a combination of Black Coffee + Unsalted Butter + Coconut Oil. In addition to tasting yummy, this brew keeps you full for longer and is said to improve your mood, so why not give it a try?
Available on Swiggy and Zomato.
This cheerful café in Deshapriya Park has an extensive coffee menu featuring many dairy alternatives like Oat, Almond, and Coconut Milk, full fat and low-fat options, as well as a variety of different toppings and flavours. If you would like to try something fresh and seasonal, you could opt for their Café Mango which is Espresso, ice cream, and fresh Alphonso.
Available on Zomato.
Although a few of the city's cafes use Blue Tokai beans, the standalone outlet is a relatively new entrant on the Kolkata coffee scene. As dedicated coffee roasters, they source the finest homegrown coffee with the aim of introducing customers to the various estates they work with and making high-quality coffee accessible to everyone. If you are feeling indulgent, we recommend trying their Mocha. It's Espresso with steamed milk + melted handmade organic chocolate from Mason & Co. You can choose from regular, cinnamon chilli, sea salt, and peppermint.
Available on Zomato.
Another coffee shop we miss hanging out in is the Roastery Coffee House. Located on the ground floor of South India Club, its checkered courtyard is a favourite among Instagrammers. They have an extensive menu featuring various brews like Cold Brew, Pour Over, Nitro Cold Brew, Aero Press, French Press etc. They also have cold coffee options and many desserts like Ice Cream Blend, Chocolate Blend, Cookie Blend, and Brownie Blend. If you want to try something different, pick Cascara, made from the dried husk of the coffee cherries.
Available on Zomato.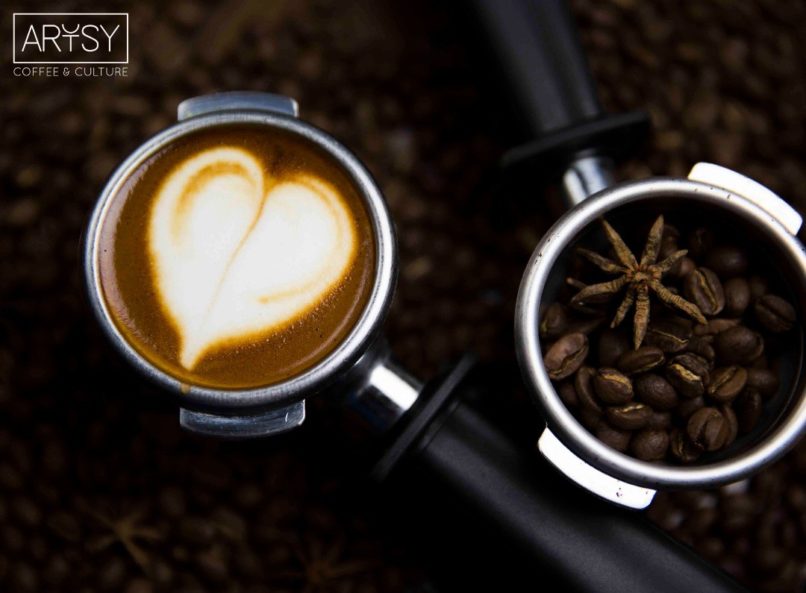 Even if we can't kick back with a book at this lovely art-filled café just yet, we can still treat ourselves to some of their delectable coffees. If you are looking for something refreshing, try one of their iced coffees. You could try a Hazelnut Infused Iced Latte or Vietnamese Style Iced Coffee, which is a delicious concoction of coffee poured over condensed milk and ice.
Available on Swiggy.
Most of us are familiar with this French-themed patisserie as a place to get freshly baked breads and sinful desserts. However, in addition to those, they also have a good coffee menu. You can choose from different flavoured cappuccinos, mochas, and macchiatos. If you are looking for something that's a little off the beaten track, try the Espresso Romano which is Espresso with Lemon Zest. The lemon brightens the coffee and softens the bitterness.
Available on Zomato.
This literary-themed café with a lush green view is peppered with books and book paraphernalia. Even if we can't sink into their squishy cushions featuring quotes from our favourite authors, we can still order in their yummy coffee to sip on while we read. They have a wide array of whimsically named brews to choose from. Harry Potter fans who want an espresso fix will love their Espresso Patronum. We are partial to A Clockwork Orange Brew, which is cold brew with orange juice infused with burnt cinnamon sticks.
Available on Swiggy and Zomato.