Despite travel restrictions this year, the Easter Bunny has arrived bearing gifts, and it'll make you want to lick the plates clean. If you're still pondering how to bring in Easter this Sunday, check out these Easter brunches in Mumbai for a wholesome meal.
Bandra West's Hakkasan is serving a special five-course Cantonese brunch this Easter, which is also available on delivery. You can start with soups and salads such as wild mushroom clear soup or vegetarian duck and cress salad with pomelo, onion, and shallots before moving on to appetizers. From the mains, you can satiate your cravings with Stir-fry lamb tenderloin with ginger and spring onion, and more. Following this, you can wash off your palate with something sweet. And one more unmissable selling point at Hakkasan is their free-flowing Grey Goose cocktails. 
When: Sunday, April 4
Timing: 12:00 pm – 3:30 pm
Price: Rs 3,000 (including taxes)
Contact: For reservations, call: +918355877777 | For home delivery, call: +919820320842 / +919819483039
Address: Hakkasan, 206 Krystal, Waterfield Road, Bandra (West), Mumbai 400050
Moving away from the traditional meals, you can visit Bayroute, Mumbai's hottest joint for Middle-Eastern cuisine, to celebrate an egg-citing Easter this year. Bayroute is giving complimentary Easter special Egg to the patrons (one Easter special egg for two guests). Along with this, you can also gorge on their delicious Hummus, Koshari, Quwarmah and other sweet delights such as Shukulata Al Habib, Lotus Milk Cake, and Baklava. Wash down the best brunch in months with their special cocktails, Desert Storm, Drink Like an Egyptian and Turkish Madness, and many more.
When: Sunday, April 4
Timing: 12:00 pm – 8:00 pm
Price: Rs 3,000 (for two)
Contact: Available in all outlets across Mumbai

Bastian, Mumbai brings you a hearty brunch this Easter that you can either enjoy at the restaurant or order in. Bastian's Easter brunch menu is divided into three sections — 'Salt', 'Salt + Sugar' and 'Sugar', along with small eats and refreshing Sunday cocktails. From the Salt section, you can order Gluten Free Avocado Toast, Crab Toast, and more. And from the Salt+Sugar section, you can select Ham and Cheese Burrito, Bastian Bird, and The Homer. The sugar section categorises all things indulgent, Stuffed Mixed Berry French Toast, Gluten-Free Hazelnut Crunch Waffle, and more.
When: Sunday, April 4
Timing: Brunch menu (11:00 am – 7:00 pm) and Dine-in/Delivery (11:00 am – 11:00 pm)
Price: A la carte brunch starts at Rs 500
Contact: +91 84199 66853
Address: Bastian, Kamal Building, B/1, New, Linking Rd, next to Burger King, Bandra West, Mumbai 400050
Out of the Blue is claiming their Easter brunch to be very egg-celent. You can find that out for yourself this Sunday. Their Easter special is handpicked by Chef Juliano Rodrigues, offering a wide range of delectable indulgences such as Hot Cross Buns as well as colourful and vibrant Easter eggs filled with marshmallows, candies, and chocolates. For those with sweet-tooth cravings, this is the place you'd call heaven this weekend.
When: 31 March – 4 April
Timings: 12:00 pm – 8:00 pm
Contact: +91 93248 39393
Address: 14, Union Park, Off Carter Road, Khar, Mumbai 400052
Romano's, JW Marriott
Romano's at JW Marriott Sahar is whipping up an Easter-themed lunch for you to indulge this Sunday. Via their classic dishes and recipes, experience a burst of unique authentic aromas and flavours. The menu will feature Easter signatures such as Herb Roasted Gammon Ham with Apple Sauce, Charcuterie Stage, Wood Oven Baked Pizza, Fresh hand Rolled Pasta, Wok Tossed Delicacies, Crumbed Seafood, Meats and Veggies, Awadhi Biryani Stage, and much more.
When: Sunday, April 4
Timings: 12:30 pm – 3:00 pm
Price: Rs 2,200 (for food w/o alcohol plus taxes) and Rs 3,200 (for food w/ alcohol plus taxes)
Contact: 022 6882 8661 / +91 99305 12587
Address: Chhatrapati Shivaji International Airport Area, Vile Parle, Mumbai, Maharashtra 400099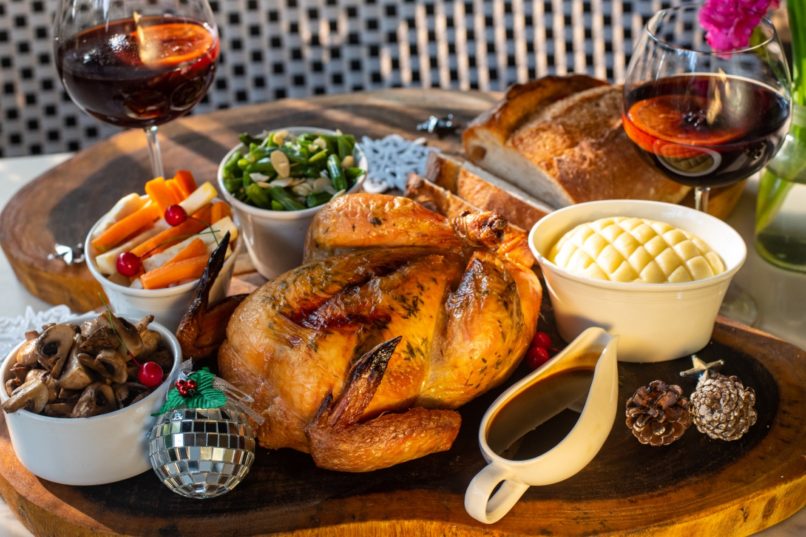 This quintessential French Bistro in South Mumbai has a lavish spread all set for you this Easter weekend. Available for both dine-in and delivery, you can get traditional family-style roasts that serve four. Spoilt for choice, you can choose from Truffle Roast Chicken with chicken jus; Juniper Spiced Duck with orange jus; Filet Mignon with béarnaise, Sautéed baby potatoes, Honey glazed baby carrots, Sautéed mushrooms, Chocolate Tart & Crème Chantilly, Apple & Cinnamon Tart, and more. 
When: Saturday and Sunday, April 3 and April 4
Timings: 12:00 pm – 8:00 pm
Contact: +91 86575 12648 (prior reservation and 72 hours' notice necessary)
Address: Ground Floor, Nagin Mahal, Veer Nariman Road, next to Ambassador Hotel, Churchgate, Mumbai: 400020
There's an Easter Special menu by Chef Gresham Fernandes at Salt Water Cafe that is also available for both dine-in and delivery. Prepared using local produce and age-old recipes, this delightful spread features dishes like Caramelised Cauli Tortellini with pickle raisins, sourdough crumb and umami butter emulsion; Crispy Pork Belly with home-made hot sauce and fried egg served alongside hot cross buns or the Asian Styled Pulled Duck Ragu with egg noodles and herbs.
When: Saturday and Sunday, April 3 and April 4
Timings: 11:30 am to 8 pm; Order online on: https://swc.dotpe.in/order (order between 11:30 am to 11:30 pm)
Contact: 086575 31985
Address: Salt Water Cafe, Rose Minar, 87 Annel Church, Chapel Rd, Reclamation, Bandra West, Mumbai 400050
JW Marriott Mumbai, Juhu
This year, the JW Marriott Mumbai Juhu will be offering  dining options, festive activities and special home delivery menus with: Marriott On Wheels Easter Delivery Menu that features Roasted Butterball Turkey. Order the signature Roasted Butterball Turkey along with accompaniments such as Cranberry Sauce, Giblet gravy, Market salad, Maple glazed sweet potato, Roasted vegetables and more.  The Easter Brunch at Lotus Cafe on Sunday, 4 April is filled with delectable dishes like Glazed Ham, Deviled  Eggs, Easter Pie, Carrot Cake and more.
When: Brunch on 4 April, 2021
Timings: Easter Brunch: 12:30 PM – 4:00 PM
Contact: 022-6693 3000
Address: Juhu Rd, Juhu Tara, Juhu, Mumbai, Maharashtra 400049
Hotel Sahara Star
Sahara
 Star's fun-filled Easter brunch this weekend at its Global cuisine restaurant – Earthplate. There's the traditional Easter Lamb alongside loads of seafood dishes and a lavish spread.

When:
 4th April 2021
Timings: 
12:30pm to 4:00 pm
Contact:
02239807444 / 8657411562
Address: Opp. Domestic Airport, Navpada, Vile Parle East, Vile Parle, Mumbai, Maharashtra 400099
All images: Courtesy respective restaurants