Christmas happens to be only a few days away and preparations for the festivities are taking place in full swing. This year instead of planning what you're going to cook, plan where you're going to go. These restaurants all over Mumbai have planned special mouth watering Christmas menus with food and drinks. So gather your loved one, friends and family members and head on over to one of these restaurants for a saisating Christmas Brunch.
These restaurants are following all covid-19 safety protocols.
Here is a list of 14 places offering the best Christmas Brunches:
Celebrate this festive season with 'A Toasty Christmas' starting from 16th December to 3rd of January. With the use of this seasons best produce, Toast & Tonic has curated a special festive menu that is bound to get your mouth watering.  Roasted Pumpkin Velouté, Prawn Empanadas, Crispy Kasundi Chicken, Spinach and Ricotta Turnovers, Beetroot Millet Cakes to share, Wild Mushroom Curry with Coconut Rice, Pan Roasted Salmon, Roasted Winter Vegetable Lasagna are only some of the very delicious dishes on this years menu. Accompany your meal with a rich mulled wine, eggnog and gin cocktails which will help kick the Christmas spirit in! Make sure you try Snowball with rum, cream, cranberry juice and a dash of coconut syrup.
Time: Monday to Sunday 12:00 noon to 11 pm (Children below 18 years are only permitted till 7pm)
Price: Meal for two including a drink each Rs. 3,000 + taxes
For reservations call: 022 26534722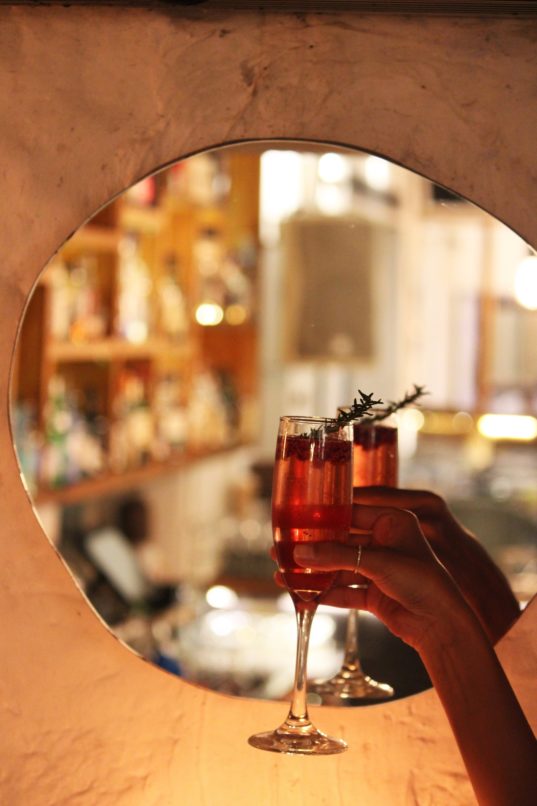 What better way to bring in the festive season than a bunch of specially-curated cocktails? Olive Bar and Kitchen Bandra is getting into the Christmas spirit with a special festive cocktail menu. This menu will be served between the 24th of December to the 31st of December 2020. They have options like parkling Cosmo, citron-infused vodka, cranberry juice and sparkling wine; Yule, part vodka, part cider, part Ginger beer, lime juice and garnished with an apple wedge; Gin Mimosa, part beefeater, part orange juice, topped with Champagne; Maple Fashioned, whiskey, maple syrup, orange twist poured over cubed ice.
Time: 12:00 pm to 11:30 pm (Monday to Sunday)
For reservations call: +91 22 4340 8229
Where: Olive Bar & Kitchen, Bandra, 14, Union Park, Khar (W), Mumbai – 400052
This year, celebrate Christmas by blending in traditional with hints of modernity to give you the best and most refined holiday experience. St. Regis is ready to take you on a culinary journey that will leave you wanting more. Indulge in   the signature Christmas Eve Dinner at By The Mekong the award winning Asian fine dine restaurant or at Seven Kitchens the all day dining venue. On Christmas Day guests can opt for a lavish festive Brunch or Dinner at Seven Kitchens and on Saturday indulge with special Boxing Day Brunch.
Christmas Eve Dinner at By the Mekong 
A grand menu set to highlight the merrymaking and the festive cheer of Christmas 
When: Thursday 24th December 2020
Where : By the Mekong, Level 37
Time : 7:00 pm – 11:30 pm
Price : Rs  3,500 onwards
For reservation call: +91 22 6162 8422
Christmas Eve Dinner at Seven Kitchens 
Come indulge in the highlight of the Noel Festivities, the grand Christmas Eve Dinner with Traditional Festive delights and Christmas classics.
When: Thursday 24th December 2020
Where : Seven Kitchens Level 9M
Time : 7:00 pm to 11:30 pm
Price : Rs 4,000 All Inclusive (Non- Alcohol) / Rs 6,000 All Inclusive (Alcohol included)
For reservations call: 022 – 61628422
Christmas Day Brunch & Christmas Day Dinner at Seven Kitchens
Celebrate Christmas with family and loved ones over a lavish Christmas Brunch and Dinner as you feast on traditional delicacies and decadent desserts
When: Friday 25th December 2020
Where : Seven Kitchens Level 9M
Time: 12:30 pm to 4:00 pm & 7:00 pm to 11:30 pm
Price : Rs 4,000 All Inclusive (Non- Alcohol) / Rs 6,000 All Inclusive (Alcohol included)
For reservations call: 022 – 61628422
Boxing Day Brunch at Seven Kitchens
When : Saturday 26th December 2020
Where:  Seven Kitchens Level 9M
Time : 12:30 pm to 4:00 pm
Price : Rs 4,000 All Inclusive (Non- Alcohol) / Rs 6,000 All Inclusive (Alcohol included)
For reservations call: 022 – 61628422
The Sassy Spoon has all your Christmas needs covered, whether it's a French toast breakfast to a chicken ballontine they have it all. The Christmas Brunch has breakfast options as well as the traditional butterball turkey. And how can it be Christmas without dessert? Ginger Bread cookies, Christmas cake brownies and much more. Their delicious cocktails and Mulled Wine, Mulled Apple Cider are available to elevate this experience. Enjoy your meal with a live performance by entertainer and  singer Rohan Sequeira.
When: Friday, 25th December 2020
Time: 12 pm to 4 pm
Where: The Sassy Spoon, Powai, Delphi Building, Restaurant 1A Binge Central, 1st Floor, B-Wing, Orchard Ave, Hiranandani Gardens, Panchkutir Ganesh Nagar, Powai, Mumbai, Maharashtra
For reservations call: 098195 44195
Price: Kids Package (6-12 years): Rs 750, Food Package: Rs 1,450, Food & Alcohol Package: Rs 1,950, plus taxes
The Tham Brothers just launched their Asian Tapas Restobar Foo in Powai, earlier this December. With a new island bar and large windows to let natural light in, this new restaurant is perfect for any gathering. This year bring in the festive season with these pan Asian delicacies. The new outlet is said to have the regular Foo favourites like Truffle Togarashi Black Rice Maki, Charcoal Har-Gow with Gold Dust, Red Snapper in Oyster Sauce, and King Chilly, Foo Blue Butter Japanese Fried Rice, Sesame Marble Cheesecake. Don't forget to try their one of a kind cocktails from their unique menu. And a drink with a twist awaits you, Sunset at Powai, Campari mixed with Chandon Brut, clarified tomato water, and strawberry shrub.
For reservations call on: 93213 33314
Enjoy this Christmas from a special by Chef Gresham Fernandes. This meal is prepared using local produce and age old recipes with a twist. It's warm and hearty meal with Salt baked celeriac soup with asparagus and black truffle oil; Parmesan gnocchi, burrata, tomatoes and pumpkin seed pesto; Pappardelle tossed in brown butter, sage and hazelnuts; Slow cooked pork belly, macadamia and red pepper sauce. And they're giving you the regular holiday drinks with a fun twist. Try their tropical eggnog with Brandy, coconut milk, pineapple chunks, vanilla essence, egg and sugar or Mulled Manhattan with Whiskey, mulled wine and honey.
Time: 11 am to 11 pm
For reservations call : 086575 31985
Where: Salt Water Cafe, Rose Minar, 87 Annel Church, Chapel Rd, Reclamation, Bandra West, Mumbai 400050
The traditional Italian restaurants bring you a special Christmas feast. With seasonal produce they're making  silky potato and leek soup, garnished with toasted hazelnut and truffle oil; followed by Gnocchi Gustosi, potato and spinach gnocchi in a creamy gorgonzola and parmesan sauce, with radicchio and hazelnut. Pasta-lovers will enjoy additional satiating options on the festive menu, like Ravioli Zucca e Burrata, homemade ravioli filled with roasted pumpkin, in a creamy burrata sauce. This is just a few dishes off of their Christmas menu.
Gustoso's Festive Menu is available from December 11, 2020, till January 1, 2021. It is available for dine-in guests at both outlets, as well as for takeaway orders which can be placed on Swiggy.
For reservations in Khar call : +91 7045000010 | 022 23485697
Time: 12:00 noon to 3:00 pm, 7:00pm to 12:00am, Monday to Sunday
For reservations in Kemps Corner call: +91 7045000020 | 022 23822584
Time: 12:00 noon to 3:00 pm, 7:00pm to 12:00am, Monday to Sunday
O Pedro's Christmas brunch is a tradition in Mumbai. The restaurant puts out a mix of a Goan and Portuguese spread this season to keep traditions alive. Don't you worry their famous duck and suckling pig  porchetta dishes are there for a limited portion. Keeping the Christmas tradition in mind, they have Nana Cardoz's Christmas Pie. They stay true to Goan traditions which is havig a feast surrounded by your loved ones.
Dates: O Pedro Christmas Festa December 16- 31, 2020
Takeaway/ Delivery available from Dec 16th to 31st, 2020 for small plates.
Delivery of Pre-order for large plates: 21st to 25th
Rue Du Liban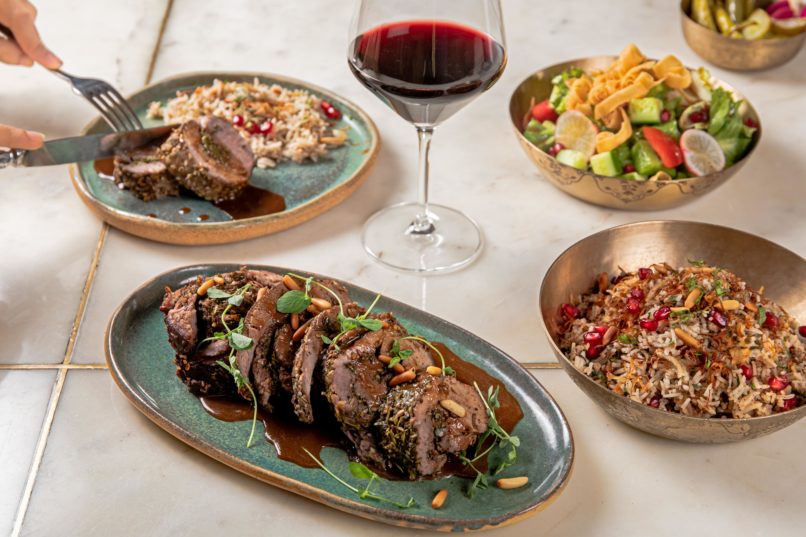 Diners of this restaurant are in for a treat as the meal begins with mulled wine to help you get into that festive spirit. Keeping the season in mind you have a wide array of winter vegetable to choose from like roasted squash and baked brussel sprouts.  To finish the meal, diners can try the Tamer Cake, date cake with tahini date syrup, topped with tahini ice cream; or House-Made Saffron Ice Cream.
The festive menu at Rue du Liban is available from December 11, 2020 to January 1, 2021. It is available for dine-in guests as well as via delivery, through Swiggy.
Timing : 7pm to 1 am, Monday to Sunday
Address: 43, Sassoon Building, VB Gandhi Marg, Kala Ghoda, Mumbai- 400023
For reservations call : +91 7045000015 / 022 22864444
The Table
Have yourself a very traditional Christmas with a meal from The Table. They have a traditional butterball turkey with all the fixings making it a perfect Christmas meal. And if you aren't a turkey lover they have a whole roasted chicken made just for you. And how can a Christmas meal be complete without Mulled wine? They're selling mulled wine by the bottle. This offer is only available for home delivery.
Prices: Roasted Whole Chicken- Rs 2,000+Delivery+Taxes
Whole Roasted Butterball Turkey- Rs 18,500+Delivery+Taxes
Mulled Wine by the bottle- Rs 3,000
This Christmas why not switch out the traditional meal with a  gourmet burger. Bun & only brings you burgers from all around the world and this Christmas they have curated a special meal just for you. Keeping with the festive spirit, additions to the menu include a Pulled Lamb & Adobo burger, – juicy leg of lamb cooked in adobo sauce tenderly pulled, and served with hot jalapeno salsa and smoky chipotle. Take a tasty bite of the new Cauliflower & Parmesan burger, where the hero vegetable is a slow-roasted cauliflower steak topped with parmesan and smooth hazelnut cream. Then there's always the evergreen, Portobello & Blue Cheese burger, and the Fried Chicken & Fire burger to satisfy your cravings.
Order online here
Slink & Bardot, Worli
Slink & Bardot, Worli brings you Christmas In Koliwada" – a celebratory Christmas feast curated by Chef Vidit Aren. Its available for both dine-in and delivery, this special menu has Christmas Filet Mignon with fixings like: Brandy and peppercorn jus, Mash potato, Blackened umami madras onions, guava, grain & green apple salad and Bowl 'a Shrooms – with sautéed oyster, button & shimeijis. End your Christmas meal with an indulgent Family style chocolate tart & crème Chantilly. Along with this scrumptious meal treat yourself to a holiday cocktail of All I Want for Christmas is You with sparkling wine, Limon cello, strawberry, lavender bitters and vanilla cream and more.
Available on Thursday and Friday, 24th and 25th December 2020.
Price: Rs 4,500 (plus taxes and charges) – comfortably serves 3 to 4 individuals
For reservations, delivery, or queries call: +91 9967115800 or +91 7045904728
Time: 7:00 pm to 11:30 pm
Address: Slink & Bardot, 329/A, Thadani House, Opposite Indian Coast Guard, Worli Village, Mumbai 400030
Chef Rahul Akerkar and his team have very lovingly put together an a-la-carte, traditional Christmas menu. With a variety of appetizers like empanadas to a traditional Christmas pudding, this meal is bound to satiate your palate. Dine-in dinner as well as home delivery – on Thursday, December 24 and Friday, December 25, 2020.
For reservations call on: +91-7304586862 to make a reservation or to order your meal in advance,
Order online: Thrive Now.
Address: World Crest, Ground Floor, Lodha, 402, Tulsi Pipe Road
The Oberoi Mumbai is brining you a Christmas extravaganza. With Christmas Eve meals and brunches available at their restaurants, you are in for a treat.
At Fenix
On Christmas eve savour a traditional feast, with a classic set menu, complimented with selected champagnes and wines at Fenix. On Christmas day, indulge the senses with an elaborate buffet reminiscent of a traditional Christmas feast.
Prices: Christmas Eve Dinner: Rs 5,000
Christmas Day Brunch: Rs 6,000
Christmas Day Spirited Brunch : Rs 7,500
The above rates are per person. Taxes as applicable.
At Vetro
Experience a delectable set menu, with select wines, promising to transport you to the Tuscan meadows in every bite. On Christmas day, experience the magic of Christmas with an indulgent curated menu by our expert chefs.
Prices: Christmas Eve Dinner: Rs 5,000
Christmas Day dinner: Rs 5,000
The above rate is per person. Taxes as applicable.