European by day, Asian by night. Are you ready to be charmed by the experimental concept that is Nege & Ju Delhi?
The Delhi food space is in its prime, and a multitude of restaurants focusing on the quality of their concept and food are a testimony to that. Another one to join this bandwagon is Nege & Ju, which recently came up in the quaint Lodhi neighbourhood. Brought to you by Navneet and Randeep Bajaj of Ambrosia Hospitality, the folks behind Amour Bistro, Townhall, Public Affair, and Mr. Choy, Nege & Ju is a first of its kind in India they claim—a restaurant that switches identities from day to night. Confused? You might be if you happen to go for lunch one day and dinner another, chancing upon two entirely different spaces each time. Don't worry, it's all a part of the script. For lunch, you have modern European and dinner is Asian tapas—food, cocktails, music, décor, even the team's uniforms change in accordance with the respective themes. "The European space is like a Western middle-aged businessman from the 70s, all about clean lines, laidback, flavours you know and return to," executive chef Ravi Kant Shukla tells me. While the dinner service is "for the millennials, more experimental and buzzing".
Artwork and mirrors on walls, lampshades and quirky hashtags printed written about welcome you at this large space, replete with a small al fresco backyard. These are all turned around between the two services—wooden table tops flip over to glass ones, upholstery is removed to reveal a different look, revolving wall panels switch to the other identity, and the team turns in beige uniforms for the more evening-friendly black. Date night or large groups, the space accommodates both with equal ease. Coming to the food, I tried the lunch menu. They channel the in-house everything—making their own syrups, sauces, et al; and the equal focus on quality of ingredients and taste is impressive. Think hibiscus from Uttar Pradesh, artisanal coffee from Himalayan region, and their own terrace garden for herbs. The Aspa Avo is a great representation of this—simple and bold with flavours shining through. Resembling a mini forest, its green and white asparagus sticks on a bed of avocado mash and melted nutty brown butter, topped with edible herbs and flowers. The sublime play of crunchy and smooth textures and vegetal, nutty, and flowery flavours underlines Kant's years of experience with The Oberoi Hotels. The Crispy Chicken Skin soup was calling out to me from the menu itself and didn't disappoint when it appeared on the table. Bite-sized spheres of heirloom tomatoes, steamed herbed chicken, and chicken skin crisps are doused in chicken broth—unlike any other soup in Delhi. It's not just the innovative aspect but also how delicately the tastes are balanced to bring you that warm, wholesome soup feeling. The Salmon Carpaccio will win over even those who aren't fans of raw fish. To make it more aligned with the Indian palate, Kant has used three different kinds of oil—ginger, parsley, truffle; orange dust, white balsamic, and fried ginger slices. This makes the salmon and tartare combination a tasteful dish, nothing like similar dishes you may have had in the city, and one I'd urge you to try.
The Caprese Pizza with basil pesto, burrata, and heirloom tomatoes hits all the right notes. It's light and ideal for those pizza indulgence times. When most pastas in the city focus on the sauces (mostly heavy ones), the no-sauce Spaghetti Aglio Olio is a godsend. The simple pasta is done well with the right balance of kale, parmesan, pepperoncino, and basil with a sprinkle of olive oil, and even polishing off the whole dish won't leave you feeling too full. The Smoked Duck Risotto is done with barley instead of rice, has red cabbage sauerkraut, and finely-chopped chunks of smoked duck. The smokiness and taste of duck are balanced, with none overpowering the other, and the creaminess of the risotto means you'll find it hard to stop digging in.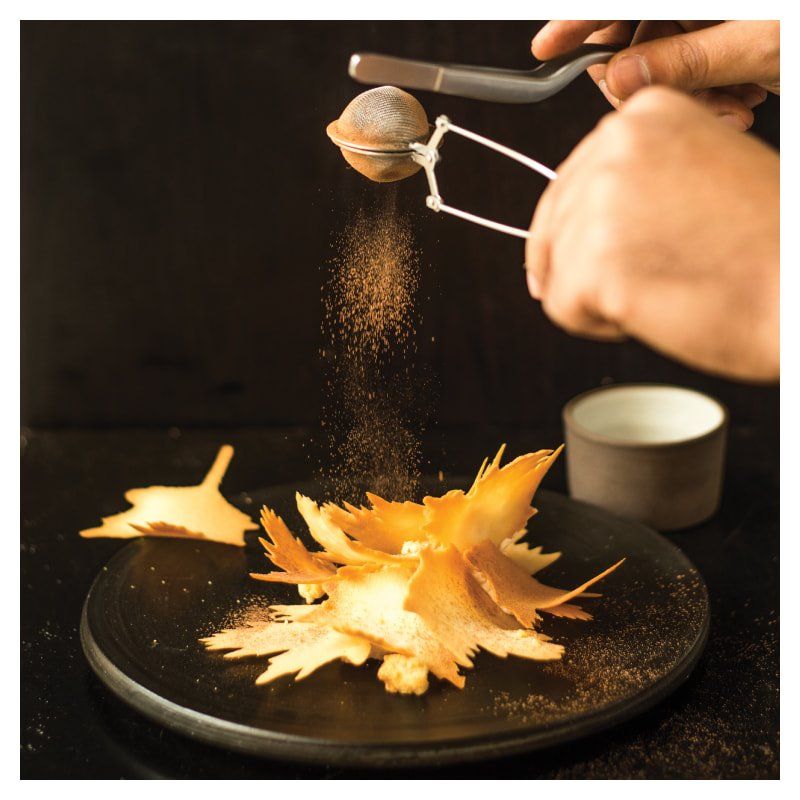 Of the grills, I had the Belgian Pork Belly, which came with a delectable maple sauce. However, the dish would've been better if they would do away with the fat, the pork was succulent, nonetheless. Autumn Fall is made of bananas, cream, passionfruit, and leaf-shaped flour crisps, topped with choco dust. These ingredients are the holy grail of desserts and the chef recognises that fact—as these form a tiny hill the platter, allowing you relish these per choice–scoop it up together or individually. The other dessert was the crust-less New York Cheesecake. Part brie, part Himalayan cheese, and part cheesecake, it is soft, creamy and milky. One of the more thoughtfully done cheesecakes, what I liked the most here was the side of sweetened hibiscus, which truly brings the dish alive. The bar complements the food well. Conceptualised by mixologist Kshitij Goel, the cocktails are fun and a twist from the usual. Think a sangria with no fruits in the drink, they're placed on a chocolate disc atop the glass. George's Dram is whiskey butter honey mixed with pomegranate juice, making for a fruit-tart drink that was much like at the table. A play on traditional tipples is what you're looking at here.
Fun, comfort food, and known dishes & drinks made with innovation is what Nege & Ju offers. The enthusiasm of the team for their product comes through in their earnest service and I certainly look forward to trying the Asian dinner service soon. Where: 9/10, Lodhi Colony Market
Contact: +91 98991 11734
Opening hours: 12 pm to 6 pm and 6 pm to 12 am
Recommended dishes: Crispy Chicken Skin soup, Salmon Carpaccio
Price: Rs 2,700 for two (including alcohol, taxes extra)
Noise levels: Medium
Service: Prompt, enthusiastic
All images: Courtesy Nege & Ju