A restaurant in a foodstore is a concept that's new to India. For a country that's used to food courts and usual brunches, the idea of fine-dining inside a superstore never settled in. Mumbai's premium Italian restaurant, Sorrentina By Foodhall is here to change this perception. Deriving inspiration from the Sorrento region, a picturesque coastal town in the South West of Italy, the popular restaurant has seen it all; modern Italian dishes rooted in tradition, unconventional ingredients, and a contemporary take on new food trends. It's a well-known fact that Sorrentina represents a menu that enhances food from different regions in Italy while showcasing their origin stories with each dish. It's now brimming with keto, gluten-free, and organic meals that make up for wholesome healthy choices. 
Over the last few months, Sorrentina has become a popular place among celebrities, models, TV personalities, and Instagram-influencers who want to relish the signature dishes such as handmade pastas, pizzas, affogatos, antipasti, gelato, and traditional tiramisu served with perfect amount of flavour and panache. The restaurant is located on the 3rd floor of the store overlooking Mumbai's majestic skyline and busy streets. Although the best part is its adherence to classic dishes and an open kitchen that welcomes a homely vibe. The fact that it's built inside a superstore means fresh, seasonal ingredients. The Italian fare shines through the kitchen in the form of fresh corn, okra, red pumpkin, plums, tomatoes, and fresh herbs. 
Head Chef Aabhas Mehrotra is clear about his offerings for the next few months. It's a rather conscious decision to go healthy, which reflects in the new menu brimming with keto, gluten-free and organic diet options. 
We started off with an unconventional starter, the Burrata Caponata; a simple eggplant dish in spicy tomato sauce infused with pine nuts, raisins, bell peppers, and topped with a white balsamic glaze. The eggplant was beautifully cooked and the burrata as fresh as they come. The raisins added the much-needed sweetness.
The salad was a mouthful, aptly called 'Under the Sorrento Sun'. It came with salted oranges, whipped ricotta, olives, onions, arugula, and citrus dressing – a bit tangy and slightly sweet but perfect. One of the freshest salads I've tried in a long time, the best part were the crunchy and delicious carrot chips. Another favourite was the Orzo, a rice-shaped pasta in pesto sauce with cherry tomatoes, cranberries, pickled onion, and grilled zucchini. The twist in the tale came in the form of a fun starter, which was a sweet 'n' salty crostini topped with ricotta and fried pancetta.
And it was time for the main pizza dish; a seafood pizza with squid and shrimp, a combination I've never tasted before. The pizza crust won due to its soft and delicious base that you could tell has been cooked well and with precision. The seafood was flavoursome and softness of the fare was highlighted well.

If you are looking for a good pizza, here's where you head to. The dessert was divine; a delicate Tiramisu in all its soft glory with the right amount of fresh cream and mascarpone, topped with chocolate and fior di latte ice cream, both of which stayed true to their roots. The ability to convert a dessert into a feeling  belongs to the Italians, the freshness and the cream remains unmatched.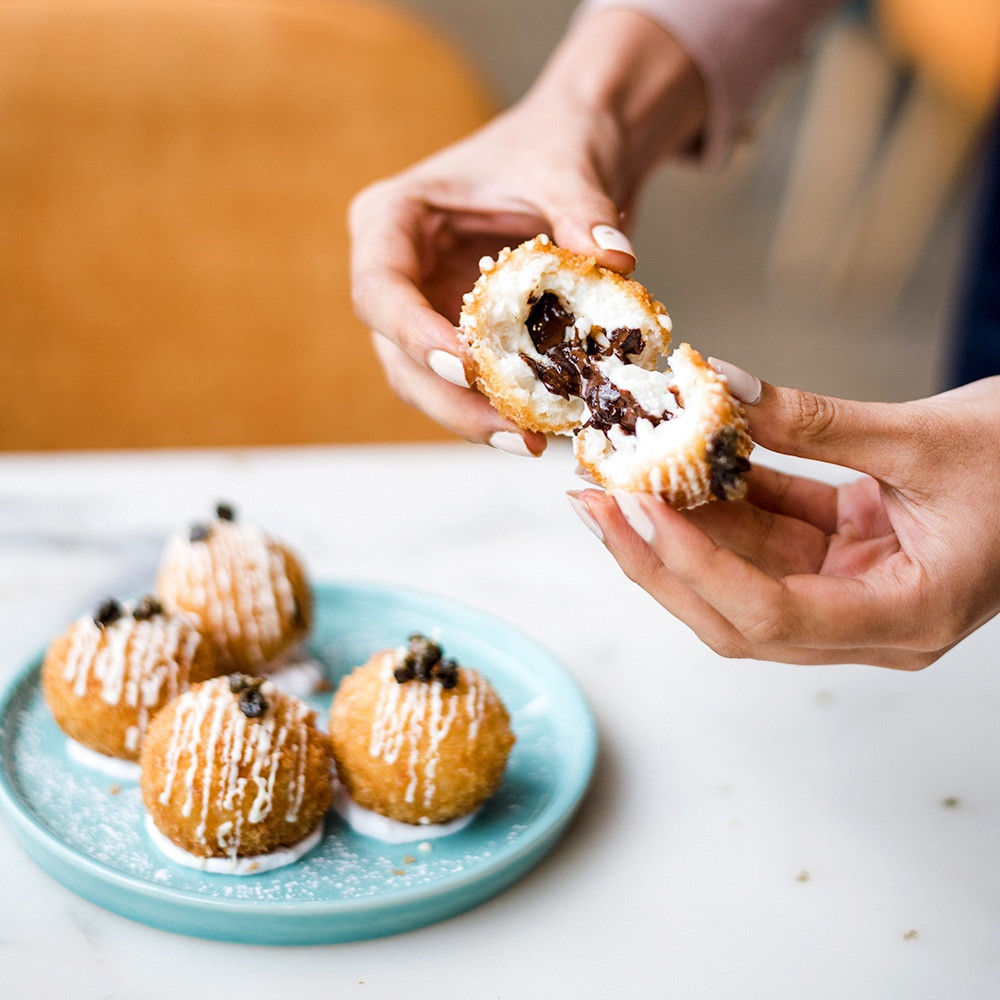 Sorrentina is lauded for its zero-waste kitchen. The chef and his team have started using ferments and pickling to make more produce. A good example is their House Chilli Sauce that is known contain fermented banana pepper chilies and pineapple chunks. Their hand-stretched Neapolitan pizzas are made with keto crust (cauliflower base). Gluten-free additions like Chickpea Fritters, Cheese & Quinoa Meatballs, and Meatless Quinoa are gaining popularity. Don't miss the Sorrentina special Truffle menu featuring Risotto alla Parmigiana with truffle oil and Cavatelli alla Porcini, cooked in a broth butter emulsion and summer truffle. Other new mouth-watering desserts include a Burrata Cheesecake with wild berry sauce and Amaretto, and Amore Arancini, fried risotto rice balls with dark chocolate centers and capers.
Where: Second Floor, Foodhall@Linking Road, Plot No.106, Linking Rd, Santacruz West, Mumbai, Maharashtra 400054
Tel:  +091369 13747
Opening Hours: 11 am – 12 pm
Recommended dishes: Cavatelli alla Porcini; Risotto alla Parmigiana and Amore Arancini
Price for two: Rs 2,200
Noise Levels: Moderate noise levels
Service: Cordial and attentive
All images: Courtesy Sorrentina