It was but a matter of time before the virus' knock-on effects hit industries way outside the perimeters of restaurants and nightclubs, and true enough the motoring industry is indeed in a bit of a bind today.
Sales and production will take a big hit as top-tier automakers such as Ferrari, Lamborghini, and the "Big 3" — GM, Ford, and Fiat Chrysler — shut their factories to protect workers. Yet it's not all doom and gloom on the roads, for some are using this time to seek out innovations and push boundaries.
In the midst of a competitive sports car market now, Lotus has decided it was finally time to revive the spirit of the Esprit, while Aston Martin looks to the skies for inspiration for its brand new roadster. Meanwhile, Genesis and Porsche are busy reinventing its interiors with two vastly different aspects of 3D technology, while Formula 1 has adopted quite a different approach to keep the race alive.
Here's everything you need to know about the car industry this week.
Genesis debuts world's first 3D display
3D might be the latest buzzword for car manufacturers but Genesis isn't embracing 3D printing just yet. Instead, the marque will feature the first ever 3D display cluster, and it won't require funky glasses too.
Slated to launch later this summer, the display — created in conjunction with Continental — will use an interior camera and parallax barriers to project essential information to driver in this futuristic fashion. The camera tracks the driver's line of sight to project slightly offset images to each eye, which combine to form the 3D image. Sounds pretty distracting to us, but Continental insists that this will instead reduce noise by intuitively communicating only relevant information at all times. This might just be the cockpit of the future.
Porsche 3D-prints customised bucket seats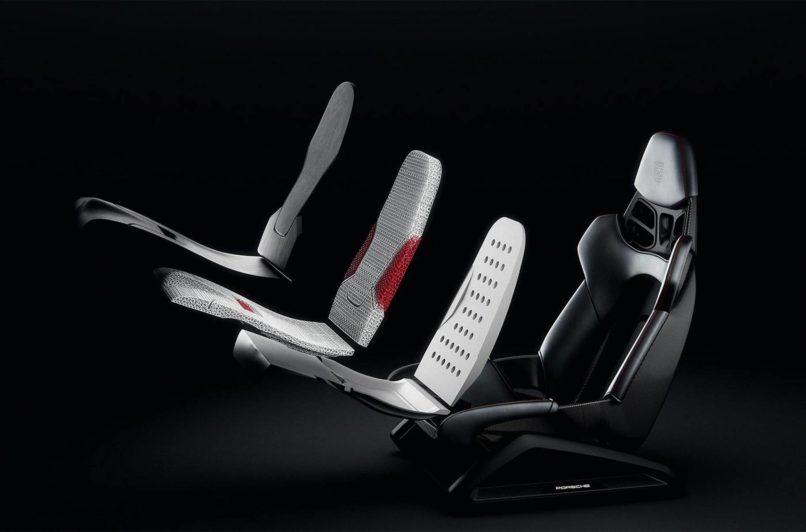 In a quest to perfect the motorsports experience, Porsche will be focusing some efforts on one of the least talked about aspects of a sports car: Seats. While bucket seats are a common sight in fast rides, the marque aims to elevate the drive even further by bringing driver-specced seats — a norm in professional racing — to its fans with 3D-printed ones.
Set to debut in a limited quantity of only 40, these seats can be had in a choice of three levels of firmness, and will be lighter and more comfortable than current ones. It also helps that the supportive lattice designs look infinitely cooler. The seats can be built into both 718 and 911 models in as early as mid-2021, but till then, will be tested on race tracks throughout Europe.
Lotus electrifies its past
Lotus might be busy with its super-futuristic 2,000hp electric hypercar Evija, but it hasn't forgotten its past just yet, especially not its most iconic car ever, the Esprit.
Slated to make appearances early next year, the Norfolk-based automaker will likely use the super sports car as the main inspiration for its first production vehicle in 12 years. Besides having hints of the Evija in its DNA, it'll also sport a new V6 hybrid powertrain, which might give it more oomph than the Evora 410. Still, this might just be the most exciting launch by Lotus, after all, the Esprit has won over a legion of fans since its appearances in Basic Instinct, Pretty Woman, and, most notably, The Spy Who Loved Me.
Formula 1 goes online
The rise of Covid-19 might have put Formula 1 to a screeching halt but it hasn't stopped fans and drivers from chasing their need for speed. Instead of physically travelling the world, the races will be held via the Esports Virtual Grand Prix series.
According to Formula 1, the online races will run in place of every postponed race. The Virtual Bahrain Grand Prix last weekend saw current F1 drivers line up on the grid alongside other Esports racing stars, with game settings configured such that every car performed with the same fixed setups and reduced vehicle damage.
Because it's strictly for entertainment purposes, these races won't be offering any official World Championship points for the drivers, but at least it'll keep them on their toes while they ride out the lockdown at home.
Aston Martin gets inspired by fighter jets
Funny how cars without windshields and roofs always cost more but here we are with yet another. Aston Martin continues its streak of highly covetable limited-run cars this year with the V12 Speedster, a roofless and windshield-less ride that's inspired by fighter jets, but aesthetically marries the best of the DBS Superleggera and Vantage.
The limited edition of 88 cars will be powered by a 5.2-litre twin-turbo V2 that'll get you from 0-100kph in 3.5 seconds before hitting a limited top speed of 300kph. Because there's nothing between you and the elements, you'll enjoy the deafening soundtrack of all 700hp in all its glory. Inside, the aviation theme continues with Skyfall Silver paint finish, satin dark chrome and machined aluminium interiors and red Aston Martin door pulls.