In a first, the annual futurism extravaganza is taking place on an online stage. From robots to rolling smartphones, here's the best of CES 2021.
We'd like to describe CES 2021 as a science fair on steroids, but instead of humble students, we have tech titans from across the globe. It's sad that we couldn't gather at the grand convention, it's a year-after-year spectacle. This year, as we're still clouded by the pandemic, we had to go online. Never the less, CES 2021 was no slouch even though all it had was a screen instead of a 20,000-person convention. Most tech innovations tilted towards hygiene, self-care and health, which was in response to the lifestyle changes due to the pandemic. On the other hand, we also had a heavy dose of futurism. Here's the greatest innovations that caught our eye at the CES 2021.
From Samsung's robots to LG's rollable phones, here's the very best of CES 2021
Samsung's army of AI home robots
Thanks to Samsung, the impending robot invasion seems a lot friendlier now. At CES 2021, Samsung came forward with a plethora of futuristic products that would revolutionize home tech as we know it. What catches our attention most, is the Bot Handy, which is quite literally a robot butler. Second, was the JetBot 90 AI+, which is a hyper-intelligent floor cleaner that uses a camera and a Lidar sensor to find his way through. More so, it identifies delicate objects like vases or obstacles like a pen, and navigates around it. Third, is Bot Care, which can recognize you, understand your behavior and well, be there for you. Think of it as having a friend when you don't have one, just that this one's an AI machine.
LG's 'rollable' smartphone
A 'rollable' smartphone from a company that isn't famed for even building smartphones. We've seen foldable phones, we've seen flip-phones, now we have rollable phones. Named LG Rollable, the device has what the company calls a "unique resizable screen" that transforms from a phone into a small tablet. It's still a concept as of today being a part of LG's "Explorer Project" experiments. I wonder when we'd get to see this go mainstream, I could already image the hype.
Mercedes-Benz' MBUX hyper-screen
What you're looking at, isn't the dashboard's screen, it's the entire dashboard which is a screen. Yes, read that right. Makin a debut on the upcoming Mercedes-Benz EQS electric luxury sedan this year, the MBUX Hyperscreen slates in as a 55.5-inch-wide display that covers the entire dashboard, right from the driver's HUD to the entertainment panel. It's made up of three haptic OLED touchscreens under one continuous piece of Corning Gorilla glass. Being built completely in-house, it requires eight CPU cores (processor unknown) and 24-GB of RAM to power it.
Samsung's Mini-LED takeover has begun
Samsung gets a double entry on this list and they very much deserve it. Officially announced, their entire fleet of TVs will be due for a massive upgrade. It's to introduce the use of Mini LED technology or what's being calling "Neo QLED." This essentially brings tens of thousands of tiny LEDs into the backlighting system of its top-end TVs. Samsung also announced that it will be featuring 8K upscaling and special specs for PS5 and Xbox Series X experiences.
TP-Link's first ever Wi-Fi 6E
You must be wondering, what is Wi Fi 6E? It's essentially a home tech that can relegate speed better and more efferently at smart homes. Think about it, we have Smart TVs, multiple smartphones, smart air conditioning systems, home pods and many other devices that require a stable internet connection. That's a lot of load for a standard router, we can't deny. This new tech allows  devices to utilize the 6-GHz wireless spectrum. The wireless router you're using right now likely has the ability to use the 2.4-GHz and 5-GHz bands.
TCL's new smartphone looks like an ancient scroll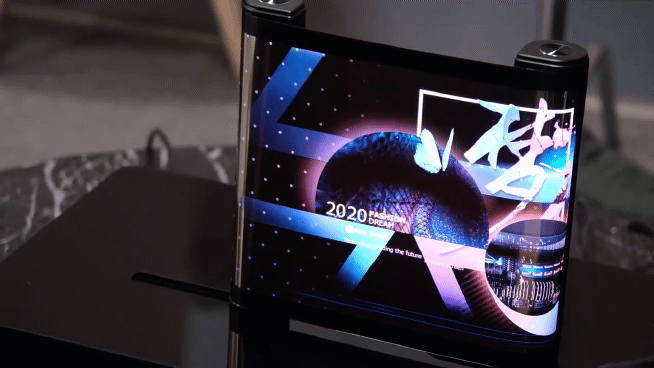 Is it just us? Or does this TCL build roll out like one of those ancient Egyptian or Greek scrolls? Imaging rolling it out to read a new message from a mate. Essentially, an AMOLED screen rolls out and increases the screen size (up to 6.7 inches), with the help of a cylindrical tube. You can open up like a papyrus scroll to view a 17-inch OLED rollable display. Under the hood, the TCL 20 SE has a Snapdragon 460 chip and is powered by a 5,000-mAh battery. Undoubtedly one of the most impressive innovations at CES 2021.
BioButton – The chest accessory that detects Covid-19
As society is slowly opening up and getting back to normal, we still need a strong guard up as well as a stronger detector. That's the idea behind BioButton. It's the size of an AirPod case and can track your skin temperature, respiratory rate, heart rate and monitors your sleep and activity. More so, it can detect irregularities and inform you about it. By design, it's meant to be placed on your chest, where it can monitor your vitals best. Upon detecting any flags, it sends you a notification on your smartphone.
All images: Courtesy brands