Apple continues to woo customers with its intricately designed stores reinforcing modern and traditional architectural elements. The technology company is renowned for its uniquely designed outlets, be it in the US, Europe or Asia. In its most recent venture, the retail giant will open its first store in India at Mumbai's Bandra Kurla Complex (BKC) on 18 April 2023 and a second outlet in New Delhi's Saket on 20 April.
Located at the heart of the bustling city in the Reliance Jio World Drive mall, the plush Mumbai store is a bright space designed to reflect the vibrant culture of India's financial hub and is one of the most energy-efficient outlets of the brand in the world.
Apple CEO Tim Cook will inaugurate the store that "will serve as a dynamic space where customers can come together, explore Apple products and services, enjoy exceptional service, and learn how to get more out of their devices through free Today at Apple sessions," says a brand statement.
With the store marking more than 25 years of Apple's presence in the subcontinent, it aims to bring together a community of people to experience world-class features and let customers learn more about Apple's existing products.
As India cheers the arrival of the Cupertino-based tech giant, several other stores across the world showcase emblematic designs and visitors get to witness advanced technologies that Apple Inc. is renowned for.
Here are some of the most stunning Apple stores around the world
Apple BKC, Mumbai, India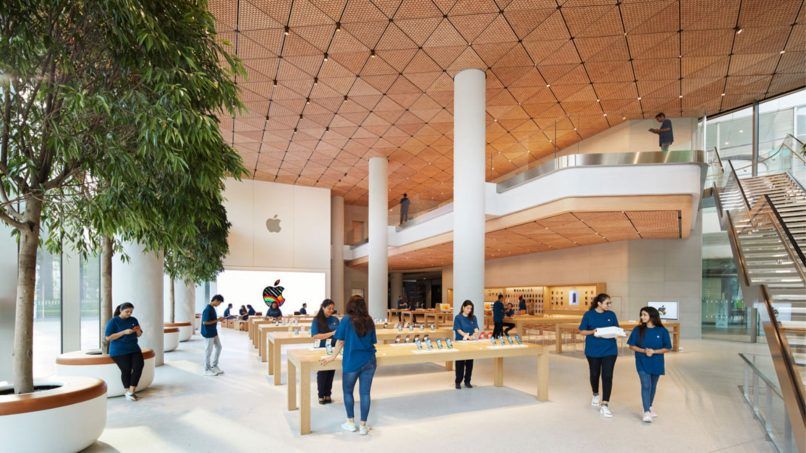 Spread over 1,932 sq m, the Apple BKC store at the Ambani-owned mall has a "dedicated solar array and zero reliance on fossil fuels for store operations." It works entirely on renewable energy and is carbon neutral.
The first images shared by Apple show a massive glass façade, creating a unique and chic entrance to the store. Its triangular ceiling is handcrafted from timber and accentuates the shape of the outlet — every tile is crafted out of 408 pieces of timber which make 31 modules on each tile, and 1,000 of such tiles make up the entire ceiling. In all, there are over 4,50,000 separate timber products in the Mumbai store that were assembled in Delhi.
Two Rajasthani stone walls welcome visitors at the entrance, and a 114-m-long steel staircase takes them to the cantilevered mezzanine floor. Here, they can explore iTag and other accessories with parallel rows of desks offering the latest iPhone models, Macs, iPads, AirPods, Apple Watch and Apple TV lineups.
With over 100 employees, who can speak nearly 20 languages collectively, at Apple BKC, customers will find their best products. The staff will tell them more about the products as well as introduce the Apple Trade In programme.
Additionally, Apple has inked a strategic deal with the mall which grants the company an 'exclusive zone' where 22 other competing brands, such as Amazon, Facebook, Google, LG, Microsoft and Sony, are not allowed to open a store or display any advertisements.
Apple Tower Theatre, Los Angeles, US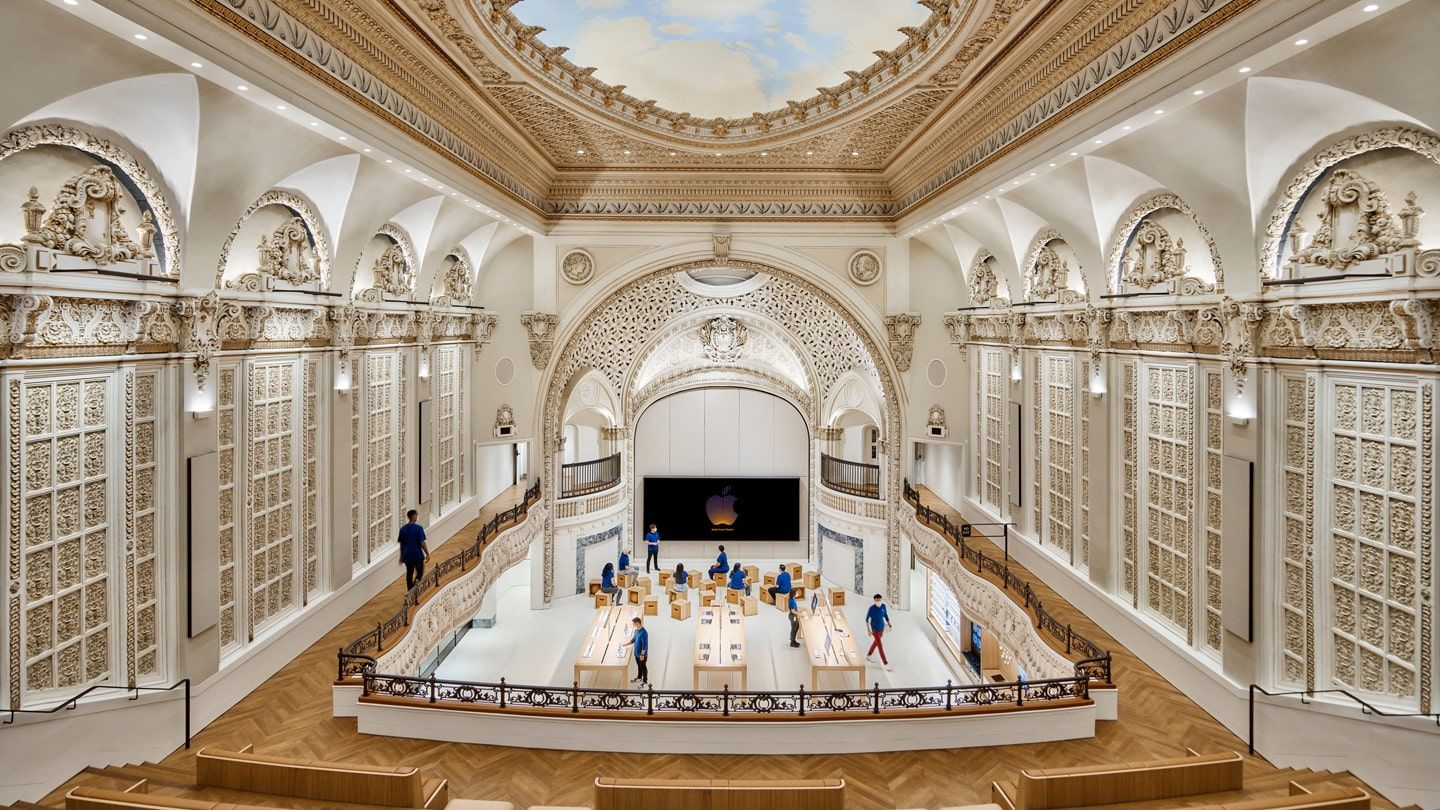 Apple Tower Theatre celebrated its grand opening on 24 June 2021 post a multi-million dollar renovation. The design team at Apple collaborated with leading artists, preservationists, architects and restoration experts to restore the 1920s Los Angeles Theatre and renamed it to Apple Tower Theatre.
The store features a fine balance between modern touches and the original craftsmanship with a focus on '20s architectural details such as glass-painted windows, red velvet carpet, massive chandeliers, Broadway marquee, a monumental lobby inspired by Charles Garnier's Paris Opera house, grand stairway, bronzed handrails and terracotta exteriors. The store retains the original balconies of the theatre along with embellished arched bays.
Apple Fifth Avenue, New York, US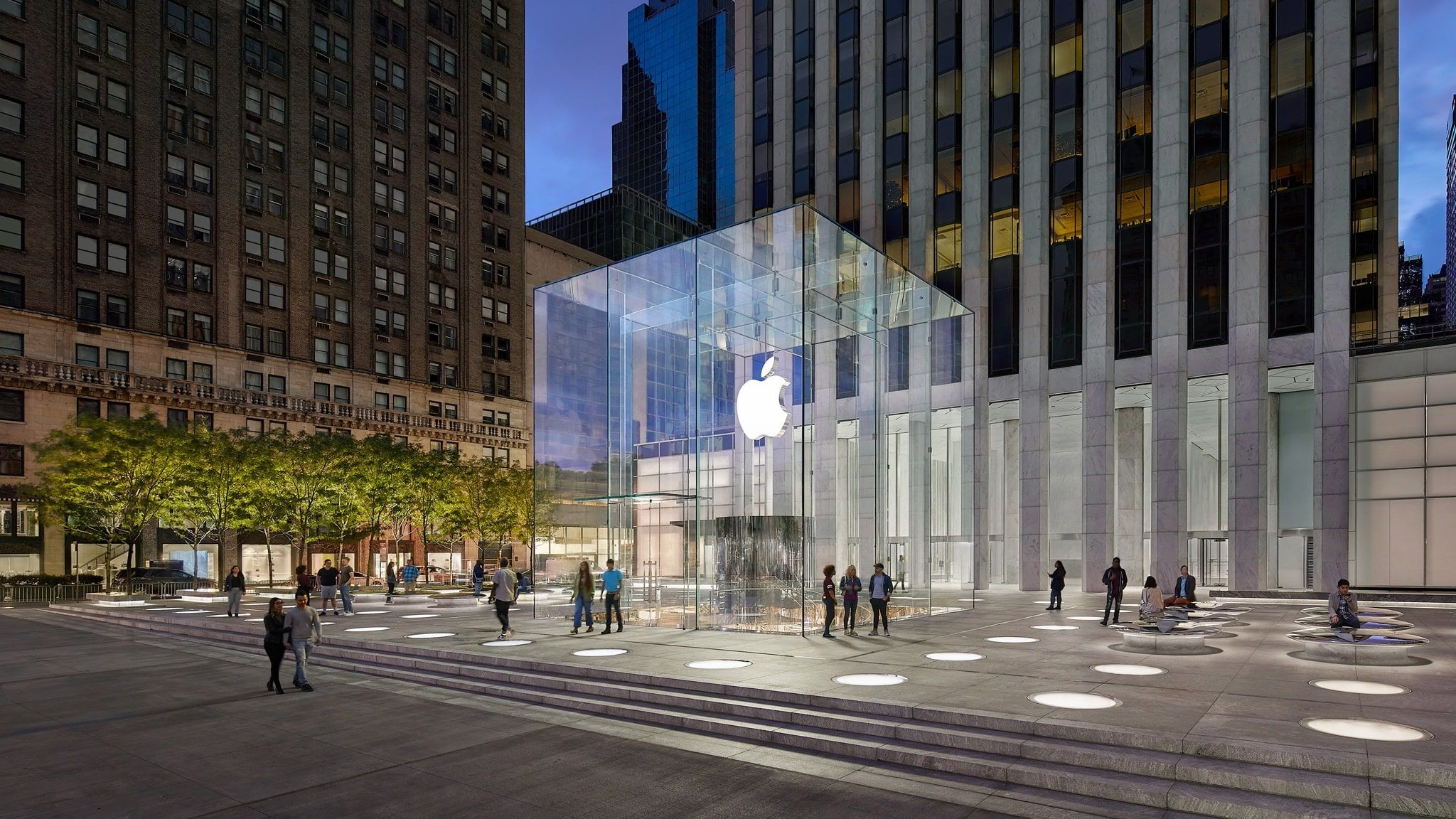 Apple's Fifth Avenue Store, famously known as the 'cube', is the result of a close collaboration between award-winning architect firm Foster + Partners and the design team at Apple led by Jonathan Ive. One of eight stores in NYC, this store is an architectural marvel and features a 32-foot self-supporting glass cube and was reopened after renovations in 2019.
It is the only Apple store in the world that remains open 24X7, 365 days a year. The store features three entrances, skylights or sky lenses arranged in a grid on the sides of the cube to flood natural light in and absorb solar energy, a spectacular circular staircase made of steel that reflects the skyline and lights, and a grand hall beneath the plaza supported by a ceiling made of 3-D curved fabric to match the changing tones of lights throughout the day and night.
Regent Street Store, London, England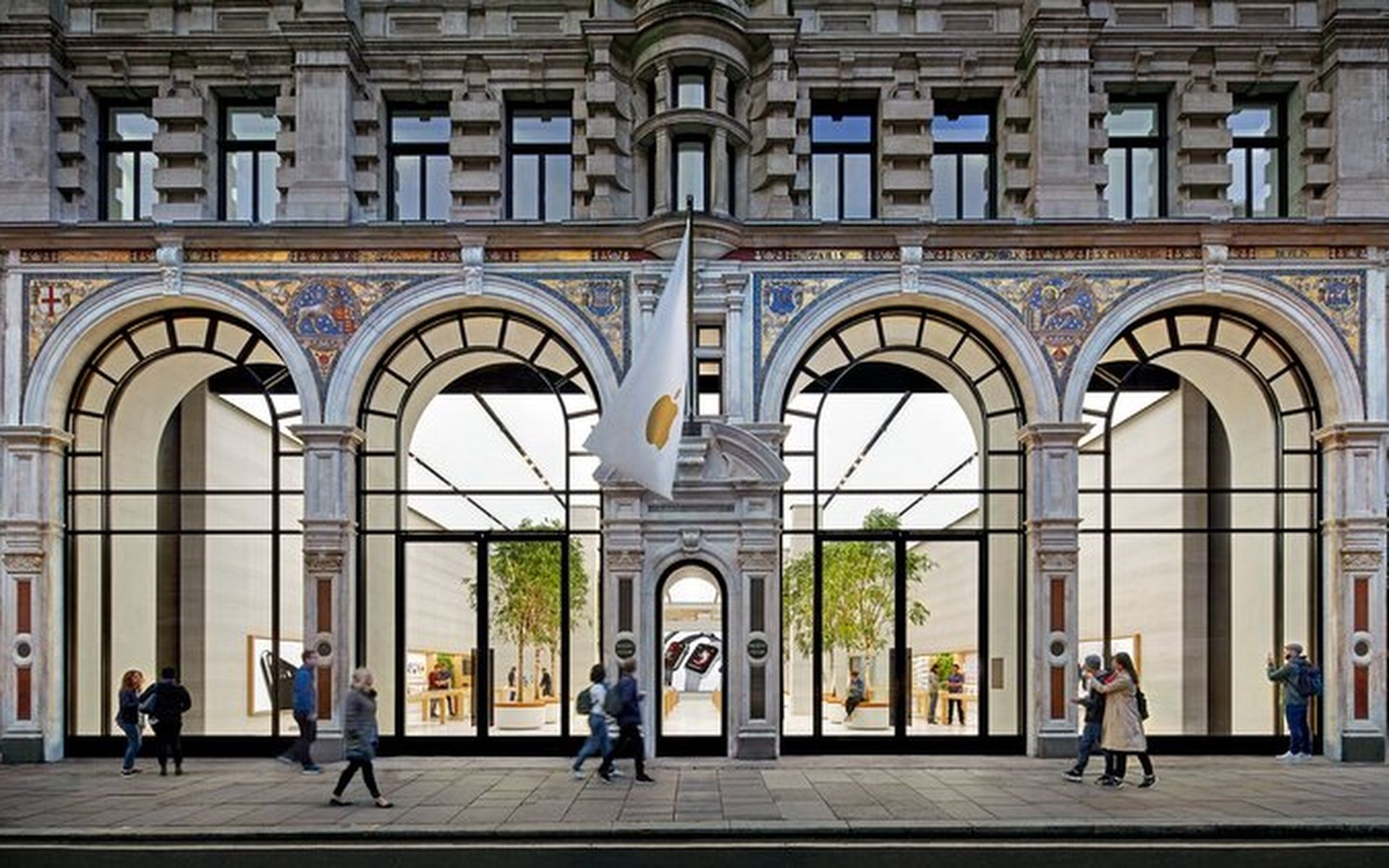 The Regent Street Store is located in one of the most popular and busiest shopping streets in West London and was remodelled in 2016 to showcase the brand's new design and ethos. This multi-level store was a Grade II listed historical facade (built-in 1898), now restored and designed in collaboration with Foster + Partners and features Carrara marble, hand-cut Venetian smalti glass tiles and an exterior of Portland stone.
The store features a boardroom for meetings with start-ups and digital entrepreneurs where they can take guidance from Apple's team, a mezzanine where visitors can get assistance from Apple's geniuses and a forum for dynamic customer experience. The store also features the longest custom-made Luminous Ceiling Panels in the world that create a rich and ambient experience with the ability to absorb noise.
Apple Sanlitun Store, Beijing, China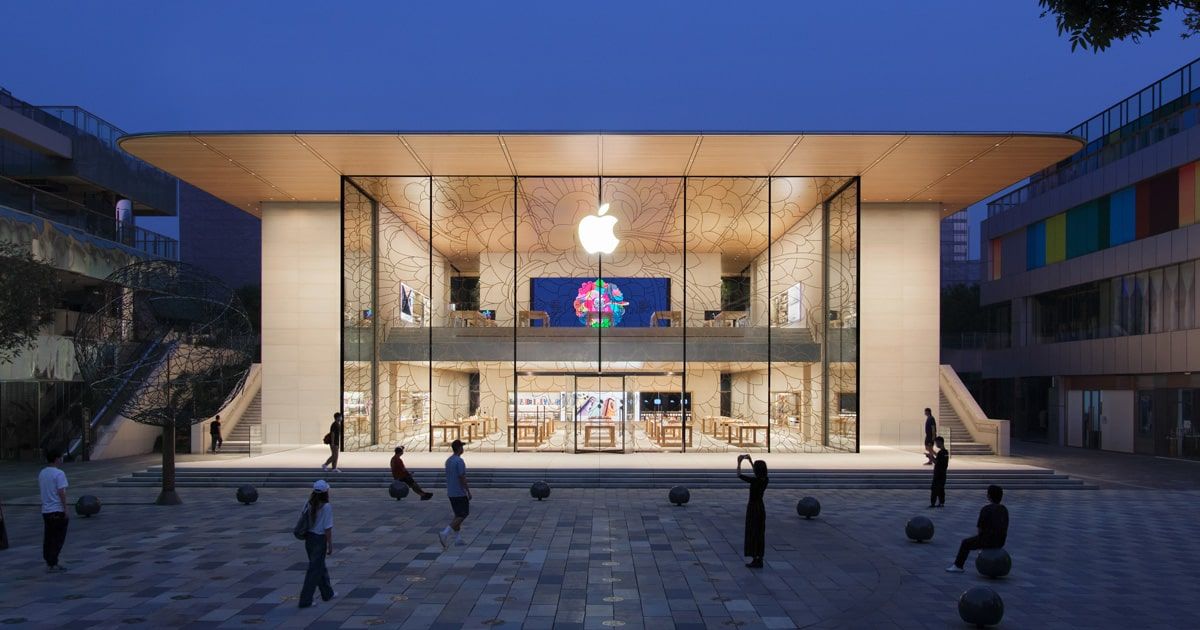 This store is located in a large open square within Sanlitun, an area within the capital city's Chaoyang district. It is an iteration of China's first Apple store and is built by Foster + Partners in collaboration with Apple.
It is twice the size and expanse of the previous version and is designed like an envelope. The storefront has 10-metre-high glass panels to align with the theme of the store – open, accessible and inviting that blurs the barrier between the inside and the outside.
The key features include retail design upgrades such as a Viewing Gallery to offer the vantage point for outdoor space, a dedicated Boardroom for meetings with local entrepreneurs and businesses, a Forum to showcase Beijing's greatest creatives, first of its kind integrated solar roof array in a retail store in China to provide power to the store below.
Apple Piazza Liberty, Milan, Italy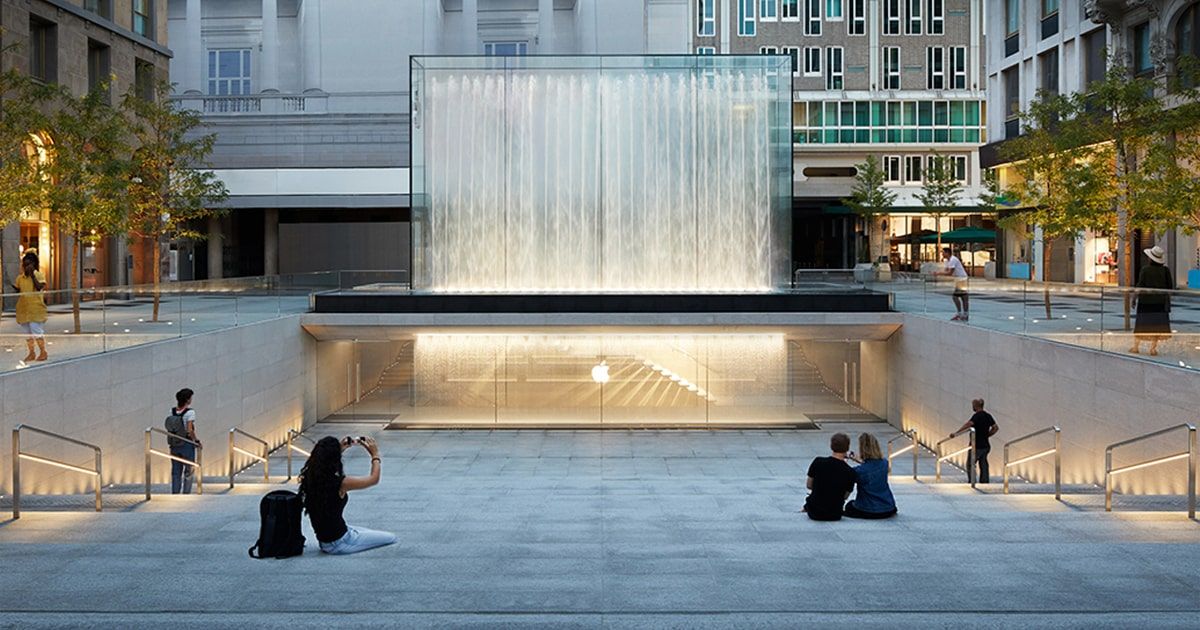 Apple Piazza Liberty in Milan welcomes visitors with an 8-meter glass fountain at the entrance which serves as a backdrop to the massive outdoor amphitheatre. Located just off the Corso Vittorio Emanuelein in the heart of the city, the glass rectangular entrance is the most striking feature of this store.
The design is a product of collaboration between Apple's design team led by Jonathan Ive and Foster + Partner's team of architects. The immersive recreation of child-like excitement echoes through walking into the fountain without getting wet. The interiors feature bright space with backlit ceiling panels that let the natural light in and give the feel of a bright art gallery.
Apple Opéra Store, Paris, France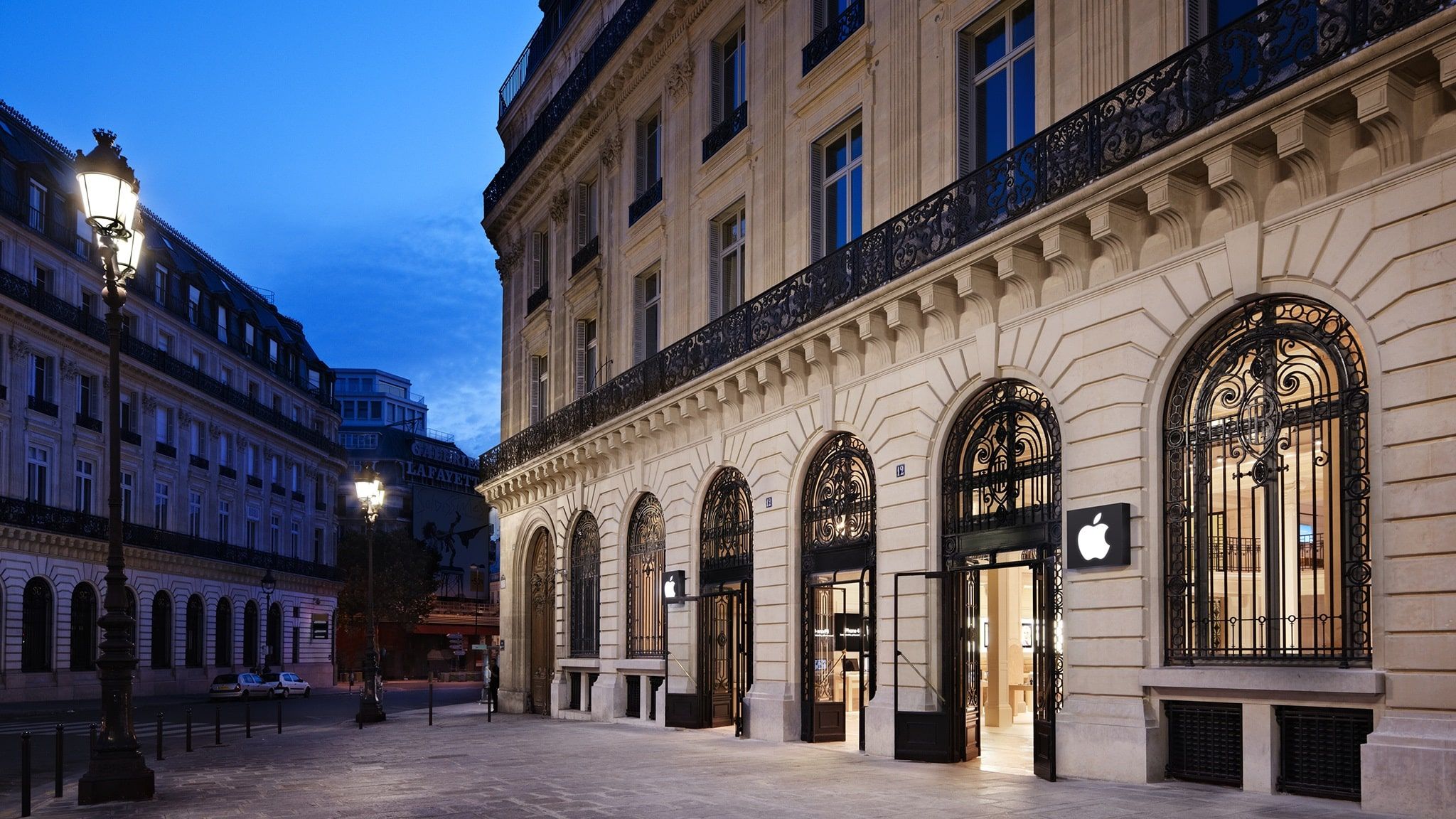 Apple Opéra Store in Paris retains most of its original architectural aesthetics, including wrought iron railings, marble floors, columns that stretch up to the ceilings and a large spiral staircase in the middle. Located near Opera Garnier, it is considered to be one of the most beautiful stores in the world. It is strategically located near the well-known Paris Opera and also has a bar upstairs.
Apple Marina Bay Sands, Singapore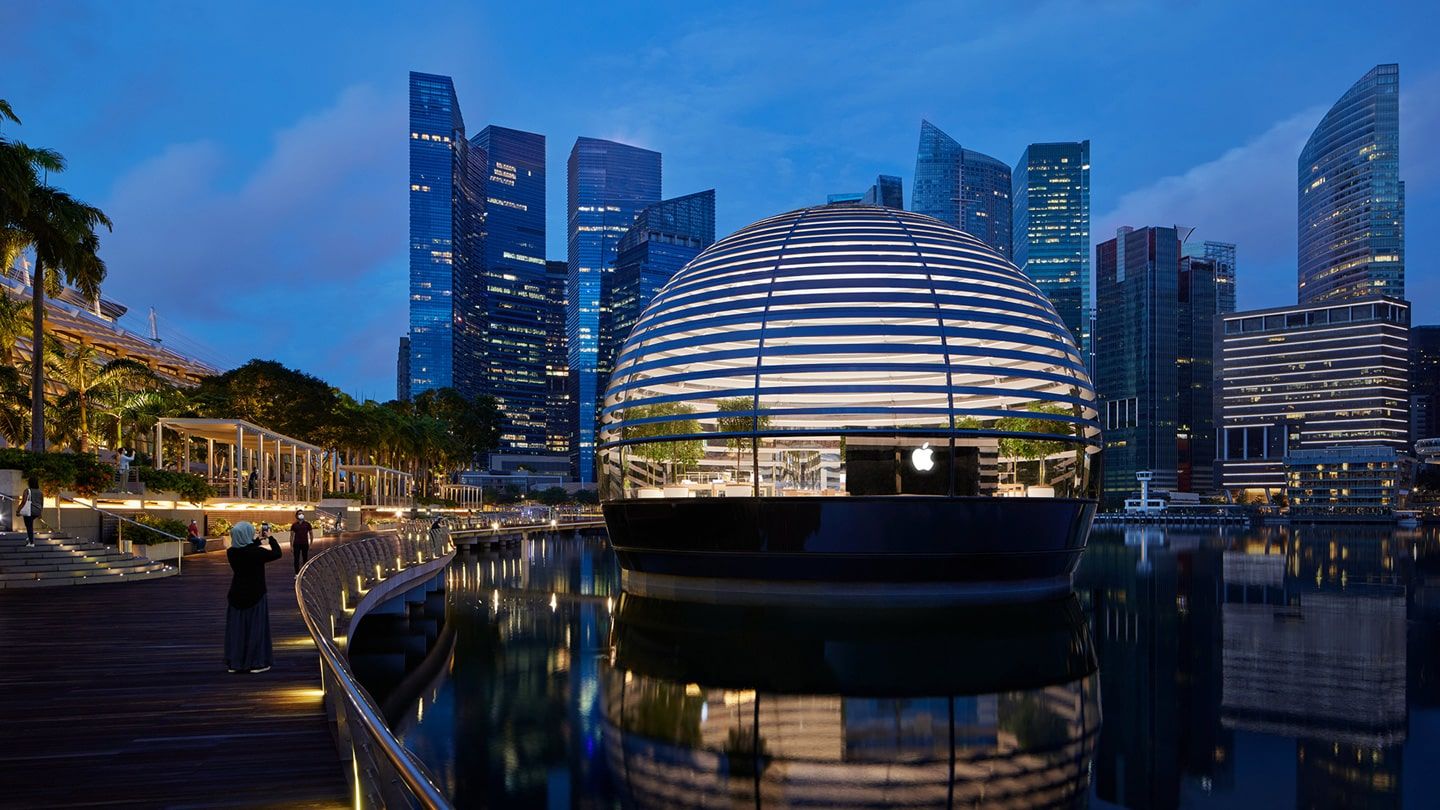 A distinctive urban spectacle, Apple Marina Bay Sands is the brand's third store in Singapore and sits directly on the waters of Marina Bay. The store made waves when it opened in 2020 with its unique glass dome structure that resembles a floating lantern.
It is designed in collaboration with leading architects from Foster + Partners and built inside a self-supporting floating sphere. The glass dome building is over 2.7 m in diameter and features 114 glass panels carefully selected and held in place with structural support from 10 vertical mullions.
The glass dome has sunshade rings to regulate the natural light that comes in and also provide acoustic absorption of ambient noise to create a calming atmosphere. The dome effect offers an exhilarating experience for visitors with 360-degree stunning views of the city and reflects light in the evening to enhance the Singapore skyline.
Apple Rue de Rive, Geneva, Switzerland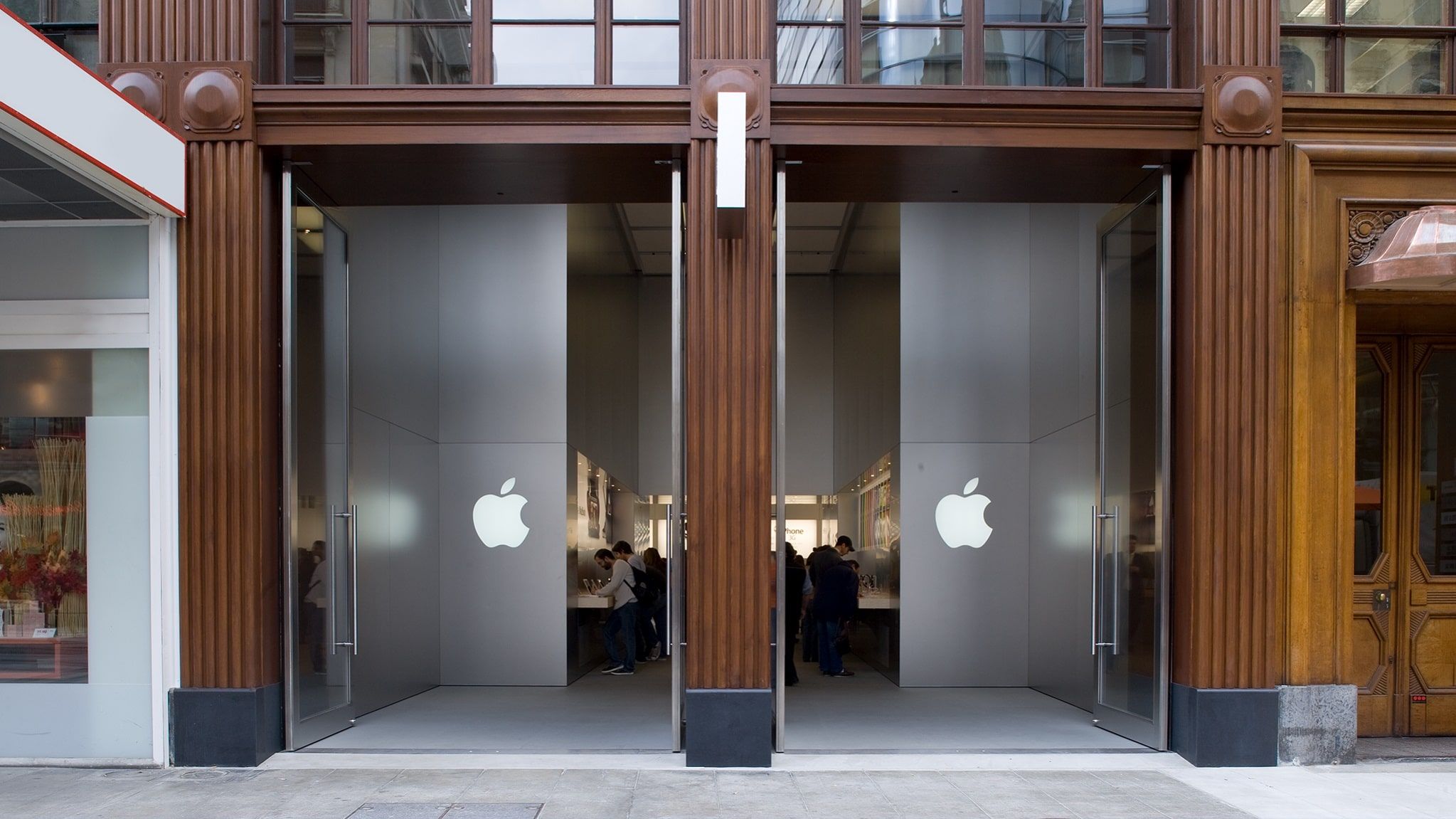 Apple opened its store on Rue de Rive in 2008. The unusually designed store is marked only by the steel sign of the backlit Apple logo. It opens to a wide stainless-steel panelled hallway flanked with product display counters and traditional wood display tables. It also features a distinct ceiling with rolling arches that sport a sleek and minimalist design.
Apple Store Dubai Mall, Dubai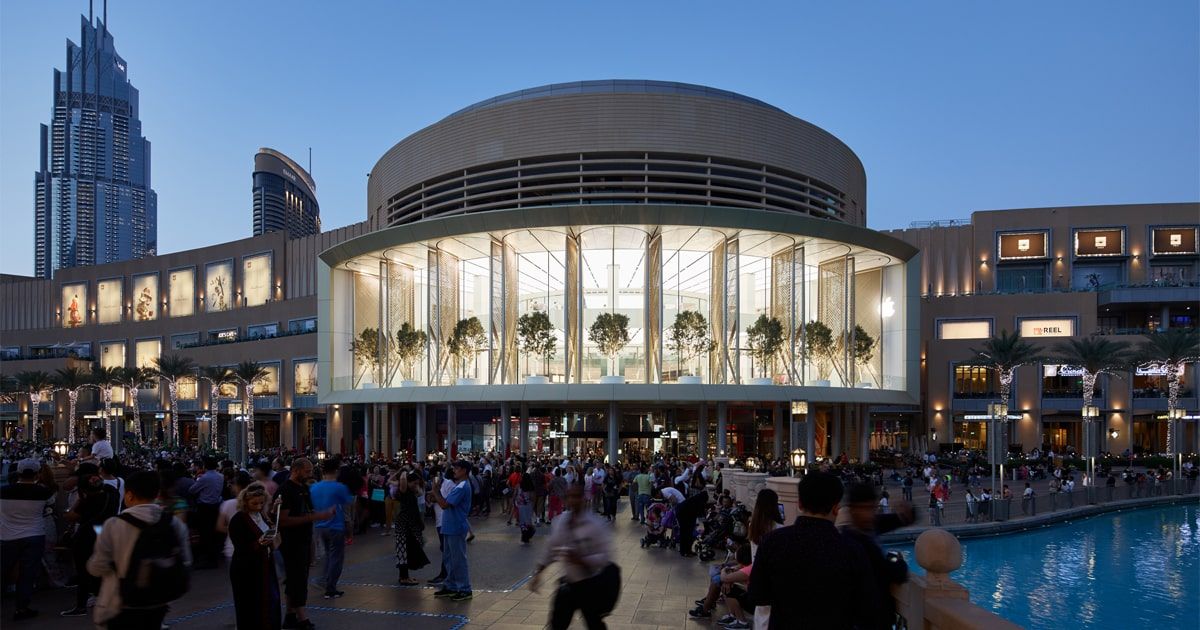 Apple Store in Dubai Mall is a 186-foot storefront that overlooks the Dubai Fountain. Opened in 2017, this store reinvents the idea of a mall-based retail store with its falcon-themed design.
The store features 'solar wings' inspired by the movement of a falcon opening its wings — a one-of-a-kind marvel of kinetic art and engineering. The solar wings are reinforced with 340 carbon fibre polymer rods and 18 panels that demonstrate form and function, along with a visually appealing theatrical experience.
The store spans two floors, and its innovative solar wings open during the evening to reveal the best views of the water-side fountain and promenade.
Apple Schildergasse, Cologne, Germany Opened in 2017, Apple Schildergasse features the latest design that is adopted by other Apple stores across the world. This thoughtfully incorporated new design layout includes a Forum for displaying local artists and creatives, a Boardroom for meetings with local entrepreneurs and businesses and a Viewing Gallery.
Located in one of the busiest shopping districts, it features a suspended glass staircase and attracts around 13,000 visitors per hour. The store's Viewing Gallery offers a breathtaking view of the Cologne Beer Fountain made by artist Harald Frehen.
Apple Central World, Bangkok, Thailand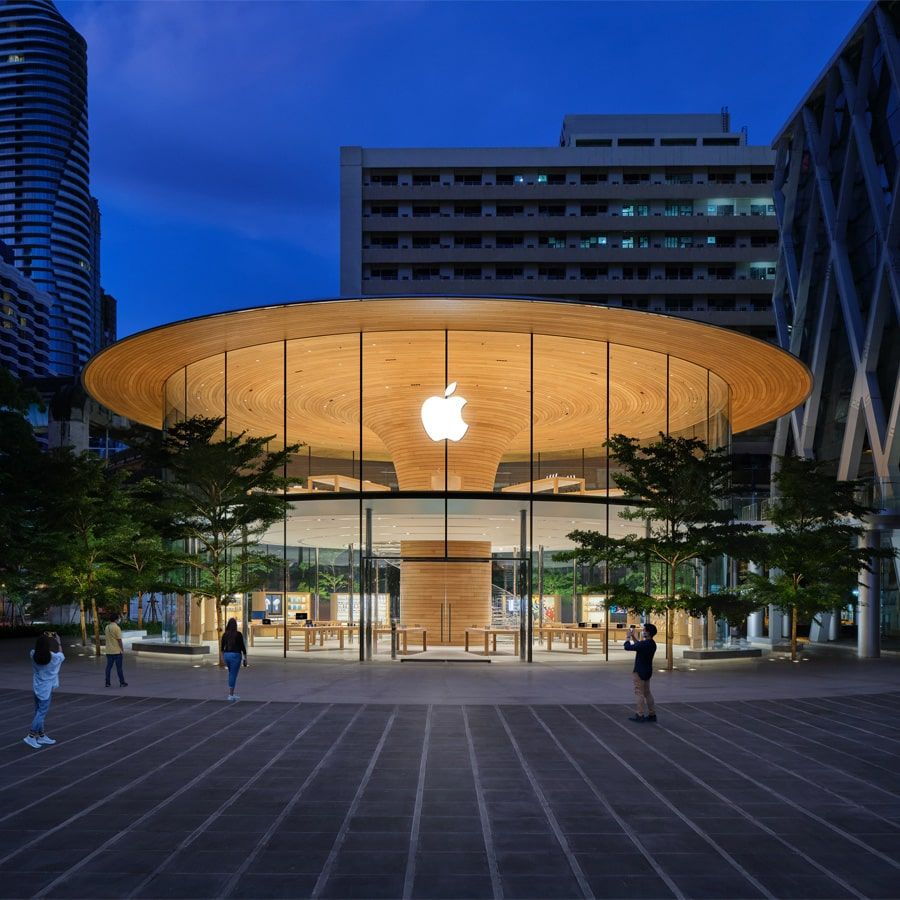 Opened in 2020, Apple Central World in Bangkok is the brand's second retail store situated at one of the city's iconic urban centres Ratchaprasong shopping district. Featuring a distinctive design, the new store has been built in collaboration with Foster + Partners through two other local entities F&P and Architects 49 Ltd.
The store features an 80-foot glass enclosure with two levels connected via a spiral staircase supported by a cantilevered Tree Canopy roof. The staircase wraps around a central timber core made of 1,461 European white oak profiles. The glass enclosure in the form of a drum offers dramatic 360-degree views of the outside urban scenery.
Apple Store, Shanghai, China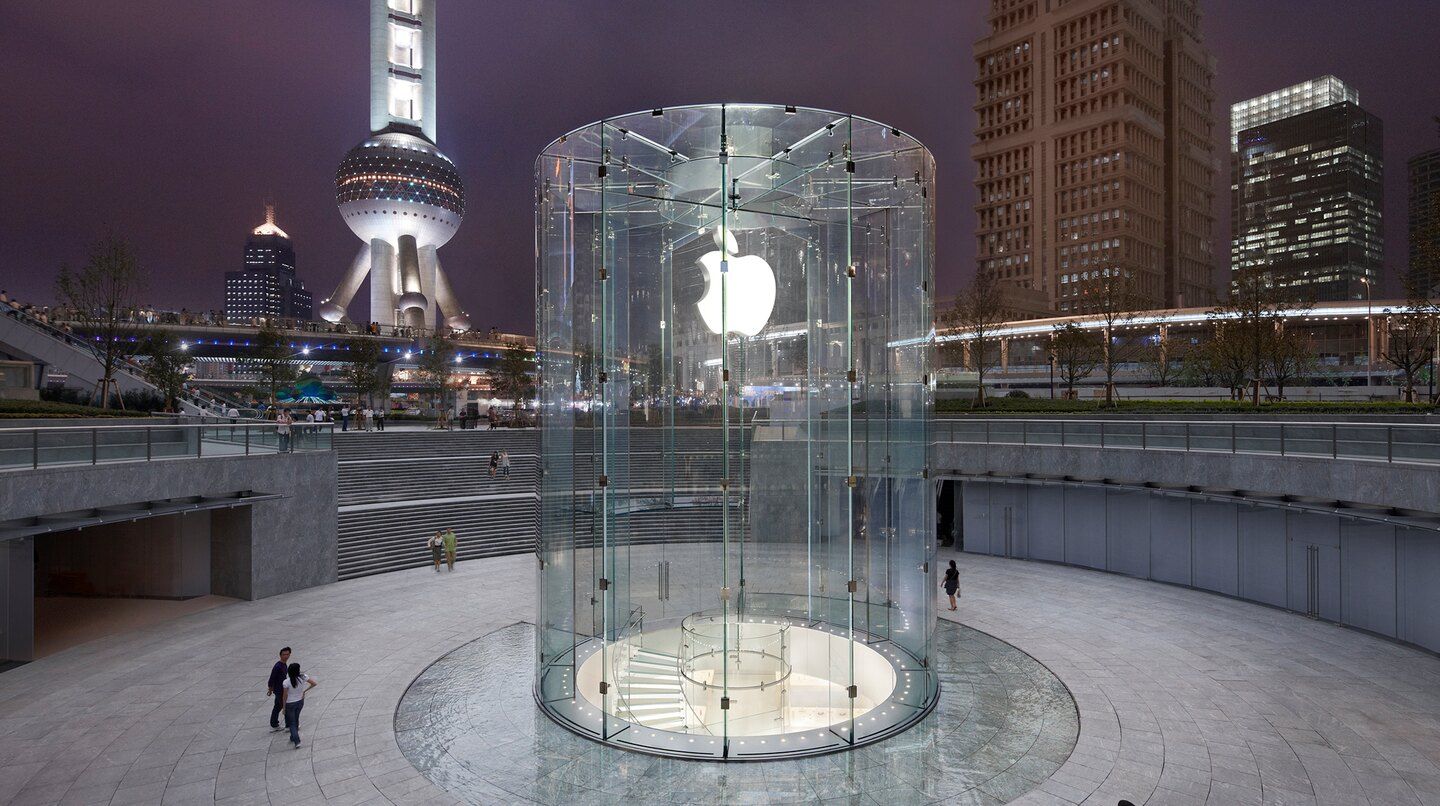 Situated in the Pudong district of Shanghai, this is one of the most iconic and remarkable Apple stores. A massive glass cylinder stretches up out of the ground, with the main store located underneath.
Featuring over 1,486 sq m of space, the store has been designed by Bohlin Cywinski Jackson Architecture, who also designed the archetypical Fifth Avenue Apple Store in New York.
Hero & Featured Images: Courtesy Apple
Frequently Asked Questions (FAQs)
Question: Is there an Apple Store in India?
Answer: The Apple BKC store in Mumbai marks the first Apple store in India. It is followed by another store in Delhi and the company opened its first online store in India in 2020.
Question: How many Apple stores are there in India?
Answer: The Mumbai and Delhi outlets mark the two Apple retail stores in India.
Question: Why Apple has no showroom in India?
Answer: According to a 'CNN' report, a major reason behind why Apple did not open a store in India until this, is because Indian rules mandate foreign retailers to source at least 30 percent of their raw materials locally. For long Apple has tried to get an exemption and till date, the company sold its products through local partner stores. The Mumbai BKC store marks the Apple store in India.