As the fashion business navigates through the tricky territories post-COVID-19, the market is slowly opening and trying to adapt. While everything digital is a new reality, leading luxury brands and homegrown labels are rolling out new collections post-COVID-19.
With Gucci presenting its latest sustainable campaign and line, Chanel taking its cruise to a digital channel, and Dior looping in Cara Delevingne for their latest jewellery campaign, we are all set to see what the upcoming season has in store.
Chanel Cruise 2020/21
Celebrated all over the world for its state-of-art setting, Chanel for the first time cancelled its cruise show in Capri for a digital presentation. The collection saw strapless dresses that can be transformed into skirts, long jackets in black chiffon, bandeau top, and jeans. Besides this, the line also comprises of quirky jewellery, tummy belts, tiny bags, flip-up sunglasses, and gladiator-style armband bracelets. It was the soothing colour palette that made it season-appropriate; think black and white tweed, leather suits in bougainvillaea pinks, handbags featuring deep greens and peach. The collection is available on Chanel.com
Gucci Off The Grid
Gucci recently launched Gucci Off The Grid, the first collection from Gucci Circular Lines, designed by creative director Alessandro Michele, an initiative created to support the House's vision for circular production. The collection comprises of genderless luggage, accessories, footwear, and ready-to-wear. Supported by a global campaign Alessandro Michele, it is shot by photographer and director Harmony Korine. 
Featuring an illustrious cast of Oscar-winner and activist Jane Fonda, ecologist and environmentalist David Mayer de Rothschild, Grammy winner songwriter Lil Nas X, Japnese actor-producer Miyavi, and music producer King Princess, the campaign explores the juxtaposition of urbanisation and beautiful natural space/surroundings. The line is now available on Gucci's website. 
Cara Delevingne is the new face of Dior Joaillerie campaign
Dior jewellery recently unveiled a new campaign with the supermodel, actress Cara Delevingne as its new face. You can see her adorning the iconic Rose des Vents collection comprising of a cuff, majestic bib necklace, in which mother-of-pearl and malachite highlight Monsieur Dior's cherished star, one of the emblematic codes of the storied brand. Besides this, their Mimirose line adorned with emeralds, rubies or diamonds is paired with Rose Céleste jewellery, whose precious lucky charms feature mother-of-pearl moons and golden suns, in tribute to the couturier's passion for the divinatory arts.
Ekaya launches Heavenly Creatures SS 2020
Ekaya's latest collection is for those on a lookout for edgy ethnic pieces. Featuring a range of saris and lehenga, the colour palette symbolises the equation between land and sky. Imagine tones of indigo blue, earthy garnet and purple, romantic pink and antique gold on organza, dupion and silk textiles woven to perfection. The usage of reverse cutwork and kadwa techniques have been used to create digital print motifs such as ornamental plants, blooming flowers, leafy vines, and chirping birds. The collection comprises of 45-60 pieces, and the price ranges from Rs 40,000 – Rs 75,000. The collection is available in Ekaya stores nationwide and online at www.ekaya.in.
AMPM SS20 – The Safari Edit 
AMPM's latest collection is titled The Safari Edit from Amah'le, which translates into 'the finest' in Zulu vernacular. Imagine beautiful breezy kaftans, belted dresses, tunics, and summer-appropriate trousers featuring the best of indigenous motifs and art. The colour palette comprises of pristine whites, tones of olives, and blue. That's not all, there is a whole range of handcrafted leather accessories, once again in the signature 'Zulu' inspired sun-drenched hues. The collection is now available at 
AMPM
 website. One of the most wearable collections post-COVID-19
Anavila Misra Summer 2020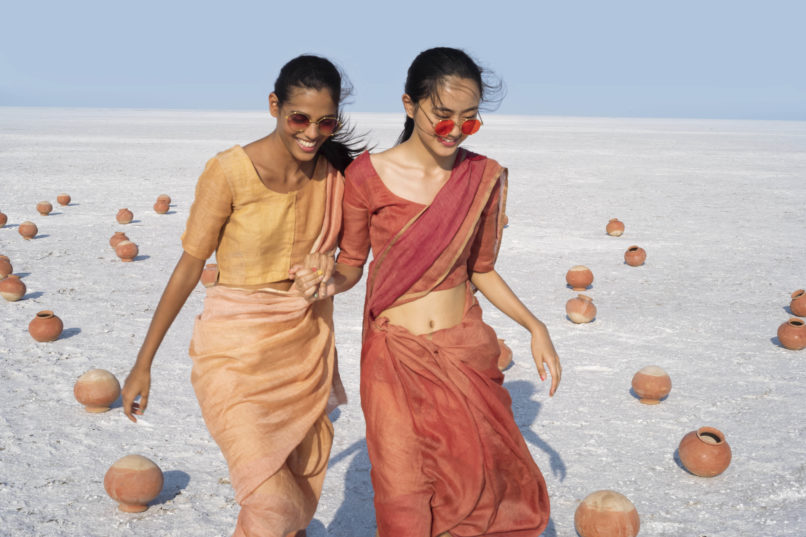 Known for her exquisitely crafted linen saris, Anavila Misra unveiled her latest collection for summer, and needless to say, everything is a wardrobe essential. Imagine drapes in floral jamdani, meticulously woven in season-appropriate hues of Khalid, anaar, and chandan. Misra has experimented with the Khatwa embroidery to create twirls in the fabric and sequins. The palette comprises of tones inspired by peaches, rose apples, cardamom, Amalfi lemons, and periwinkle. The collection features saris and blouse with classics like her nova kurta sets in new colours and the addition of summer shirts. A special focus is put on plaid that will feature in 12 colours. The collection is now available on 
Anavila's website.