Sari draping is no mean feat. It's an art form and one that can take anything from a few minutes to a few meltdowns. Which is why we are recommending you to brush up on your sari draping skills this lockdown by carefully learning, trying, and perfecting these styles.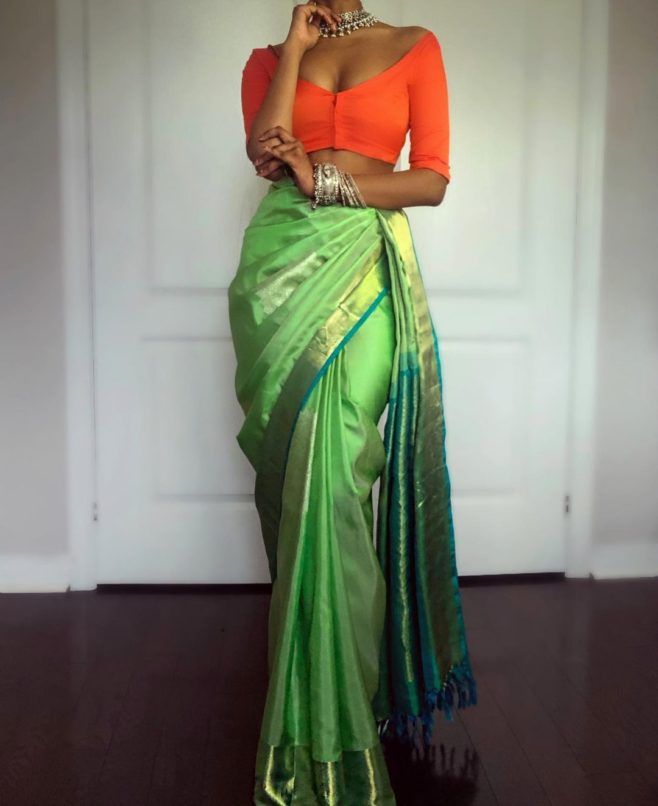 The diverse cultural climate of the country ensures that when it comes to sari draping, we have plenty of styles on hand. From the Bengali atpoure shari with box pleats and a double-sided pallu to the dhoti style nauvari style of Maharashtra, the options are as vast and different as the country. Before you begin your avant-garde sari draping journey, we strongly recommend acing the most commonly worn Nivi style originally from Andhra Pradesh. Once you've mastered getting the pallu right, creating crisp pleats and ensuring all parts stay tightly tucked in, you can graduate to more elaborate sari draping styles.
We have enlisted the help of some of our favourite fashion influencers, who can transition from one sari style to the next within a few seconds (or so it seems on Instagram reels). Watch and rewatch these tutorials (pick between avant-garde or traditional sari drapes) before you scout your cupboard for your favourite lightweight sari. Once you have the technique right, gather essentials like safety pins, petticoats, and a hydrating drink and start draping. Remember, these sari draping tutorials have been selected based on three criteria: Uniqueness, ease of drape, and probability of flattering comments when you wear them.
Natasha Thasan's lazy pallu sari draping tutorial
When it comes to traditional yet sensual sari styles, Natasha Thasan is the queen. In this video, she shows us how to ace the lazy or easy pallu that offers you plenty of coverage. Ideal for heavy silk saris, this easy tutorial tells you the right number of pleats to make and how to get that crisp pallu.
View this post on Instagram
Roshni Chopra's easy peasy dhoti sari draping tutorial
The actress and lifestyle influencer enlists the warrior or dhoti drape as her favourite and shows us in easy steps. Additionally, pull the pallu over the other shoulder for a more formal look, all belted to cinch the waist.
View this post on Instagram
Tia Bhuva's infinity Gujrati sari drape
The woman who made pleated sari lehengas a household name is here to reinvent the traditional Gujrati front pallu style with this tutorial. She shows you how to switch from a basic Nivi drape to a Gujrati one, and finally how to create loose side waves for that easy flowing effect.
View this post on Instagram
Urmi Daga's 3-in-1 sari hack
Fashion influencer Urmi Daga is here to convince you that different drapes can completely transform the look of a single sari. A chunky knitted sweater and an overflowing front pallu is the look we are stealing this winter.
View this post on Instagram
Ashwini Narayan's skirt and wrap around top look
A voluminous skirt with box pleats all around it, this drape is a great choice for longer saris. Once your skirt is well tucked in, Winny, as she is popularly known, shows us how to rather simply and magically use the sari to pallu to create a wrap around shawl effect. We recommend using a double pattern sari or a contrasting pallu like hers to make your look stand out.
View this post on Instagram
Prerna Mehra's sari-over-the-pants look
A style we are always a little iffy about because of the powder room inconveniences. But Prerna Mehra or 'The Girl in Sky High Heels' makes the task look so easy, we are tempted to hop on board. Pick a super light sari, pleat, tuck and dance the night away.
View this post on Instagram
Amrita Thakur's waistcoat hack
Fashion designer, influencer and maker of the OG styling videos, Amrita Thakur tells us how she switches up her look with a simple switch in the pallu. The heavily embellished waistcoat with a plain sari is simple and a fuss-free addition to our sari draping wishlist.
View this post on Instagram
Krishna Talesara's elevated pantsuit sari look
Once you're on board with the pants under a sari school of thought, switching to Krishna Talesara's wrap and tuck sari draping style using a co-ord set is sure to be easy. The beauty of an elaborately draped sari is achieved with this twist and turn tutorial.
View this post on Instagram