The Indian fashion industry, when compared to its international counterparts, is still relatively young. And while today it boasts a robust, growing landscape, and an influx of new designers who are quickly rising in the ranks and making a mark, there are a few who can truly be called veterans; those who have seen the market develop and even contributed to its growth. The designer duo Abu Jani-Sandeep Khosla is one such pair.
Since the brand's inception in 1986, Abu-Sandeep have been an inseparable part of Indian fashion. Couture and dressing Bollywood is part of their DNA, and their three-decades long career trajectory is marked with international achievements that runs parallel to a growing Indian fashion industry. Their Indianwear featuring chikankari, mirror-work, and gota patti are today regarded as heirlooms, and the couturiers have dressed everyone from the who's who of Bollywood (Jaya Bachchan, Shweta Nanda, Dimple Kapadia, Twinkle Khanna, Sonam Kapoor, Priyanka Chopra), to India's renowned names (Neeta Ambani & Isha Ambani Piramal) to international celebrities like Judy Dench, Sophie Marceau, Beyonce, Jennifer Lopez, and Gwen Stefani.
From opening their first boutique, Matahari, in Mumbai, to stocking at Harvey Nichols, Harrods, Neiman Marcus, and Bergdorf Goodman, the duo were one of the first to get recognition for Indian fashion on a global stage. And today, at a time when Indian fashion is going through a minimalist revival, the duo remains apologetically driven by their maximal, decadent signature style, showcasing a taste of quintessential India that's colourful yet contemporary.
The pair recently celebrated 33 years in the business through a fashion show in Mumbai, which saw an illustrious roster of loyalists in attendance. Curating over 130 ensembles for 90 models on the runway, the designer duo reinterpreted some of their classics – chikankari suits, saris with scalloped borders, heirloom lehengas, and pleated sherwanis – an oeuvre that celebrated Indian roots while gazing into the future. We caught up with the designers to talk about their journey so far and what designing for millennials means today. On completing 33 years in fashion
There was no industry when we began in 1986 – no fashion bodies, institutions, or fashion media. Your work had to do the talking. Today, the fashion industry is more organised, but even after three decades we're still learning and challenging ourselves to dream big while perfecting our artistic expression. We are immensely privileged to do what we love and blessed that our work has found appreciation. It's been one humble and deeply satisfying journey. On their career-defining memories
There are far too many. Every single piece is memorable because it mirrors our entire being. We've never been businessmen, never cut corners, or compromised our vision. It has always been about total dedication and devotion, and that's deeply embedded in our memory.
On their timeless body of work
Every ensemble narrates a story; it has passion for beauty and reverence for the handcrafted. An Abu Sandeep ensemble is exquisitely embroidered, detailed, and layered. It incorporates the romance of culture, history, and tradition, but remains decidedly modern.
On their muses
Our muses possess originality apart from style that goes beyond their sartorial choices. We are privileged to call the glamorous Jaya Bachchan, Dimple Kapadia, and Amrita Singh our 'first muses'. They have championed our work from the beginning and it's been equally delightful to create new designs for their children and grandchildren. Each muse that has graced our runway with their presence is iconic, original, and most importantly, an incredible source of support to us.
The definition of an ideal lehenga
It should do complete justice to the bride's personality. It's never about following trends blindly but choosing an ensemble that is quintessentially you. Pay homage to your bridal dream.
On the significance of jewellery
Indians love their jewellery and why not? It's more than just a piece of accessory to complete the look. Jewellery dictates the choice of embroidery, colour palette, neckline, and veil drape.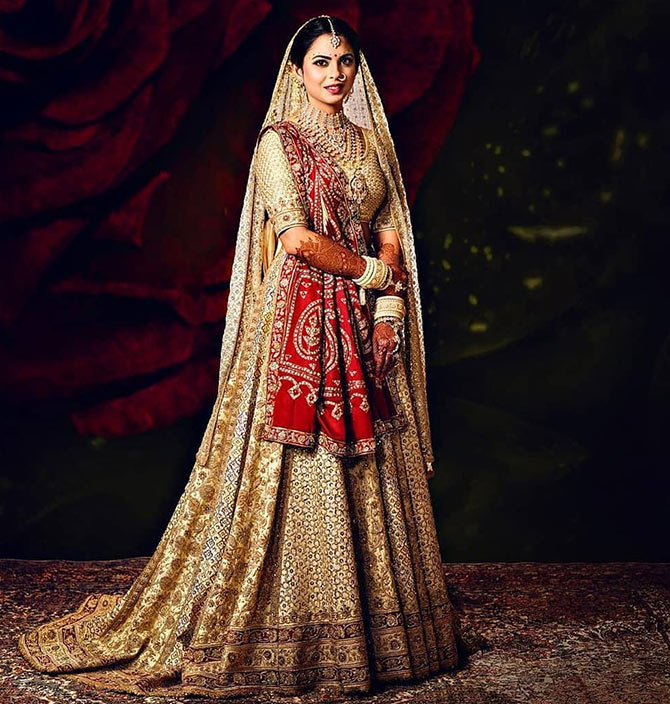 International celebrities you'd like to dress
Nicole Kidman and Charlize Theron.
A Bollywood actress who could be an haute runway model?
Sonam Kapoor
One piece of advice for the millennial bride?
Enjoy yourself. Exhale! And remember to write and live your own wedding dream.