Noted designer duo Abu Jani and Sandeep Khosla talk about creating Sonam Kapoor Ahuja and Gigi Hadid's looks for day 2 of the NMACC in an exclusive conversation with Lifestyle Asia India.
The second day of the Nita Mukesh Ambani Cultural Centre (NMACC) was considered one of India's biggest fashion moments. Hosted by Isha Ambani, the grand event was held to celebrate the India in Fashion exhibit which explores the layered impact that traditional Indian dress, textiles and craft have had on the international fashion sensibility since the 18th century.
The event saw the biggest names in the film, fashion and art worlds walk the pink carpet. Amongst these global stars were actor and fashion icon, Sonam Kapoor Ahuja, and supermodel and entrepreneur Gigi Hadid, both of whom were dressed in Abu Jani Sandeep Khosla.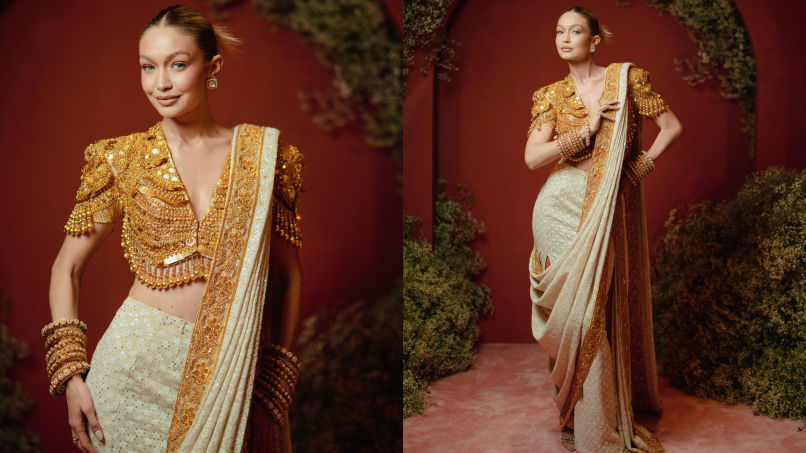 Hadid was dressed in a spectacular Kamasutra-inspired, South Indian temple jewellery cropped sleeve jacket blouse edged with bold tassels paired with a slim chikankari skirt and chikan sari drape while Sonam Kapoor Ahuja celebrated Abu Jani Sandeep Khosla's 25-year journey as a fashion house. The actress was decked in a gajji silk lehenga which was hand embroidered with panels in zardozi, resham, vasli, marodi and tikki in a multitude of floral and Moghul motifs.
Excerpts from our chat with designer duo Abu Jani and Sandeep Khosla
What was the story behind Gigi Hadid's look for the opening of India in Fashion showcase at NMACC?
We visualised Gigi as the personification of female divinity, sensuality and strength. Her look had to be ironically Indian and quintessentially Abu Sandeep. White and thereby Ivory and Gold is a much-cherished colour palette for us and we chose Chikankari, our most coveted embroidery. The drape is a wonderful fusion of a long slim skirt paired with a saree to create a novel ode to the saree. Gigi was gob-smacking and took our breath away with her magnificent grace in carrying the silhouette to perfection.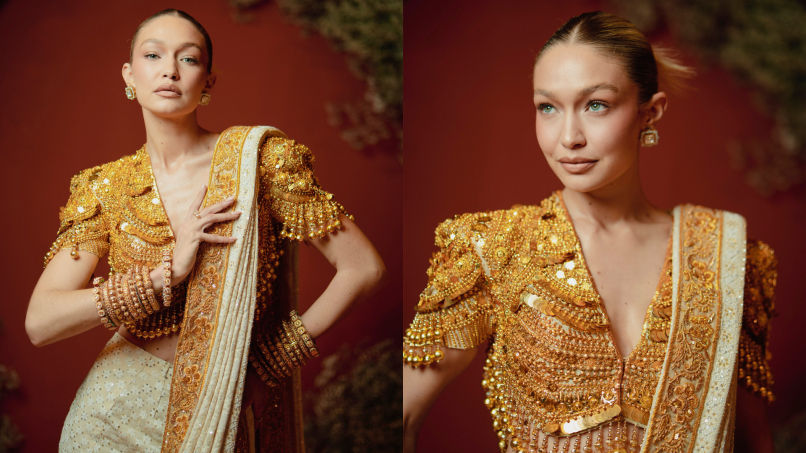 The jacket blouse is from our collection based on South Indian temple jewellery and features 3D jewels embroidered together to fashion couture. The look exuded both the astonishing pristine elegance of chikankari embroidery and the dazzling glamour of heritage gold jewels from South India. It was our ode to the breathtaking beauty of India's craftsmanship and the soul and spirit of a woman, as a divine force. Gigi was a total Goddess in it.
Gigi's look took almost a year to create – what inspired you and what were the challenges you faced?
Our Chikankari is the ultimate Couture. It takes teams of highly skilled women artisans months to embroider a sari or lehenga at our Lucknow atelier before it arrives in Mumbai for further embellishment with zardozi, sequins and crystals. Chikankari is a highly refined and complex embroidery. Creating a work of art is the real challenge and our mission. There are no shortcuts. It's a labour of absolute love and devotion.
Indian craftsmanship has been at the forefront of national and international news in the past week – do you believe that Indian craft and especially Indian artisans are getting their due?
Our 35 years in design have been dedicated to elevating crafts, techniques, and embroideries to the highest possible standard. Our artisans form the very core of our creativity. We treasure their invaluable contribution and excellence. It was absolutely wonderful to see Indian design and craftsmanship occupy pride of place at the NMACC this week. Nita Ambani is a tireless champion of the arts, crafts and culture of India and the NMACC is a path-breaking institution for the promotion of excellence in the Arts.
The exhibit showcases India's huge contribution to global fashion and textiles for centuries and the pioneering work of designers in India's high fashion industry since the 1980s.
It is a brilliant beginning and it is vital that we work towards ensuring that the handcrafted thrives in India as do our brilliant craftspeople and artisans. We must value the unsurpassed crafts legacy we have been blessed with and build upon it to ensure our artisans receive the skills, training, remuneration and success they so thoroughly deserve.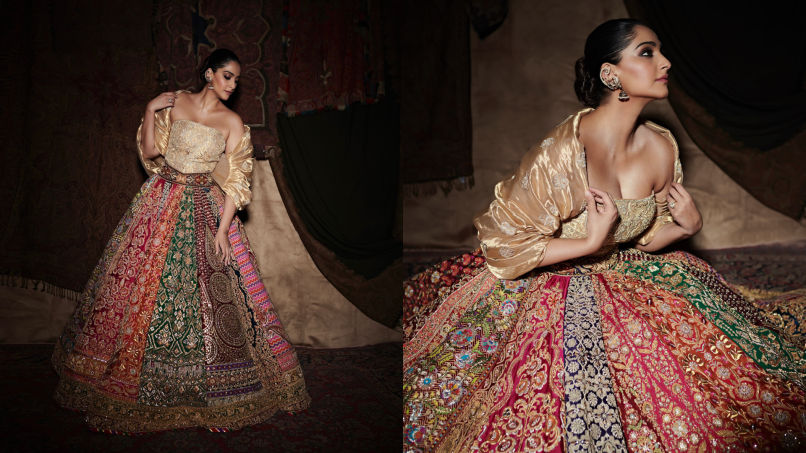 Sonam Kapoor's look for the opening of India In Fashion showcase at NMACC celebrated the glorious history of the brand – tell us about how the outfit showcased the brand's journey through the past 25 years.
Sonam Kapoor wore a custom archival lehenga in gajji silk crafted with 20 unique panels collected over decades to showcase our work since the 1980s. Sonam Kapoor Ahuja epitomised couture at its most complex and vibrant in this magical piece. This gajji silk lehenga is hand embroidered with panels in zardozi, resham, vasli, marodi and tikki in a multitude of floral and moghul motifs and paired with a vasli and Swarovski corset and finished with a silk tissue throw hand embroidered in gold and silver work to create a veritable masterpiece that is also a priceless record of our history. Sonam is a natural-born style phenomenon and the perfect muse to wear this very special creation.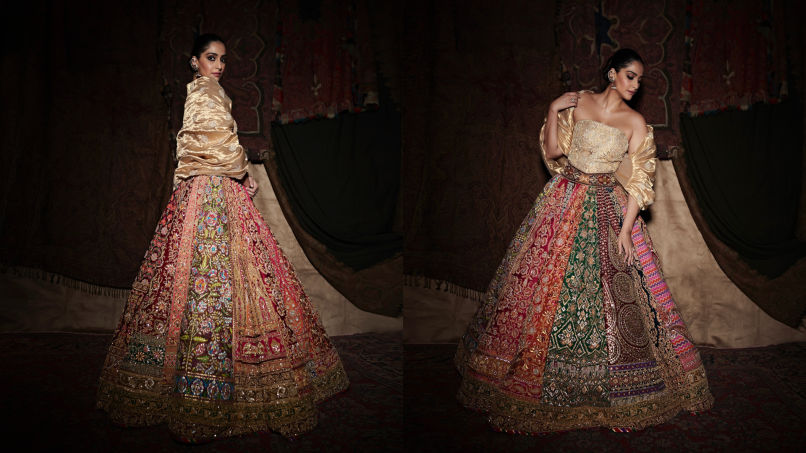 As someone who has seen such success in your career, what would you say is the most important question you've asked yourself before taking on a project or when you're faced with a challenge?
We never take on a project unless it fuels and challenges our creative imagination, remains true to our design sensibilities and aesthetics and is a creative challenge. One must always evolve, grow and learn. Bars must be raised and broken time and again. There is no letting up or resting or stagnation. Once we dream of doing it, it will be done. We thrive on challenges. We dream bigger with every collection.
They say that one must dress where they want to be or like who they want to become – how true is that statement according to you?
Dress to please yourself. To shine your unique light to satisfy your soul and spirit. You are the one who matters the most, so wear it and own it!
Do you believe in the X-factor, a certain je ne sais quoi that some people possess that makes you want to sit up and notice them?
Oh absolutely. Call it presence or charisma or star quality. When you've got it, it shows. And it's irresistible.