Ace celebrity stylist Ami Patel, the mogul behind turning Alanna Panday's wedding desires into reality talks about her wedding looks, the evolution of style, and more.
Yet another celebrity wedding is taking rounds on the gram and it sure is nothing short of a fairy tale, right? Yes, it is Alanna Panday's wedding, she's a digital content creator and model, with her longtime beau Ivor McCary. After the diva announced her engagement last year, I'm sure you all were waiting eagerly for her D-day, and now that the wedding is over one just can't get over the sight of those dreamy details. Having said that, Alanna's sartorial preferences were anything, but ordinary from donning a vivid custom-made Rahul Mishra to opting for an all-white ensemble from the iconic Manish Malhotra Couture for her wedding, the entire ceremony was a big fat Indian wedding with a few bohemian influences. Since the gorgeous bride always wanted a wedding based around all things white, the ace celebrity stylist Ami Patel understood the assignment quite well!
Ami Patel made sure to perfectly amalgamate the two cultures for Alanna Panday's wedding, by taking a few notes from the western culture and finely tuning them with our Indian heritage. We sure need more details on what went behind curating Alanna's wedding look, so if you do too, then here we have Ami Patel decoding Alanna Pandey's wedding look, sharing a few tips for all the millennial/Gen Z brides, and more on those lines.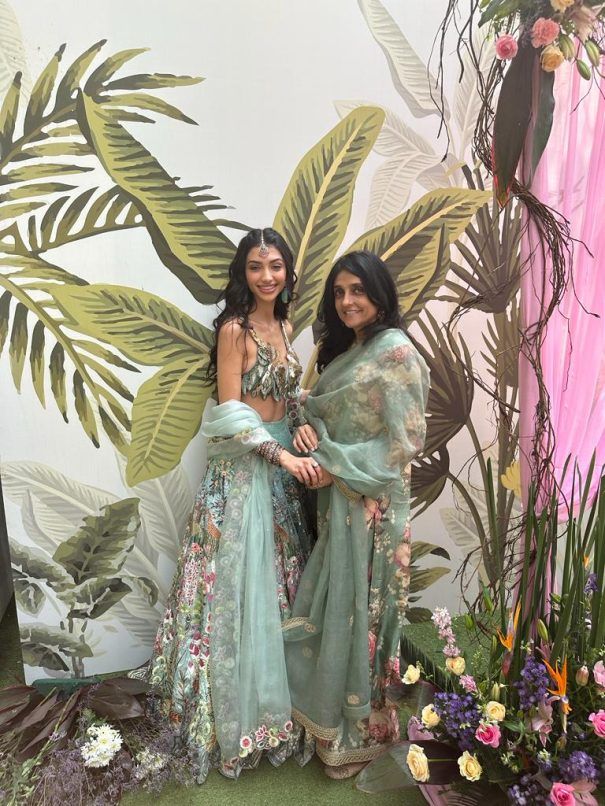 Ami Patel on curating looks for Alanna Panday's wedding
What was the inspiration and mood board behind Alanna Panday's wedding wardrobe?
So Alana is a content creator. She's one of the top influencers, and for her, image is very important, hence we tied in the decor and the outfit and the theme of the entire wedding fully together, everything was synergized. Her brief to me was that she wanted like something like a white wedding, she was very clear. She wanted to wear white and look ethereal and dreamy. Her entire decor was based on the enchanted forest. So there was like mist the minute she walked into her mandap area, there were greens, there was like this whole environment of like this beautiful forest and she literally looked like somebody, like a fairy tale Princess. So, everything was based also on her life, her lifestyle. Like for example, her events for Mehendi were based on the tropical forest and her lehenga that Rahul Mishra created had the entire vibe of the tropical forest, literally, it had animals, tigers, giraffes, the greens. Her haldi and her brunch were about her travels, they love Italy it's one of their favorite places. So everything was Italian inspired from the decor to the outfit. So, so there was a huge synergy and a lot of thought put into everything that she wore.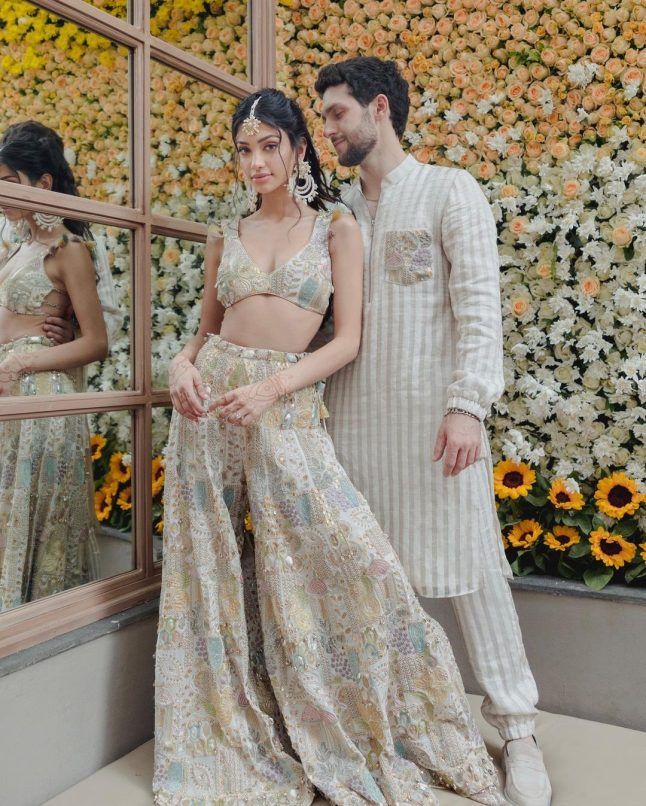 What was your favourite part about styling Alanna Panday? Which look was your personal favourite?
Favorite part about styling Alana was that we were just along the way. We were just creating new looks that were just inspirational to the new Gen Z bride, which is what she is. And since she's marrying Ivor who is an American, it was just about a mix of cultures, a mix of the Hindu chants that we're playing at her wedding were beautiful, but her walk-in music was like entry music was western. So I just, I just love this east meets west vibe and the whole, taking the Indian culture into a Western context, which I think is what people really are doing now.
I can't really see what my favorite look is because each and every look is my favorite. There's something about each look that I am really enjoying. Like for example, Rahul Mishra's lehenga was just so amazing and the kissing ducks with the blouse were so different. Or the fact that she wore a full white Manish Malhotra with diamonds and not even a dot of gold was there, again so refreshing and so amazing. I love the fact that she wore the mermaid silhouette from Papa Don't Preach. And then there was her look from a Payal Singhal, it was just like palazzos and that tiny bra with strings at the back which you know, which was so beautiful like, and then, of course, the Shane and Falguni was outstanding. So I think each and every look was so special because we spent so many hours. It was just something different, including the jewellery. Everything was just so perfectly thought out, and in a way really modern and free.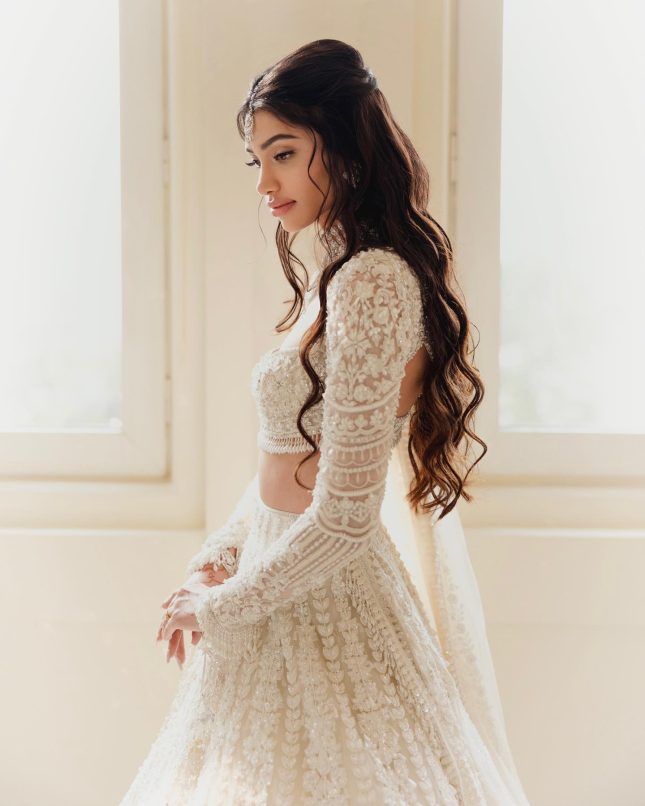 Since all of Alanna's looks were anything, but ordinary so how important do you think experimentation is when it comes to wedding styling?
So one thing I'd like to say is that a wedding is a very sacred ceremony. It's something which is really special. It is, it is about tradition. So do what your heart feels like, don't steer away, but in that space, create your own. Be your own bride, like I always say, create that space for yourself. If you don't wanna wear red, please ditch red. You can wear anything, you could wear pastels. It really depends on how you wanna be and let your personality shine through. Don't get eaten up by the looks you know. Create your own space. If you feel like being a minimal bride, if you feel like being an OTT bride. Just do it! Do what your heart desires because, at the end of the day, you're wearing it you need to be comfortable and feel special and beautiful in that. And as for experimentation, I believe in creating experimentation to suit, not just for fancy or costume experimentation, but something that really truly creates and sets trends is what I would say please do and which is what we did with Alana.
How do you come up with different aesthetics while styling?
So honestly it's like I said its form and function. I truly don't like the flower jewellery I find. I find it looks bulky and just uninteresting. So that's why I came up with something different. For Athiya, we actually did a real jadau antique maang tikka and then just tiny studs in the ears for Haldi, and for Alanna, we created something different. So for me it's really about just creating something new or based on the person that I'm styling is very important or that I bring out, something from the person, and the aesthetic really stems from the person itself. That's what's really important to me.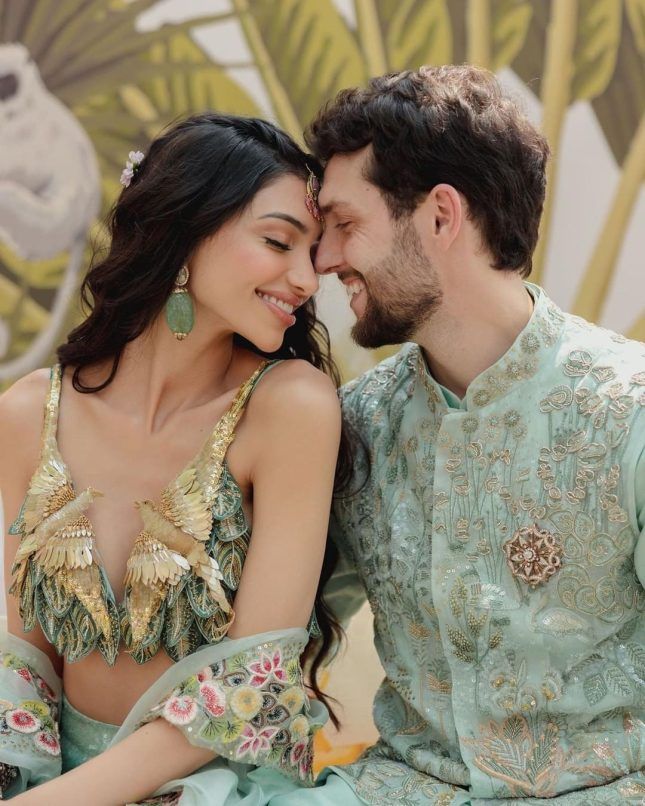 Since you have been the brain behind several B-Town divas' bridal trousseau, what are a few style tips you would want to share with upcoming Gen Z and Millennial brides?
Mantra has always be your own bride. So one thing I would tell the millennial gen Z brides is please do not, you know shy away from tradition. This is the time in your life, it's a beautiful sacred ceremony. So please be traditional and don't like to fight with your parents about not doing things. They all have a deep meaning to it. Go with the rituals, but at the same time have a twist, but do it in conjunction with your parent's blessings. Even the jewellery, I would say don't get into that massive, big jewellery that you're never gonna wear again. Or do layers, create things that you can repeat, you can wear again. That's something that I would love to really tell them, but please put the Mehendi put it up to your elbows if you have to, but really, you know, embrace it all and keep it alive.
What is your crowning achievement as a stylist?
So for me, I don't think there's any crowning achievement as a stylist, because every day is a new story. Every project needs to be its best, every bride needs to look amazing, every red carpet needs to look its best. So for me, honestly, it's literally a daily process. I can't give you that one moment or that one thing. And if I had to think of that one thing, honestly,1st is styling Priyanka for the Grammy Awards that was years ago, her first Grammy, in which she wore a gorgeous, ivory gown from Gauri and Nainika. And that's something that will always say precious and dear to me.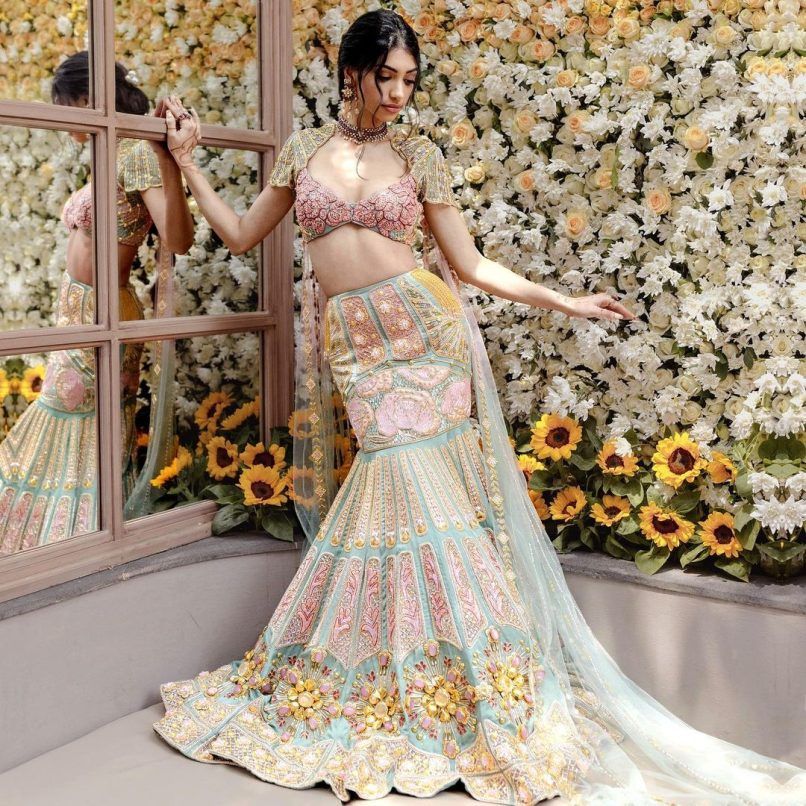 How would you say fashion and style have evolved over the years?
I would say that fashion and style are constantly evolving and basically suiting itself to the times. I mean today I personally think that it's really about personalization and it's really about creating and being your own person. It's about mixing that H&M with the Valentino or something from your grandmother's closet. It's really about putting it together and being your own person. I think that's where evolution is headed and that's beautiful. I do think that old-world charm is kind of missing and we need to bring that back because it's just, it's just too beautiful. And also right now sustainability needs to be the big word. I think right now style needs to evolve around sustainability because at the end of the day, all of us need to live and breathe and continue for generations, and fashion needs to think in that direction as well.
Hero Image: Courtesy Stylebyami/Ig Featured Image: Courtesy Ami Patel