The heart of South Bombay is now home to one of India's most sought after brands, Arjun Kilachand. The menswear design house, has ushered in a new retail chapter with the opening of an immersive and experiential store. Each corner of the store mirrors the designer's luxurious creations.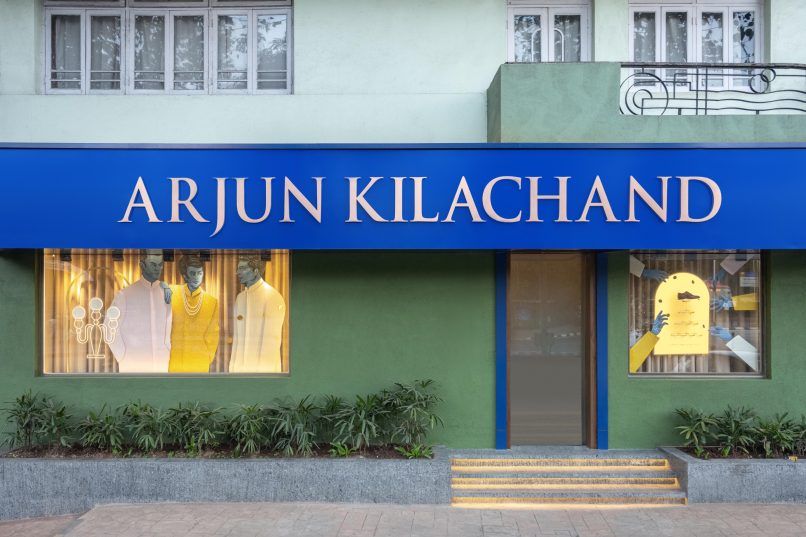 One of the most well-known bespoke menswear brands in the country, Arjun Kilachand, has opened a new flagship store in Mumbai. Designed by architect Ayesha Puri Kanoria of Sanjay Puri architects in a historic Art Deco building next to the famous Cooperage Garden. The store seamlessly combines Indian heritage with contemporary sensibilities. The store's exterior and interiors were painted to sandy colour to match Arjun Kilachand's distinctive style vocabulary. This allowed his life-size creations to speak for themselves. Subtle but never overbearing. Friendly and easy to talk to, but never intimidating.The use of joint-free in-situ flooring and wall texture gives the room a sense of unity and continuity. Over the course of several months, Arjun collaborated with Ayesha and came up with ideas for how to ensure that the store interior truly reflects his vision.In order to maintain a neutral colour scheme throughout, the design ethos consisted of a blend of earthy materials like stone, jute, copper, walnut wood, and glass. The architect made each rack, mirror, piece of furniture, and light specifically for the brand, making each one unique.
Here's all about the new Arjun Kilachand flagship store:
The store exemplifies contemporary minimalism and lets the creations be the storytelling subjects, adhering to his core ethos of understated elegance. In doing so, designer Arjun Kilachand shared , "This unique flagship experiential store complements my brands DNA in totality. For instance the monotone palette on the floor and ceiling. The flowing rack that meanders throughout the retail space was inspired by the principle of fluidity – an embodiment of my sartorial flair and symbolism. The metal finishes were deliberately corroded to put the spotlight on the handcrafted Indian and western ensembles."
They shared that the space was originally divided into numerous small rooms and felt congested when they discussed the difficulties they encountered when designing it. As a result, they decided to tear up the entire room to create a natural, open, and fluid space. "I enjoyed working with the architect to create interesting pieces of furniture and cladding that were not only a representation of the brand, but also depictive of my own personal aesthetic. For example, we clad an entire area of the store in jute pillows inspired by the Indian jute textile work. We further created furniture out of the same jute to really make visitors experience unique moments as they walk through the space,"quips Arjun.
The combination of smooth glass surfaces with rocks with a rough texture was used to create the coffee table and tall unit for fabric samples. This was done to show how clean and textured can contrast with heavy and light.
The rusted reception table in this first-of-its-kind store is likely to immediately captivate you as you walk in. As you walk past the fluid racks that display Arjun's handcrafted creations by turning left, the racks move up and down, wrap around custom-made solid-wood mirrors, and create a flow that allows each customer to walk along and experience every aspect of this reminiscent shopping experience. A dressing room follows the racks as they continue to the right. You can find a lounge area where you can sit comfortably and look at the fabrics as you go on. Ayesha painted the left side series of frames by hand, experimenting with burnt paper and paint splatters to show how art can be cleverly engineered to create unique pieces just for a brand like Arjun Kilchand's. The jute-covered accessory corner turns into an Instagram-worthy photo space.
A chic intersection of heritage and refined luxury. A connection between the present and the past. An introduction to Mumbai's history and the outstanding atelier of Arjun Kilachand. A multisensory haven where thoughts and influences collide, fantasies take shape, and works of art come to life when worn. The store's warm and inviting interiors whisper Arjun's gorgeously lit aesthetic code without revealing his tailoring secrets.
Hero and Featured Image Courtesy: Arjun Kilachand