Audaciously unique, as if the wearers are part of a sartorial cult, is what I felt upon discovering the label. Inclusivity, individuality, counter-culture are at the heart of No Grey Area. We spoke with founder Arnav Malhotra to find out how did these become the pillars of the brand. 
"No Grey Area is made for the present. In every stride, we seek to attract individuals who stand out and stand up for their beliefs. These multi-local individuals and their unique identities are constantly evolving, and we evolve with them," said Arnav Malhotra. From occasion-wear minimalism to street style vibrant hues, they offer aesthetics that prove they are anything but a regular Indie brand.
We had a chat with the man at NGA's helm, Arnav Malhotra
What was the inspiration behind the label and what sets it apart in India's fashion industry?
No Grey Area's DNA stems from the idea of bridging the gap between the Indian and Western closet while refreshing the silhouette of contemporary Indian menswear. The word 'reinventing' has always been at our core. We wanted to enter the market with designs that are aesthetically-pleasing, functional, and sustainable. No Grey Area garments are quite print-heavy. We want to tell stories through them. Our prints are 'maximal-minimalist' and our first collection or 'episodes', as we call it, is 'Phantasm'. Our aesthetic utilises surrealist artwork, set in a retro galactic theme and inspired by Indian mythology.
We see that No Grey Area tilts towards street style. What's the reason behind that?
We wouldn't necessarily categorise No Grey Area as a 100% streetwear label. We're inspired by the functionality and utility of streetwear, as well as the ideology and energy. NGA is a brand that encourages people to express their identity and 'Enter The Grey' with every collection. These concepts of counter-culture resonate strongly with streetwear. While we embrace these concepts, we also draw inspiration from Indian craftsmanship and tailoring.
Who's your ideal clientele?
NGA's clientele isn't determined by their gender, ethnicity, hobbies, or looks. NGA believes in being inclusive; everyone's opinion matters. Our brand language speaks to multi-local individuals whose identities are never static, who are consistently evolving and have a "never settle" attitude and approach. Lastly, our garments may not change the world, but the person wearing them just might.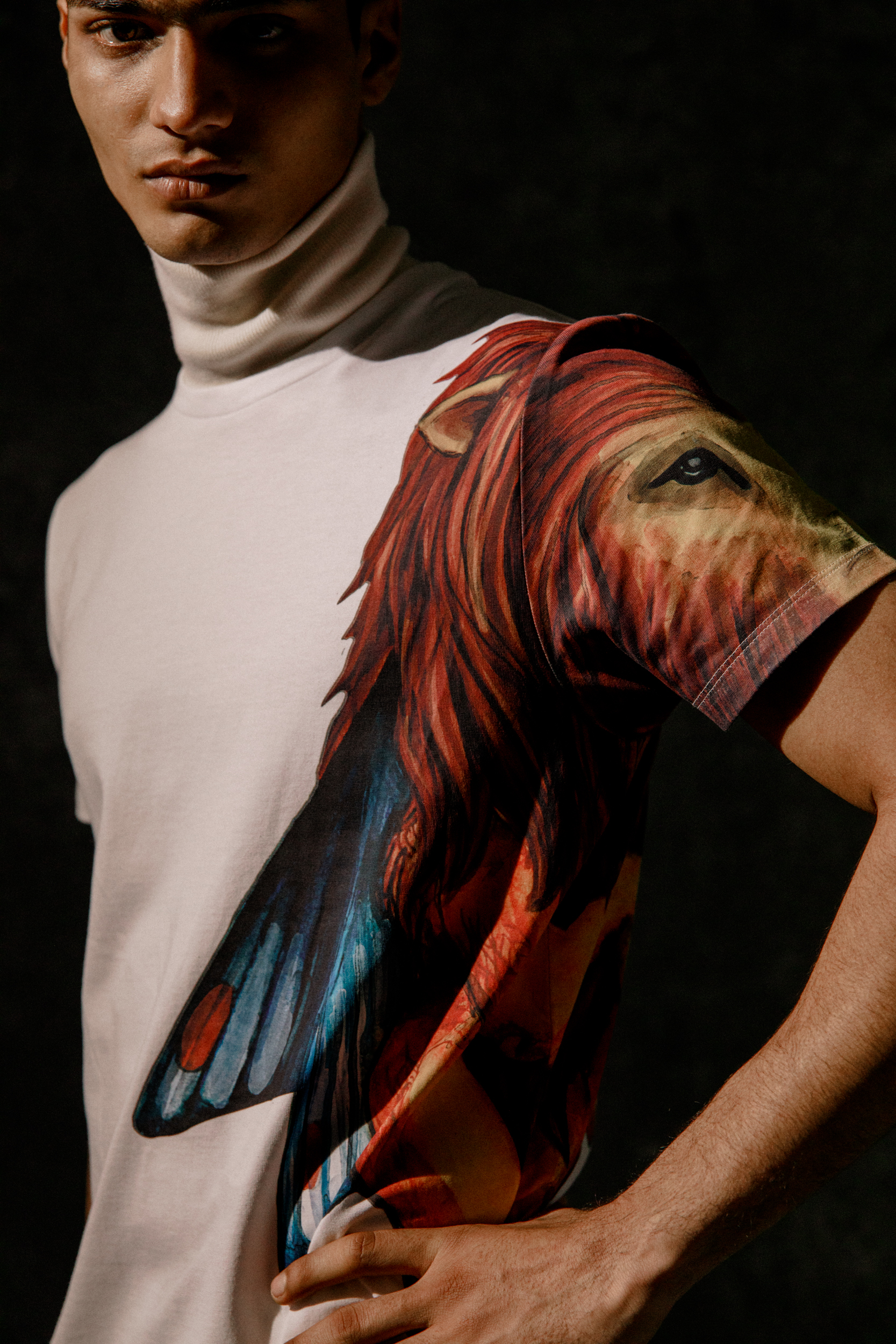 Are there any unique fabrics/materials the brand uses?
It took us months of research to identify and source the most ethical and ecological fabrics for our pieces. As of today, we're ethically sourcing silk, Supima cotton and Bemberg, limiting the use of chemicals in dye and productions. This ethos can be identified not only with fabric but in material too. We use certified zippers that would stand the test of time. All our threads are made from recycled PET bottles; our labels and buttons are made of recycled polyester.
What's No Grey Area's take on sustainable fashion, and how does the brand keep up with it?
We aren't one would call a '100% sustainable brand' right now, but someday we will become that. We dream of achieving a circular or zero-waste supply chain one day. NGA pays attention to everything it creates, all the way from design to our finished garments. We want our customers to shop, knowing that each piece has been responsibly-sourced, expertly crafted, and built to last.
You come from a family that's been entrenched in fashion. Did that help you develop your brand's narrative?
I could say that fashion is a part of my genes. Both my parents come from the fashion industry; my father runs an export house for fashion labels, and my mother runs Evoluzione, a multi-designer luxury boutique for ethnic occasion wear. This played a major role in my childhood due to all the exposure I got. My journey started with Evoluzione, where I developed an interest in rebranding. I took it upon myself to curate young Indian labels that were exploring contemporary menswear, gender-fluid silhouettes, and streetwear. However, growing up around fashion is also what kept me away from the industry for a long time. Maybe it was the inner rebel in me, but I wanted to break away from the family business and explore other industries.
It was the reason why I moved to the Big Apple and started working with a software start-up. I had the opportunity to work closely with the Fashion Industry, helping power brand websites and managing profiles for modelling agencies. Fashion in New York is a rainbow of diversity – There's a shade for everyone to embrace their exclusive vibrancy, which also contributes to NGA's ethos. I saw how people approached their clothing as a form of self-expression and where fashion ''rules'' were bent to suit one's tastes.
How do you think menswear designs have evolved over the past couple of years in India?
The shift in gender roles in society today has played a role. Men in India have been paying more attention to their sartorial choices and are quite conscious about it too. The younger Indian generation embraces concepts of gender fluidity and is influenced by the street-style culture. They tend to gravitate towards brands with strong stories that transcend materialistic clothing.
What can we expect from the brand's upcoming collections?
No Grey Area will continue to explore various GREY AREAS by bringing our target customers strong, visual narratives. We want to keep pushing the boundaries, redefine what Indian clothing means to people by modernising Indian silhouettes and sourcing sustainable, technical, and functional fabrics and trims from across the world.
All images: Courtesy brand