Living her Bollywood dreams to the fullest, Kusha Kapila exuded an old-world charm for her debut at the Cannes Film Festival 2023 and we have her stylist, Ayesha Amin Nigam decoding her starry moment.
Cannes Film Festival 2023 was all about manifesting debuts and oh boy our manifestations came true! As the revered red carpet witnessed plenty of debuts pouring in from India this year. It sure is a proud moment when we see the gorgeous divas of B-town slaying on the red carpet. But what's even more pleasing to the eyes is to witness the ones who dominate our gram feeds aka the content creators take over the Cannes red carpet one ethereal ensemble at a time. Speaking of content creators making it big, one name that has consistently been on top of that list is the one and only- Kusha Kapila. Adding yet another feather to her hat, Kusha Kapila marked a sparkling debut at the Cannes Film Festival in a custom Rahul Mishra ensemble, styled by Ayesha Amin Nigam. Kusha Kapila's stunning debut took social media by storm courtesy of the entire team and her stylist Ayesha Amin Nigam's flawless style streak.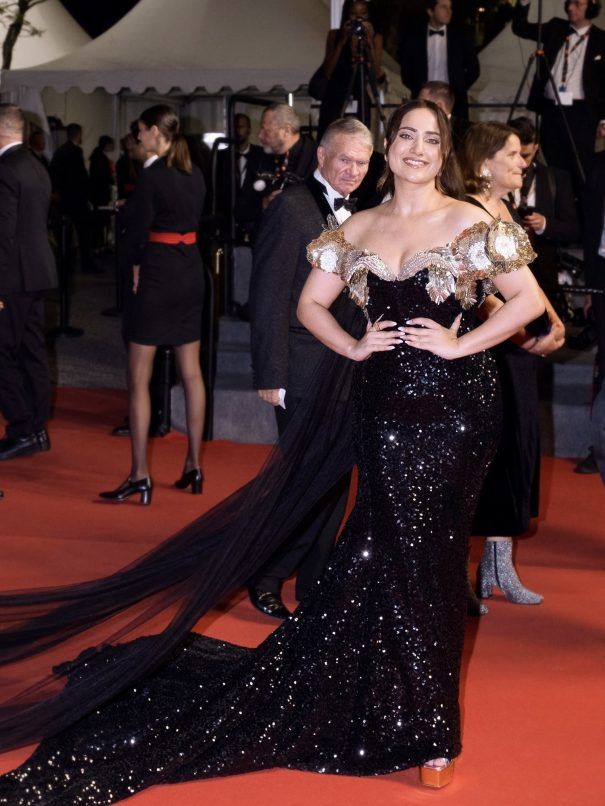 Ayesha Amin Nigam decodes Kusha Kapila's Cannes red carpet look
Well, it was Kusha Kapila's Cannes debut, so it had to be a grand one! Having said that one can never go wrong with the iconic combo of black and gold, and especially when it's Rahul Mishra one just can't take their eyes off. Adding to the same, when asked about what went behind curating her look Ayesha says "For her first outing at Cannes, we wanted to keep it a little classic, but it still had some hints of interesting elements like you can see the two fish embroidered in gold kissing right in the middle of the bodice with lots of poppies around it and it also frames her body very well. It's very old-world glamour, it's classic but with a twist. I think it brings the right kind of glam and the right kind of elegance to someone's first red carpet, especially with Kusha because she is such an amazing personality. She has such a great star presence, so I think that was perfect".
After teasing us with a few gorgeous looks spotted on her gram, straight from the French Riviera, the grand finale had to be a mesmerising one and Rahul Mishra seemed like an obvious choice for Kusha. "Rahul and I had spoken before, but once we showed Kusha the look we immediately decided that oh my god, this is amazing. It also had a double train and not just a single one so that always brings about the right kind of drama to the red carpet. Rahul was an obvious and amazing choice because he also works in the French fashion industry he showcases his Haute Couture every year and is globally known for his fashion. So, it brings together the right confluence of Indian fashion, glamour and even French fashion" says Ayesha.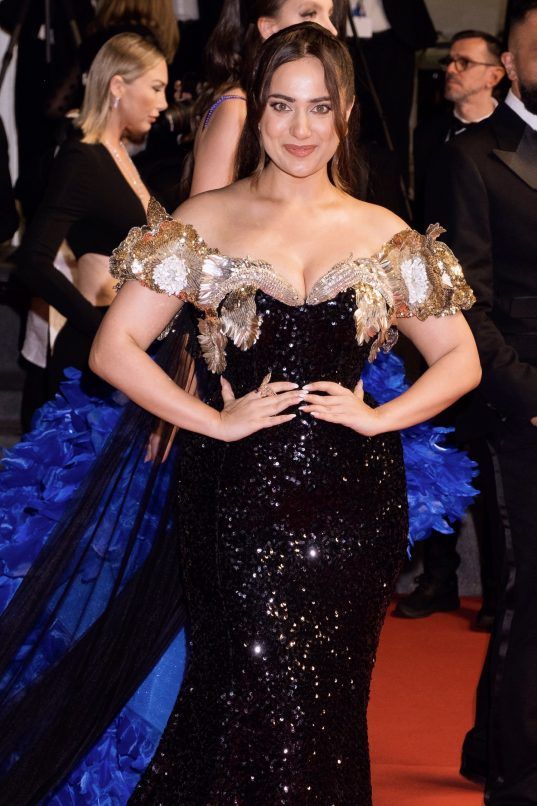 Since drama and sass are innate to Kusha Kapila so Ayesha Amin Nigam and Rahul Mishra made sure to curate a look that replicated her personality. "The look definitely resonates with Kusha's very very wonderful personality, very glam, the star presence that she does have, the star quality she has, the kind of oomph factor there is it shapes the body so beautifully and yet it's not screaming too loudly either, it just makes the right noise," adds Ayesha.
Hero and Featured Image: Courtesy Kusha Kapila.