Fashion is best understood when placed in a context and for Vetement's Demna Gvasalia this idea filtered down via his creations. In case you are not familiar with his oeuvre – imagine military inspired blazers, hoodies with consumerist logos and even a fake Interpol sign. It does not stop there, there are bombers emblazoned with Russian swear words, bullet heels, repetitive usage of flannel and spikes as a tribute to grunge and punk subcultures. On the whole, all insignias of street (sometimes considered to be anti-social) were on his runways delivering statements, translating into moments. Often referred to as fashion's Enfant Terrible, Demna Gvasalia rose to fame owing to his candid and experimental approach to fashion. Having launched Vetements in 2014 with his brother Guram, the designer kept the tongue-in-cheek appeal alive throughout his collections while being truely inclusive.
Demna Gvasalia's Vetements exit comes at a time when our socio-politcal landscape is flooded with issues such as immigration, ageism, sexual taboos or women empowerment, and he did not shy away from delivering enough food for thought. From looping in some of the most fashion forward pensioners, bouncers, policemen to transexual activists he disrupted fashion's order. However it was not just his zeitgeist capturing details that caught attention. His selection of show venues was equally interesting. Basement of the infamous Le Dépot, a gay club in Paris saw his for his AW'15 show, the largest museum for modern art in Europe,Centre Georges Pompidou was the venue for his AW'17 show while for his last SS'20 showcase he took it to McDonald's in the Champs Élysées.
As the news of Demna Gvasalia's Vetements exit sinks in we round up some of his most iconic pieces he created for the brand.
The DHL T-shirt For his SS'16 show the Gvasalia roped in Russian designer Gosha Rubchinskiy to open the show. As he walked out on the runway wearing a yellow T-shirt with DHL emblazoned across the social media went into an overdrive, labelling the piece as
anti-fashion
and a sign of subversion on the most prestigious runway.
Satin waist-high boots For their SS'17 collection, the designer collaborated with the iconic
shoe designer
Manolo Blahnik and result was almost waist-high satin boots. The coming season saw the likes of Rihanna, Kendall Jenner, Dua Lipa and Nicky Minaj opting for them. Needless to say, they were the hero shoe of the season.
Highlighter heels The designer ensured that Vetements afficinado has enough opportunities to flaunt the label and therefore rarely veered away featuring his brand name on the pieces he designed. Another masterpiece of a heel came in the shape of a leather footwear featuring heels in popping hues of greens, hot pink and blues with Vetements printed across.
Spiked sunglasses Calling Gvasalia the king of collaborations won't be an exaggeration. Another one followed with eyewear brand Oakley. And in his own signature way, the designer ensured that his version was a a statement. For his SS'19 show at Paris Couture Week he collaborated with Reebok for sneakers and Oakley for statement iridescent eyewear pieces featuring spikes. From Bella & Gigi Hadid to Kim Kardashian were seen sporting them.
Spiked sneakers As we are rounding up his iconic pieces for his label Demna Gvasalia's Vetements exit will be incomplete without mentioning his iconic sneakers. As an another extension of their collaboration Vetements created with a line of statement sneakers with footwear giant Reebok for their SS'19 collection. Constructed just like your regular paired down sneakers featuring spikes this pieces became a favourite of street style fixtures.
Statement hoodies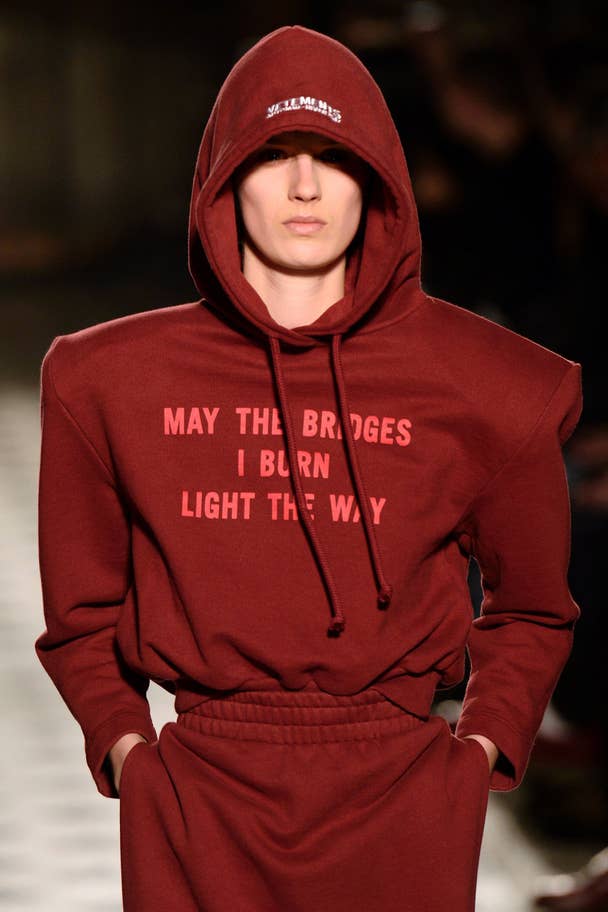 Just in case you wants to convey his/her statement mind, wearing it helps. And Gvasalia's every runway pieces engaged with audience in a thought provoking dialogue. For his Fall'16 show he rolled out a hoodie with the quote 'May the bridges I burn light way' and the piece became an instant sensation. From fashion editor such as Caroline Issa to Whoopi Goldberg, everyone grabbed on to this one. Just one season prior at his SS'16 his 'Titanic' hoodie garnered rave reviews.
Vetements x Mackintosh For their SS'17 collection showcased as a part of the Paris Couture Week, the Demna collaborated with not one but 18 brands ranging from high-street to other luxury labels including Juicy Couture, Hanes and Comme des Garcons. However what stood out was a deconstructed version trenchcoats and raincoats made in collaboration with British outerwear brand Mackintosh.
Oversized biker jackets Gone are the days of a snug biker jacket, slouchy is in and who better than Gvasalia to look upto. Seasons really don't count in his mood boards and his slouhcy leather biker which he rolled out on his SS'19 runway cemented the fact. Unconventional leather jackets were his signature, so from the ones featuring elongated sleeves, zipped at the back and even the ones with padded shoulders, just in case you are looking for a statement worthy piece, these might give you some inspiration.
Oversized bombers Oversized silhouttes came to define his body work in almost all his collections, however one of the most handy pieces that stood out was his oversized bomber jackets. From Hailey Baldwin, Rihanna, Gigi to even Kanye West, some of the leading fashion fixtures opted for them.