The quintessential Indian sari has adapted well with the changing times. Even though there are several choices in traditional drapes, for those on a lookout for something edgy, the options are plenty. From belted versions to pre-stitched options and even ones paired with trousers, Indian designers have not shied away from giving sari a new character.
Here are some celeb-approved edgy sari drapes that will inspire you to be experimental.
Shilpa Shetty in Shivan and Narresh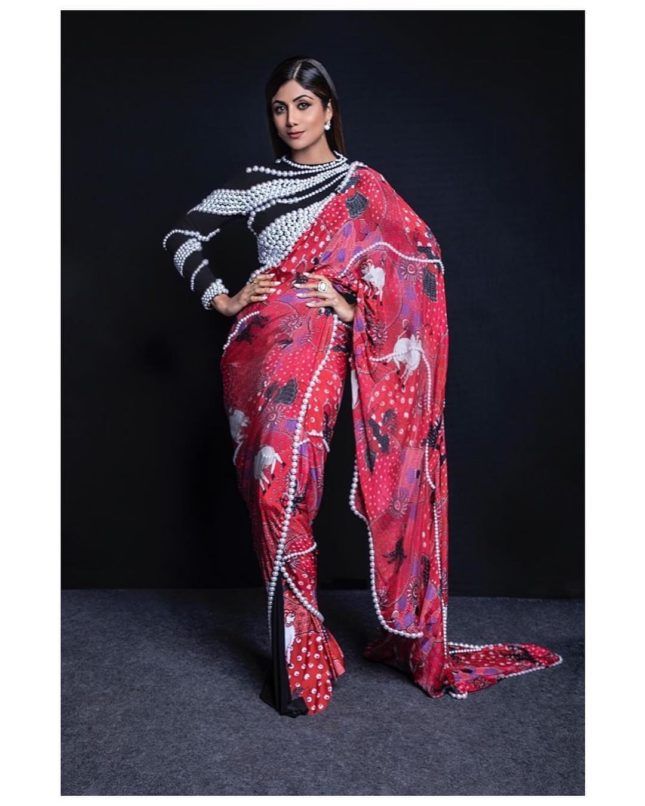 If you thought the Delhi-based design duo Shivan and Narresh were known for their signature prints; move on, their take on the traditional makes them a Bollywood favourite. This drape on Shilpa Shetty is a strong case in point. Besides this, they are also known for their saris with heavy embellishments, and of course, their all-time hit has been the bikini sari.
Tamannaah Bhatia in Amit Aggarwal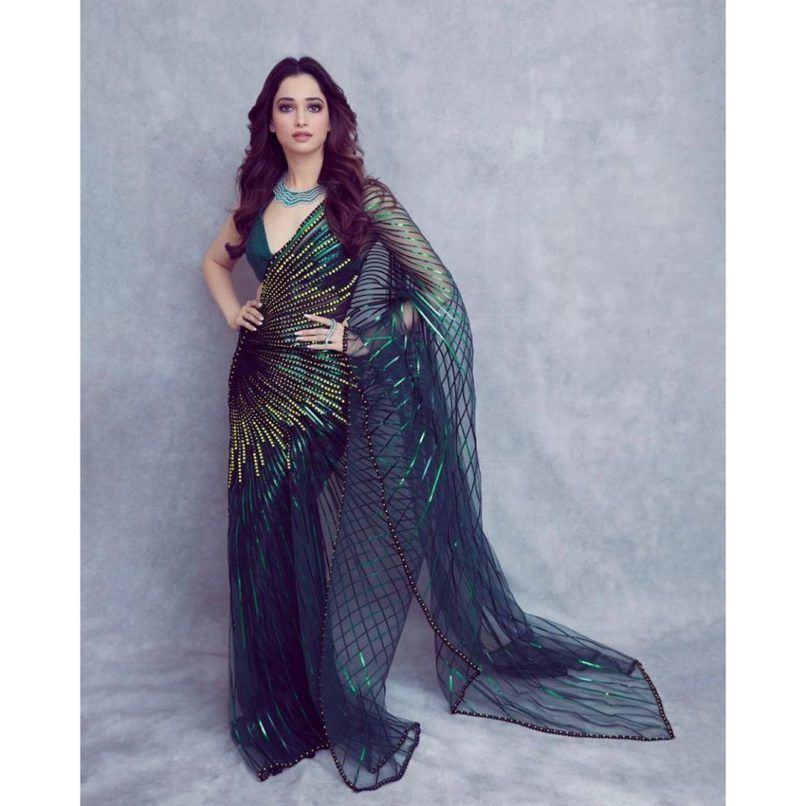 If there is one designer who has been leading the tide of change when it comes to Indian saris, it is Amit Aggarwal. Celebrated for his exquisite and unconventional style, the designer remains true to his signature pipe detailing. This green sari on Tamannaah Bhatia is purely a work of art.
Kriti Sanon in Manish Malhotra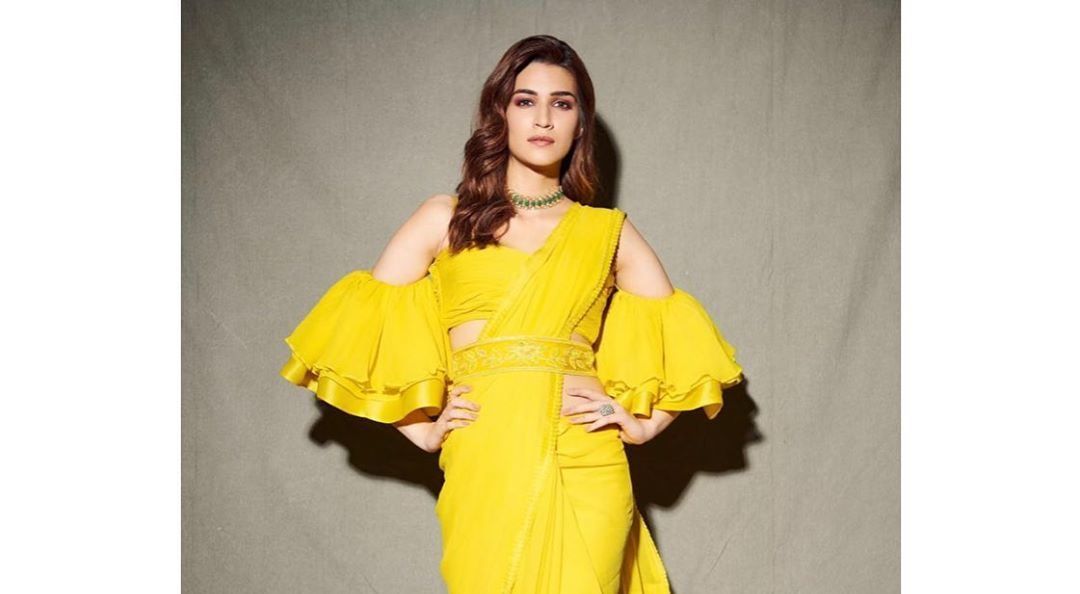 Still, want to indulge in something traditional, but with an edge? Belted saris are your best bet. This Manish Malhotra lime green drape on Kriti Sanon is giving us perfect summer goals. And, the off-shoulder, ruffled blouse is a great add-on. Belted saris are great for anyone who wants to start experimenting with their traditional drapes. However, with the choice of belt, we'd take it easy. Slim fabric ones always work.
Rakul Preet in Sehla Khan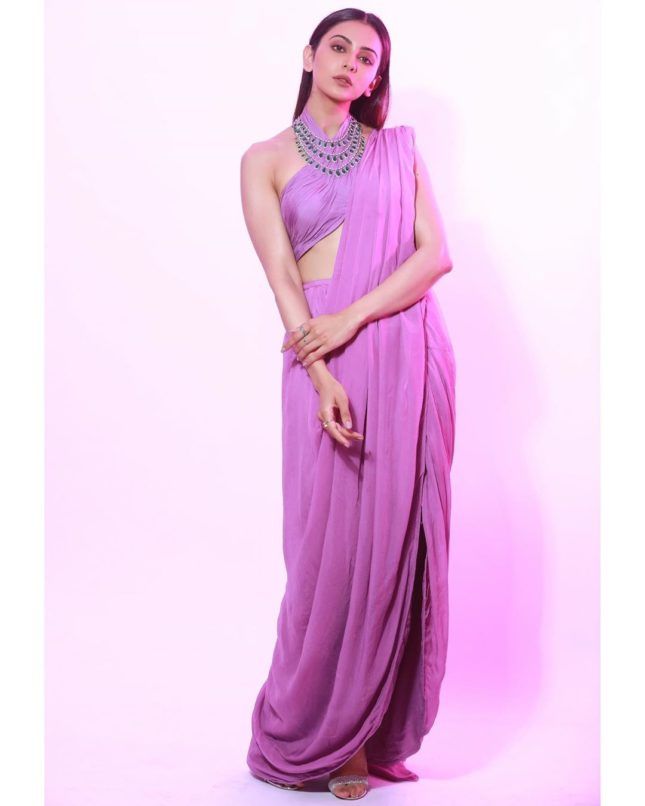 Sehla Khan can easily be counted as one of the most dependable sari designers for some of the biggest names. Otherwise, known for her delicate, chantilly lace with floral embellishment saris, Khan can be credited for experimenting with clean, edgy cuts. Case in point being this drape on Rakul Preet. We love just the right amount of skin-show that it allows.
Priyanka Chopra in Tarun Tahiliani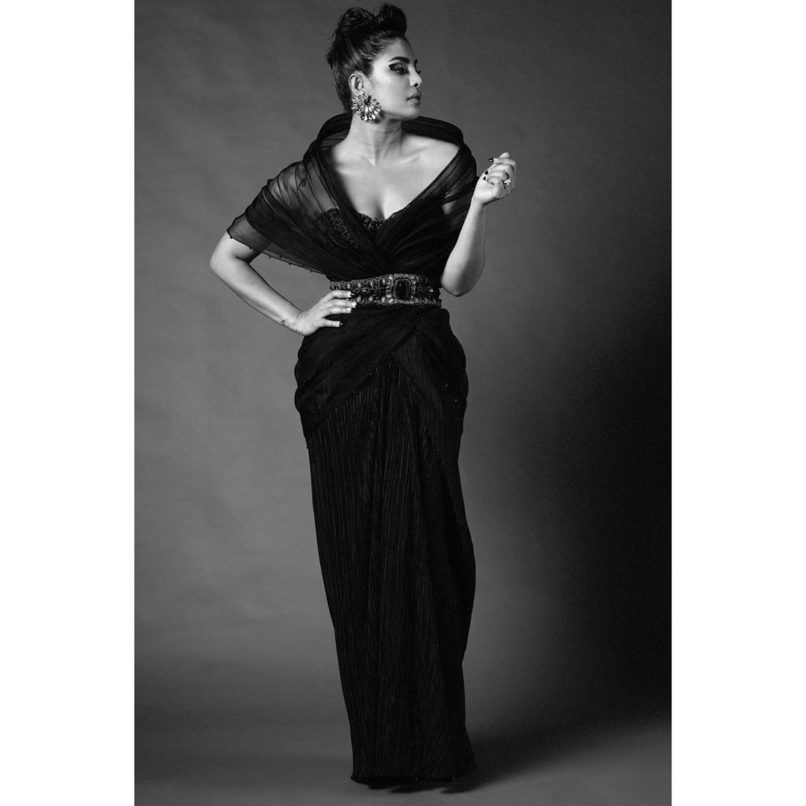 Think of unconventional drapes, and Tarun Tahiliani's name comes as a strong reference point. At a recent Blenders Pride event in Mumbai, the ace couturier saw Priyanka Chopra adorning one of these sari drapes. The palla draped around the shoulder provides the piece with a structural look.
Vidya Balan in Aarti Vijay Gupta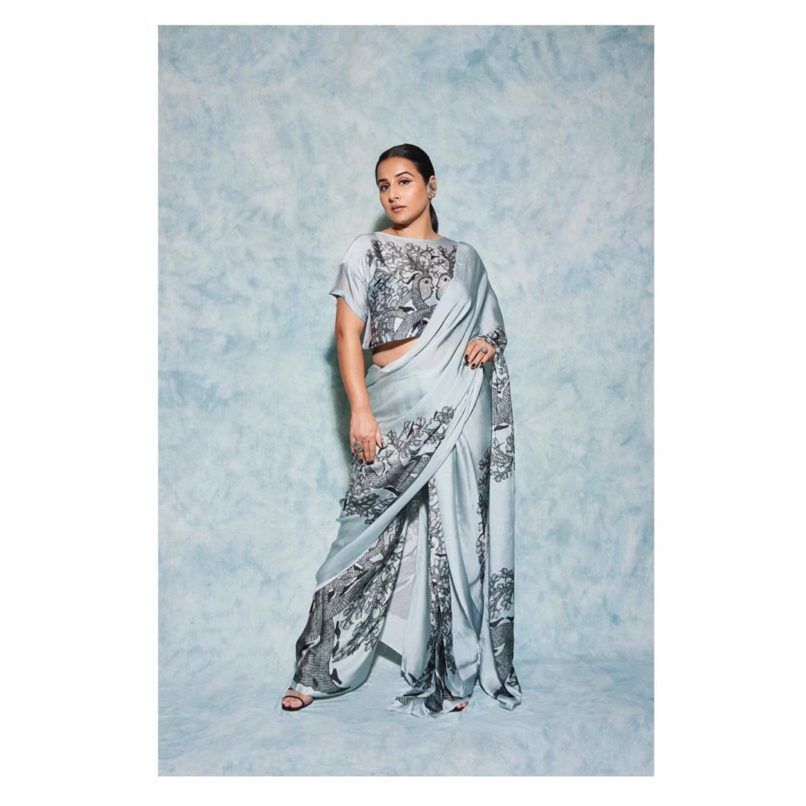 On a lookout for wearable art, you can always count on Aarti Vijay Gupta. Known for her interesting repository of prints and patterns, Gupta's take on a sari is nothing, but cool. The half drape with trousers on Vidya is everything.
Sonakshi Sinha in Anamika Khanna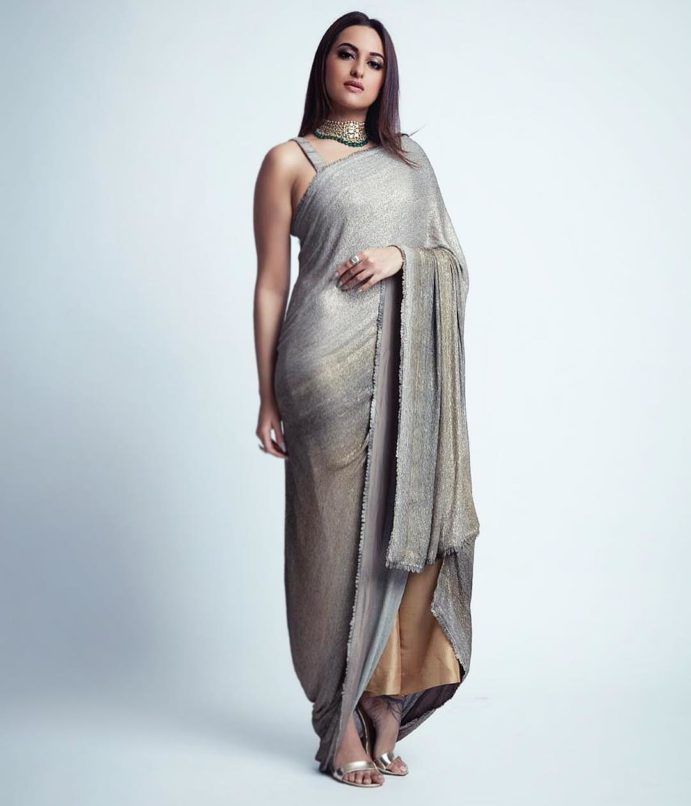 When India's ace couturier Anamika Khanna experiments with edgy sari drapes, the results are exquisite. Just in case you are not over Sonam Kapoor's Cannes sari, this piece on Sonakshi Sinha is a potent reminder of Khanna's ability to transform sari into something cool and edgy. The metallic hue and its pairing with culottes make it one of a kind.
Gauri Khan in Tarun Tahiliani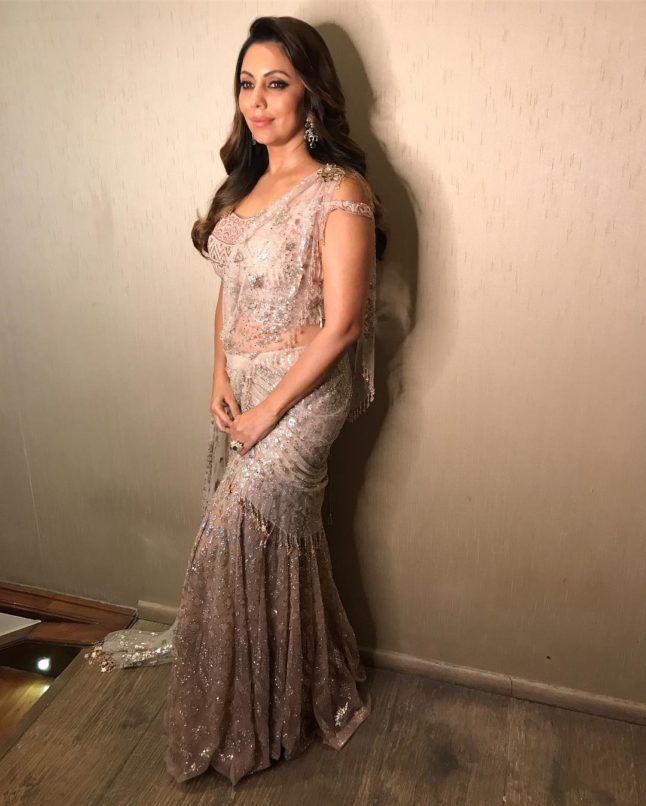 Think of festive drapes and one name the resonates is Tarun Tahiliani. It's safe to say that his idea of concept saris ignited a revolution in India and till now, celebs embrace his iconic sari drapes. This number of Gauri Khan surely makes for a piece fit for a wedding reception.
Kajol in Shivan and Narresh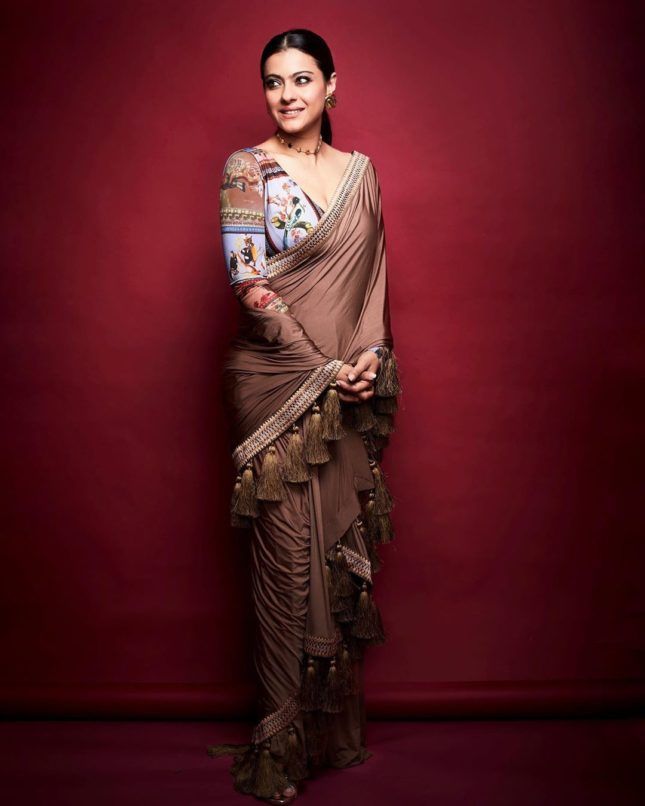 More often spotted in traditional drapes, Kajol loves to pack a punch of surprise occasionally. This sari with tassels by Shivan and Narresh certainly makes a statement.
Sonam Kapoor in Rishta by Arjun Saluja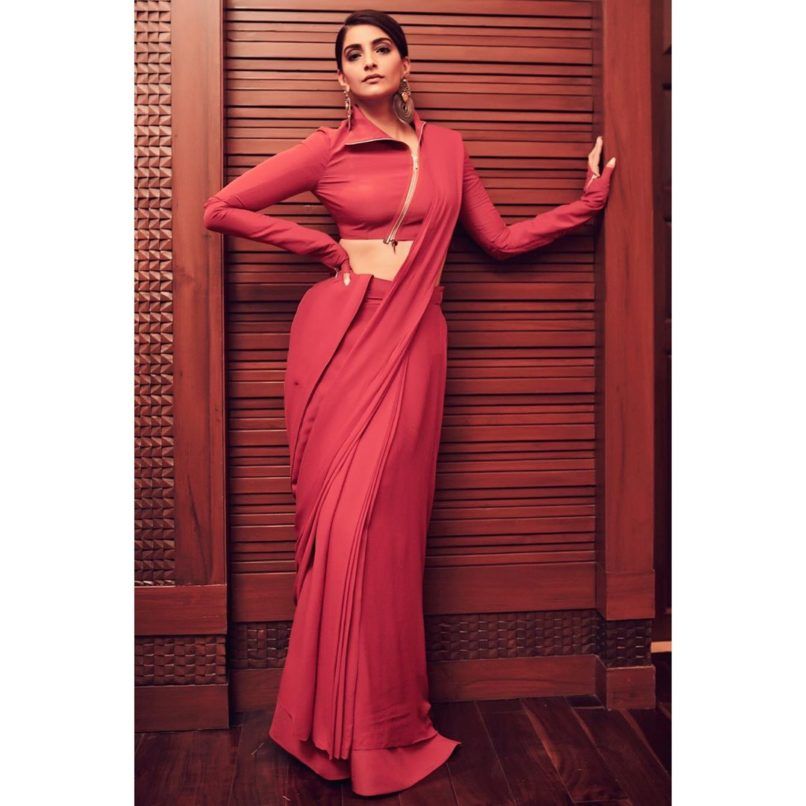 Count on Sonam Kapoor if you are looking for edgy sari drapes. This zipped Arjun Saluja sari in red paints a perfect picture of how far the traditional drape has come. We love the colour and neat pleats. For anyone looking for traditions, this sums up the Gen-Z version of a sari.