As we stare a new year in the face, here's how we plan to rethink the way we consume fashion and trends in 2021. 
Let's face it, 2020 was possibly one of the most bizarre years of our lives, where we spent most of our time in uncertainty, and cooped within the confines of our homes. To stay spiffy on Zoom calls, our staple combinations ranged from shorts / boxers and shirts, to sweatpants and blazers, and sometimes pajamas and T-shirts. Be that as it may, the year did rejig fashion priorities for most. Here's how we can approach fashion differently in the new year.
 Loungewear FTW
No other segment of clothing has emerged more victorious in 2020 than loungewear. And this trend is likely to extend into the new year. "Sweatpants, sweatshirts, jumpsuits, is now part of our daily style staples," says Isha Bhansali, celebrity menswear stylist. "While this trend existed pre-pandemic, we are now picking up comfortable, lounge-y versions of it. We want to be stylish, while meeting people virtually. Style meets comfort is the new normal, going forward. This will be seen across all segments, high street or luxury."  
Reduce-Reuse-Recycle
If there is one lesson that 2020 taught us, it would be to buy less — investing in a few key pieces as opposed to buying in bulk or binge shopping is among the bigger fashion trends of 2021. People are becoming increasingly more open to using clothes for much longer. Duchess Kate Middleton has been consistently leading the pack of 'repeat your clothes' fashionistas, while Indian bloggers too have frequently spoken up in favour of more sustainable consumption in clothes.
Nonita Kalra, writer, consultant, and former Editor of Harper's Bazaar India, says that less isn't more; it needs to be less. "For me, 2021 will be conscious consumption and meaningful interactions. And stepping away from the 'business of nothing' that we once venerated. Most of all, fashion needs to lose its tag of being the second most polluting industry in the world. Immediately."
Shop local
Whether it is scouring Instagram for offbeat local brands or giving your local tailor more business as opposed to mindlessly shopping from the larger high-street brands, there is nothing trendier than shopping local. "Only a few years ago, it was a matter or prestige to tell people that you got your stuff from abroad. But now, the tables have turned. Fashion consumers like are proudly proclaiming 'Oh, I got this at a little store in Jaipur's Johari Bazaar, or I discovered this cute brand in the bylanes of Kolkata," says Ritcha Verma, fashion commentator and content creator.  
 Reimagining wedding attire
The traditional approach to Indian wedding attire is likely to see a significant shift in 2021, moving away from the stifling formal codes we have seen so far. "The format of a post COVID-19 wedding is such that the attire is going to be more relaxed and casual, less suffocatingly formal," says designer Narresh Kukreja of Shivan & Narresh. "As a result, we will see things like a jersey sari or a neoprene lehenga in weddings."
Athleisure hints in Indianwear
"Comfort has taken over every form of vanity," says Mumbai-based designer Kunal Anil Tanna. "A great way to approach fashion this year would be to incorporate this comfort into various Indian silhouettes. You could perhaps consider adding athleisure to Indianwear," says the designer, who suggests wearing a knit kurta or adding a rib cuff to your kurta or a rib collar to your bandhgala. The results would be undeniably stylish and in keeping with 2021's 'non-trends'.
 Thrift and vintage fashion
Experts suggest that vintage and thrift finds will be one of the key fashion trends of 2021. Jewellyn Alvares, Mumbai-based designer and fashion educator says that it is a two-pronged approach. "Not only is it a great experience to look through thrift stores for styles that reflect trends that have gone by or silhouettes that have been forgotten, but it is also a great adventure." Alvares suggests juxtaposing vintage thrifting with a bit of modern or, better still, vintage all the way. After all, there's something endearing about 'something borrowed'.
Virtual fashion weeks
If the recent edition of Lakme Fashion Week (as well as a host of other international fashion weeks) is anything to go by, we might just be buying our designerwear off the runway during an Insta-live show or a Zoom call. The recent edition of Lakme Fashion Week was the country's first digital fashion week, which not only democratised an otherwise closed event, but also gave consumers a new platform to buy fresh-off-the-ramp pieces. In the recent past, India has seen brands like Ermenegildo Zegna, Brooks Brothers, Paul Smith, and Tumi showcasing their products in interactive 'shopping festival' formats, which go beyond an online retail experience.
Gender-fluid clothes
Perhaps one of the most relevant ways to approach fashion trends in 2021 is via gender-specific clothing, say industry insiders. No surprise, then, that gender-fluid is the word du jour in the fashion narrative today. Spearheading this revolution are homegrown brands like SMOKE Wear, whose founders Sanya and Varun Jain have actively shrugged traditional notions of gender-based clothing. The results are a delight. Or even Delhi-based Anvita Sharma who likes to describe the creations from her brand Two Point Two Studio as 'genderless'.
Sustainable fabrics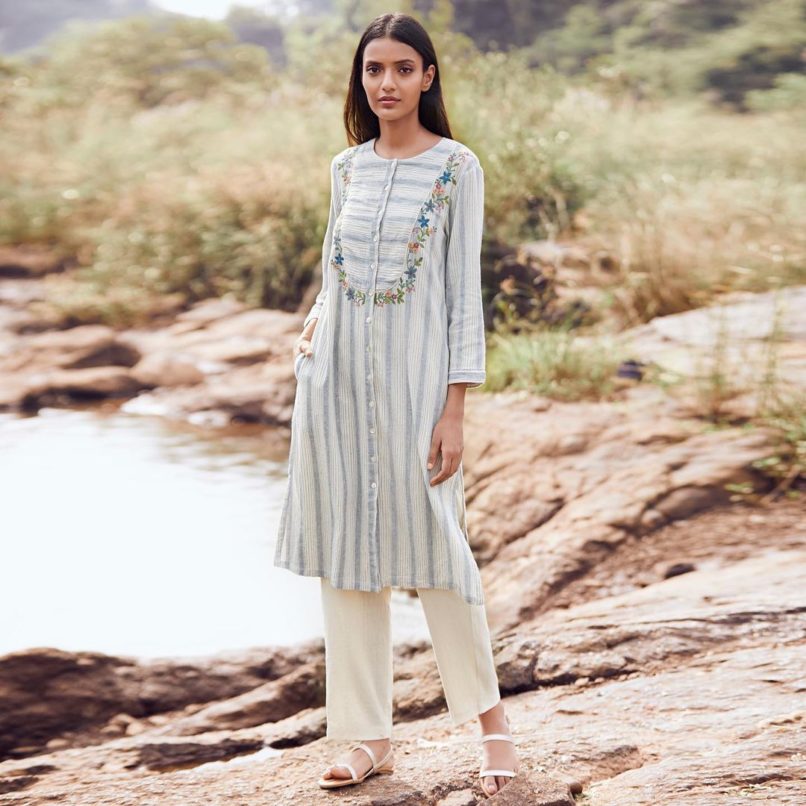 The world's second most polluting industry — fashion — is increasingly making sustainability a mainstream discussion. Whether it is international brands like Jack & Jones or Levi's or Indian designers like Rajesh Pratap Singh or Anita Dongre, who have chosen to opt for eco-friendly fabrics, the 'sustainable' aspect of fabrics will be a huge talking point this year. It is no longer the smaller, niche brands that are spearheading this revolution, but also larger, high street brands, long considered as the big industry pollutants that have begun telling customers about new and innovative fabrics that are easily biodegradable.