In need of some serious sartorial joy? The eclectic choices of Roohi Jaikishan offers invaluable lessons in style and sustainability.
There are people who follow trends and then there are people who make them. Roohi Oomerbhoy Jaikishan definitely falls in the later category. Executive director of R R Oomerbhoy, patron of the arts, a glamorous jet-setter and a fashion maverick unlike any, Roohi Jaikishan is a woman who dons many stylish hats. An Erdem floral trench coat, Gucci full glitter bodysuit (also seen on Rihanna), Raw Mango sari with a Gucci belt or an evening gown from Bibhu Mohpatra, Roohi Jaikishan's clothes are always eclectic and with her own spin on it. Whether it's staying away from cookie-cutter fashion pieces or trying to shop from her own wardrobe, Roohi Jaikishan shares her pearls of wisdom.
How would you describe your approach to fashion and style?
My approach to style is fairly easy and never deliberate. I've never really thought about it and it's always spontaneous.
How has this idea evolved over time?
I think with time I am more confident with my fashion choices. Honestly, I wear clothes for myself and what makes me feel comfortable and look good in.
What sort of aesthetic do you bend towards?
It depends on my mood or the occasion. Dress it up at times or less is more. I see today's women are more global and there are no fixed rules anymore. I am as happy to lunch in athleisure as I am in any other brand of clothing. The approach to fashion is very different now. The key is you just don't look like you've tried too hard. It's a more evolved approach.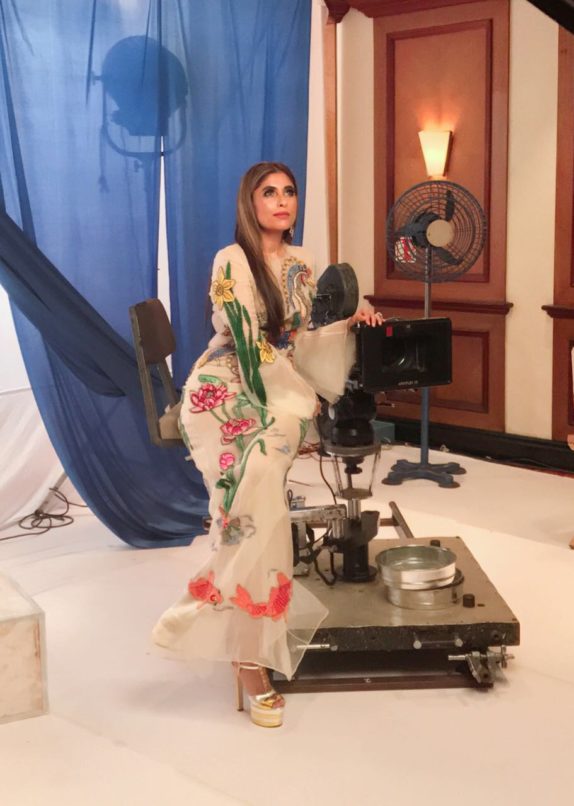 Brands that you know you can depend on and why you love them.
I have always worn Gucci as did my parents when it was as sought after a brand in the 70's and 80's. Gucci suits my style and looks into the past with a viewpoint that's wondrously fashion forward. Androgynous, romantic and fantasy – it's playful yet clever. It is the cerebral fashion brand.
I also love Rosie Assoulin who is an amazing person with a brand that reflects her aesthetic and style strongly. I feel her clothes look different. It's beautiful yet not commercially diluted. Then there is Kiki Vargas, I have just discovered her collection.
Bibhu Mohapatra has Indian heritage and roots from Odisha. He has been on the international fashion front for over a decade, talented. Successful celebrities wear his clothes all over the world. His gowns are red-carpet worthy.
Pallavi Jaikishan for Indian clothes, they are everlasting. I've also been wearing Jade and I love their craftsmanship.
Whose style are you most influenced by and why?
It will always be my mother. She had an inherent style. I was this awkward teenager always in awe of her. Whether she wore Courreges or an Indian chiffon sari she looked beautiful. I also have to mention Indira Aswani as she is the epitome of grace and style.
For someone looking to discover/ find their style, what are your words of advice?
Comfort is the key. You have to find looks that you are comfortable in .The clothes you wear should be empowered by your personality and your confidence and comfort in your body shape and gender.
What are the building blocks of a good wardrobe?
Buy quality and not quantity. You should definitely have a few key pieces that you can accessorise and that help you carry the look day to night.

Sustainability is a big topic of conversation these days. Is there an approach you have adopted towards this?
As a consumer we also have an impact. Our choices and what we buy. It's important that we buy from fashion houses who partner and engage in sustainable policies within the organisation to work towards a circular economy. I give all my old clothing to H&M garment collection programme which is a global initiative. The clothes are sorted and sent to the closest recycling plant. I also partner Mansi Poddar who runs "The One Amazing Thing" a vintage edit where clothing is sourced by me and the money given to Ekam the charity that provides healthcare to children.
Stores and e-commerce sites you shop from?
Le Mill, Moda Operandi, Matches, MyTheresa, Ssense
Your favourite pieces in your wardrobe?
Ahh! I have many. But my most favourites are the vintage pieces from my mum's wardrobe.
Do you think style and fashion play a larger role in today's world?
It is a form of self expression & has been for generations. With fashion as your form of expression you can indulge the extrovert in you. I am at work all day in corporate wear all day (right now I am in WFH mode in comfortable clothing)… I can be elegant or rock n roll in leather. It all depends on my mood.
When it comes to your fashion choices, is there something that you are looking to change/develop over time?
Buying less, shopping within my wardrobe and being more responsible towards sustainability.