As fashion grapples with a new reality, poetry has emerged as one of its new muses. An art form, that like fashion, can provide escapism and solace, bring joy, hope, and yet talk about real issues. And Delhi-based poet Navkirat Sodhi is its latest flagbearer.
After Italian luxury menswear label Ermenegildo Zegna collaborated with Dubai-based Indian Instagram poet Alisha Patel to be a part of a social media campaign in June, designers Bibhu Mohapatra and Gaurav Gupta have turned to the words of Navikrat Sodhi for their recent fashion week films. "Poetry allows us to ponder and reminds us to soak in thought and reflect. It is what gives us that tool to tell an authentic story. That is its true power," says Mohapatra.
New York designer Mohapatra's SS'21 collection was an ode to the work of Amrita Sher-Gil and was a collaboration with many creative minds including dancer Ariana DeBose (of Hamilton fame), set to the words and voice of Sodhi. "I follow my feather, I follow my feral, I know I am going to be okay," her verses summed up the optimistic, brave tempo of Mohapatra's collection.
Sodhi is also Gupta's long-time collaborator (they worked together for Lakmé Fashion Week Summer/Resort 2019 as well), a muse to the designer and at his recent In the Name of Love fashion film presented at India Couture Week, she also took to the ramp. Bringing issues of diversity and inclusivity to the forefront, she walked wearing a short black and white sculpture ruffle dress, with her own salt and pepper roots on show.
The author of Pixelated (2019), a compilation of her poems, and The Light in All of Us, a book translating the journeys and the lessons of Guru Nanak from Gurmukhi to English, in verse form, Sodhi's next book comes out on October 2. Here is what she has to say about the relationship between fashion and poetry.
In conversation with poet Navkirat Sodhi
How did you become immersed in fashion?
Fashion for me was a non-existent discipline until I met Gaurav Gupta (GG), except that I always wanted to look different, and in some way, spectacular. We first met when I was 14 years old. After meeting GG, I learnt of his passion for design and design in every sphere, be it a table or a love letter or a dress, it got me tuned into the finer. Beyond the banal, beyond the day to day while still feeling the thunder in every moment. That thunder in existence got me immersed in fashion.
Do you believe fashion is an art as much as a creative art as poetry?
Fashion in its purest form means a way. A way to do, to mould, to specify. We've unfortunately come to bracket fashion within clothing and runway. It's a way to think and look at life anew, exactly the way poetry does. For me, they're no different in their pure forms.
Fashion seems to be turning to poetry a lot of late. Why do you feel that is?
Perhaps fashion is understanding the need for a connection deeper than drama, deeper than commerce. Now, if you want to tell a story, it's becoming harder to be superficial.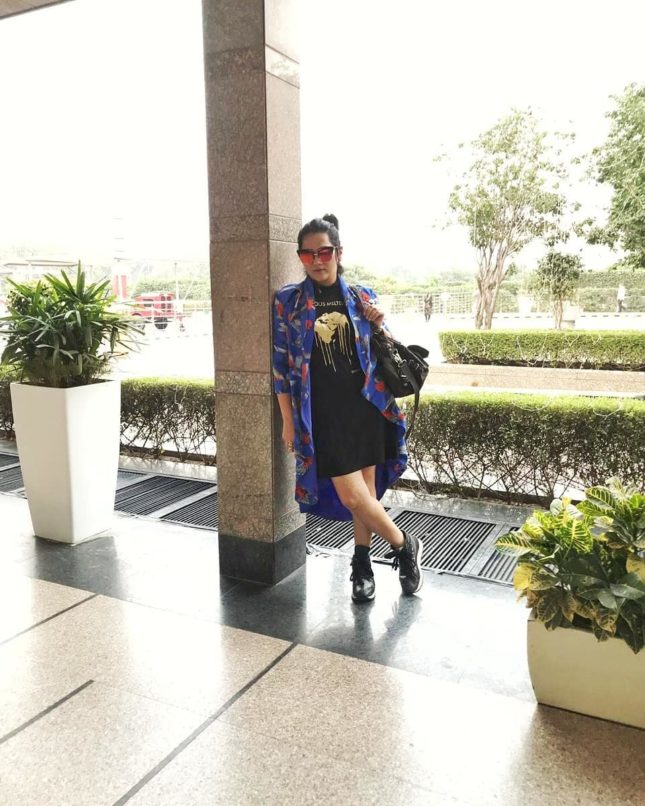 Tell us about your first fashion project
I remember walking and reciting for Gaurav Gupta at his Autumn Winter 2015 catwalk presentation, soon after the Nirbhaya case in India. It was a time of deepest distress and shock for a nation trying to grapple with what human action can stoop to. The poem started with 'Can a wing fly without a bird', and that sentiment still continues to inform everything I do and write.
And how did your work become a part of Bibhu Mohapatra's New York Fashion Week film?
I happened to invite the very dynamic New York-based filmmaker Shruti Ganguly to the Indira Gandhi National Centre for the Arts where I was part of a show, while she was visiting Delhi in January. She saw me recite and perform there. Cut to a few days ago, she gave me one evening to write and record for Mohapatra's film, which was inspired by Amrita Sher-Gil. In less than 24 hours, the poem and I were debuting at New York Fashion Week. That's how Feral Feather came about.
You studied to be a journalist but turned to poetry. How did that happen?
I doubt anyone grows up wanting to be a poet. After all, it's the most unlucrative lines one could choose for themselves. I studied international journalism at the University of Westminster in London. I was prepared to conquer some world with my stories but by the time I got back to India, I observed a very different and vulgar view to journalism, to life. My spirit did not permit me to go forward.
Do you see yourself doing more work in the fashion space?
I see myself working in every space, as long as there's a genuine desire to go beyond our limited pens and strokes. From photographers to musicians, designers, filmmakers, I keep striving to collaborate in order to push walls and divisions far away from us.
Tell us about the book coming out—I believe textiles play a role in this book?
Santati, Mahatma Gandhi – Then. Now. Next is an experiential book that brings together art spanning a century and pays tribute to the man and his message through art and poetry. Gandhi's ideas of swadeshi, khadi, and self-sustenance are so simple and progressive — they could shape Utopia. Perhaps too idealistic for this world or maybe change is coming.
Hero image: Sondeep Shankar for The Voice of Fashion 
Remaining images: Courtesy Navkirat Sodhi Instagram