If Maldives is the new banana bread, then Papa Don't Preach by Shubhika's resort collection will make you the toast of the town. 
Life is better on a beach, more specifically a beach in Maldives. This is the 2020 lesson we've learnt from all our favourite influencers, Bollywood stars and even that distant cousin on her honeymoon. As travel slowly opens its flight doors, Indian globetrotters are all making their way to the Indian Ocean's prime holiday spot, the Maldives. Three factors primarily contribute to this mass exodus of people to the isles, namely, the opening of the air bubble between India and Maldives, a mandatory requirement for Covid negative report and a slightly discounted rate at many of the high-end luxury resorts. Whatever, the cause is the pristine white sand islands are an oasis of the travel-parched souls.   
Once, the travel itinerary is fixed the next question in line is 'what to wear in Maldives'. From Ananya Pandey to Masoom Minawala, bikini inspirations are plenty but the designs that truly caught our eye is the new resort collection by Papa Don't Preach. The Mumbai-based label started by Shubhika Sharma has launched a collection of swimsuits, cover-ups and beach accessories inspired and shot in Maldives.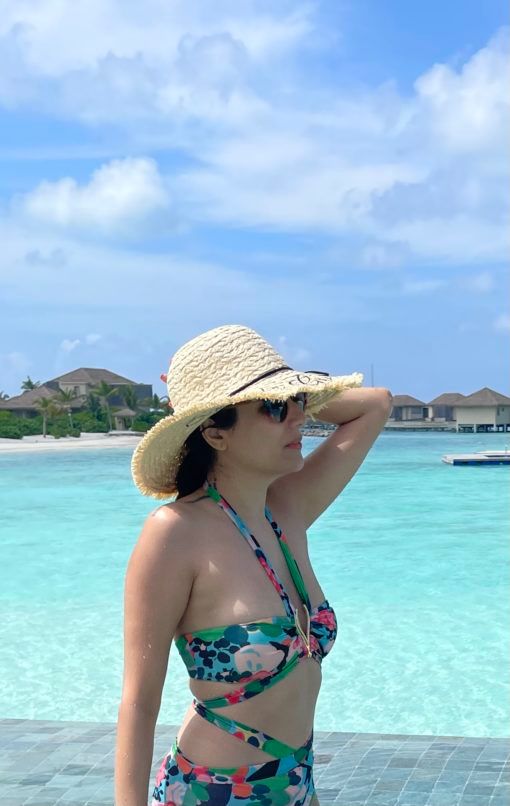 Known for their bright and bold colours, heavy embellishments and funky silhouettes, the brand deviates from its usual coterie of couture creations to bring a resort line that is inspired and shot in Maldives. Skipping their usual curated campaigns in favour of phone-clicked pictures shot by the designer during her holiday in Maldives. Taking out time in between kayaking, night snorkeling and long cycle rides, Shubhika put her suitcase of Papa Don't Preach accessories and clothes to good use by shooting a fun campaign.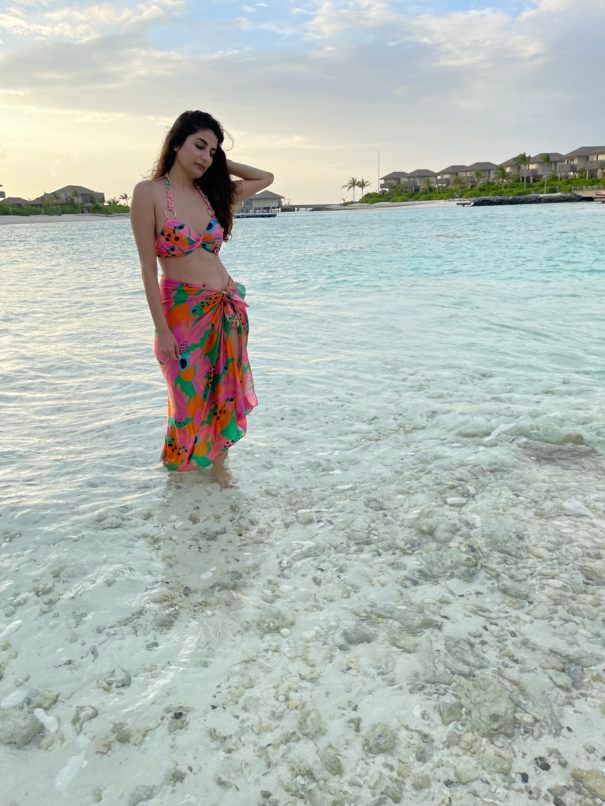 From beach cover-ups, bikinis, kaftans to fun accessories like slides, airpod cases, chandelier earrings and belt bags, the collection sparks joy in technicolour. "I mix-matched the embellished bralettes from our bridal collection and teamed them with draped skirts which were perfect for the beach. And not a day went by without our embroidered earrings, mini Spideys bags and embellished headbands sprucing up my outfit," she shares. 
"I had specially designed bikinis from our prints to try them out in the sand and sun. During the trip, I uploaded the pictures on my stories. Immediately I started getting DMs to order the collection, and was reminded of the true power of Instagram. This tremendous response led us to forgo a professionally shot campaign and launch the collection." Abstract prints in hot neon and funky sequinned accessories, here's a closer look at the styles that are making us plan our next trip to Maldives.  
Images: Courtesy Papa Don't Preach