The quintessential Indian sari has been a canvas to several designers. We are not talking about Indian handloom enthusiasts or bridal couturiers but global fashion mavericks whose Midas touch has given the sari a distinct character. From Jean-Paul Gaultier, Alexander McQueen to Hermès, international luxury labels have time and again rolled out their renditions of the traditional drape.
We look back at the times when sari on international runways was re-imagined by the world's biggest couturiers.
Alexander McQueen Fall 2008
Gothic and grand, McQueen's fall 2008 collection was inspired by the late designer's Indian visits and his obsession with the countries textiles. Though the set design of the show conjured up a very gothic, 'Alice in Wonderland' vibe, there were certain pieces that threw light on the tailoring inspired by the colonial times, stiff blazers with sharp shoulders, fur coats, dresses lined up with feathers. Amongst these were pieces inspired by the traditional saris, only paired with floor-grazing column skirts. And to complement the looks, there were math patis and mang tikas too.
Hermès Spring 2008
Jean-Paul Gaultier's love for Indian saris showed up out and loud at his showcase of Hermès Spring 2008 when he was creatively heading the brand. Inspired by the traditional turbans and drapes, he rolled out his creations in the earthy tones of rust, brown, olive, and even whites. There were saris inspired by dresses, short saris, belted saris with leggings, and more. Though the collection was replete with other Indian elements such as Nehru jackets, Jodhpur pants, and lehengas inspired skirts, it was his chic take on saris that stood out. Renditions of the sari on international runways were never this fun.
Marchesa Spring 2013
Known for its exquisite, red-carpet-worthy gowns, Marchesa remained true to its aesthetic for its Spring 2013 show. The designers dived deep into the Indian database of textiles to create floor-sweeping gowns, with Indian fabrics resembling traditional benarasis. There were beautiful threadwork pieces, see-through tulle arranged over gold bodices, and much more. It also featured South Indian mundu-inspired white and gold dresses.
Chanel Pre-fall 2012
Karl Lagerfeld's vision of Indian peeked through his Chanel Pre-fall 2012 show. Titled Paris-Bombay, the idea was to create pieces that found meaning in the exoticism of the two cities. There were elements of regal India in detailed coats, dramatic short drapes, and knee-length saris. But the sophistication of Paris manifested through a subdued colour palette of greys, blacks, and white. Gold leggings draped skirts in raw silk, beautiful tunics featuring exquisite Indian embroideries, Lagerfeld, who never visited India, was able to capture the essence perfectly.
Jean-Paul Gaultier Fall 2017 Couture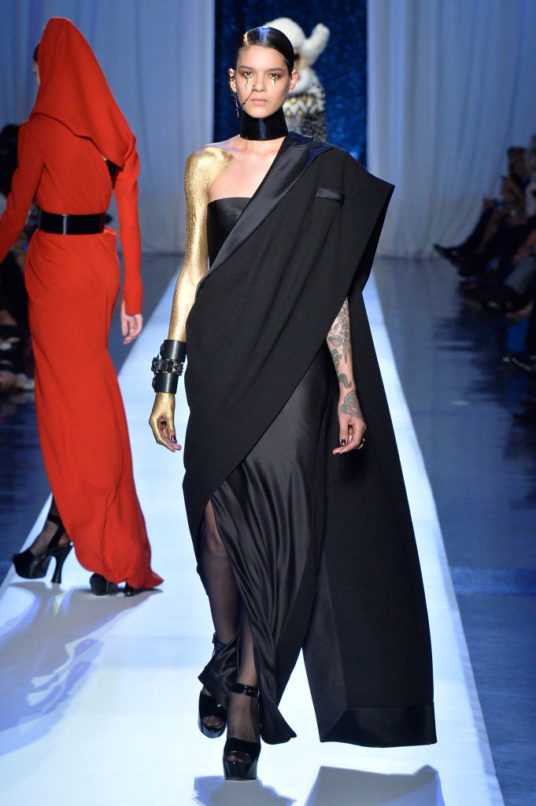 This fashion maverick's love for everything Indian is not a hidden affair in the business of fashion. But what stands out for this perfectionist is his understanding of drapes. Using sari as his canvas, he has rolled out several renditions in the shiny gold, see-through tulle layered with rhinestones, even Bollywood-inspired ruffled versions, but what stands out are his tuxedo-saris. The couturier, who has rolled out creations inspired by the idea of gender-bender for his Fall 2017 couture, created the most interesting tuxedo saris; varying in length, colour, and textures. They will always be remembered as one of his most iconic creations. Besides this, there were short saris, the ones with veils, feathers, and those crafted in leather.