Keen to check out what this month's hottest sneakers to buy in September 2020 are all about? Scroll down for our top ten picks.
All the most hyped sneaker drops, under-the-radar gems expected to garner skyrocketing prices and rumoured releases to check out this month, from our contributor, Sneaker Surge's Mira Uttamchandani.
Now rounding off the tail end of summer, there's plenty of hot sneaker releases inspired by nostalgia — whether it's 80s-inspired silhouettes with the Women's Nike Dunk Low 'Disrupt' or the latest Fear of God x Converse collaboration, or a homage to the Fresh Prince of Bel-Air. There's also new (rather controversial) colourways of tried-and-true hyped sneakers such as the Yeezy Boost 350 V2, as well as refreshed, 2020 iterations of previous collaborations.
1
Women's Nike Dunk Low 'Disrupt'

Ever felt that the Nike SB Dunks were just a little too bulky for you? I for sure have. Lo and behold, the women's Nike Low Disrupt. Building on women's specific Dunks including the Dunk Sky Hi and Sacai Dunk Lux, this women's-exclusive pair is a silhouette re-tooled with cues from the Dunk and the 1984 Nike Air Train. The result is a platform sole and exaggerated proportions, which make it look more feminine. The shoe is releasing in four colourways: with the white-and-grey 'Photon' and the blue-and-white 'Game Royal' (similar to that of the Kentucky Dunk) being two of my favourites from this release.
Release date
4 September 2020
2
PeaceMinusOne x Nike Air Force 1 Paranoise 2.0 'G Dragon'
Korean K-pop icon G-Dragon's latest collaboration with Nike is an exact reverse design of the 1.0 that came out last year. The pair is made with a white premium leather overlay which then tears away to reveal unique Zen-inspired artwork influenced by G-Dragon's personal style. Although the exact release date is unknown, it is rumoured to launch sometime in September, so K-pop fans and keen collectors will definitely want to keep their eyes peeled. Take a look at it on the foot here.
Release date
September 2020
3
Air Jordan 5 'Alternate Bel-Air'
If any of you have watched 'Fresh Prince of Bel Air' you will know that Will Smith's sneaker game made him essentially the original hype beast. Of all the iconic basketball shoes he wore throughout the six seasons, his favourites were the Jordan 5s. He also never failed to style the sneaker silhouettes with his 'fresh' wardrobe, giving his audience something fun and creative to look for every episode. With the release of a Fresh Prince of Bel Air remake rumoured in the pipeline, Nike released the 'Alternate Jordan 5' earlier in August to commemorate the show, and more specifically, Will Smith's unique style throughout the series.
Release date
15 August 2020
4
JJJJound x New Balance 992
The first question we should answer is, who is JJJound? Justin Saunders, or more widely known by his Instagram handle JJJound is a creative that is considered to have revolutionised the digital 'mood board.' Before having an aesthetically pleasing Instagram grid was actually a thing, he was pulling images from all over the web, creating mood boards for Kanye West, Virgil Abloh and Heron Preston to name a few. He has now collaborated with brands to bring his mood boards to life with his most recent release the New Balance 992. Inspired by the great outdoors, the latest 992s come in an 'earthy' brownish grey that was released on 24 July and the second is a 'forest' green, released on 31 July. They are currently available globally at select online retailers.
Release date
7 August 2020
5
Adidas Yeezy Boost 350 V2 'Asriel'

We've heard the adage — "there is no so such thing as bad publicity." Kanye West's latest release, Yeezy 350 V2 'Asriel,' is controversially named after another Islamic Angel, this time the Angel of death. Outrage and criticism have, naturally, cropped up online as a result, but loyal fans still can't seem to wait to get their hands on the newest black Yeezy colourway. It's unknown whether Adidas will change the name of the shoe prior to its September launch as critics have taken their complaints to Twitter quite aggressively, but stay tuned for more information.
Image: Courtesy Hanzuying/Instagram
Release date
September 2020
6
Civilist x Nike SB Dunk Low
Just the perfect release to catch the tail end of summer are these heat-sensitive SB Dunk Lows by Berlin-based skate shop Civilist. Inspired by the counter-culture rave movement in Berlin, the leather sneakers arrive initially in black until it is exposed to sunlight or heat, which then reveals a multi-coloured thermal 'heat-map' pattern. It returns to its initial black colourway when exposed to the cold. It also comes with complementing coloured laces in blue, yellow or red which allows for fans to mix and match their fits.
Release date
29 August 2020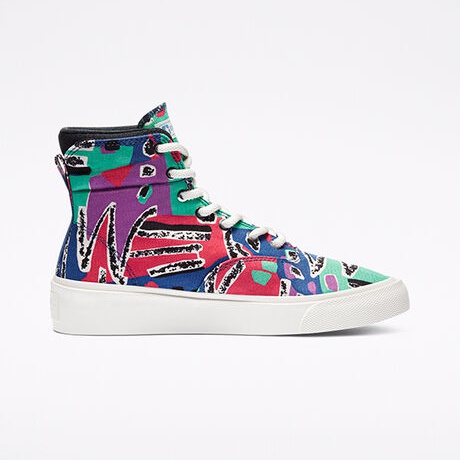 7
Converse x Fear of God Skidgrip 

Jerry Lorenzo is back at it again with another sneaker collaboration this time with his 'Essentials' brand in collaboration with Converse. The Essentials line is a more affordable version of the highly elevated Fear of God (FOG) brand, directed at the younger generation. Jerry Lorenzo reconstructs his favourite 80s silhouette, the Skidgrip, and adds a high-top collar, a sleek 30-degree slope along the midsole made for the streets of today. It looks very similar to the shoes in his very first FOG collection. Lorenzo maintains the bright colours reminiscent of the 80s version, allowing it to compliment the muted hues of the Essentials line.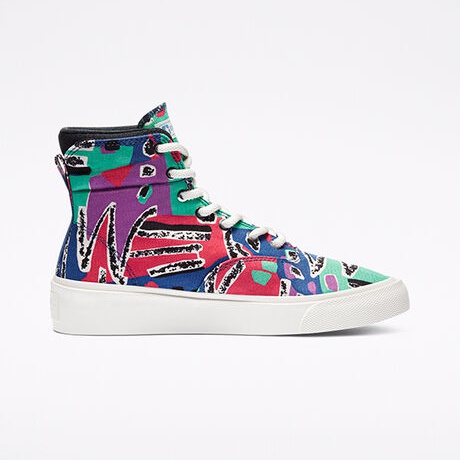 Release date
27 August 2020
8
Sean Wotherspoon x Adidas 'Super Earth' Superstar
Can veganism be 'hyped?' We are about to find out with the release of designer Sean Wotherspoon's latest collaboration with Adidas. He has created an 'earth-friendly' shoe inspired by his own fully vegan lifestyle: Taking advantage of Adidas' innovative technology, Wotherspoon has created the 'Super Earth' made from all vegan materials. The embroidered floral patterns across the shoe are sketched by the designer himself and instead of cutting off the excess thread which would typically be disposed of after production, he keeps them on to save waste. This is only the beginning of their collaboration — so keen environmentalists will want to stay tuned for more.
Release date
29 August 2020
9
Adidas Originals Campus 80 'Homemade Pack'
With all the home baking projects we've been doing during the lockdown, this new trio release is the perfect fit for the sweet tooth who wants to save on the calories. SneakersNStuff has launched a new collaboration with Adidas Originals, adopting the Campus 80 design for three colourways inspired by different sweets. There's the 'lemonade' colourway in bright yellow suede, the 'brownie' in a chocolate brown suede; and the 'frosted cupcake,' in a sweet lilac suede. The inner soles each have an image of the corresponding treat and a recipe to make it. Every pair also comes with matching kids' sizes.
Release date
29 August 2020
10
Yeezy 700 V3 'Arzareth'
This Yeezy Arzareth is the first 700 to be released since 'Alvah' from April this year. The shoe is designed with a polyurethane shell on the outer layer, which of course glows in the dark as we've seen with a lot of recent Yeezy releases. This is contrasted with a knit-like sock structure underneath. Since its release, the all-black 'Alvah' has seen prices skyrocket 150 per cent on the resale market. It will be interesting to see how this blue reiteration performs in the near future. It's also released in full family sizing, in case you're looking to match with the whole brood.
This story first appeared on Lifestyle Asia Hong Kong.
Release date
29 August 2020