Fashion weeks going through a digital /phydigital reboot, leading luxury brands streamlining their strategies, virtual fittings, augmented reality — these are only some of the norms defining fashion's new reality today. 
The Indian fashionscape, like its global counterparts, is a multi-layered entity, but the difference lies in our army of craftsman and a vibrant spectrum of mostly mid-level, homegrown labels. How are they to survive this pandemic? How does Vocal for Local really work out?
According to the Clothing Manufacturers Association of India (CMAI), the domestic apparel industry may have to incur losses nearly worth Rs 1 lakh crore, with the lockdown costing almost 50 lakh jobs. With every state having its own set of indigenous crafts and craft clusters, the issue becomes complex. From Gujarat's Patola weaving families to Punjab's cooperatives working with phulkari experts to numerous handloom facilities in Varanasi, which collaborate with millions of weavers, the pandemic's first responders are the most vulnerable.
At first glance, answers are not clear. However, celebrating, nurturing, and consuming hand-made in India and being more vocal for local can help.
Why be vocal for local? 
It is imperative to engage and collaborate to reboot the consumption of locally manufactured products and serve markets with a range of products. With many local fashion labels staying low for past months, limited cash-flow has resulted in numerous struggles, and staying afloat in a COVID-19 market is just one of them.  
The government policy allowing 33 per cent of staff to be in attendance for certain businesses has led to basic functioning issues. How does a mid-level brand, already understaffed, get back on its feet? Each collection comes with a chain of coordination, defined by sampling, working with craftsmen (now in their hometowns), R&D for textile interventions. With so many challenges, labels are taking time to figure out and create a seamless flow of work within a new system. "Now more than ever it is important to support local designers who will need help getting back on their feet after months of no business and so many employees to keep afloat," says designer duo Saaksha & Kinni.
Some cues are in building a locally-reliant system. "A self-sustaining ecosystem is one of the strongest forms of economies, as it benefits both the nation and the individual," says Priyanka Modi, creative director, AMPM. "As we step into the new normal, the future of our nation depends on this united effort to see us through these challenging times."
 What this translates into is that procuring, producing, and consuming local makes a market like India self-sustainable. Once a well-thought investment in locally made products starts, it will escalate the demand for production, which will further boost the system. But before that, a network must be created ensuring those at the end of the chain with equal opportunities for growth and development; it will only help the cause of being vocal for local. 
According to the Fourth All India Handloom Census 2019-20, the total number of households in India engaged in handloom activities (weaving and allied activities) is 31.45 lakhs. The census covers a total of 25,45,312 weaver households, and a majority (66.3%) of the weaver households earn less than Rs 5,000 per month. Going by the figures, if a new support system is not created soon, the income cap might be lowered.
Few have closely seen the pressures of the market take an unhealthy toll on those at the lowest rung. Veteran designer Ritu Kumar admits that almost a decade ago when reckless importing was not a part of the system, there was a self-sustained ecology that helped people earn more. The cues to survive through these times are to produce locally and help those at the different levels of the consumer-retail cycle to grow. 
Vocal for local, if seen in the current context, embodies a deeper meaning as well. For many, it is about seeking pride in India's wide spectrum of indigenous crafts. At a time when consumption patterns are driven by the seasonal cycles of fast fashion, supporting hand-made in India takes a new meaning. A Paris fashion week regular and ace couturier Rahul Mishra makes a poignant observation: "Vocal for Local, to me, is about creating a voice for those sections of the society that have existed amongst us while preserving our cultural identities through their art forms, but have been cloaked by the international fashion market." 
Known for his exquisitely crafted handloom saris, Sanjay of Raw Mango wants consumers and industry stakeholders to stop looking outside and turn inwards to rely on our own. "There is always going to be a need for local commodities and businesses, this amongst others, is what contributes to a nation's identity and individuality, and also the socio-economic development," Garg says. 
What needs to be done 
Before consuming homegrown labels and preserving the craft, there is a three-pronged approach that needs consideration: Interpersonal community support, creating smooth channels connecting Indian craftsmen to buyers, and imparting the right education.
Labels with a certain standing can help reach out to younger designers who need attention. Case in point being Hyderabad-based Gaurang Shah who runs an initiative through which he promotes local menswear designers in his traveling pop-ups throughout India. On the same lines, Bangalore-based brand House of Angadi, headed by K Radharam, launched an 18,000 square ft. space, Angadi Heritage in 2019, which houses an edit of big and small homegrown fashion and beauty brands. Kerala-based designer Alan Alexander Kaleekal is another enthusiast of local labels. His beautiful store RAHEL in Thiruvananthapuram brings together textiles woven from all over India under one roof, giving several lesser-known names an appropriate platform. 
With stores being shut, handloom and craft aficionados need better ways of accessing fashion and be closer to it. 
Anataran, a program backed by Tata Trusts is one such initiative. They work with handloom clusters across India, educating and connecting them to market stakeholders, transforming weaving clusters into entrepreneur-led microenterprises. From technical skills education to national and international buyers connection to brand building, they ensure a 360-degree development. Their website Antaran Artisan Connect and their newly launched app, 'Craft Xchange', help artisans connect with buyers directly. Another such channel has been created by Good Earth's Craft Foundation, which bridges the gap between Indian artisans and global craft enthusiasts.
Educating a new wave of craftsmen and transforming them into assets that can be consumed by the dynamic fashion market is another significant step.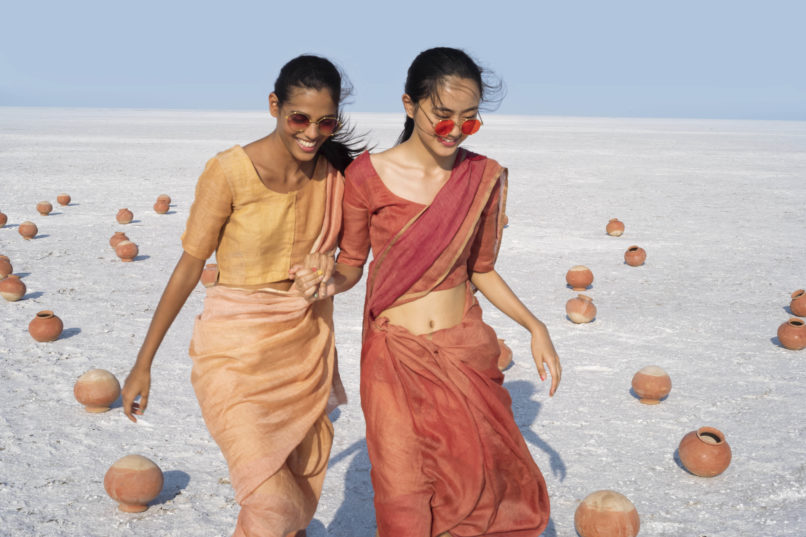 The Mumbai-based Chankaya School of Art, headed by designers (and sisters-in-law) Karishma Swali and Monica Shah of the label Jade, is doing the same. Founded in 2017, it is an off-shoot of Chanakya, an export house launched by Vinod Maganlal Shah (Karishma Swali's father) in 1984. "At the Chanakya School, we're proud to teach and celebrate over 700 global craft techniques in an integrated curriculum, which encompasses art history, life skills, philosophy, and female empowerment," the designer duo told us in an interview. 
Craft preservationist Maximiliano Modesti is another force working in the field. Since 1993, when he first came to India after working at labels such as Azzedine Alaïa, he fell in love with a spectrum of local crafts. He launched Kalhath Institute in Lucknow. It is a training centre for gifted but underprivileged embroidery artisans, offering a paid year-long opportunity to attend the institute. 
The Handloom School in Maheshwar, headed by craft enthusiast Sally Holker, is also committed to the preservation of the local crafts of Maheshwar. It introduces young weavers to non-traditional techniques, which helps prepare them for a market in need of several textile innovations and interventions.
How can consumers and other stakeholders lead the change 
Thoughtful consumption sets a strong tone of the current times. However, if one needs to expand beyond investing in essentials, homegrown labels could be the first choice. "Individuals should and will review their spending patterns and gravitate towards local," says Swati Aggarwal of the label Swati and Sunaina. "I would think twice before spending money on a foreign product or company if a similar option was available at a homegrown brand." Known for her beautiful linen saris, Anavila Misra calls upon consumers to be more conscious of their choices and expects them to have a better understanding of the brands and invest in the ones with an ethical point of view.  
With global brands such as Gucci considering only two collections a year, the focus now is on the longevity of products, as opposed to their number. Homegrown and international labels need to create fewer pieces/products that benefit everyone connecting in the demand-supply chain. "Focusing on classic buys and not being trend-driven is what I would greatly champion," says Samyukta Nair of Clove The Store in Mumbai that is known for its interesting edit of upcoming homegrown labels.
The times also need unique, evergreen product designs. Designer Rahul Mishra recalls the teachings of his late NID professor M P Ranjan, and brings attention to creating a wholesome process, which supports several local communities involved in the craft processes, and calls for a more decentralized way of working so that craftsmen don't have to migrate. Therefore, he wants the industry to focus on creating a design mechanism so efficient that it benefits those involved before, during, and after its creation process. "This value is to surface in the larger purpose that drives the creation of the product so that it solves not one but several problems," he says.
The idea of being vocal for local needs to imagined beyond supporting craftsmen and their livelihood. Now that the loopholes in the system stand more exposed than ever, an all-encompassing change, not just in the way fashion is produced but the way it is consumed might help. The onus to stimulate a revolution supporting everything homegrown needs to be shared equally.