If you know your jewellery well, Gemfields is a name that resonates with quality and responsibly-sourced coloured gemstones. Their latest collaboration with Space for Giants, an international conservation charity that protects Africa's elephants, is meant for all jewellery lovers who want to invest in evergreen and versatile pieces.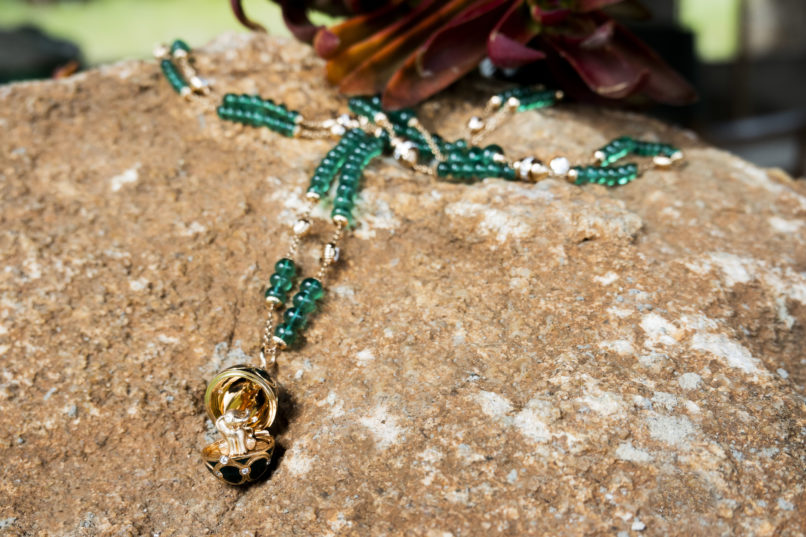 Gemfields and Space for Giants have unveiled Walk for Giants, a fundraising and awareness-building campaign for African wildlife conservation. The campaign kicked off with the release of two exclusive capsule collections: A 44-piece collection from Gemfields, and a series of 15 sustainable collections from the luxury fashion retailer NET-A-PORTER. 
The campaign comes at a time when the travel and tourism industry has suffered an unprecedented setback. As a result, the wild and natural habitats around the globe are more vulnerable. All proceeds from these capsule collections will bring critical support to protect Africa's elephants and their natural habitat. The campaign was shot by Francesco Carrozzini, with creative direction by Riccardo Ruini, featuring models Arizona Muse and Selena Forrest at Enasoit Game Sanctuary in Laikipia, Kenya.
The Gemfields x Space for Giants collection brings together jewellery designers from the world over on one platform. You can buy exquisite earrings, neckpieces, and even a wristwatch created by the likes of 12 brand partners, including AYA, Backes & Strauss, Bina Goenka, Fabergé, Fehmida Lakhany, London-based Francis de Lara, GFG Jewelry by Nilufer, Margery Hirschey, Sandy Leong, VAK Fine Jewels, Valani Atelier, and Zoe & Morgan. You can expect edgy intergalactic designs carved in recycled 18k white and yellow gold studded with gemstones. 
"Today, more emerald- and ruby-derived value than ever accrue to our host countries in Mozambique and Zambia. Africa's natural resources, whether in the form of minerals or biodiversity, must play a greater role in supporting local communities and championing vast conservation spaces," said Sean Gilbertson, CEO of Gemfields while giving an insight into the collection. "We need everyone to walk the talk for these giant causes, and we are honoured to support the energetic team at Space for Giants in their intrepid cause."
For those on a lookout for jewellery created by global brands, there are NET-A-PORTER's functional and sustainable capsule collections. It includes renowned brands such as British heritage brand Burberry, 3.1 Phillip Lim, Brunello Cucinelli, Chantecaille and Ole Lynggaard Copenhagen in collaboration with Gemfields. The collaboration also includes emerging designers such as accessories label Hereu, Fisch, and Bassike.
"What Walk for Giants so brilliantly amplifies is that conserving existing natural landscapes is not just critical for the future of humanity but is also the best economic deal around, " said Dr Max Graham, founder and CEO of Space for Giants. "Nature-based businesses bring jobs, buy from local suppliers, pay taxes, and build national economies. But the natural assets these enterprises rely on – including Africa's last populations of megafauna – are under grave risk." 
Space for Giants is an international organisation that works with national authorities to strengthen the legal system devising policies that protect elephants. Headquartered in Kenya, it works in eight countries in Africa, ensuring an all-encompassing approach protecting natural habitats of elephants. 
Gemfields has been a leading advocate for legitimacy, transparency, and integrity when it comes to mining. It is due to their initiatives at the Kagem emerald mine in Zambia (believed to be the world's single largest producing emerald mine) and the Montepuez ruby mine in Mozambique (one of the most significant recently discovered ruby deposits in the world) that pushed Africa to become the world's largest exporter of emeralds and rubies. This collaboration with Space for Giants is an extension of the Gemfields policy, focusing on the upkeep of Africa's wildlife and biodiversity. 
Gemfields' 44-piece Walk For Giants collection and NET-A-PORTER's exclusive sustainable capsule series are available now on gemfields.com and net-a-porter.com. 
For all jewellery lovers who want to indulge in some bling and do their bit of good, this collaboration will leave you wanting for more.