Tradition meets minimalism in the collaboration between Gemfields and Natasha Khurana's homegrown jewellery label, The Line. We talk to the founder and designer behind The Line about the inspiration, the key pieces and playing with beautiful gemstones in her latest collection.
When we think of Indian jewellery, maximalist associations like kaleidoscopic gemstones, tinkling charms, eclectic coins and intricate designs come to mind. Changing this narrative is the latest collaboration between UK-based mining major Gemfields and Indian fine jewellery label, The Line. Founded by Natasha Khurana, the Delhi-based label is known for its minimal, modern designs crafted entirely in 18k gold. Titled, 'Songbirds' the collection is a tribute to Indian tradition and artistry yet the idea is to make Indian jewellery styles accessible for everyday use. Crafted in gold with Mozambican rubies and Zambian emeralds from Gemfields, the collection seeks avenues in minimalism.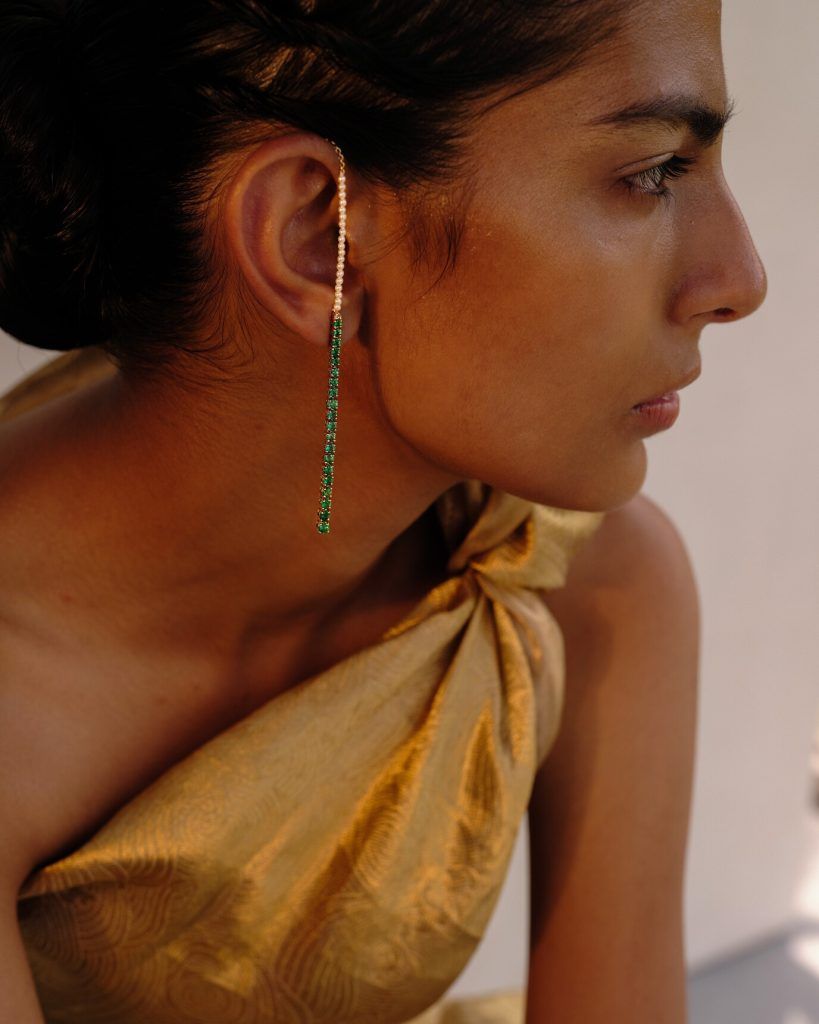 "When Gemfields approached us for this collaboration, and I knew this was going to represent The Line, a small Indian jewellery label, internationally, my first instinct was to take India to the world," recalls Khurana. It was with this mindset that she sought inspiration from the traditional jewellery designs of India while staying in touch with her own label's aesthetics. "India is home to such vast jewellery knowledge, making and wearing; we are amongst the world's best gem-cutters, and the world comes to us to partake in this process. I wanted to celebrate that, via our iconic jewellery silhouettes. So I dug back into my jewellery memories. There were pieces my family and I grew up with such as the Kaanchain or the Jhoomar, and then there were pieces that were part of a larger Indian collective conscience like the Taveez or Ladhi. We attempted these with our signature minimalism". The Kings and Queens of yore have upheld a rich legacy of jewellery wearing and making in India, the Gemfields x The Line collection draws from this tradition. "This collection, Songbird, takes a leaf from India's long and passionate love affair with jewellery. Indians have worn jewellery and fine gems, with a casual insouciance, every day, across gender and classes. It's not limited to an occasion. And this song has carried on unbroken despite breaks and plundering across our political history, and therefore a lack of formal records. Therefore, the name Songbird. Through jewellery shapes that have been passed down over generations, we can see so much of our history as a people. Like the secularisation of India, very much a visible assimilation, in the coming together of Islamic and Hindu influences in styles like the Taveez, the Chaandbali, and the Jhoomar. Then there are more canonical styles like the Ladhi necklace or hoops earrings. Then there are regional styles like the Kaanphool, yet, this is only a very very tiny capsule from the vast stylistic range of the Indian art of jewellery," explains Khurana. As one of the leading miners, Gemfields gemstones are a thing to treasure. The Mozambique rubies and Zambian emeralds are the heroes of the collection. The rubies allure you with their brilliance of colour and intense saturation while the Zambian emeralds boast an intense green hue and are relatively cleaner crystals. "Beautiful natural gems have always been a starting point for me at The Line. Their beauty is what leads the way into our simple rhythms and patterns of studying gems. So this collection, 'Songbird', is more an extension than a departure of that founding principle. When I'm working with any coloured gem, I always want to highlight the natural beauty of that gem, without taking away from it. For this reason, we've used rose-cut diamonds and pearls to subtly lend their gentle charm to the fiery greens and reds," shares Khurana about the process. The minimal embellishment, sparse setting and use of geometry make it the perfect embodiment of modern India.
Explore the jewels from the Gemfields x The Line collaboration here:
All Images: Courtesy Gemfields.