There's no denying that Indian designers are increasingly getting noticed globally, what with Rahul Mishra showing at Couture Week in Paris, and local talent making the cut at international competitions like the Woolmark Prize. But designer Suhani Parekh of Misho seems to be far ahead in the game.
Known for her sculptural designs, worn by the likes of Tracey Ellis Ross, Lilly Singh, Kate Hudson, Kim Kardashian, and most recently, Beyoncé in the new campaign for her Ivy Park collaboration with Adidas, Parekh is a name to be reckoned with in the world of Indian jewellery design. Her label Misho is synonymous with pieces that are perfectly placed at the intersection of art and design — minimal, architectural earrings and necklaces, sunglasses, shoe clip-ons, and mostly recently, the design-meets-utility Pebble Pod earrings, images of which went viral.
View this post on Instagram
This idea is further refined by Parekh's moodboard, a confluence of cultures. Her Katana collection (yes, like the Japanese sword), features curved, slender pieces; Sierra, another line, finds inspiration in mountainous terrains, and has pieces resembling glistening liquid gold. Within a short span of four years, her signature Kepler hoops and layered neckpieces have become a collectible for jewellery aficionados.
She may well be one of the few in her league who seamlessly made the shift from sculptural art to designing jewellery, and found success while doing it. It was while she was training to be a sculptor at Goldsmiths University in London that Parekh started making pieces that she felt looked better on the body than they did on a plinth. The more she made, the more the idea of Misho, her label she founded in 2016, got defined.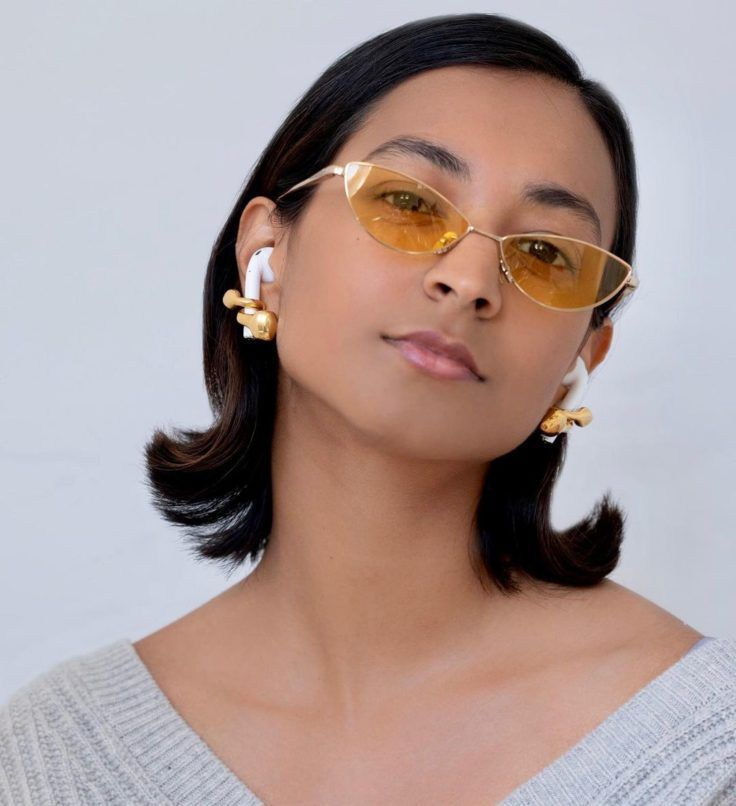 It's no surprise then that her designs are getting noticed. Parekh is now retailing at Selfridges, Luisa Via Roma, and e-retail giants like Farfetch. She has also been endorsed by Bollywood's elite such as Deepika Padukone and Kareena Kapoor Khan and international fashion fixtures such as Rihanna, Kendall Jenner, and Jourdan Dunn.
Lifestyle Asia India spoke to Suhani Parekh of Misho about carving a niche with her designs.
In a market dictated by traditional jewellery designers, what made you foray into conceptual jewellery?
I love the idea of rejuvenating design for everyday life, thinking of jewellery as wearable sculpture. I still don't think of the pieces as just jewellery – for me, they're little pieces of sculpture.
For me, creative practices are interdisciplinary and fluid. The first piece of jewellery I designed was actually a sculpture at art school – I photographed it on a model instead of by itself and felt like it worked so much better in context with the body than by itself. Your pieces are a dialogue between art and jewellery. Was is it a conscious effort to create such a body of work?
Misho's jewellery is sculpted as modern architecture for the body. The pieces are characterised by a vocabulary of clean lines, architectural forms, and simplified geometric shapes with a strong emphasis on material and form. The jewellery lies very much on the line that separates art and design, and I would describe the aesthetic as an amalgamation of the Bauhaus ideology and Japanese minimalism. What interests me the most about these schools of thought, apart from their theories and approach to design and aesthetics, is their approach to the interdisciplinary nature of different creative fields. I usually start by making a piece of sculpture and slowly strip it down into a piece of jewellery. What has the response of the Indian consumer been?
I feel like our designs have been extremely well received! We're fortunate to have met a lot of people who are always looking to push the boundaries and experiment with something a little unconventional. I think oversized, geometric pieces work for everyone – it's all about how comfortable you feel and how you pair your jewellery with your clothes. We live in a visual world and your style is a great way to communicate your personality. Pick a piece that fits with your personal style, and if you're new to wearing jewellery, start with smaller, more minimal pieces and work your way to the more experimental and statement pieces.
Which ones would you call signature Misho pieces?
Some of our classic pieces include the textured hoops, mismatched hoops, Kepler hoops and our experimental earcuffs. Our textured surfaces juxtaposed against clean, minimal form is definitely a signature style.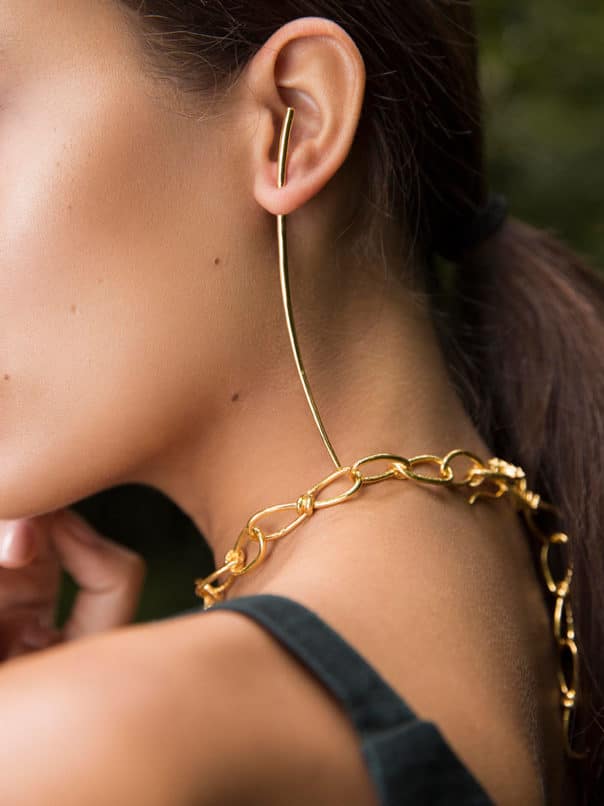 The best transition pieces?
Nothing changes an outfit like the right accessories. My favourite transition pieces include medium-sized hoops, stackable rings and layered necklaces.
The Misho pieces for those looking to experiment with their style?
If you're looking for something classic yet statement, try one of the hoops — my go-to hoops include our textured hoops, mismatched hoops, mini hoops, interrupted hoops, and drop hoops. If you're keen on something more experimental try our Katana cut through earcuff — it's minimal yet sure to make a statement.
Know about Misho Designs here.
This story was first published in July 2019, and has been updated since