The 76th edition of the Cannes Film Festival saw Indian celebrities putting their best fashion foot forward. From dramatic cape to ornate embellishments, Indian stars showcased elegance and panache on the red carpet. One such look that grabbed eyeballs was Bollywood actor Urvashi Rautela's. More than her dress, it was the piece of jewellery that caught the netizen's eye. Urvashi Rautela sported a crocodile necklace at her first Cannes outing. While the crocodile necklace is drawing mixed reactions from netizens and the likes of the fashion world, there is an interesting story behind it. And we at Lifestyle Asia love a good story behind a timeless piece.
At Cannes 2023, Urvashi Rautela donned a pink Tulle gown designed by Sima Couture, that she accessorised with a diamond-studded crocodile necklace. Featuring intricate detailing and a silhouette with voluminous ruffles and layers, the gown turned heads as Rautela took to the red carpet. But the real showstopper was the necklace consisting of two crocodiles almost hugging the neck. While the Bollywood actor is at Cannes to present the Parveen Babi biopic at the French Riviera, here's everything you need to know about Urvashi Rautela's crocodile necklace at Cannes.
Urvashi Rautela's crocodile necklace is by Cartier
French luxury firm Cartier's creations are so iconic that they don't even let the dazzling diamonds take the limelight. One look at a Cartier necklace or ring, and the marriage between the priceless stones and glorious design will remind you why Cartier pieces are so iconic! Urvashi Rautela's crocodile necklace is just another example of the archetypal Cartier school of design. But it comes laced in history. Shaped as intertwining crocodiles, this statement necklace is methodically crafted in gold and studded with diamonds and cabochon emeralds. According to Forbes, the necklace dates back to 1975, when Mexican actress María Félix wanted Cartier to design a necklace replicating a baby crocodile that she carried with her to the store!
Walking into the Rue de la Paix, Paris store of Cartier with a baby crocodile in an aquarium is such a bold statement in itself. To ask for a necklace replicating the crocodile's entire anatomy is a whole new ballgame!
The jewellers at Cartier carefully studied the reptile and after much sketching, they created the statement piece with intertwined crocodiles – a piece of wearable art.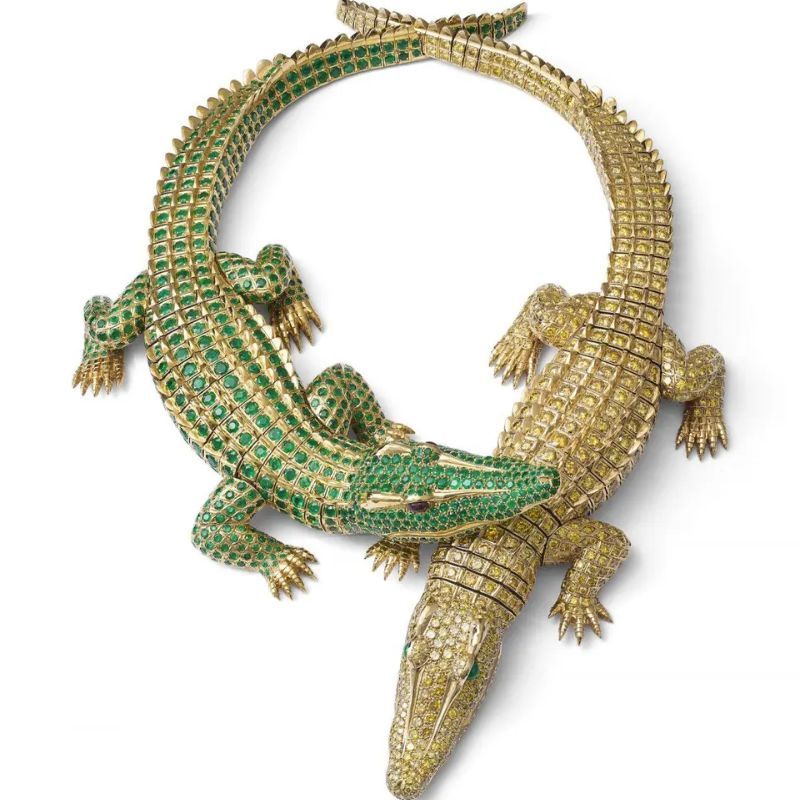 One of the crocodiles is made from 18-karat yellow gold and set with more than 1,000 brilliant-cut intense yellow diamonds, totaling to 60.02 carats. The second crocodile is crafted in 18-karat white gold and set with 1,060 emeralds weighing 66.86 carats. For the eyes, the artisans at Cartier used rubies for one and emerald for the other. Reportedly, Maria Felix loved the necklace so much that she wore it for years.
According to several reports, this necklace comes with a price tag of a whopping INR 200 crore.
Much before Urvashi Rautela wore this crocodile necklace at Cannes, this same piece was born by Italian actress and model Monica Bellucci at the Cannes red carpet in 2006.
Hero Image: Courtesy urvashirautela/Instagram; Featured Image: Courtesy Cartier
Frequently Asked Questions (FAQs)
Question: Why is Urvashi Rautela at Cannes?
Answer: Urvashi Rautela is attending the film festival as part of the photocall launch for her upcoming project, touted to be a biopic of actress Parveen Babi.
Question: Is Urvashi Rautela from IIT?
Answer: Urvashi Rautela initially intended to study engineering, and in order to do so, she also started studying for the tough IIT admission exam, then known as the AIEEE
Question: Did Urvashi Rautela crack IIT?
Answer: Accordig to reports, Urvashi Rautela cleared the IIT-JEE examination and couldn't make it to IIT due to some undetermined reasons.