Meet the Philips Handheld Garment Steamer 7000 Series, a next-gen solution promising a crease-free, and effortless steaming experience, on the go.
Whether we're travelling to sunny coasts, tropical havens, or the mighty mountains, we always aim to dress our best. However, the last irk you'd expect when you arrive at your hotel room is opening a suitcase full of crumply clothes that took a beating during transit. Sure, room service could offer laundry ironing or even provide you with a clumsy iron but well, who'd like to spend their time clamping their way through crumpled shirts, trousers, or dresses while on holiday? Definitely not us. Which is why, the Philips Handheld Garment Steamer 7000 Series is an absolute travel essential for urban globetrotters and discerning individuals who strive for crease-free, crisp and chic dressing in their travel endeavours. It's your solution to wrinkle-free garment care and ironing, while you're on the go, in a hurry, or even in-between meetings, while being compact, easy-to-use, and moreover, superbly efficient.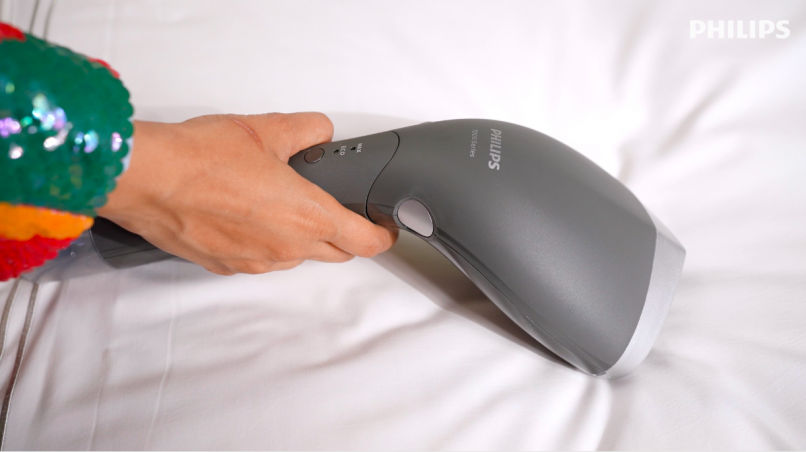 But what gives the Philips Handheld Garment Steamer 7000 Series the edge?
First things first, the unique adjustable steamer head gives you absolute freedom of movement while steaming. You can work it horizontally, vertically, or even diagonally, the Steam&Go gives the perfect finish every time. Moreover, with all this efficiency, comes convenience too. Using a traditional iron and having to reach those wrinkly corners, was definitely a vexing experience, but with the Philips Handheld Garment Steamer 7000 Series, it simply couldn't get easier.  All you need to do now is glide the steam plate tip across the garment and voila!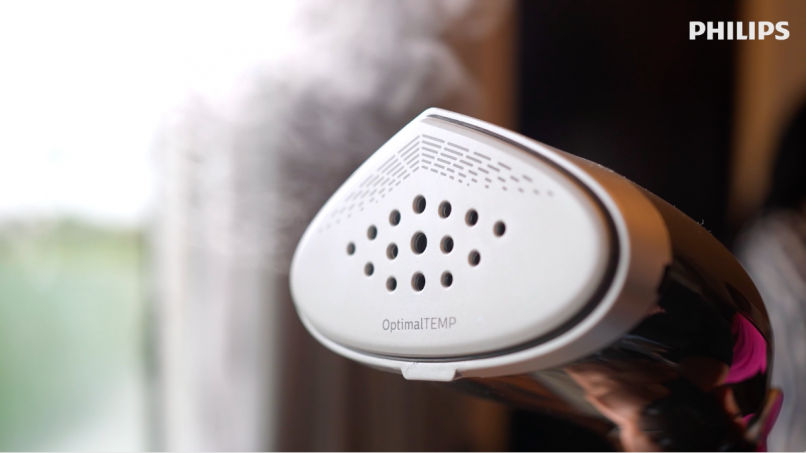 You might be wondering – If it's this quick and easy to use, how does it run? With the Philips Handheld Garment Steamer 7000 Series, you get a 100 ml water tank for one full outfit (if you go for the higher-end STH7040, you get two interchangeable water tanks, 100 ml for one full outfit and 200 ml for up to five garments).
While producing steam at a speed of 28g/minute, you can choose between two steam settings – Eco and Max, both perfected for de-wrinkling various types of clothes and fabrics too. The Eco mode focuses on saving water while the Max mode strives for performance and more steam power. So whether it's a silk dress, a crisp powder blue cotton shirt, or breezy and lightweight linen-wear, the Philips Steam&Go Handheld Garment Steamer takes care of them all, effortlessly. All of this, with a start-up/heat-up time of a mere 30 seconds. While using a traditional iron, we've always had two worries – Under-ironing with wrinkles persistent, and over-ironing, which ends up burning our precious garments. Maybe it could be negligence, using the wrong iron setting or simply mis-navigating, it's definitely heartbreaking to see a burn stain on a garment you love. The Philips Handheld Garment Steamer 7000 Series on the other hand, perfectly understands this emotion. It houses an OptimalTEMP technology which guarantees zero burns on any ironable fabric, promising worry-free and conscious steaming.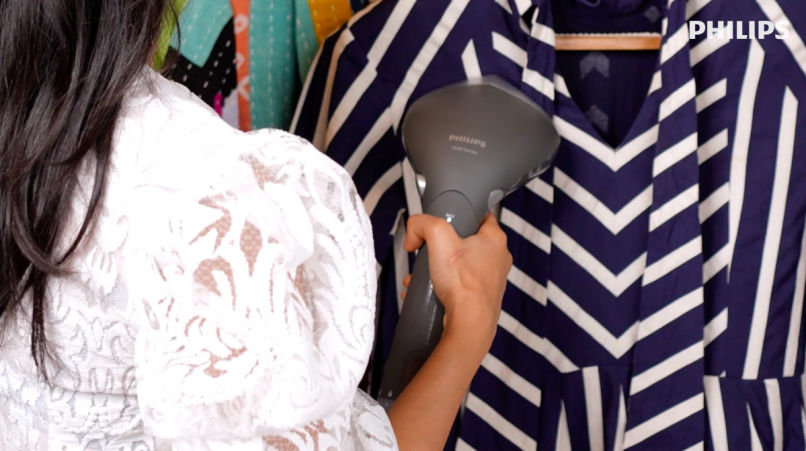 The Philips Handheld Garment Steamer 7000 Series surely has a list of interesting design feats, but one that gets our attention is the steam plate and its pointy tip. It's a master of both, form and function. It ensures your collars, pleats and even the nooks and crannies of your garment are effortlessly yet efficiently pressed. Trust me, things truly couldn't get more convenient and quick in this department.
That's the Philips Handheld Steamer 7000 Series for you. So what's in the box? You get a detachable water tank for quick refills between steams. There's also a generous 2.5-meter chord promising some good reach and ease. To ensure safety after use, you'll find a heat-resistant bag and a pair of gloves.