As IWC Schaffhausen steps into another year of watchmaking, we take a deep dive into their latest creations with creative director Christian Knoop.
IWC Schaffhausen's offering at this year's Watches & Wonders was truly sensational. Each piece was an expression of IWC's timeless aesthetic, reinvented to meet the bold standards of contemporary watchmaking. All of this, doused with a heavy dose of their nautical heritage. The focus this year was the Portugieser, a nautical sports chronograph that rises above others for its robustness and elegance — in April, Christian Knoop, creative director, brought forth six new models, revamping the Portugiesers we know and love, to they demonstrate the brand's broad vision for luxury sports watches and carry the torch of their signature design into the future.
We caught up with Knoop to understand the vision behind this, and the inner workings of these timepieces.
Portugieser was at the forefront of IWC's lineup this year. What were some of your top innovations and its developments?
The Portugieser has been our most prestigious product line created in the late 1930s. It was designed as a "marine-chronometer-precision" wristwatch, built after IWC's reputation for robust and precise pocket watches. Our collection has been designed with a lot of respect for the history and DNA of the Portugieser. One thing we are particularly proud of is that this is a 100% in-house manufacture collection. Every calibre fitted in these timepieces is purely IWC-manufactured. For the first time, we equipped the iconic Portugieser Chronograph with an in-house movement from the 69000 calibre family.
We are also presenting attractive new models with somewhat smaller diameters. A talking piece from this year's Watches & Wonders was the Portugieser Yacht Club Moon & Tide, the first IWC watch to bare a mechanical tide indication, keeping up with the collection's nautical spirit. Also, one of my favourites is the Portugieser Automatic 40, a compact three-hand model whose design is inspired by the purity of the original Reference 325.
The Portugieser, a minimalist watch, has received various complications, but this year, we see new dial colours. What led to this?
While the Portugieser Chronograph has evolved with new movements, cases, and straps, we wanted to make a statement with the dial colours too. Quintessentially, an IWC piece would be silver-cased, with a black dial and gold-plated hands. In every product line, we strive for an attractive combination of typical IWC colours and unseen ones. We do this to refresh our timeless icons and allow them to creatively expand. As a result, we decided to add two new dial colours to the mix — green and burgundy. Both colours are references to the nautical world, representing starboard and port in yachting.
Last year, we launched our new Spitfire collection with green dials and bronze cases. In parallel, we presented various special editions with burgundy dials. Take the Big Pilot's Perpetual Calendar 'Lewis Hamilton' Edition. IWC watches with green and burgundy dials have enjoyed growing success.
You mentioned in-house movements. Can you shed more light on that?
Back in 2018, the opening of our new manufacturing centre in Manufakturzentrum was a significant milestone for IWC. In this groundbreaking new facility, we strived to combine traditional IWC craftsmanship cues with state-of-the-art watchmaking techniques. We were heavily invested in the development of new in-house movements here.
We harvested the fruits of these investments in the last two years. In 2019, we introduced an all-manufacture Spitfire collection which was followed by our Portugieser collection last April, where we are using in-house movements from the 89000, 69000, 52000 and 82000 calibre families. I am particularly proud of this collection.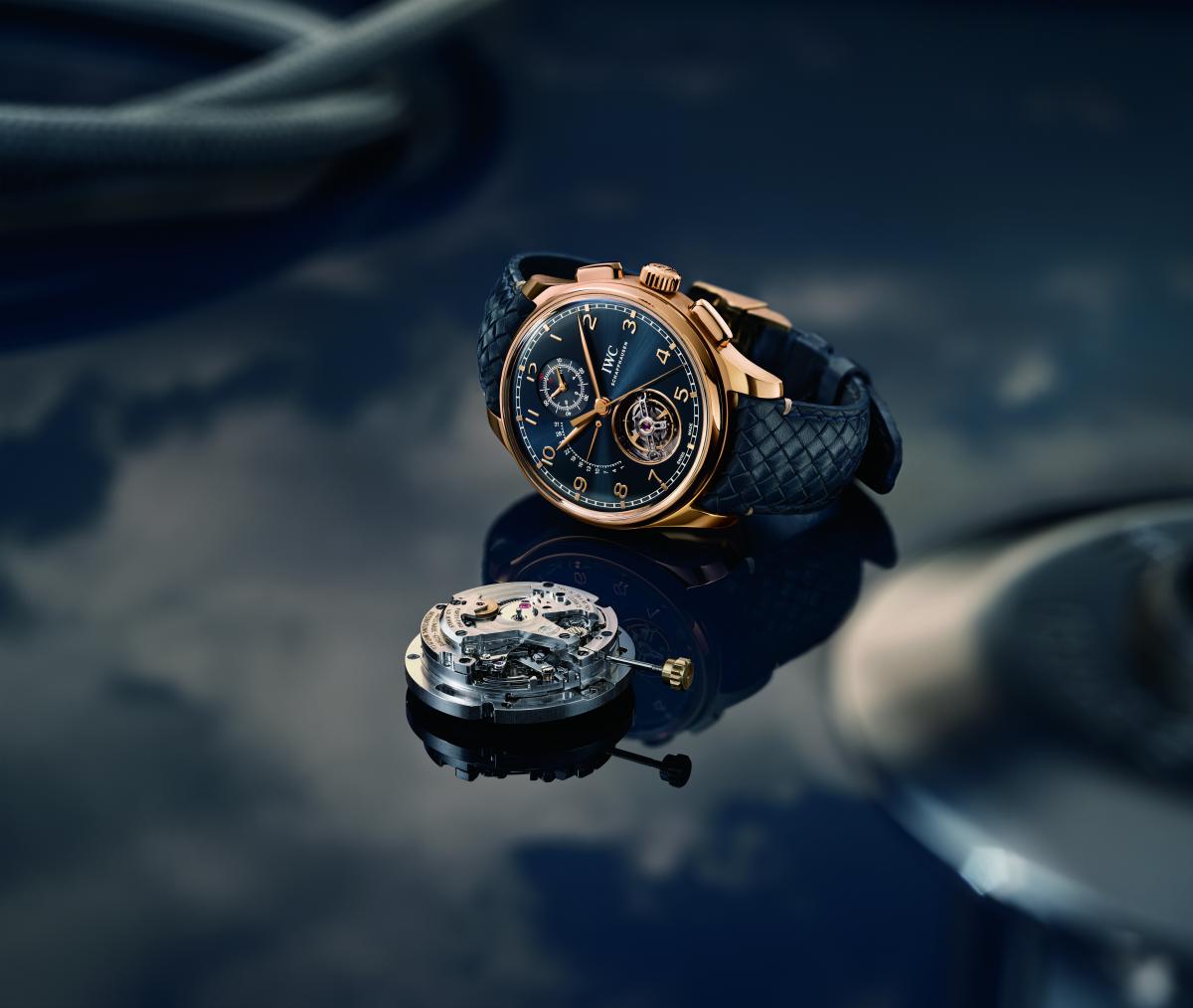 You have looked into the archives to develop new timepieces. How did you decide which vintage pieces to take a leaf out of?
We looked at the design history of the Portugieser, in a way that would emphasise how strikingly modern and timeless the 80-year-old Portugieser design accents still are. Our design approach is never to copy and re-introduce an existing product. Instead, we take inspiration from the past and then evolve.
With yachting being a major theme this year for us, we aimed to bring forward this traditional aesthetic while reworking it with elegant modernity of IWC's contemporary models. In terms of vintage pieces, the first Portugieser (Reference 325) was one of the main reference points. The new Portugieser Automatic 40 is the perfect contemporary interpretation of this iconic watch. It features the same timelessly modern design with the small seconds at '6 o'clock' and explicitly no date window.
I enjoyed learning about the Yacht Club model and its history. Given its connect with leisure and 'sporting clubs', was there a particular reason its design resurrection?
When I joined IWC 12 years ago, the Portugieser Yacht Club Chronograph was one of the first watches I had the chance to work on. Which is why this timepiece will always hold a special place for me. It goes back to the successful IWC club watches from the 1960s and 1970s. The original IWC Yacht Club was introduced in 1967 and designed as an elegant, yet sporty timepiece that could be worn at multiple affairs.
The idea behind renaming it the 'Portugieser Yacht Club Chronograph' was to revive that famous name and create its sportier interpretation. I very am excited to launch the third generation of the Portugieser Yacht Club as it's been reworked in sheer nautical excellence this time. The newly added tide indication of the Portugieser Yacht Club Moon & Tide fits perfectly into the universe of sailing and navigation as well.
What do you see for the future of the watch industry in 2020?
I am optimistic about the future of our industry. The manufacturing of mechanical luxury watches represents the most exquisite craftsmanship that has survived hundreds of years. I am convinced that this product will be desirable even for future generations. However, the current crisis might change our behaviour towards more conscious purchasing decisions. Possibly we will 'consume' less and instead invest in products that are physically and aesthetical long-lasting with an emotional value. Well-established brands and responsibly made products will benefit from this phenomenon.
Many of our product lines are several decades old. For example, the Portugieser or the Pilot's Watches were developed over 80 years ago, and their iconic design appears just as fresh and contemporary today as it did back then. This makes our brand authentic and credible, and these are the qualities that consumers will be looking for when choosing a luxury product in the future.
IWC timepieces are being retailed at watch boutiques such as Art of Time, Mumbai, and Kapoor Watch Co., Delhi.
All images: Courtesy brand