Fresh from unveiling new timepieces at the recently concluded Watches and Wonders fair, Jean-Marc Pontroué, CEO, Panerai, talks about everything that sets the brand apart in today's luxury market.
That Panerai is a brand associated with technical innovation is known. Also known is its commitment to ecology and using eco-friendly materials in its timepieces. While both of these facets were on full display at the newly launched digital Watches and Wonders fair, the highlight of Panerai's presentation was the Luminor, which is celebrating its 70th anniversary.
The Luminor is a line synonymous with Panerai, and apart from ultra-luminous and limited-edition pieces being launched, the year is dedicated to how the sportswatch became a frontrunner for the brand. We caught up with Jean-Marc Pontroué, CEO, Panerai, to ask about this, the watchmaker's connection to nature, and the watchmaking industry's future post COVID-19.
2020 is the 'Year of Luminor', marking its 70th anniversary. Tell us about the line's  importance in Panerai's history.
Until the brand was acquired by Richemont Group in 1997, Panerai wasn't really in the running for being a name in the luxury sportswatch market. Considering other watchmakers at the time already had hundreds of years of experience in horological craftsmanship, it definitely wasn't easy for the brand to reach the top 15 so quick, but the triumphs of the Richemont Group and the performance of my predecessors surely paid off.
The cornerstone for the brand at the time was the Luminor — it created a major foundation for the brand's rebirth. At first, the Luminor wasn't recognised as a Panerai timepiece and in a certain sense, it did give the brand its identity. For people who were new to the brand, it became an introductory model, and that's how we were remembered at the time – 'The Luminor Brand'.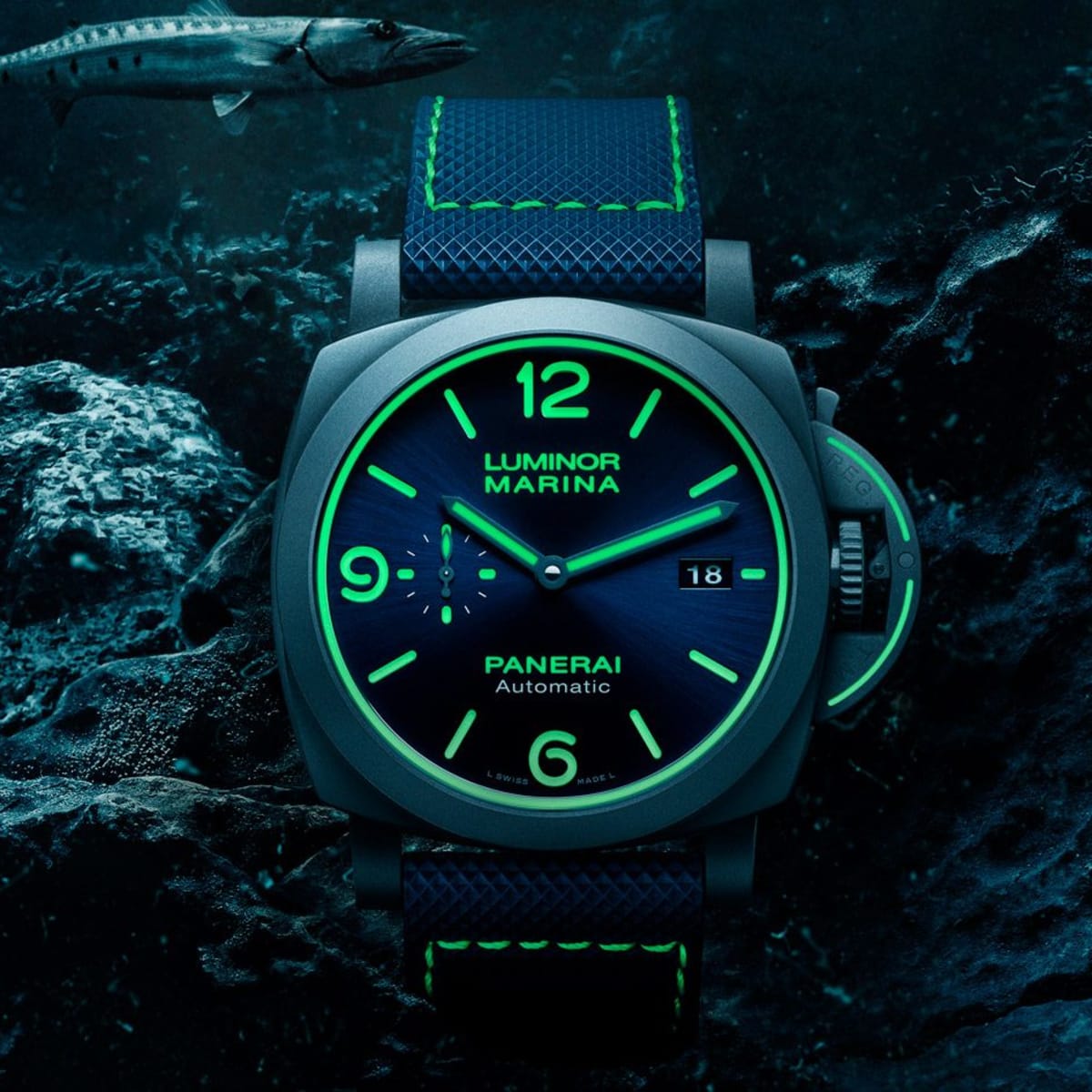 Panerai is deeply connected to nature. What are some of the brand's newest efforts in this sphere.
Last year, we launched the Panerai Ecologica, which was a concept based on saving energy. Preservation of resources is a priority now, and it's also a great value for the younger generation to learn. We at Panerai started an organisation-wide effort to save energy and be more responsible. We take the environment into consideration when we craft our watches, be it in terms of materials, transportation, lighting or other micro details.
We introduced the Ecologica to project this emotion in the way we craft our watches. This included recycling of products and more environmentally-efficient packaging practices. After cases, we extended this to straps, manufacturing them out of recycled bottles, which we call Recycled PET Bracelets, new to Submersibles.
The latest story of recycling elements is of course, the Mike Horn limited edition. He asked "You either make a watch out of the Pangea's shaft [explorer Mike Horn's sailing ship]  or I'm throwing it away". We never thought of recycling a metal like that but we took it back to the factory and studied it. I expected at least 50 watches out of the one metre metal bar, but our experts suggested only five were possible. All in all, we are now aiming to be 100 percent recyclable by 2021, with not only the exterior of the watch but also the movement.
How is Panerai able to offer a 70 year warranty on its watches?
Since I joined Panerai two years ago, I wanted to showcase a more genuine form of craftsmanship and service to our customers. One of Panerai's founding pillars is being a pioneer in concepts. It's about offering what nobody else could. This goes beyond our cases and movements — we aim for this in straps, experiences, services, and so many more emotional dimensions that make our brand different. The 70-year warranty is an expression of this emotion. It's Panerai saying "You're not only buying a watch, but a lifetime access to the world of Panerai".
Material innovation is the cornerstone of Panerai. How does the brand develop these materials?
The mission at Panerai is to introduce one new material every year. We test out dozens at our labs but select just one to represent our brand that year. We come from a military background, where watches weren't designed for beauty but as accessories worn during war, and they'd have to be crafted rigid enough for that. At the same time, these watches have to be light and scratch proof. We will, as we've always, focus on materials that have value in the watchmaking industry. We also select these materials almost exclusively on functionality and not beauty. There needs to be a drive and a purpose for introducing a new material.
What's the story and innovation behind the 3-D printed watch cases and DMLS?
We've seen automakers unveil concept cars at fairs, as a symbol of the brand's innovation. Ten years later, we see that technology turn into a mainstream element in the industry. The very same way, my predecessor introduced an innovative 3D printing technology for tourbillons years ago, expecting it to be a standout in the current watchmaking industry. Carrying this torch forward, we've used the same technology to craft cases. Considering our diversity of case materials, each process is unique, which is why we collaborated with specialised local units for this. We're looking to extend this across the floor for every Panerai material for the future. Bonus, this opens the doors to bespoke watches as well.
What will the watchmaking industry look like post the COVID-19 crisis?
When it comes to luxury watchmaking, the boutique experience plays a major role, which course is halted at each of the 150 stores we have worldwide. It always come down to physical retail but considering the restrictions of the pandemic, it won't be possible anytime soon. E-commerce will be the answer. At Panerai, have always believed in online services. Year-after-year, we've seen a triple-digit growth. Eighteen months ago it wasn't a priority but it has turned into a major channel over time, and now, it will be a centralized one globally.
What have been some of the brand's efforts against this global crisis?
We have ensured that every member of the Panerai family is first safe. Our contribution has mainly been towards our motherland, Italy, one of the worst affected countries. Our facilities in Italy have produced 5 million masks which have been dispatched to hospitals and to those on the front lines.
All images: Courtesy brand