Cristiano Ronaldo is a man that needs no introduction. Whether you're a passionate football fan or someone who has not watched a single match, you'll know who Ronaldo is. The ace footballer has a plethora of incredible, almost superhuman achievements to his name, which is why people all over the world look up to him as an inspiration and role model.
As it happens, Ronaldo also loves exquisitely designed watches. So, it shouldn't really surprise anyone to see Jacob & Co. gift him a special watch that is inspired by his life's achievements. Ronaldo's latest addition to his exquisite watch collection is a custom timepiece with a price tag that will baffle many. What's even more incredible is the fact that this new timepiece isn't the most expensive one in his possession.
Ronaldo's new watch: A special gift from Jacob & Co.
Jacob & Co. has been doing partnerships with the Al-Nassr footballer in the past, the last astonishing one being a timepiece encrusted with 389 gemstones. That watch was worth a whopping USD 770,000 (INR 6.28 crore).
As Ronaldo is the brand ambassador for Jacob & Co, this special watch was gifted to him to celebrate the opening of the luxury watchmaker's first store in Saudi Arabia. Known as the 'Heart of CR7 Baguette', wristwatch connoisseurs too will consider this Ronaldo watch as being quite special.
Cristiano Ronaldo's new watch comes with a hefty price tag
View this post on Instagram
The 'Heart of CR7 Baguette' is a custom timepiece that's part of a new collection celebrating the iconic moments from Ronaldo's career.
It's valued at a whopping INR 94.5 lakh and boasts a unique design with exposed gearing and a diamond-laden exterior. The dial has the Al-Nassr star's plaque representing the iconic moment from his 2013 Champions League match against Manchester United. The frame is covered with 26 baguette-cut white diamonds that beautifully complement the green ring around the dial.
The 'Heart of CR7 Baguette' is part of a special collection which consists of four watches. These include 'Flight of CR7 Baguette' that's finished in rose gold and has a red strap and is priced at USD 145,000 (INR 1.19 crore approx.). The final two wristwatches, 'Flight of CR7' and 'Heart of CR7', are more affordable in comparison, the primary reason being the lack of diamonds used in their design. They will cost USD 56,000 (INR 46 lakh approx.) and USD 28,000 (INR 23 lakh approx.).
What about the rest of Ronaldo's watch collection?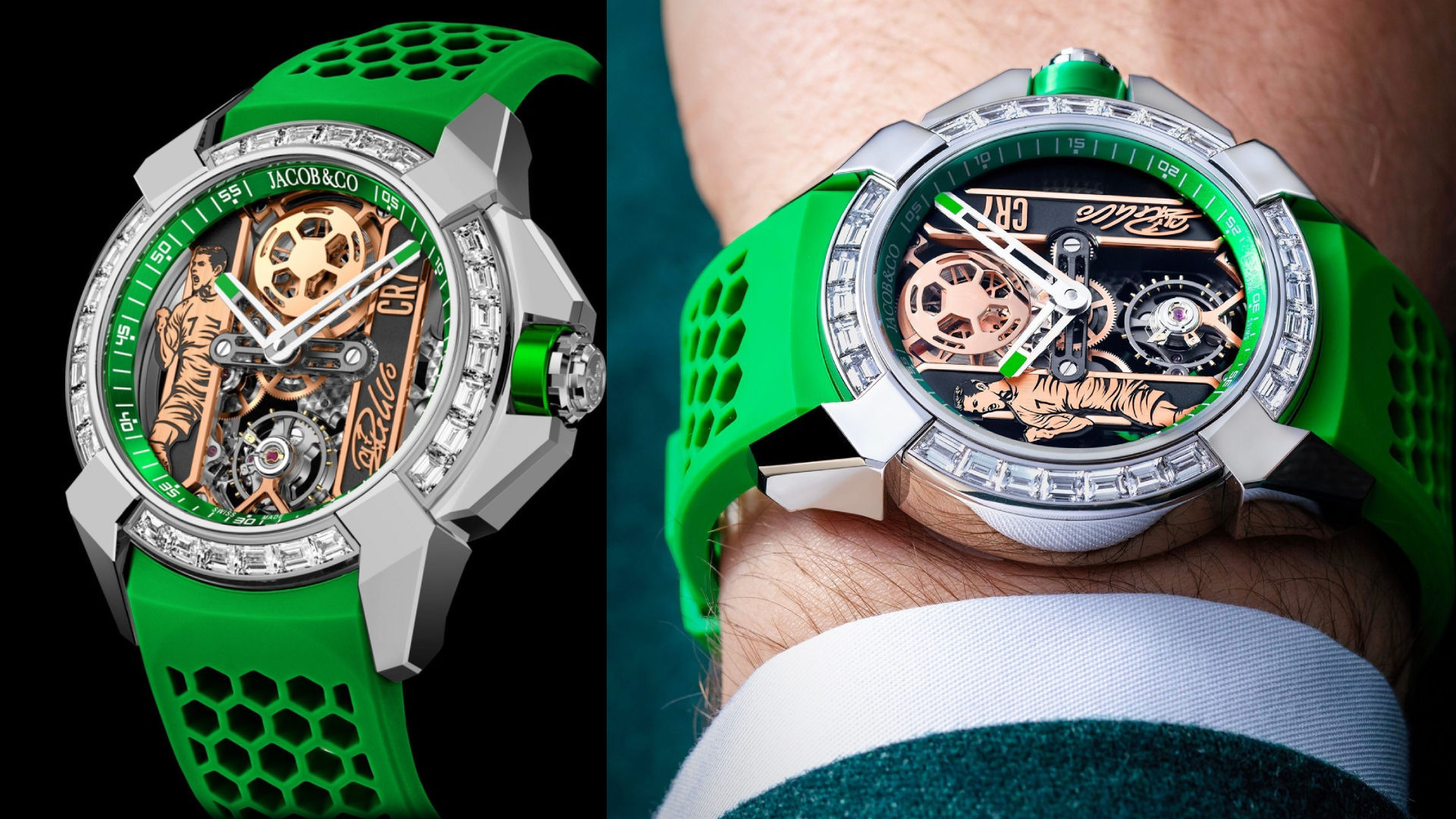 Ronaldo's watch collection includes some truly iconic (and expensive!) timepieces. These include the Breguet Classique Grande Complication Double Tourbillon, Hublot Masterpiece MP-09 Tourbillon Bi-Axis King Gold, and the Girard-Perregaux Planetarium Tri-Axial.
Hero and Featured images: Courtesy @jaconandco, @cristiano/Instagram
This story first appeared in Augustman India.
Frequently Asked Questions (FAQs)
Question: Which is the most expensive watch owned by Cristiano Ronaldo?
Answer: The most expensive watch owned by Cristiano Ronaldo is a Girard-Perregaux Planetarium Tri-Axial worth USD 2 million (approximately INR 16.4 crores).