Porsche's second most powerful production vehicle now is a Panamera. More specifically, the 2021 Panamera Turbo S E-Hybrid.
Launched alongside the 4 E-Hybrid and more 'traditional' 4S, the Turbo S E-Hybrid is an even bigger four-doored force to be reckoned with, especially now that it's been outfitted with a potent 563 hp 4.0-litre twin-turbo V8 (13hp more than its predecessor). That's already plenty for a full-sized luxury vehicle, but the Stuttgart manufacturer also paired it with an updated 134hp electric motor that pushes that number up to a ludicrous 689hp and 870Nm of torque, making it — very easily — the most powerful Panamera ever made.
If you're getting the sedan and Sport Turismo wagon iterations, you'll get from stationary to 100kph in a mere 3.2 seconds, while the longer wheelbase Executive model will do the same in 3.1 seconds. Whichever you decide, the Panamera Turbo S E-Hybrid will oblige a top speed of 315kph with nary a complaint.
A newly designed front end differentiates this beast from the rest, namely from its C-shaped Turbo front light modules, larger side air intakes, as well as a revamped light bar at the rear that now runs seamlessly over the luggage compartment lid with an adapted contour.
The 4 E-Hybrid's 2.9-litre twin-turbo V6 might not be able to compete with its bigger brother's brawn with only 455hp, but it's still mighty fast considering it gets from zero to 100kph in 4.4 seconds, before maxing out at 280kph. This can be credited to the increased capacity of the high-voltage battery within, which has grown from 14.1 to 17.9kWh thanks to the use of optimised cells and better energy usage for the different driving modes.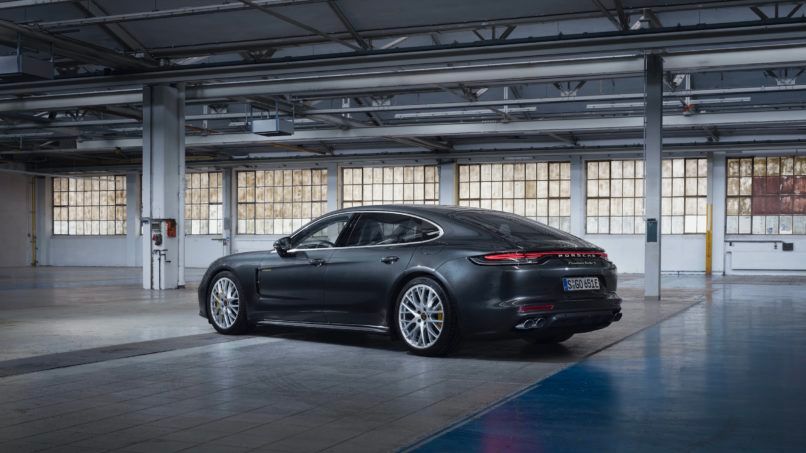 This model is also available as a sedan, Executive and Sport Turismo versions, and can be charged at home — either via a standard 120V outlet or a 240V outlet — or with the standard Porsche Mobile Charger.
If you're still a firm believer in good ol' fashion grease, the 2021 Panamera 4S has been updated with 443hp (up from 440hp) with the same 2.9-litre V6 twin-turbo engine. The gas-powered four-door might be less powerful than the 4 E-Hybrid but it's actually a hair quicker down a straight, doing 0-100kph in 4.1 seconds and topping out at 295kph.
It's not all speed and power for the new Panamera models though; agility and comfort still remain at the forefront, with a new generation of steering control calibration and new tyres to improve the driving dynamics even further and with greater handling precision. Opt for the flagship Panamera Turbo S E-Hybrid, and you'll get all available chassis and control systems as standards, such as the Porsche Dynamic Chassis Control Sport electric roll stabilization system, which includes Porsche Torque Vectoring Plus and even rear-axle steering with Power Steering Plus.
Inside, the Porsche Communication Management has been improved with higher display resolution and is now capable of additional digital functions and services — think better Voice Pilot online voice control and wireless Apple® CarPlay.
The new Porsche Panamera models are available to order now and will be in dealerships from the beginning of December.
Find out more here.
This story first appeared on Lifestyle Asia Singapore.