Behold, the Rolls-Royce Boat Tail. Why would anybody spend $28 million (Rs 202 crore) on a car that resembles a boat? Read on to find out!
We all know that the Spirit of Ecstasy has always been the true pinnacle of luxury for decades in the automobile world. Every coach that leaves their sheds in Sussex bears a badge that represents absolute excellence of mechanical beauty and modern architecture. However, every once in a while we see a special project, which goes further than their already-existing high standards of luxury. In 2017, we saw the Sweptail and today, we have another spectacle. This nearly six-meter long grand tourer called the Rolls-Royce Boat Tail is an absolute treat for nautical enthusiasts and well, those who prefer weekend picnicking by the lake in style. More so, it's the new world's most expensive car. Here's why.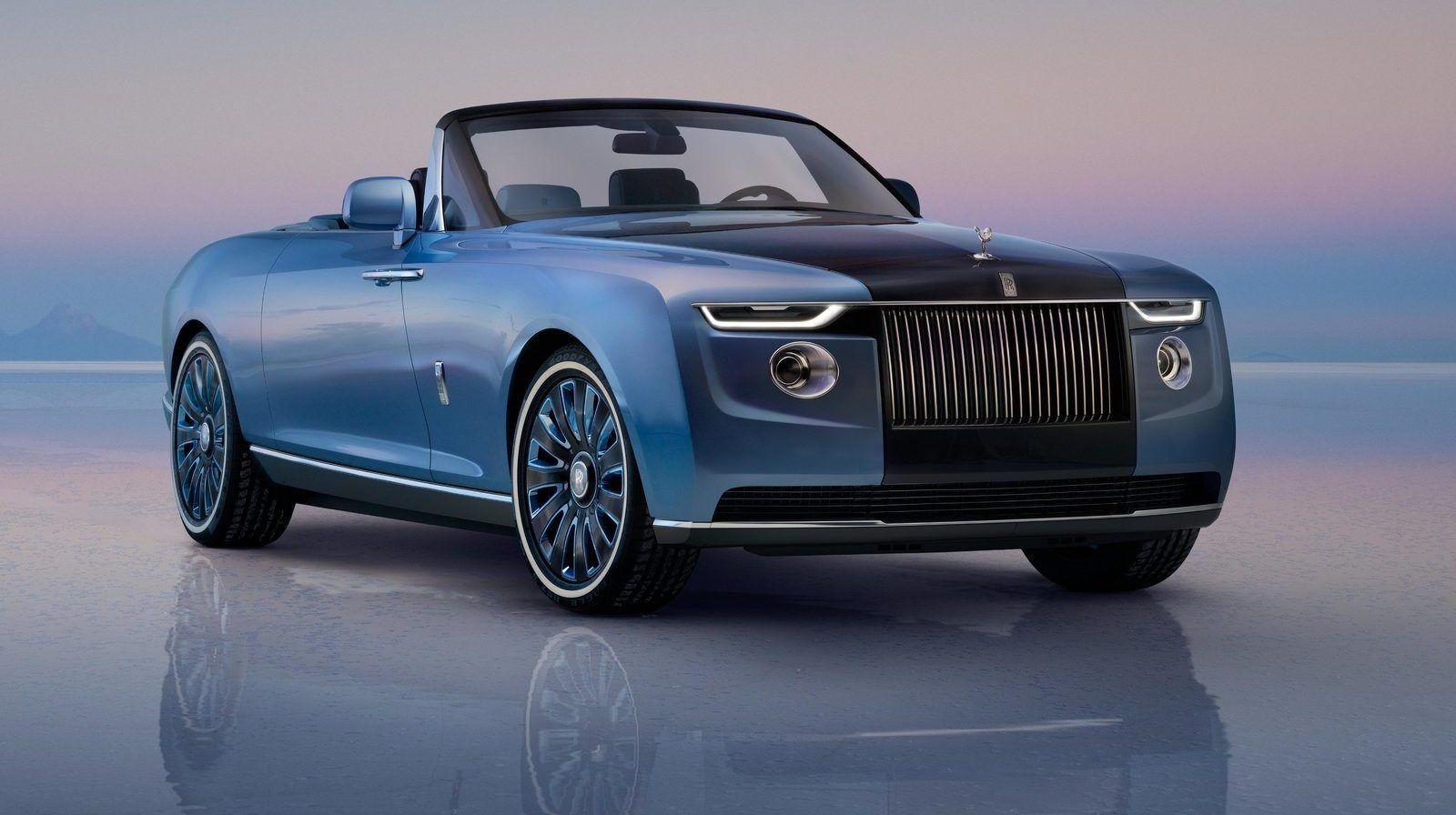 In case you're wondering, this special project comes as a part of Coachbuild. What is Coachbuild? Well, succinctly put, it's RR's response to the question, "How can I spend more money on a car?". To the front, it might look like a futuristic Phantom but the real magic is at its rear. Inspired by J-Class racing yachts, we've heard it said that the clients who commissioned this project also own the original 1932 Rolls-Royce Continental Boat Tail. Which too, is being restored to complement its new Rs 202 crore companion.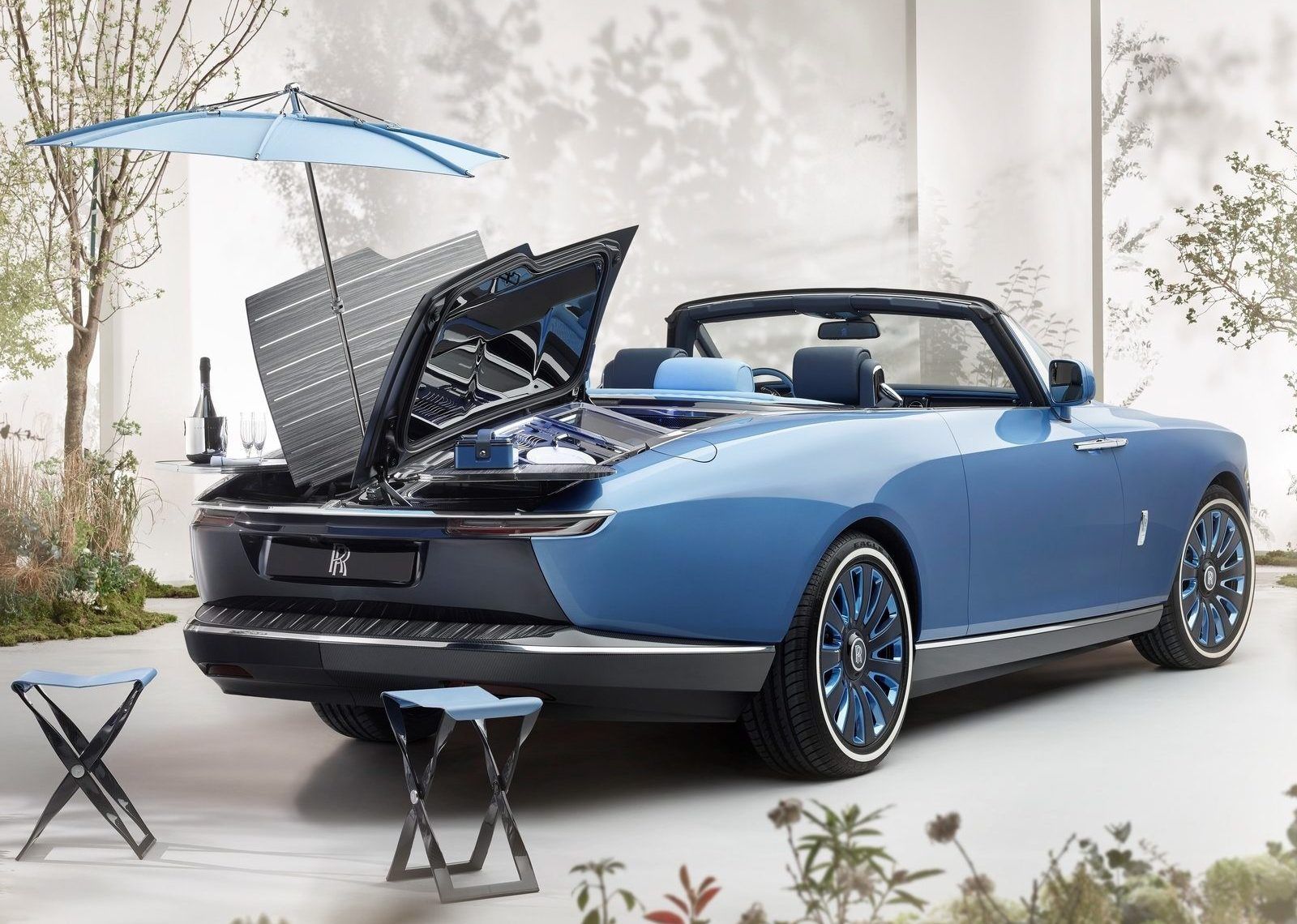 With a Phantom Drophead-like body that boasts a scalable aluminium spaceframe architecture, the trunk is replaced by power-operated, Caleidolegno wooden butterfly doors that conceal a hifalutin picnic setup. This comprises custom-designed stools from Italian furniture maker Promemoria, cutlery from Christofle in Paris, and a telescoping parasol which is a Rolls-Royce sun umbrella. You'll also see a customised dual champagne cooler that houses the patron's favourite Armand de Brignac vintage and a special onboard fridge to keep the caviar chilled. To support all of these complex requirements and systems of the hosting suite, a unique electronic treatment was required. Five electronic control units (ECUs) were created for the rear of the car alone. Yes, five computers just for that picnic set.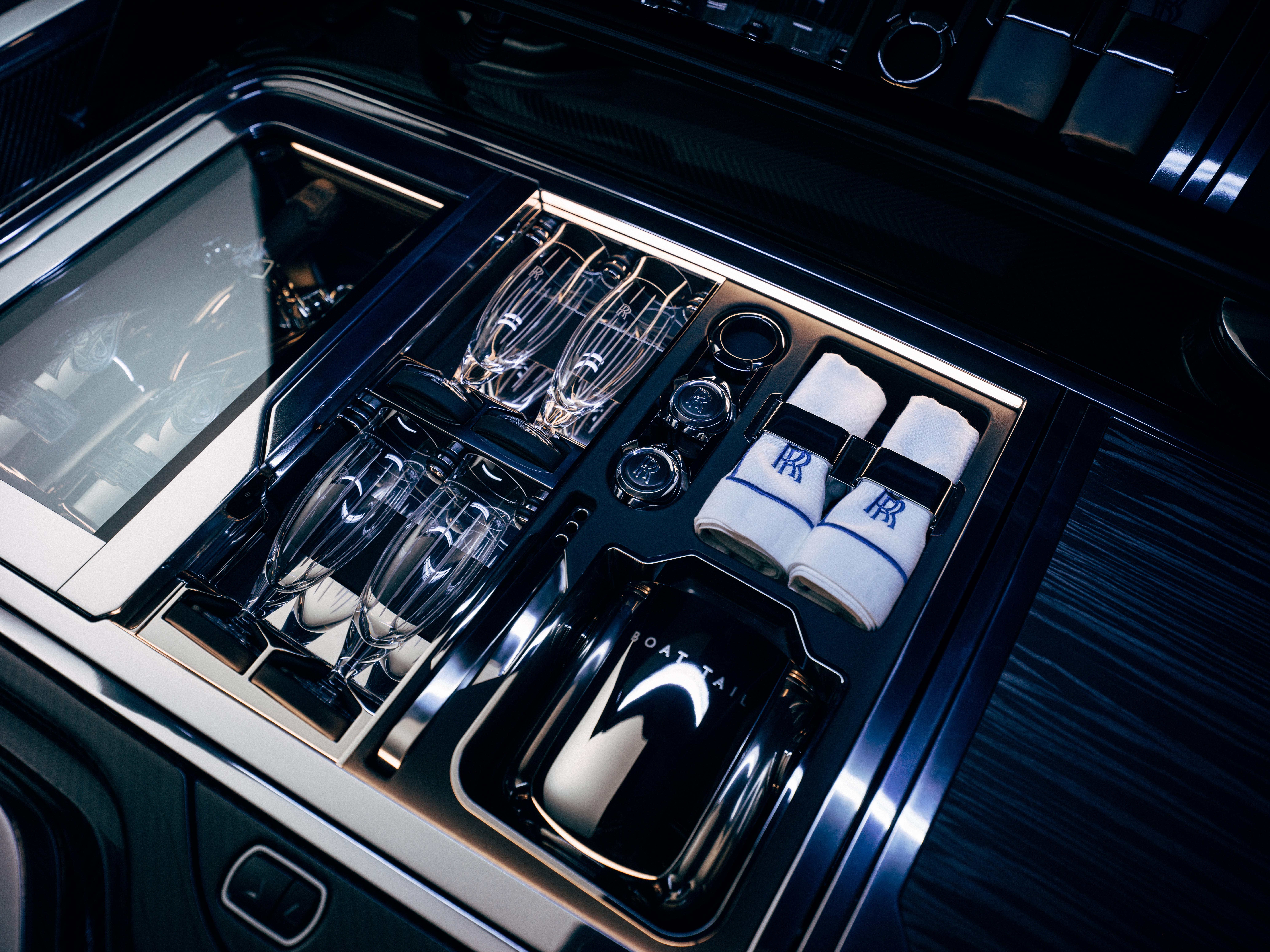 You must be wondering, if the trunk is stuffed with picnic supplies, where does the convertible hood go? The answer is, there isn't one. So you might want to be a bit worried if you see a dark cloud over your picnic spot. RR fitted a device called a "static transitory shelter," which is simply a raincoat-like cover to aid this. "What you see here in the back is probably, technically, the most refined picnic facility on Earth," stated Torsten Muller-Otvos, CEO of Rolls-Royce Motor Cars.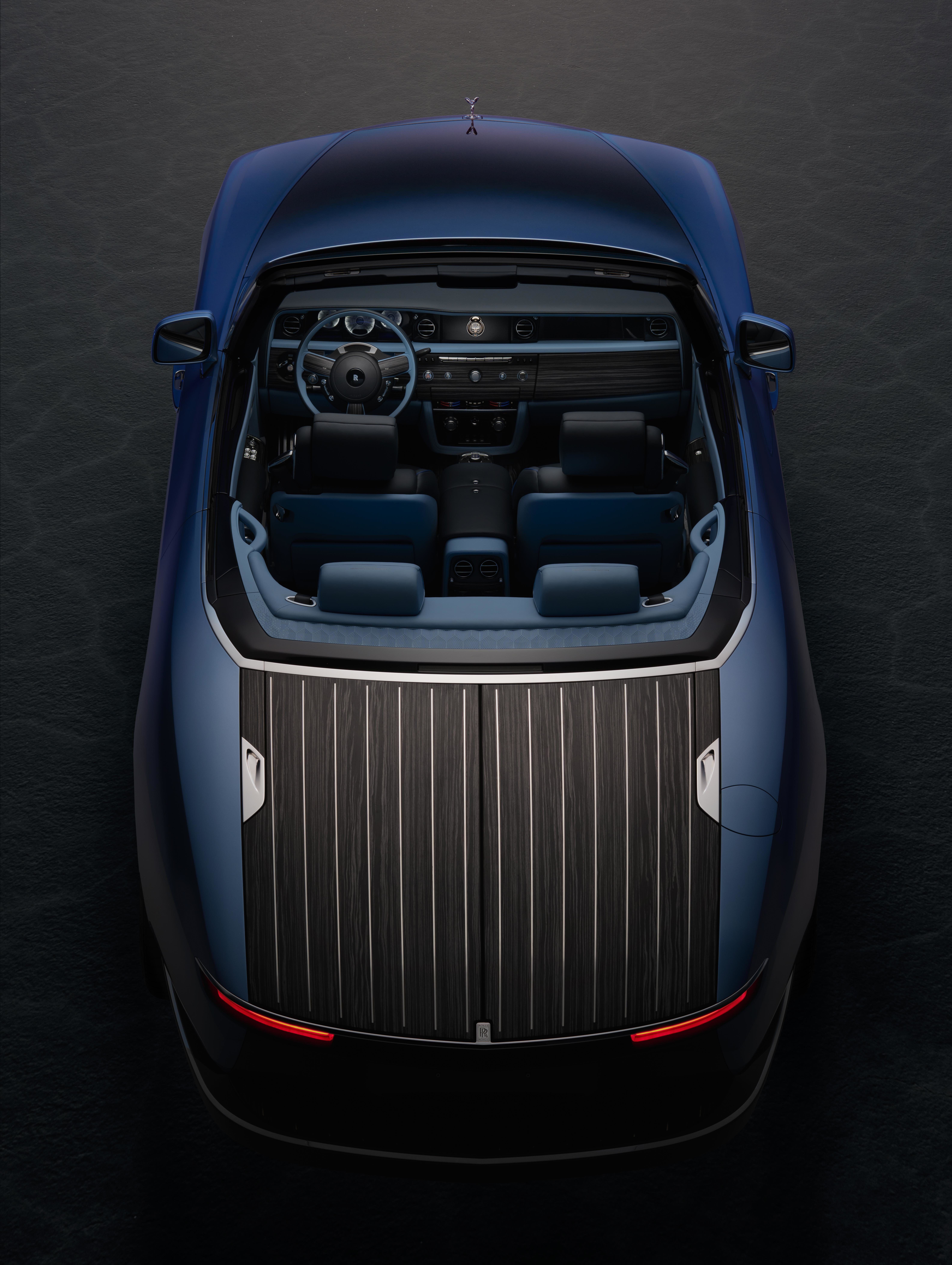 Now that you know what's in the trunk, let's talk about the cabin. The car houses 1,813 new and bespoke parts, even the audio system wasn't spared. There's a 15-speaker setup that uses the whole floor structure as a resonance chamber. Since the owner of this luxury picnic chariot also collected Bovet 1822 watches, they made him/her one to match his new ride. Rolls and Bovet developed two tourbillon timepieces that can either be worn on the wrist or mounted on the Boat Tail's dashboard.
I never thought I'd say this, but its V12 is perhaps the least exciting area of this automobile. For its countryside touring, it uses the same engine of the Cullinan, Phantom and Black Badge – A 6.75-litre V12 bi-turbo engine that can produce the power of 563 English ponies and up to 900-Nm of torque.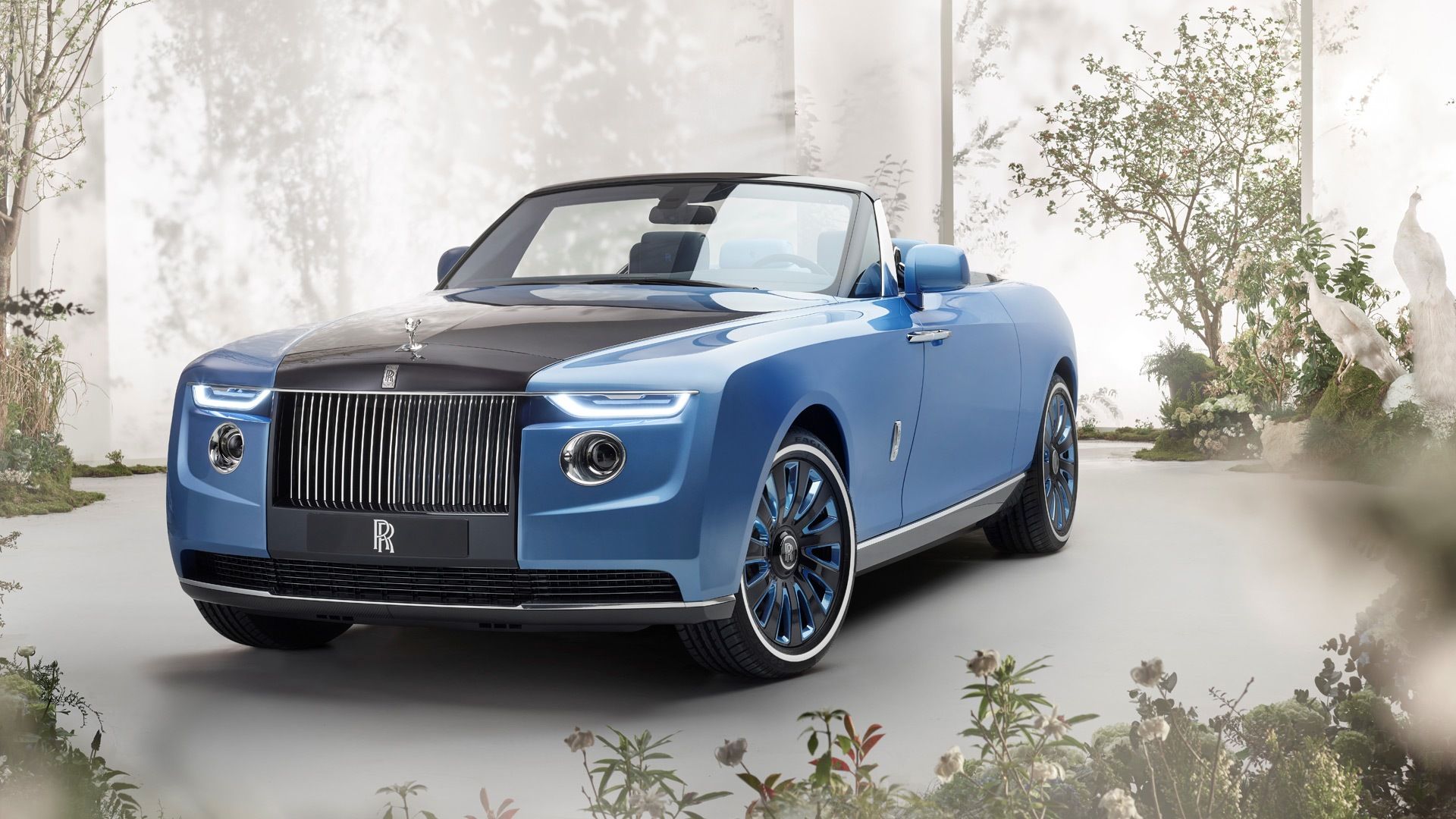 Considering the degree of bespoke treatments here, right from the extravagant picnic set to the Bovet 1822 on the dashboard, it's certainly difficult to point at a particular price or even a ballpark for that matter. A comparison model for this simply doesn't exist. More so, counting the preliminary engineering phase, before the commencement of production, a total of over 20 collective years were expended.
Let's factor this together – 1,813 bespoke units, a highly complex and lavish picnic set, a five-computer system to support that and the hours of R&D that went into its making, the spaceframe architecture of its body and its R&D hours, an exquisite Bovet 1822 on its dashboard and an English V12. This adds up to a hefty Rolls-Royce invoice of $28 million (Rs 202 cores). That's nearly the equivalent of 22 top-end Rolls-Royce Phantom VIIIs.
All images: Courtesy brand