Meta-owned Instagram has been constantly adding new and exciting features for improved user experience. As more and more users continue to join the platform through 2023, Instagram is rolling out updates for creators, influencers and everyone for whom the app provides an opportunity to express themselves better before the world.
In the last few years, Instagram has moved away from being a purely photo-sharing app to one where Reels and Stories are drawing more and more Gen Z users. Everything from travel, food and fashion to health and fitness, creators have turned the platform into an additive destination for those looking for the latest trends.
Reels have especially given Instagram a major boost in content diversity and user base. Many users have turned into overnight stars owing to the popularity of their reels. Keeping creators in mind, Instagram launched or started testing an array of features in 2022 to help them reach out to wider demography, make their content more engaging, create content seamlessly and earn more for their work.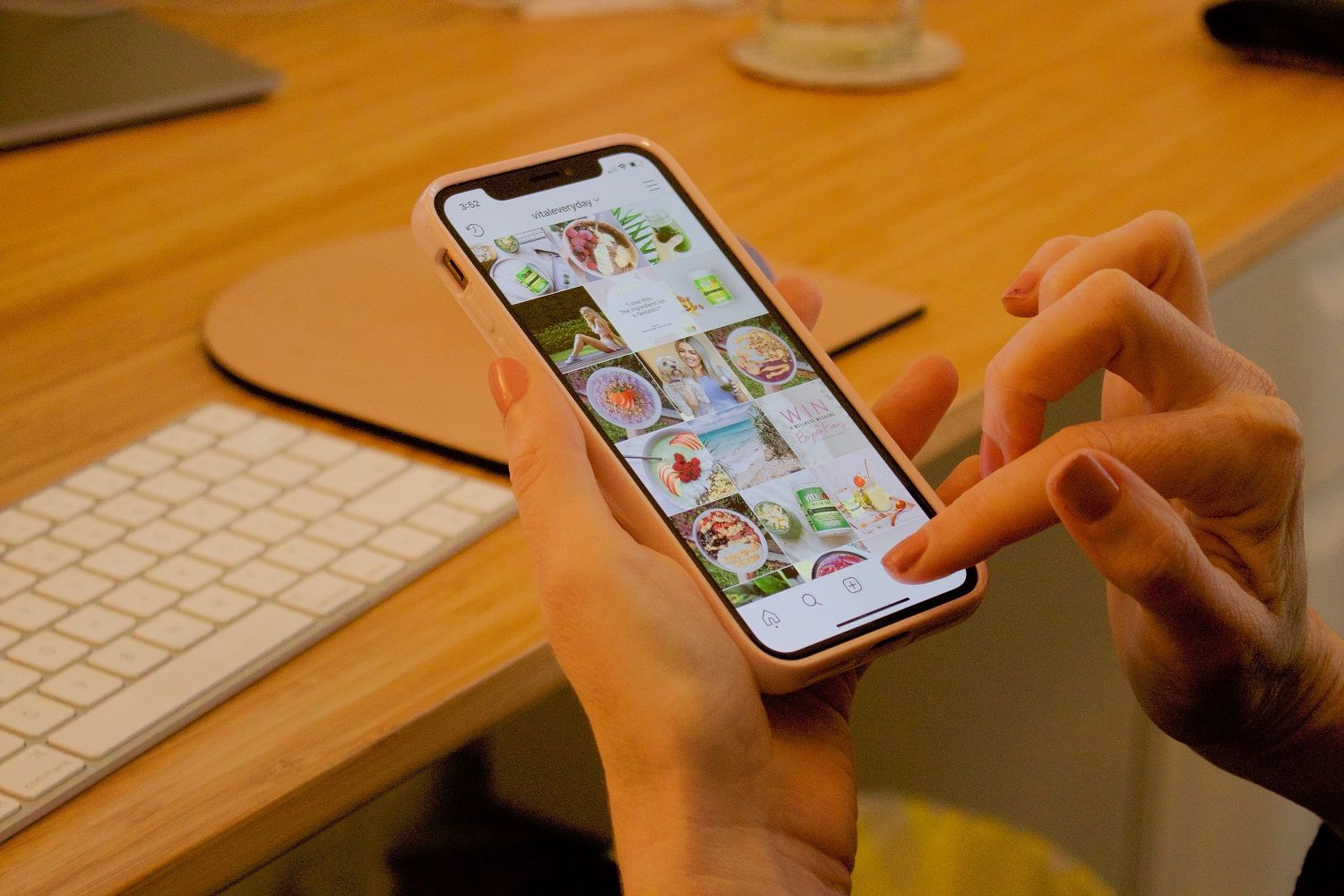 Features such as Gifts helped creators receive rewards from fans. They could also create digital collectibles, or non-fungible tokens (NFTs) for trade on the platform. Gaining special 'achievements' by doing specific things such as creating content in collaboration with another creator through Collabs tool was also among other things.
With the Dual feature, creators can now use both the front and rear cameras simultaneously to make a Reel. Further, content can now be scheduled for publication at a later time and date for up to 75 days. The ability to re-share posts in Feed like that in Stories was also introduced.
Instagram also brought in remixed videos, 3D avatars in Stories and DMs, and the ability to 'like' a Story among the many new features through 2022 for both Android and iOS users.
As Instagram becomes larger in terms of user base alongside an increasing number of influencers on the platform, it is expected that 2023 will see feature updates that focus on content creation.
Instagram updates 2023: Which feature is in and out
Download Reels videos directly from app
On 20 June, Instagram head Adam Mosseri announced on his broadcast channel that users based in the US will be able to download Reels straight from the app onto their camera roll. Only the Reels from public accounts will be available for download. Owners of the public accounts will be able to turn off the ability, preventing anyone from downloading their Reels.
Users will be able to download Reels by tapping on the share icon and selecting the 'Download' option. There is no clarity on whether the downloaded Reels will carry a watermark or logo of YouTube, similar to the downloaded videos on its rival platform TikTok. But according to TechCrunch, Mosseri posted a picture during the broadcast showing the Instagram logo with an account name on a downloaded video.
Meta verified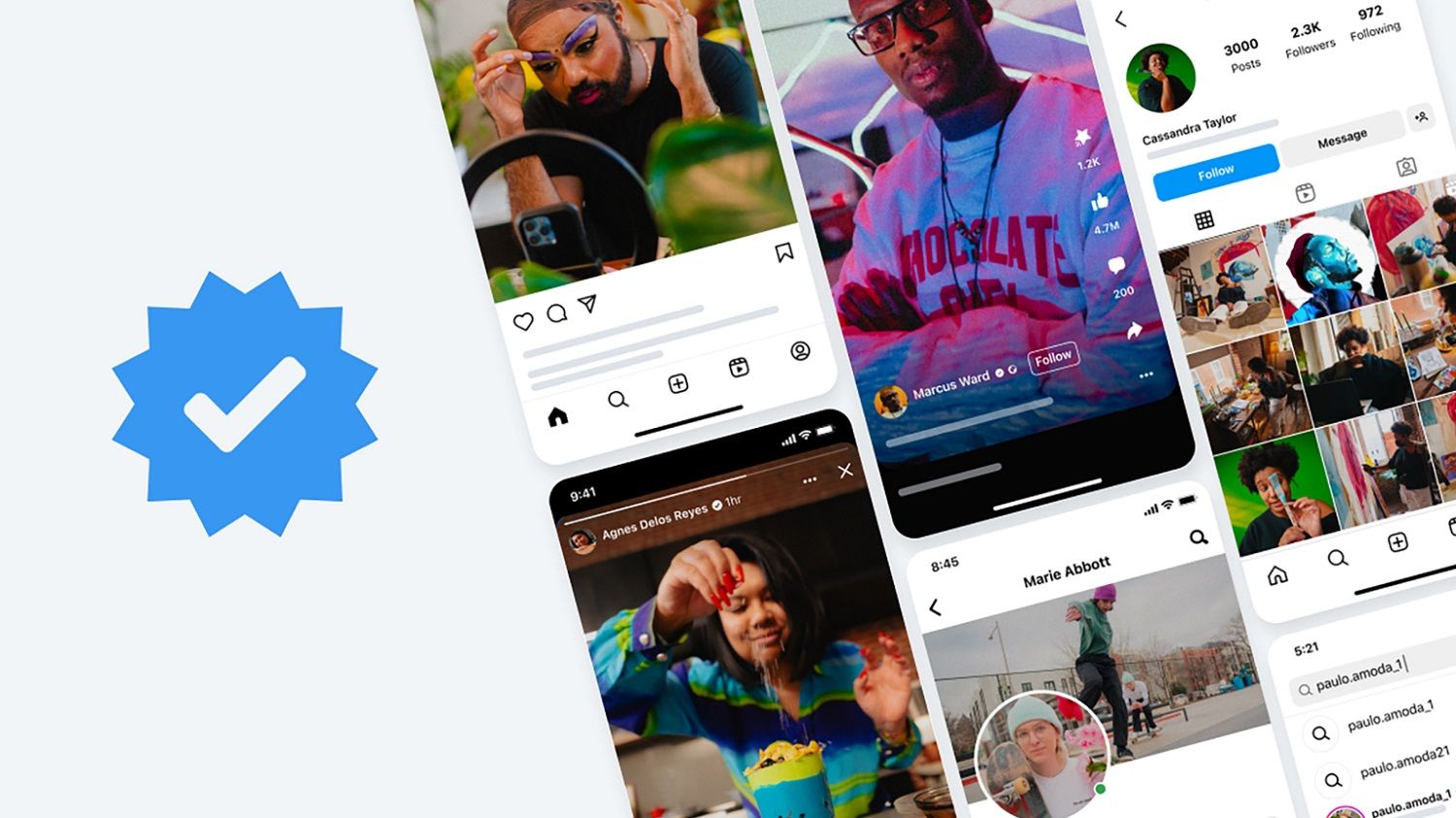 On 19 February, Meta CEO Mark Zuckerberg announced that the company will start testing Meta Verified, which is a subscription bundle for users on Instagram and Facebook. With this feature, subscribers can get their accounts verified with a government ID.
The subscription also grants users access to account support, more visibility, increased reach, exclusive Stickers for Stories and proactive account protection, among other advantages.
Testing began in Australia and New Zealand. At the time the company said that it "soon" hopes to bring the service to other countries. By 7 June, Meta Verified was made available in India, Brazil, Canada, the UK and the US beside a full launch in Australia and New Zealand.
In Australia, Meta Verified is priced at AUD 19.99 (around Rs 1,106.76) on the web and AUD 24.99 (around Rs 1,383.59) on iOS and Android. It costs NZD 23.99 (around Rs 1,225.17) on the web and NZD 29.99 (around Rs 1,531.59) on iOS and Android in New Zealand.
In India, Meta Verified is priced at Rs 599 on the web and Rs 699 on iOS and Android. The service costs USD 11.99 (around Rs 990) on the web and USD 14.99 (around Rs 1,237.5) on iOS and Android in the US while the costs for the same platforms are GBP 9.99 (around Rs 1,027) and GBP 11.99 (around Rs 1233), respectively, in the UK.
Broadcast channel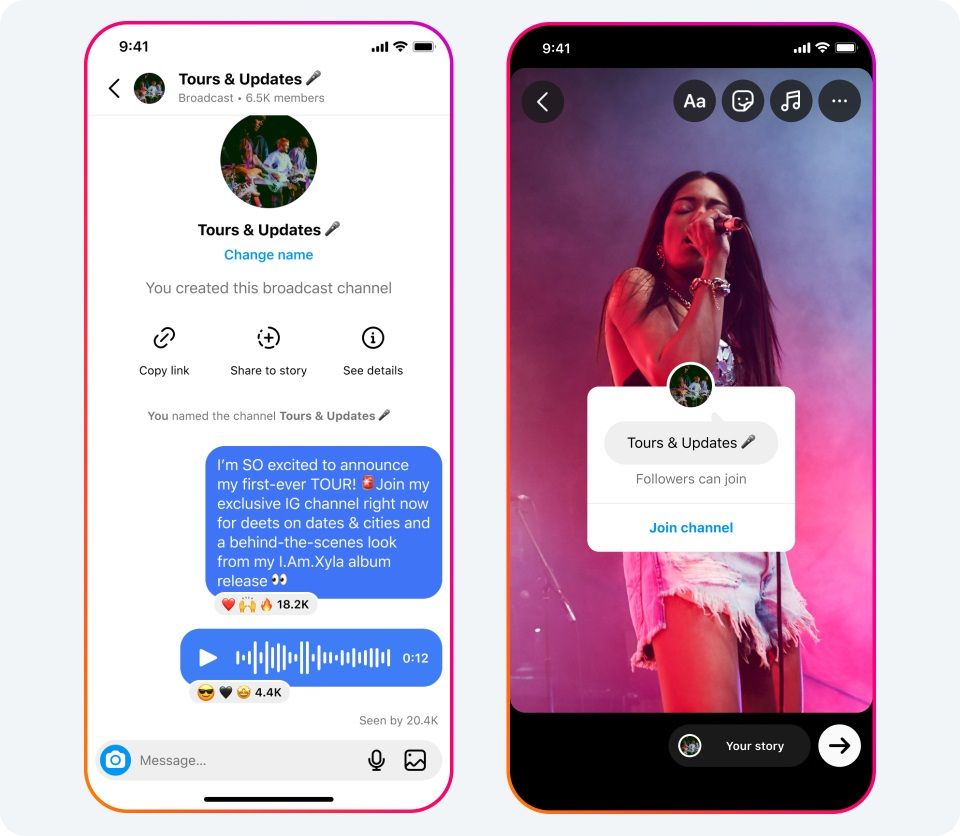 Broadcast channels are designed like a messaging tool that allows creators to share text, photos, voice notes and videos with all of their followers directly. Followers can access the broadcast channel of their favourite creator and participate in polls and react to content. Only the creator will have the right to share messages on the broadcast channel.
Anyone can find and view the contents of a broadcast channel on Instagram. However, only those who are followers of the creator — to whom the channel belongs — will be able to join it. Followers can control notifications about new content broadcast channels and can leave or mute the channels.
Followers of a creator will get a one-time notification when the creator launches a broadcast channel. There will be no other notifications unless followers add the channel to their inbox, where it will appear among other message boxes.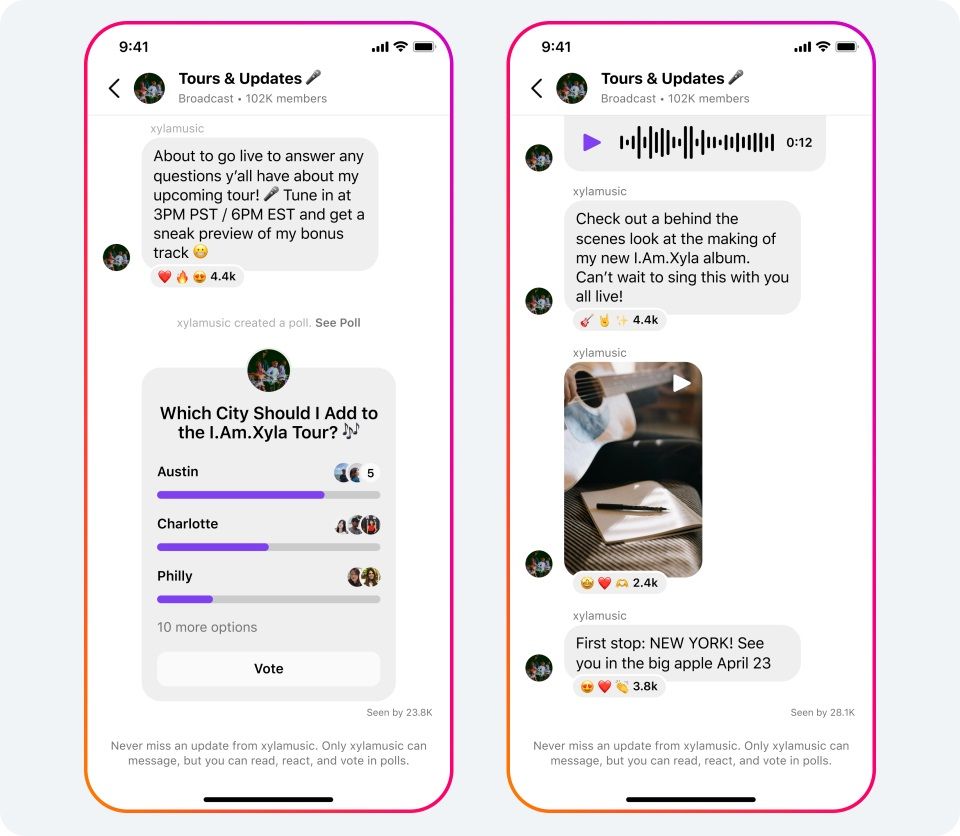 In its announcement, Meta said that among the additional features broadcast channels will get in the coming months is the ability to add another creator to the channel for discussions on collaborations or 'ask me anything' sessions.
The broadcast channel feature was launched on 16 February on a test basis with 14 Instagram creators in the US. The announcement was made by Zuckerberg via his own broadcast channel named Meta Channel. Meta said that the feature will also be tested on Facebook and Messenger in the coming months.
Dynamic profile photo
On 24 January, Instagram launched the dynamic profile photo.
Simply put, users on Instagram can now showcase both their avatar picture and a non-avatar picture as profile photos. Anyone who visits the profile will be able to flip between the two pictures. To make it more exciting, the avatar photo is animated and performs a quick wave each time it is viewed.
New profile pic, who this?

Now you can add your avatar to the other side of your pic — and people who visit your profile can flip between the two 🪙 pic.twitter.com/hEyzW4G19W

— Instagram (@instagram) January 24, 2023
Before the update, users could only show either the avatar or their non-avatar picture, the latter of which usually is of their real selves. The avatar photo can be added to the existing profile photo from the 'Edit Profile' button.
Quiet Mode
The Quiet Mode is the latest feature to be added to Instagram. The company said in a blog post on 19 January that the feature will "help people focus when they may want to most."
Encouraging users to turn on the feature, Instagram said that enabling it would prevent notifications from coming in and the profile activity status will change to 'In quiet mode.' An auto-reply will be sent to those who DM the users who have enabled the feature.
View this post on Instagram
Instagram suggests that the feature is particularly aimed at teenagers.
"Teens have told us that they sometimes want to take time for themselves and might be looking for more ways to focus at night, while studying, and during school," reads the blog.
The mode is customisable, which means that users can set the hours they want to be undisturbed. A summary of notifications that users may have missed during their quiet time will be delivered to the account once the feature is turned off.
The feature was rolled out for all users in the US, the UK, Ireland, Canada, Australia, and New Zealand on the day of launch. Instagram said that it will be available in other countries soon.
Control over recommendations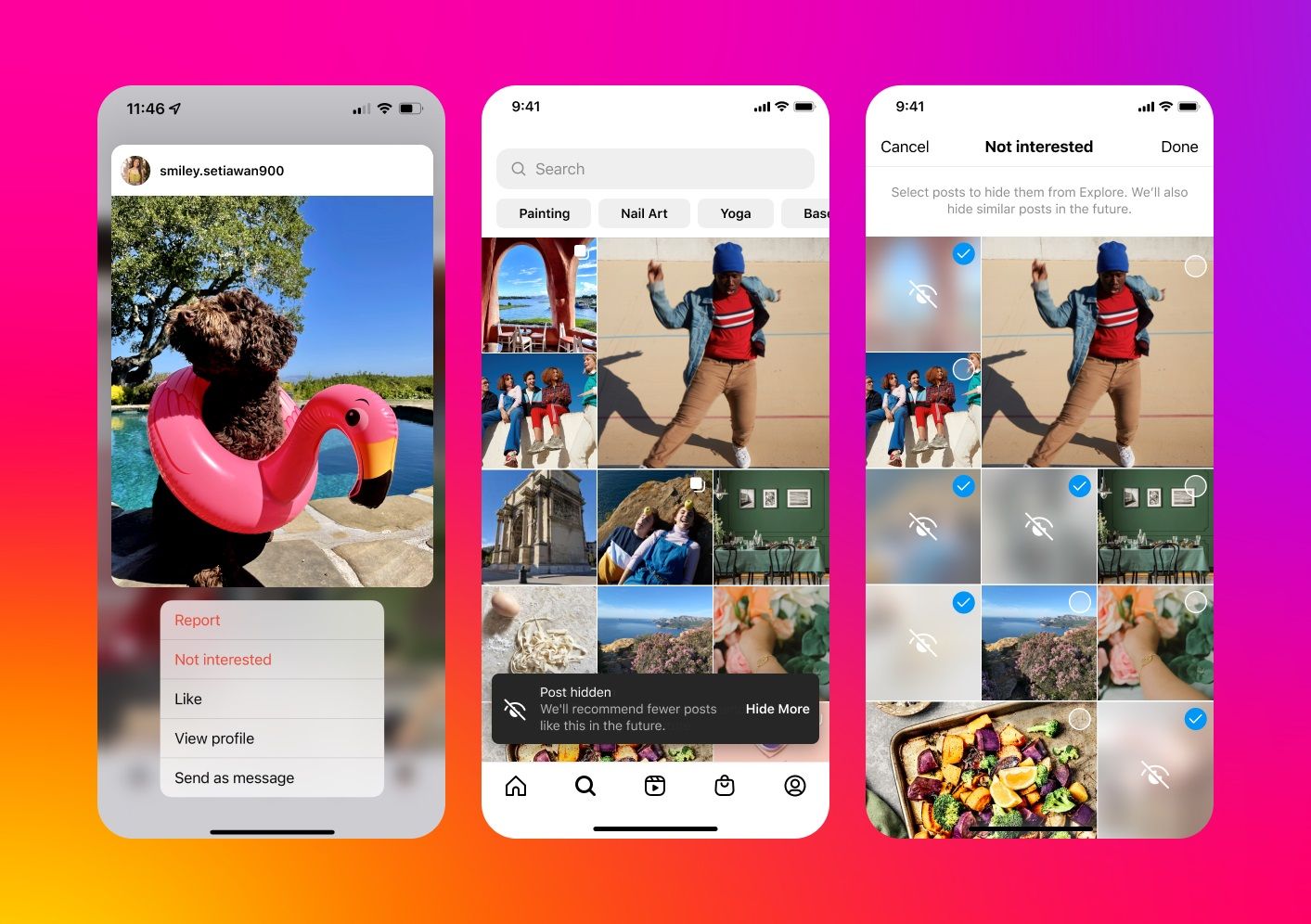 Instagram also announced on 19 January a series of new controls over the content one sees in their feed.
Users can now hide multiple pieces of content in Explore at a single time. They can also select "Not interested" on a post and Instagram won't show them the type of content in places such as Reels and Search.
The platform also extended the ability to hide content containing specific words to recommended posts across Instagram. The ability was till now available only for comments and DMs. Users can create their own list of words in the Hidden Words section of Privacy settings. Instagram won't show them content if the mentioned words are in captions or hashtags.
Navigation system change and removal of the Shop tab
In the first major update of the year, Adam Mosseri, Head of Instagram, revealed a change in the app navigation system in a video on 10 January. He confirmed that the Shop tab within the app will no longer be available from February.
"But you'll still be able to shop on Feed, in Stories, in Reels and in ads," Mosseri said.
📣 Navigation Update 📣

The navigation is changing in February to make it easier for people to create, be entertained and connect with friends over the things they love.https://t.co/9tR4kIH9d0 pic.twitter.com/DwinENhku7

— Adam Mosseri (@mosseri) January 10, 2023
Speaking about Instagram's new navigation system, he said that users will now be able to see Home, Search, Create, Reels and Profile tabs in that order on the Meta-owned platform.
"The idea here is to simplify Instagram and focus it more on what we're trying to do," said Mosseri, adding that the aim is to "bring people together over what they love."
(Main image: Courtesy of Deeksha Pahariya/@ahskeed/Unsplash; Featured image: Courtesy of Benyamin Bohlouli/@benyamin_bohlouli/Unsplash)