Working from within the four walls of your home for long periods of time can be a test of anyone's patience. Workations, therefore, come across as that reprieve you need. Here is a list of great places where you can indulge in that change of WFH venue, yet stay connected and well taken care of with a great hospitality establishment.
Note: While each establishment has strong sanitisation and safety measures in place, do call and make your enquiries before booking.
Coorg
This resort is offering workation packages of 10 days, a week, and five days for a couple and single occupancy. It is inclusive of meals – breakfast (Indian and Continental) and thali meals for lunch and dinner. The a la carte menu is available at additional cost. Considering the weather in Coorg, the room are non-airconditioned. Guest temperatures are recorded daily, and wearing a mask outside the room is mandatory. All requirements to enable seamless working are available. On arrival, guests will have to furnish a declaration form as being COVID-free and will have to download the Aarogya Setu app. 
Saklespur
Four independent cottages on an estate exclusively for families. You will be in the heart of nature, waking up to sounds of birds and fresh coffee. The food is homely and satisfying, and the cottages are colour-themed. You can work from the balcony of your cottage, on its doorstep, or in the common area by the dining room. Packages are available for six nights and seven days, inclusive of meals and coffee/tea three times a day as well as for 12 nights and 13 days. For Internet usage, Jio and Airtel signals are strong going up to 10MBPS speed.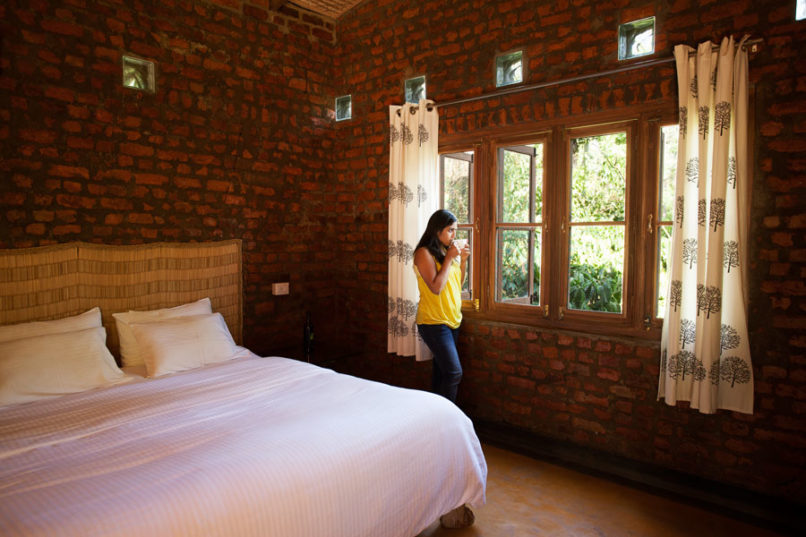 Golden Wood is in the heart of the coffee estate region of Saklespur. This 800-acre property has eight rooms and four separate cottages, ensuring minimal contact among guests without compromising on your space. Working guests are allotted rooms where Internet connectivity over Wi-Fi is the strongest (especially considering the property is connectivity free otherwise). There are also designated workation spots that are apart from the room. The food served is classic Malnad. Several packages can be discussed with the good folks of Golden Wood.
Mysore
The Solitude Farm is located on the outskirts of idyllic Mysore city, on the banks of a canal. The homestay equipped with a pool, three rooms, and a recreational area perfect getaway for family and friends. Wi-Fi connectivity and a quick drive to the city centre ensures that you can be immersed in nature yet connected. The produce is all locally-sourced within a five km radius from farm-fresh vegetables to the famous Bannur lamb. The property has specially designed areas that ensure you can stay connected to work while enjoying expansive green views and the quiet symphony of the resident birds. Packages, including all meals and unlimited coffee and tea, are available. 
Bengaluru
The Courtyard is in an 80-year-old traditional Bangalore home with verandahs and red oxide flooring, with a café on the ground floor and an all-day beverage counter. It is also a pet-friendly space and can also be utilised for meetings/breakout sessions. There are two main units of approximately 450sqft available. Each unit can hold three-four people and has one double room, one single room, pantry space, and one bathroom. The floor plan is flexible enough to use both units separately or as one larger unit if needed. 24-hours Wi-Fi is available as well as access to outdoor working options. Tariffs are available for per day, weekly, and monthly stays.
So close to the city, yet such a brilliant escape from it. That's perhaps the best way to describe this green oasis not too far out from Bengaluru. With four rooms available amid a lot of greenery, space gives you everything you need to work comfortably. Good Internet connectivity, a lovely outdoors, a pool, and even a recreation room should you want to shoot some pool. The food is exceptionally good – think wood-fired pizzas, homemade sourdough and cream cheese, indulgent carrot cakes, and much more. Packages can be tailored to suit your needs; all you have to do is connect. 
Being situated in the outskirts of Bengaluru amidst nature's lap, the resort gives you a much-needed break from boredom and stress. The resort is well-equipped with executive premium rooms and suites, Wi-Fi, fixed menus, indoor and outdoor sports facilities that will keep you rejuvenated and relaxed throughout your stay. The property is taking expert advice and guidance from the Infection Prevention and Control team at SIPC (South India Pest Control) to enhance the resort's cleaning disinfection protocols. The workation packages come with great offers on F&B, rooms, sports facilities, and more. 
DoubleTree Suites by Hilton, Bengaluru welcomes you to experience the 'Great Small Breaks', ranging from an overnight stay to a week. For double occupancy, guests can enjoy the inclusions of breakfast, Wi-Fi, hotel credit, early check-in and late check-out, a host of discounts on F&B, laundry, transfers, free date changes, and no cancellation fees. There is a Day Use Work Package as well called the Work from Clean and Safe Room. The package offers several benefits to guests who are tired of working from home. Priced affordably at 50% off (best available rate of the day), the package includes 9 hours room usage, Wi-Fi and large workspace, along with a host of discounts on other amenities. Two unique programs, Hilton CleanStay and Hilton EventReady with CleanStay focus on delivering a higher standard of stay. 
Enhance your work environment by switching to a contemporary and relaxing space. Courtyard by Marriott at Bengaluru Outer Ring Road is redefining your leisure and work-life balance. Choose from a range of exclusive weekly and monthly packages that are ideal for your professional needs as well as winding down after a long day. Packages include accommodation in a deluxe room on single occupancy, one meal per day, high-speed Wi-Fi access, unlimited tea/coffee service, Marriott Bonvoy points.
Located inside UB City, Oakwood Premier Prestige has the advantage of being located in the mall with dining options, shops, and the Cubbon Park nearby. The Work From Luxury package is a four nights five days package for a stay in a spacious studio apartment with lunch, dinner, and breakfast. The service includes complimentary tea, coffee, and cookies, access to high-speed internet, access to the rooftop pool, gym and yoga room. Another package called Nine-Six is for people who don't want to go to coffee shops and are not sure of the co-working spaces either but don't mind a morning to evening package with tea coffee and a quiet place.
ITC Hotels, Bengaluru
With most offices closed at present and physical meetings with clients being a challenge, ITC Hotels in Bengaluru have found that corporates are looking to work from a place that gives them a sense of safety, along with good Internet connectivity and privacy. Their tailor-made 'Day Use Offer Package' has relevant inclusions for such requirements — Wi-Fi access and boardroom usage. The offer is available ITC Windsor, ITC Gardenia, and WelcomHotel and gives a 9:00 am to 9:00 pm stay among other deals.
Introducing the concept of Work and Play with social distancing for group size: 5-25 guests. Experience luxury and #SafeWork with this workcation at Sheraton Grand Bangalore Hotel at Brigade Gateway. The package includes team-building activities, interactive lunches, day stay at the hotel, banqueting spaces following social distancing norms and thoughtfully crafted networking evenings.
Multi-location 
Their legendary do-nothing vacations have now evolved to look after the working soul looking for a change of scene. Packages at each of their locations are for 1,2,3,4,6, and 8 weeks. Their prices are on a twin-sharing basis, and children are charged a reasonable price extra. The feel is just like the comfort of home. Properties include Balur Estate in Chikmagalur, Coffee Estate in Balur, The Linger Farm, Coorg, Three Wooded Acres, Coorg, Varshini Estate, Saklespur, Chiguru Farm, Kodihalli, The Earth House, Palampur, and Chestnut Grove, Vijaypur. 
SaffronStays encourage local food and flavours, provide employment and training to local caretakers. With 175+ holiday homes under their management, these are available across Maharashtra, Goa, Karnataka, Kerala, Tamil Nadu, Himachal Pradesh, Uttarakhand, and Rajasthan. A number of these properties have opened up to long and short term stays with a vast range of amenities included. A number of these properties are pet-friendly too. Their workation properties include Maharashtra, Goa, Rajasthan, and Uttarakhand. 
All images: Courtesy hotels