Carefree travel is still a little bit down the road for us. Until then, travel content creators are happily taking their followers across the globe with their beautifully shot photos and videos. Here is a list of the best content creators and travellers on Instagram to follow for some armchair travelling.
India
A digital nomad whose content on travel is an immersive experience. Nath's site The Shooting Star is all about offbeat, slow, and sustainable travel. It hopes to challenge conventional ideas of travelling, food, work. "Each time someone reads an article on The Shooting Star, I hope they'll take away the conviction and courage to think of travelling and life differently," says Nath. "We have no idea what travelling will look like in the new normal. But, in the midst of a pandemic linked to deforestation, biodiversity loss, and intensive animal farming, all roads seem to point towards a life that is more sustainable, compassionate and mindful.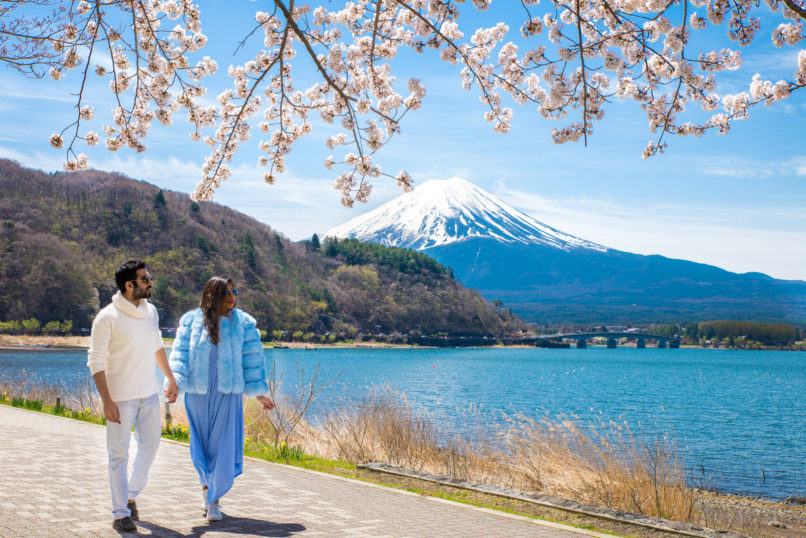 This journalist-photographer duo can be found on Bruised Passports on the interweb, and have visited over 80 countries and created award-winning content on the travel blogosphere. With several TedX talks on designing one's dreams with hard work, they say that their site is a mélange of exciting travel experiences and how to plan for it, captivating photography, and colourful fashion from around the world. "We love it when they [readers] enjoy the beautiful visuals and soulful writing in addition to planning their trip from start to finish," says the duo.
They add that while travelling seems like a distant dream at the moment, "we are confident that we all will start travelling soon, keeping the new 'normal' in mind. We feel that in the near future there will be a greater focus on domestic travel and offbeat international destinations. We also see travellers becoming more responsible in the future."
Treasury's travel content is upbeat and exudes a sense of positivity. No wonder then the actor calls it her Happiness Project. "My content is on travel, romance and is motivational. The content I am making now is all about romance, love, and dating tips to guys from a woman's perspective. If you come to my channels, you will feel upbeat, see bits of the world, and learn about it. You will feel happy, and will leave with a smile," she says.
About the current COVID-19 crisis, she feels it's going to be a challenge to travel. "We will have to be patient. We will get back to travel and we are going to enjoy, cherish, and value it more than before. I know I will," she says.
Khanijow quit a full-time job in online advertising to make a career in travel. What began as an experiment with a video on her Pondicherry travel has today evolved into a full-fledged YouTube channel, through which she hopes to share behind-the-scenes travel glimpses, detailed itineraries, as well as an insight into her life. She believes that when you inconvenience yourself enough to step out of your home and discover the world, you will also discover a bit about yourself.
D'sa is based in Mumbai and has a YouTube channel that documents not just her travels, but also her love for fashion, makeup, and tech. There are also some really cool slice-of-life videos that look at everyday aspects– from her journey with braces to moving homes to live as a vlogger and more. Her channel is fun, bright, and addictive.
International
Bucket List Journey is a travel and lifestyle website that provides the tools and inspiration for every dreamer to say no to fear and to live their bucket list. "We are all eager to begin travelling safely again, and it will happen hopefully sooner than later, but don't be discouraged," says Annette. "Take this time to start dreaming about and planning for your next trip. It will only build up the excitement for when the day comes. My hope is that the new normal for travel will include exploring a destination at a slower pace and truly appreciating what each place has to offer."
Gary of Everything Everywhere sold a successful business in 2007 and decided to travel the world — his site documents his travels, photography, and experiences. He has visited all continents (once, all in a single year), and 198 countries and territories on the Travelers Century Club list of places. He has documented and photographed around 375 UNESCO sites and hopes that by visiting his site people are inspired to head to a place they haven't before. "My hope is that the travel restrictions are lifted quickly and that there is no return of the virus later this year. Even if restrictions are lifted, it might take one or two years for people to feel comfortable travelling again," he feels.
Once you get past the bot checks of Matt Karsten's site Expert Vagabond, you get to explore the world through the eyes of an adventure travel photographer, professional blogger, and digital nomad. You will be able to read about the Secrets of the Ring Road in Iceland, Camping on an Erupting Volcano in Guatemala, backpacking travel tips, photography guides as well as look through a range of resources for a digital nomad.
Jeremy and Angie are passionate photographers and videographers who travel to amazing destinations and document it. They have spent years editing and perfecting their craft and offer exclusive photo and video presets that help makes it easy for any person to get professional-level quality out of their photos and videos. These reasonable-priced presets are what the duo use themselves, and you can see how wonderfully they work on their YouTube channel.
McCulley quit her job in 2010 and decided to travel the world alone. A decade later, she has travelled to over 83 countries and traversed all seven continents. Head to her site Adventurous Kate if you are looking to travel solo or simply for some inspiration on where to go and what to do there. It has a range of posts besides those specifically on travel – you can read about how to sift through a lot of information to make the right travel decisions, or how to deal with pre-travel anxiety, or even how to be a better travel mate.