Opting for luxurious service apartments is the most relaxing way to a good staycation, as observed at Hyatt Delhi Residences in Aerocity.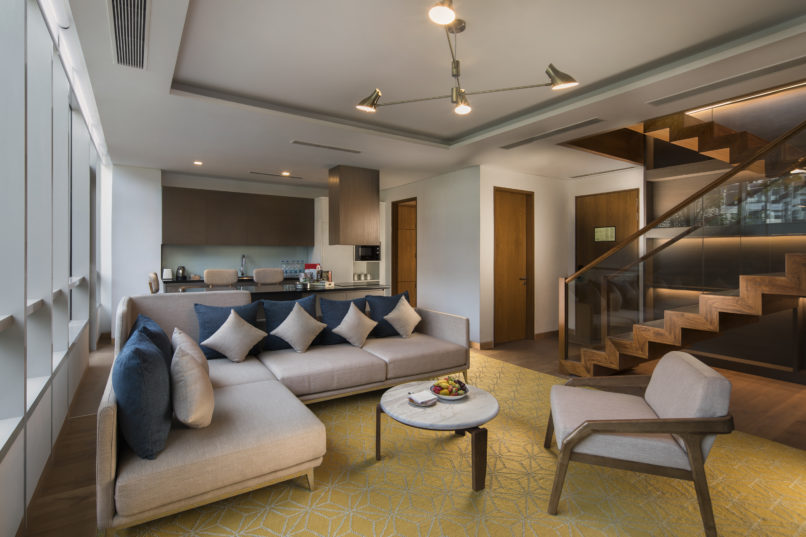 Are you missing your yearly escape to Europe or brooding over missed breaks to Bali? Or are you simply pining for planes, the process of packing and the thrill of a vacation. Whatever might be conundrum, there's nothing like a staycation to recharge your weary bones. In the light of the new travel restrictions as well as fear of faraway travel, a staycation in the city is the best way to experience the joys of a holiday without the hassles of one.
Our escape from the city, within the city was the newly launched Hyatt Delhi Residences in Aerocity next to the IGI Airport. Luxury serviced apartments that give you the luxuries of a hotel with the comfort of a home. Whether you're in a mood for a romantic staycation, looking to host a small family get-together or simply looking for a long-stay option in town, the property with its various apartment combinations has something to offer. The property boasts of 124 plush apartments divided into 70 one-bedroom, 42 two-bedroom and 6 three-bedroom apartments, and 2 two-bedroom and 4 three-bedroom duplex townhouses for the discerning traveler.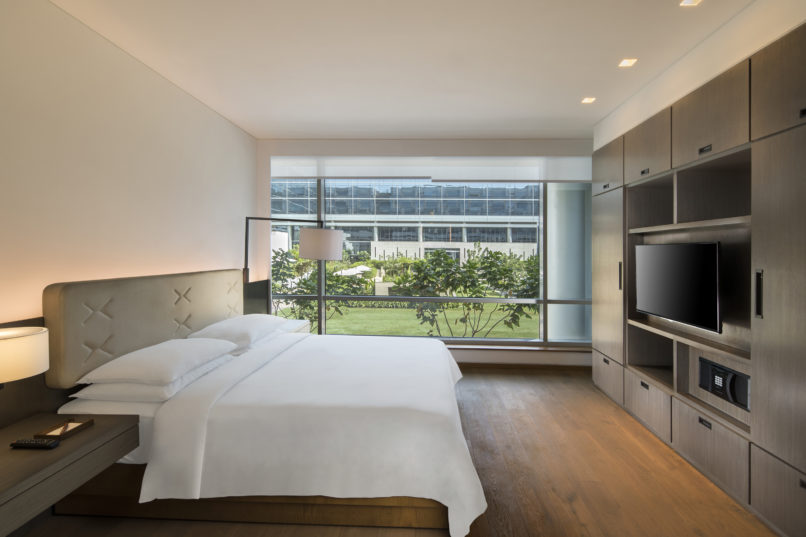 The place of refuge was a spacious one-bedroom apartment with a well-equipped and automated kitchenette, a swanky living area with sinkable sofas and big bay windows with views of the runway. The room is separated and furnished with a comfortable king-size bed, flat screen TV, an en-suite bathroom and walk-in closet. The ambience of Hyatt Delhi Residences in Aerocity are made for relaxation with a wood and concrete palette and muted lighting.
The property is an extension of Andaz Delhi, a concept hotel by Hyatt Aerocity therefore shares common amenities and a lush central courtyard. A leisurely breakfast at AnnaMaya is a must-do when you're staying here. The all-day dining restaurant offers a lavish spread of seasonal fruits, hot and cold brews, freshly-squeezed juices, delicious pastries, salads with hydroponic greens and Indian breakfast delicacies.
If a busy schedule isn't on the cards, immerse yourself with the little décor details like a ginormous pomegranate installation, miniature brick doll houses and airborne  sculptures. Break a sweat with a power-packed workout at their gym or schedule a yoga class for relaxation. The property's close proximity to the The Walk at Worldmark allows you easy access to various restaurants, bars, shops and business centers.
If you're looking to end your staycation on a high note, the Gin Tasting Experience at the Juniper Bar is a must-do. A very knowledgeable bartender, Himanshu Mehra guided us through the 36 gin infusions and their respective ingredients that are unique to the bar. From notes of orange. Cardamom and vanilla in Delhi's Fire to the Timur and black pepper infusion made using raw materials from Triund Valley, each flavour had a unique backstory that made the experience a memorable one.
All Images: Courtesy Hyatt Delhi Residences Aerocity