The only time I lucked out in all of last year's quarantine was when I succumbed to my itchy feet's persistent callings. Hunting for an intimate getaway with unpeopled landscapes and arboreal affinity, I chanced upon Kaav Safari Lodge in Kabini, an idyllic getaway from Bengaluru.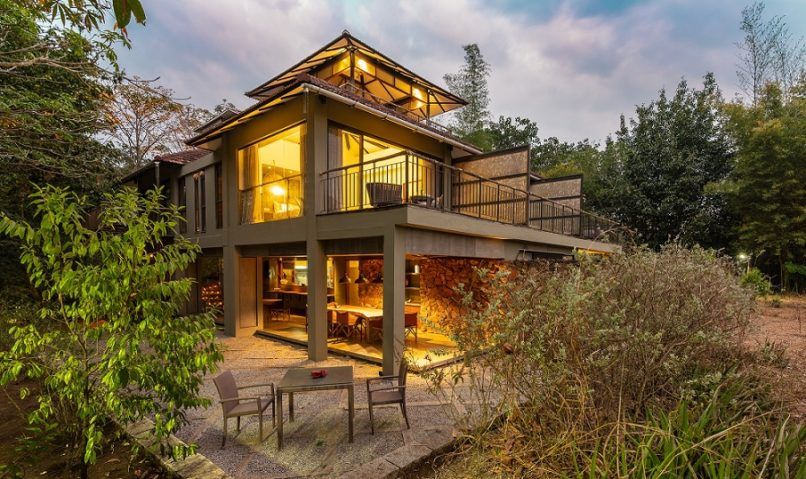 On a pleasant morning in February, I woke up with a dopamine rush charging in my veins, percolating a sense of nervousness and excitement that triggers before exploring any new destination. I was ready for my flight from Delhi to Bengaluru and a five-hour road trip from Bengaluru airport to Belthur village. The change in the air all the way from Delhi to Belthur felt palpable; it made my lungs bloom once again. I made a stop to witness the majestic Mysore Palace, which was almost 1.5 hours before my final location — a beautiful prelude to a great weekend. Meandering through the sublime greenery on both sides of the road as if I'm being painted on a pastoral canvas, I reached the Kaav Safari Lodge in Kabini.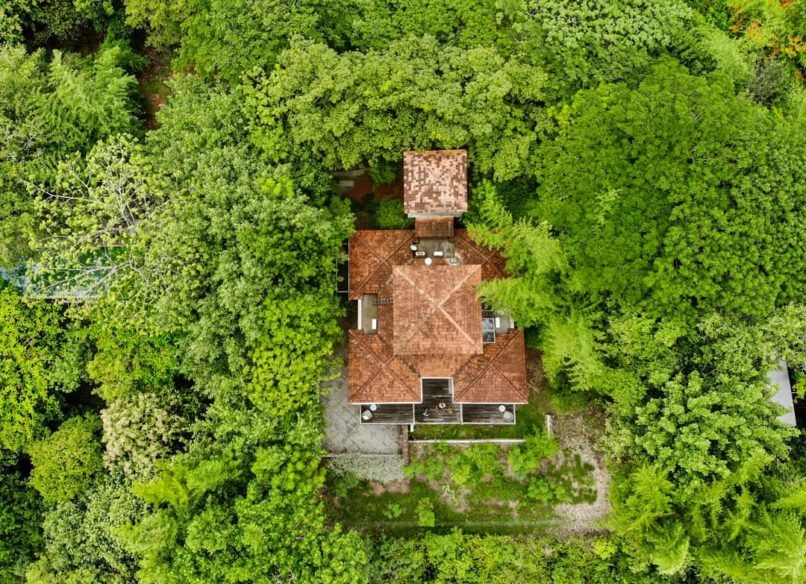 Set amidst the fertile environs of Nagarhole Wildlife Sanctuary, which shares the expansive ground with Bandipur National Park in Karnataka, Mudumalai National Park in Tamil Nadu, and Wayanad Wildlife Sanctuary in Kerala, Kaav Safari Lodge is a boutique property that takes you into the beating heart of South Indian wilderness.
Deep into the jungle, Kaav was a nondescript two-storeyed structure on stilts that Tony Joseph, an architect who designed the space, and his partner Sanjay who owns a farm in Ooty, revamped, keeping the sustainability factor in mind. This naturally directed the planning strategy to address the design concern of leaving as minimal a footprint as possible on the terrain. Eco-conscious efforts are the soul of Kaav — rainwater harvesting, recharging land through a small waterbody, processing waste and converting it into fuel, and the usage of solar power ensure that the lodge remains inherently sustainable.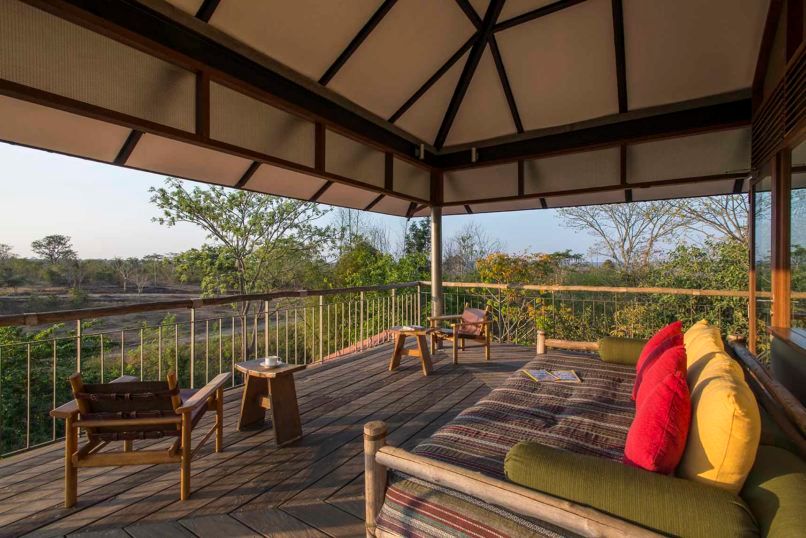 The meditative, compact space of the property celebrates sylvan sublimity between the blue skies and the ground below. Offering unparalleled spatial experience spread across four acres, it features an open dining space, a swimming pool underneath a canopy of banyan trees, and six exquisite rooms (four regular and two tents). The dining room, which also doubles as a mingling zone, claims a simple roof with intermittent columns on one side and a local rubble wall on the other. It also flaunts open kitchen space and island seating for an immersive dining experience, especially when the staff is so convivial. Should you wish to order in your room, they can arrange it as well. Having said that, you mustn't miss the hypnotic silhouettes of teak, sandalwood, jackfruit, among others, against the moonlit sky.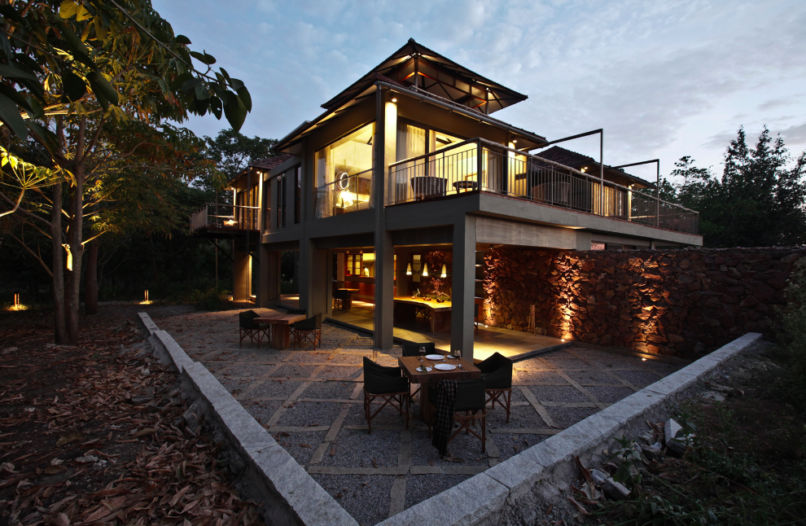 The interiors of the four rooms on the first floor further enhance the earthiness of the resort. They have used materials like saw-cut timber, polished cement concrete flooring, wired glass doors, and white walls, along with meticulously-designed mirrors and lights that complement the muted colours. What's more is the forest really calls out at night through crickets, bats, and even leopards. All you need to do is enjoy the sounds from the wooden-decked balcony.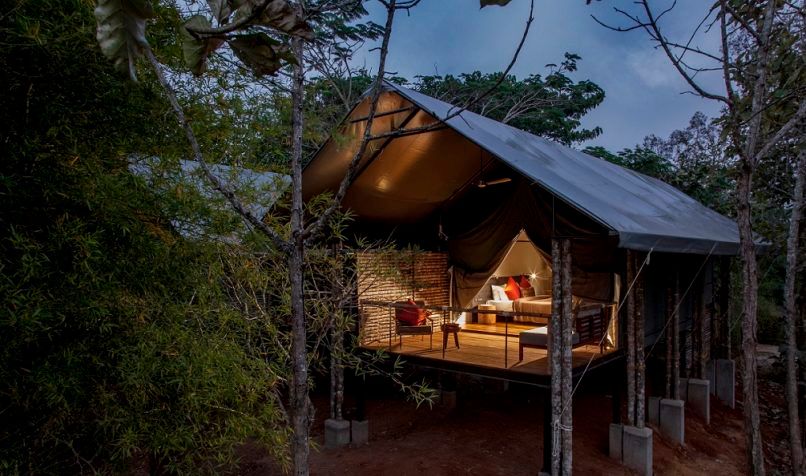 The tents, on the other hand, have the same decks but only more luxurious. From the bathtub to the study desk and charging points to mood lighting, these tents leave no stone unturned to make you feel comfortable yet experience living in a national park. Even the common area exhibits a unique style that adds to their local decor ideology. The innovative hanging light above the open pantry incorporates red rings of Channapatna toys, a regional handicraft, which finds its way into the built vocabulary. Bamboo crafts from nearby areas are also used in the decor.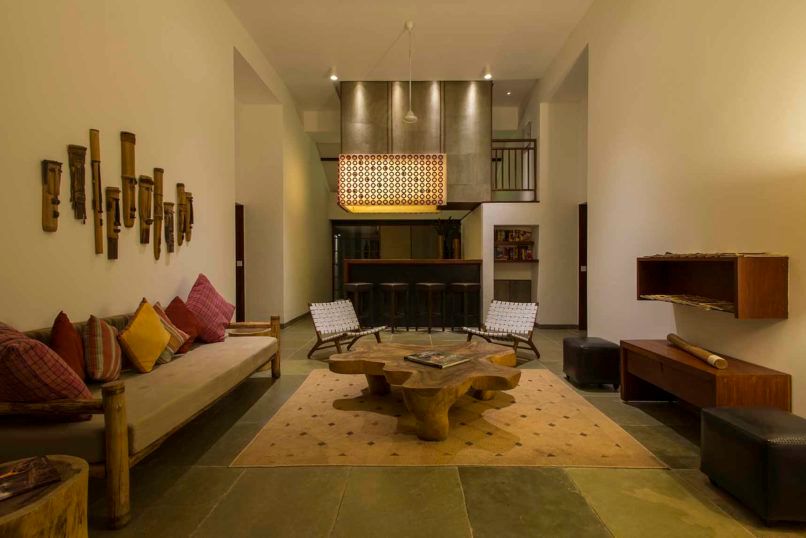 Setting the mood to match their open surroundings and hectic outings, Kaav offers full-course meals for lunch and dinner, and they can whip you up multiple items for breakfast. My top suggestion would be to go for the South Indian cuisine options. I mean, in Karnataka, is there even a second choice? And because there are set timings for different outdoor activities such as safaris, kayaking, coracle rides, and more, having a hefty meal before you head out is a good idea.
Whether you are currently in Bengaluru or any other part of India, Kabini is more than a humble abode to the elusive Black Panther — it is here that you will form an eternal companionship with the forest in all its forms and shapes.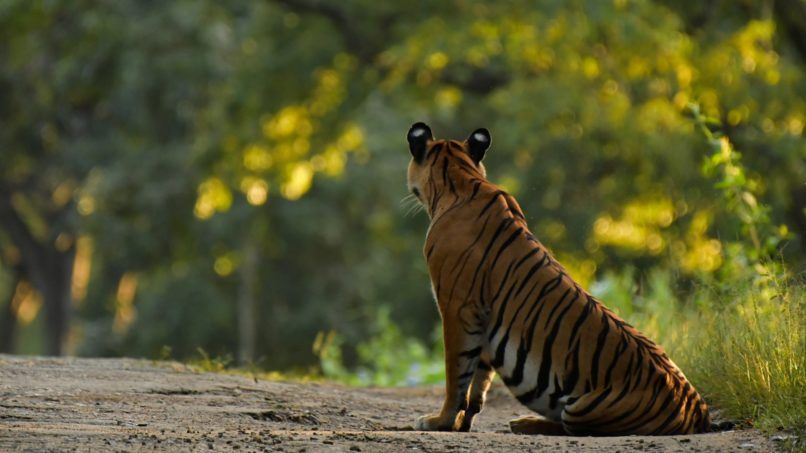 Things to do in Kabini —
Trust their in-house naturalist at Kaav Safari Lodge, Sujith Surendran, to take you on immersive and perceptive outings in Kabini. You can opt for an early morning wildlife safari or an early morning boat safari cascading the backwaters of Kabini. Or, you can also arrange an afternoon wildlife safari (pack a pair of binoculars). Besides wildlife, enjoy serenity at its loudest via kayaking, coracle rides, cycling, sky gazing, spider walks at night, or impromptu nature walks and bird escapades. And teeming with rich wildlife, you can easily spot spotted dears, sambars, sloth bears, wild dogs, chitals, gaurs, barking deer, four-horned antelopes, langurs, leopards, tigers, to name a few. And if you're lucky and patient, maybe even a Black Panther. Well, I did!
All images: Courtesy Kaav Safari Lodge