Every once in a while it's nice to escape to the great outdoors where you can watch the twinkle of the night sky, cosy up in front of a bonfire, go trekking in the wild, and watch the sky turn a delightful orange and pink as the sun sets over the horizon. And all in the glorious luxury of a tent with a comfy bed and en suite bathroom. Experience the magic of glamping at these wonderful sites near Mumbai.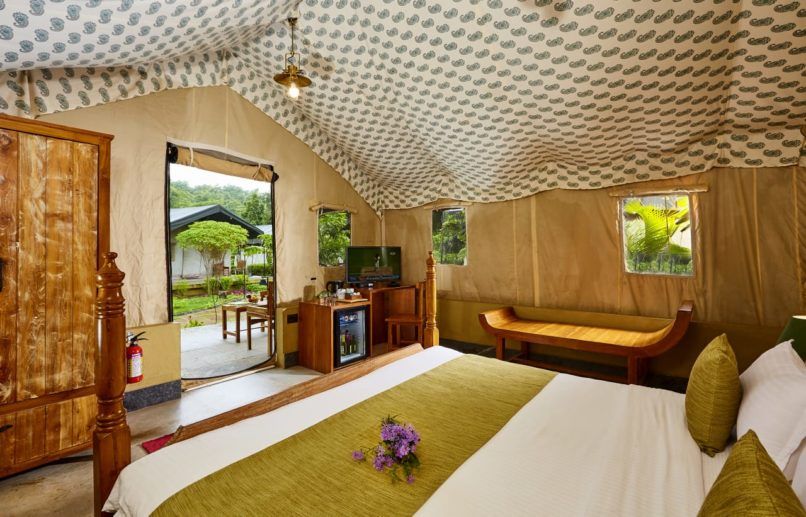 Wild at heart but love your home comforts? Then Grape County is your perfect solution. The luxurious tents in a gorgeous forest setting are amped up with air conditioning, queen-sized bed, mini bar, and a bathtub. What more could one possibly ask for? If long, lazy days of doing nothing are your thing, then the sun loungers on the private patio or the deck on the lake are the places to be. When you get peckish, there is a delectable spread waiting for you. Birding is the main activity here along with horse riding and trekking through the Sahyadri range. Or you could go kayaking on the lake, build an epic appetite and round it all off with a glass of wine as the sun goes down on yet another fantastic day.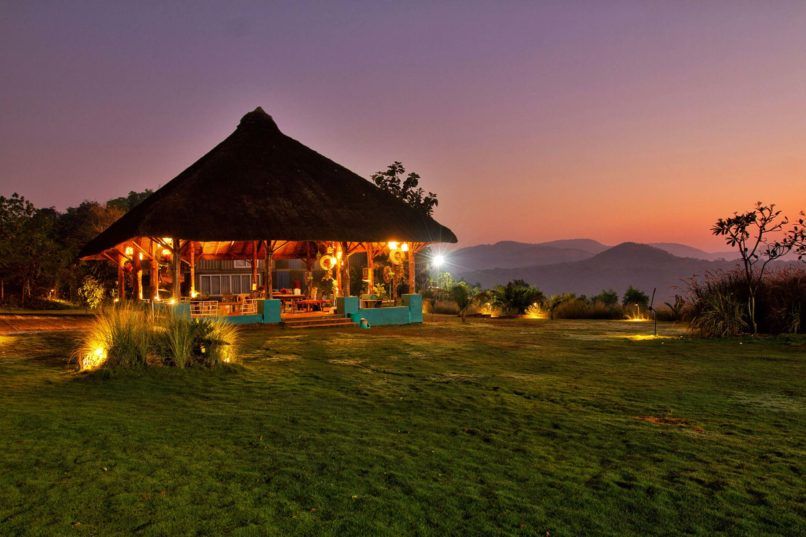 From stargazing to bird watching, Forest Hills' remote idyll setting is perfect to slow down and do nothing but breathe in the country air while enjoying the peaceful views of rolling hills and the woodland. And you won't miss out on life's little luxuries, either. The glamps offer king-sized beds and roomy bathrooms. Gourmet meals are prepared from the produce from the organic garden on site. The best part of Tala is that you are just a short trek away from the historic 3000 BC Karla caves. Alternatively, you could enjoy live music, horse riding, archery, or movie nights under the sky.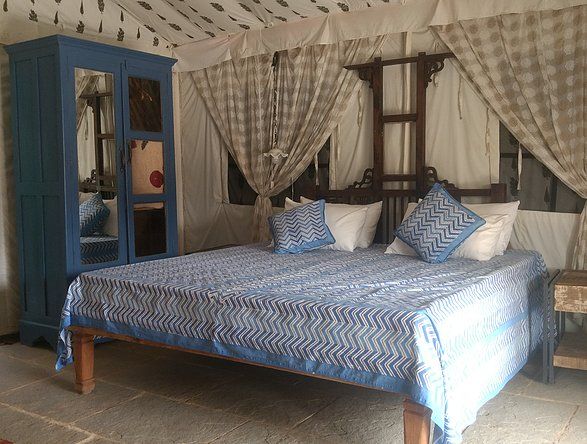 These luxury tents with air conditioning, queen size bed, smart TV, high-speed Internet, and attached bathrooms will ensure you get your nature fix and sleep among stunning surroundings without "roughing it" in the wild. There are outdoor yoga classes, a lounge with board games, and a library and a swimming pool fringed by a lotus pond. Meals include Konkani, Mediterranean, and Lebanese options. There is a beautiful waterfall just a 10 minutes drive from the camp. Bonfire and barbeque under the starlit sky are among the other highlights.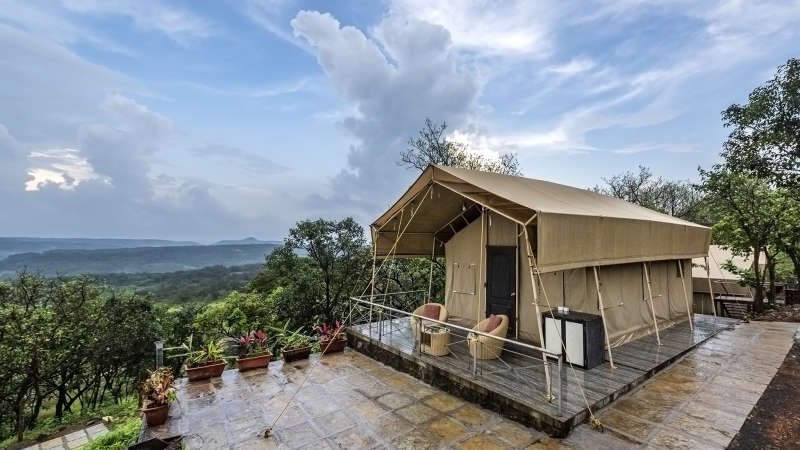 Do nothing at the magical Falcon tents where luxury meets back-to-nature, wholesome fun. Stargaze from your private patio, feast on the endless views of Lonavala valley, barbecue on the deck, or snuggle by the bonfire — this place is all about letting the stresses and strains of modern life escape you. Prepare to fall in love with the spacious, warm and welcoming tents with ensuite bathrooms and large windows that let in enormous amounts of natural light and allow you to enjoy the fresh air and amazing views. You can eat al fresco and then lie back on the sun loungers and have a lazy day, reading your favourite novel. If you fancy a change of scenery, why not hop in the car for a quick trip to Bushy Dam and Lion's Point.
Moonstone Hammock, Karjat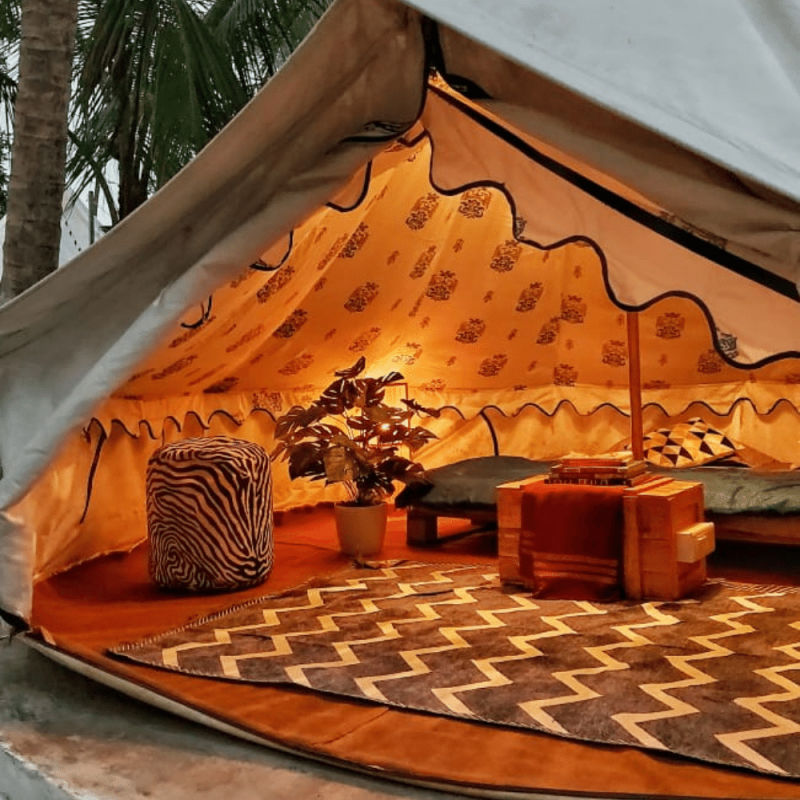 Perched right next to the Ulhas river Moonstone with its rustic meets ravishing ambience blends subtly into its tranquil setting. You're not just close to nature here – you are bang in the middle of it. The cleverly cantilevered deck on the Ulhas offers jaw-droppingly beautiful views across the water and forest around. The glamps at this riverfront location come with queen-sized beds, hammocks and a swing to dip your toes into the water. As if that wasn't comfortable enough, Moonstone also has a café with a cool collection of books, live band, movie nights under the stars and Karaoke.
Contact: +91 93219 92712
Camp Sandrush, Palghar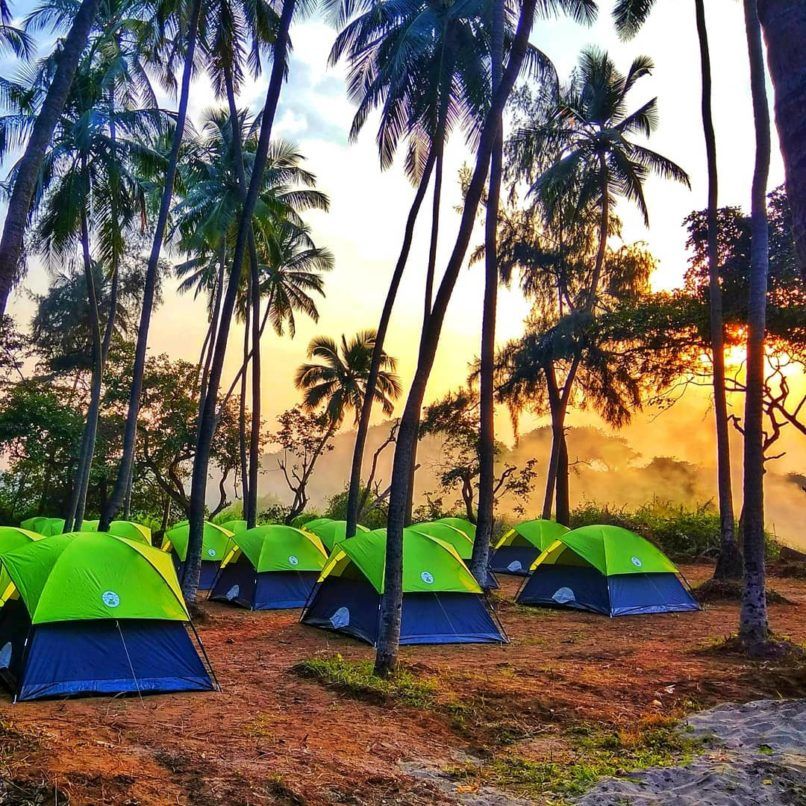 As good-looking as can be, this campsite sits proudly on a coconut grove overlooking the Arabian sea. If you can drag yourself away from your hut of happiness, there is a secluded beach a stone's throw away. You're also ideally placed to explore the sea and bring back some fresh catch for your afternoon meal. Otherwise, there is coastal food on site. At Sandrush there are no demands on your time; simply sit back in perfect solitude, relax, and drink in the glorious views over paddy fields as far as the eye can see. Or you trek to Shirgaon fort before chilling out under the stars with a hot chocolate around a bonfire.
Contact: +91 85305 77700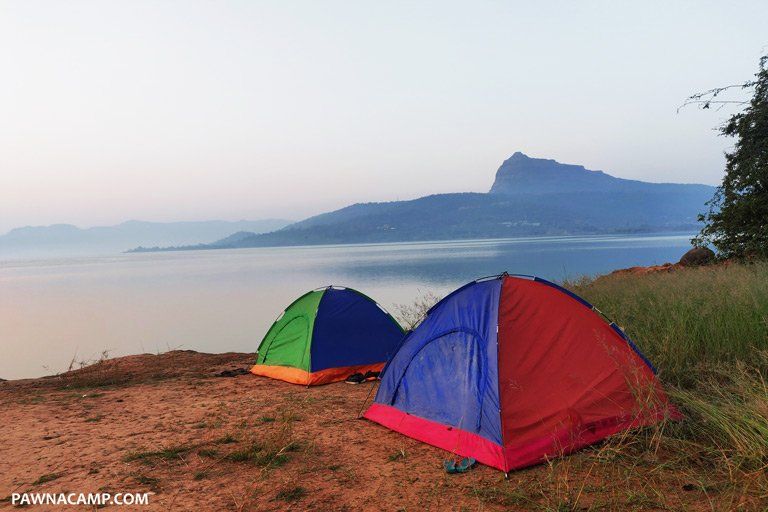 This camp is ideally placed to view the most awe-inspiring sunrise and sunset. The lake is close by for some boating or swimming. Also on the cards is a trek to Tung Fort, Tikona Fort, Lohgad Fort, and Visapur Fort. But if you want to take it easy and stay put in the camp, there are fun games, boating, and paragliding to look forward to.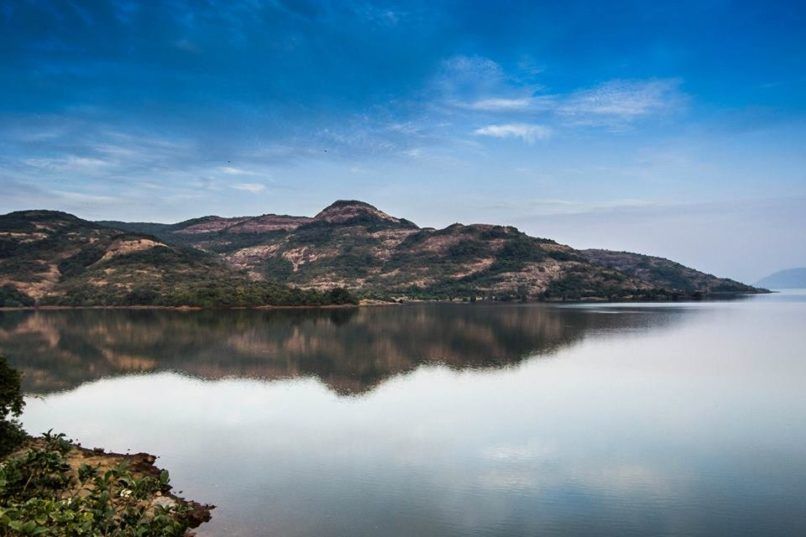 Camping near Shirota Lake is always fun as the lake brims with water throughout the year and is surrounded by a dense forest cover. The best time to camp here is in the winters when you can cosy up to the bonfire. Foodies are in for a treat with an elaborate dinner, breakfast and barbecue delicacies. The night treks are safe and the best way to metabolise the scrumptious feast. Or better still grab a beer head to the hammocks for a relaxing night under the stars.
Nature Knights, Bhatsai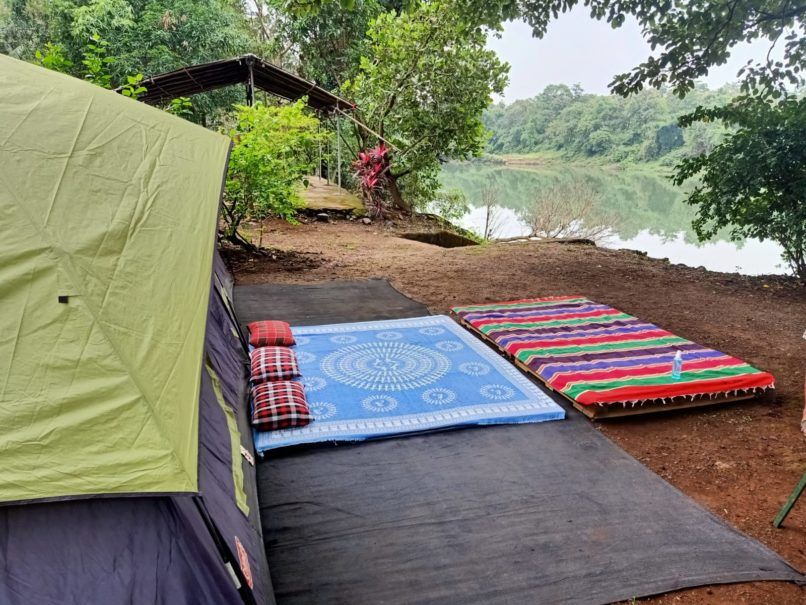 If you've ever dreamt of spending the night somewhere totally off the grid then this cool riverside camp just two hours drive from Mumbai is for you. Highlights include moonlight kayaking on a gently flowing river or an early morning dip in shallow water. Lazing on the hammocks and playing hide-n-seek with the sun through the green canopy are other options. Lunch could be delicious if you cast your line and wait till you feel the tug. Tip: Pack your cycles for a great ride through the countryside.
Contact: +91 96191 82010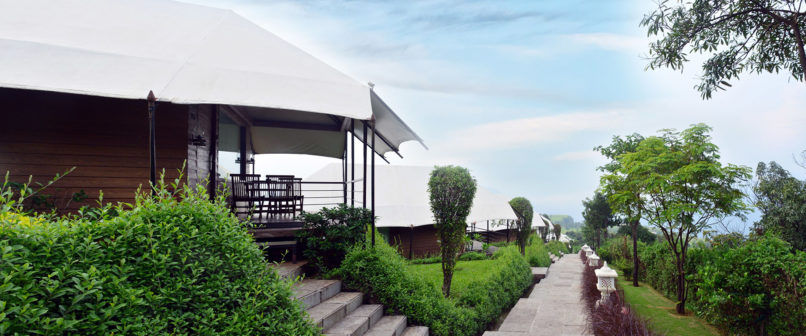 Enjoy gorgeous hilltop views and starry night skies from these tents pitched in the heart of a jungle. Add to that a king-sized bed, an awesome heated jacuzzi where you can relax with a glass of bubbly, a private patio overlooking the hilly surroundings, a roaring bonfire, and you've got yourself a heavenly setting. In case you need to catch up with your latest series there is a 40-inch television set, too. But why would you when there is an adventure park in the vicinity where you can indulge in swoop swinging, sky cycling, paintball, bubble soccer and archery? Reserve the nights for stargazing and candlelit dinner. There are a spa and salon on site.
All images: Courtesy brands