Ever since it opened in 2016 as a boutique luxury hotel, Narendra Bhawan Bikaner has steadily gained a reputation for being a hotspot for the cool kids. And for good reason.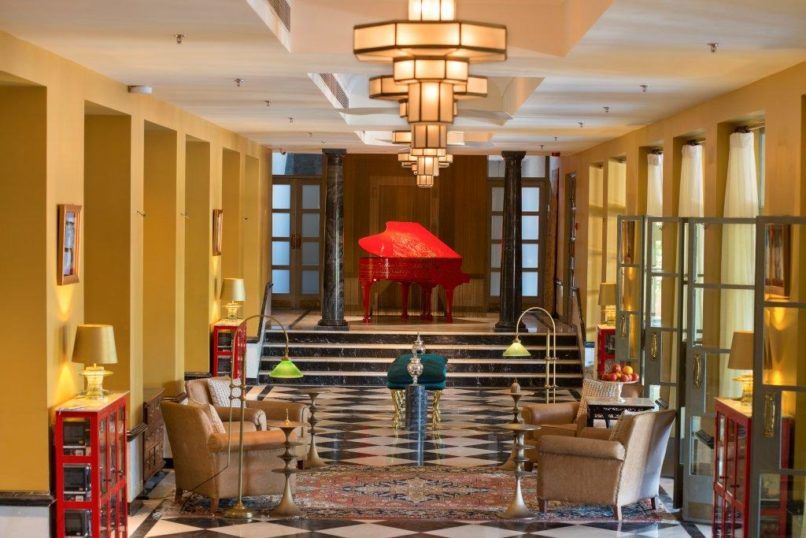 You get a taste of what a stay here entails, the very minute you step out of the compact Bikaner Airport, the NAL Airforce Station — a chaperone from the hotel greets you with a wide smile and a wider selection of non-alcoholic and alcoholic drinks, their famous potent G&Ts included. Because this is the Narendra Bhawan Bikaner. Style and indulgence are par for the course.
And who doesn't want that after a year spent in isolation? Before 2020 struck down every travel plan anyone had, I had seen Narendra Bhawan Bikaner pop up plenty on my Instagram feed. The essence was always the same — young entrepreneurs, influencers, and celebs enjoying drinks with abandon under leafy vines (I later learned this was the restaurant Gaushala), lazing by the rooftop infinity pool, or taking advantage of the countless photo-ops provided by the erstwhile royal residence's stunning arches and corridors. Nothing seemed forced or staged. The vibe was always easy chic. Regal indulgences without the stuffiness.
My visit confirmed this. Narendra Bhawan Bikaner is located, rather inconspicuously, in the city's residential area, Gandhi Colony. Unlike other royal hotels, where imposing gates and winding roads lead to majestic structures, one arrives at Narendra Bhawan Bikaner's entrance quietly and suddenly. But once the gates close behind, you are transported to another world where Art Deco inspirations, nuggets of history, and modern design collide with luxury and style.
This is because the property in its very essence is a snapshot of the life and times of its most famous resident, Narendra Singhji, the last Maharaja of Bikaner. Built in 1969, it was and continues to be, a testament to his bon vivant lifestyle and progressive views; the structure was commissioned because he wanted to deviate from living in palatial structures. A man of the world, his outlook towards life is reflected in countless objects and designs that make up Narendra Bhawan Bikaner today. Old photographs, art, rich fabrics, collector's editions books and magazines, and even the dark and brooding Drawing Room (akin to a smoking room) and the electric red Baby Grand piano in the foyer all tell the story of a life lived fully. Having gone through restoration, the property started welcoming guests a little over four years ago and quickly became one of India's top boutique hotels.
Everything here tells a story, and the keeper of the many tales that make Narendra Bhawan Bikaner is the charming Siddharth Yadav, Vice President at MRS Hospitality, who at any point you meet him, will insist on placing a drink in your hand. Yadav will regale you with nuggets about Bikaner and the Maharaja, but most importantly ensure your experience here is nothing short of spectacular.
A vital part of that is personalisation, though not in the literal sense of the term. The experiences at Narendra Bhawan Bikaner are curated in a way so as to make each guest truly soak in the indulgence. It starts with the rooms, where everything is a lesson in eclecticism. Elaborate ceiling details, Bikaner terrazzo floors, Portuguese tiles, luxe velvets, and English prints come together to create a fresh feel. Step out to enjoy intimate picnics/brunches by the Indira Gandhi Canal, under beautiful white canopies sheltering a smorgasbord (and free-flowing mimosas), or moon-lit evenings by the lake, spent singing and dancing with manganiyaars. At their sprawling, opulent sister property, the Laxmi Niwas Palace, you can also indulge in a lavish dinner that's cooked tableside as you bask in the majesty of the larger-than-life building. Want to visit the oldest Ayurvedic apothecary in the country? Narendra Bhawan Bikaner will arrange that too.
The idea is to have guests truly revel in the spirit of the hotel and its original owner. Clinic – The Spa at Narendra Bhawan Bikaner toes the same line. A relatively new addition to the property (it opened in 2019), the treatments here are inspired by Bach Flower Therapy and the specially developed flower essences are used to knead away every stressed knot and muscle. Clinic also has cutting-edge, state-of-the-art Bemer technology for Physical Vascular Therapy, which ensures better microcirculation and facilitates the body's own healing powers. A session in its tranquil, elegant environs leaves you cocooned in calm long after the treatment is over.
But if some peace and quiet are really what you are craving, Narendra Bhawan Bikaner's many nooks will leave you spoilt for choice. Dine by the infinity pool (a favourite of most Instagrammers), or find a table at Gaushala to enjoy a sundowner at. My favourite, however, was grabbing a corner at the picturesque central courtyard, the Diwali Chowk. Lying in one of the mini canopied beds, surrounded by filigreed windows and the cooing of pigeons, you can watch the clouds float by. When was the last time you did that?
Contact: Narendra Bhawan Bikaner, Gandhi Colony, Samta Nagar, Bikaner 334001
Tel: +91 782 715 1151
All images: Narendra Bhawan Bikaner