Following up our recent article on Chennai-based photographers that are perfect for an intimate wedding, we've decided to roundup seven of the city's most accomplished wedding planners AND designers. These event companies have perfectly pivoted their business, catering to the new COVID wedding market. From adorable baby showers to elegant, intimate weddings, a recurring theme amongst all these companies, is attention to detail. So, we asked them for a little advice for anyone planning a wedding, or grand event, in these times. Take a look at the advice these Chennai-based wedding planners and designers gave us on creating intimate weddings.
Bezinto
Bezinto, run by event planner, Krishna Bezwada is experienced at planning lavish weddings, dreamy baby showers, and executing stunning themes. From marigold towers to dining under the stars, his clients trust him with their vision. We asked Krishna for a little advice on post-COVID weddings and he had a lot to say about local sourcing.
"Families should look inwards and put their trust in locally sourced products, from material to talent. I also feel, since this is an unprecedented event, now more than ever, they should place their trust in their event planner. We've pivoted and gained expertise in intimate weddings and can help them retain the luxe factor, despite the circumstances."
Contact them @bezinto.
The Event Tale
The Event tale, another fabulous Chennai-based company, concentrates largely on weddings, especially South Indian weddings. They execute the traditional needs, that are often required at South Indian weddings, with flair. In fact, they've even planned weddings for a South Indian celebrity or two. The founder, Prasitha, had little bit of advice on safety.
"Safety and permissions are a major challenge in these times. On top of this, people are budgeting now more than ever. It's important to follow protocols and no one better to help you with that than your wedding planner. Within the current context, seating arrangements are vital, so ensure your planner does that. Your planner should also look over all the staff and freelancers hired for the function, emphasising that they wear protective gear at all times. Apart from this, your planner can also organise cute sanitisation stations, at the function, so that it looks seamless."
Contact them on 9788055558 and find them @the.event.tale.
Rel-Event Planners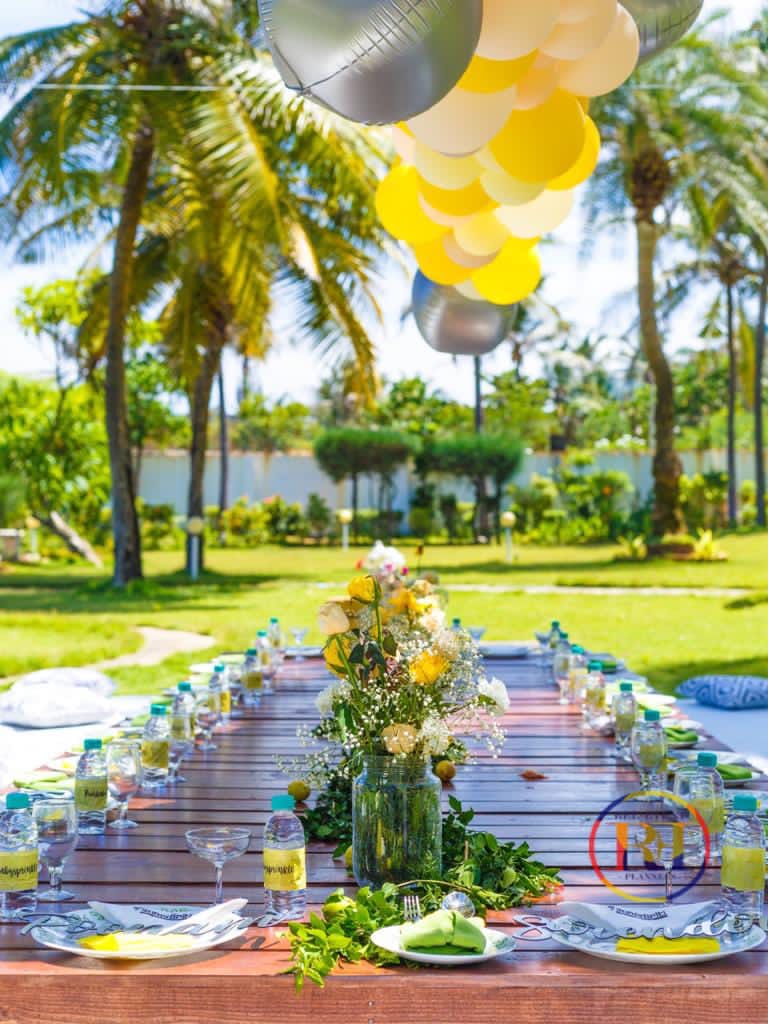 Co-founded by Poonam Kumbhat and Soniya Chaudhary, Rel-Event Planners are Event organisers, specialising in surprise party planning, but they're also capable of doing the whole nine yards. Rel-Event is all about spreading happiness and that's exactly what they advise.
"Since this is the new normal, concentrate on what you can do, instead of what you can't. Invest in a close group of people, keep the colours contrasting, the smiles bright, and lots of lighting, for a cheerful event!"
Contact them on 7550051217 or 9150459910 and find them on Instagram @relevent_planners.
Big Bang Events
Big Bang Events are proficient at wedding planning, décor, hospitality, vendor management, and logistics. And they really love what they do. Their keen on delivering happiness, which means giving clients exactly what they want. Namita and Vedant Bhandara are the founders of Big Bang Events, here's what Namita shared with us.
"Let me tell you about a few trends that have emerged, in the current lockdown situation: farmhouse and beach resort events are big, because they're open air. Since budgets have been minimised, experience is at the forefront. So, make sure your guests leave feeling great. This can also be fortified with detailing in décor, curating unique favours, and adding quirky elements. Lastly, since designer-wear is still big, couples are pivoting event décor to for their outfits, instead of the other way round!"
Contact them on 8056136046 or find them on Instagram @bigbangevents_chennai.
Anyonya Events
Anyonya is all about capturing and making the perfect memories for their clients. From carnival-themed beach parties to gender-neutral baby showers, with hues of deep greens and browns, all their themes hit it out of the park! Here's what Anyonya, who've been a active with events that last few months, feel about intimate weddings and events.
"The new normal wedding is going to be challenging, but it's important not to compromise on décor and photography. However small-scale a wedding, pictures and memories last forever! This doesn't mean you have to go over the top, work with experts to create something minimal, but picture-perfect. For example, a good backdrop with beautiful flowers is worth more than decorating every corner of a banquet hall, in these times.
Contact them on anyonya.events@gmail.com and find them on Instagram @anyonya.events.
The Tailored Tale
Tailored Tale is all about celebrating your big day, with laser focus on details. They're also pros at destination weddings and create beautiful traditional (like their kolam-themed décor) and contemporary wedding designs for your events. Swetha, from The Tailored Tale, shared this with us.
"When you're picking your wedding planner, hear a couple of people out and then pick someone that aligns with you. Now, more than ever, what you want is important, over all the noise. Do your research, use Pinterest, and be prepared. This process will also familiarise you with what the new normal wedding looks like, feels like, and what the limitations are. This way, you'll know what to expect. I also insist, that we remember to stay as sustainable and local as possible. This year has really proved the importance of this."
Contact them on thetailoredtale@gmail.com and find them on Instagram @thetailoredtale.
Pink Parrots Bespoke Weddings & Events
Pink Parrots are a Chennai-based, bespoke wedding and event planning firm. They call them selves planners, stylists, and décor experts. Their Instagram page definitely proves them right! This team really narrows in on a vibe and perfects it to the t. Vaishnavi, from team Pink Parrots, had a little something to say about making intimidate weddings magical.
"Right now, we are really being more innovative. For example, if someone wants a destination wedding and can't have one, right now, we can recreate some of that atmosphere for them. For example, we just created a Santorini-themed mehendi for a couple. So, stay safe, but don't forget to have fun!"
Contact them on pinkparrotsevents@gmail.com and find them on Instagram @pinkparrots.